50+ Amazingly Chic Ponytail Hairstyle: What Is Trendy In 2022
The ponytail hairstyle is one of the most popular yet easy ways to make your hair look fabulous, clean, and stylish. The best part? You don't need too much skill, either lots of equipment, techniques, and products to dress up your hair in a ponytail.
Even better than this, whether there is a high ponytail hairstyle, a mid-height, a low or on the side ponytail, this way of styling the hair suits any face shape and hair texture.
From keeping your hair all together while exercising at the gym to ponytail hairstyles for weddings, there are lots of ways to arrange the hair to make your look the best one.
Of all the hairstyles analyzed until today, a classic ponytail is by far what you need when looking to feel comfortable and simple.
However, keeping the hair all together using a scrunchie does not have to be too dull. You can always look to overcome the traditional ways to arrange your hair.
Today's article will teach you everything about the top ponytail hairstyles in 2022. While some of them are more complex, others will take you little time to arrange.
Easy Ponytail Hairstyles – Favorite Looks Among Celebrities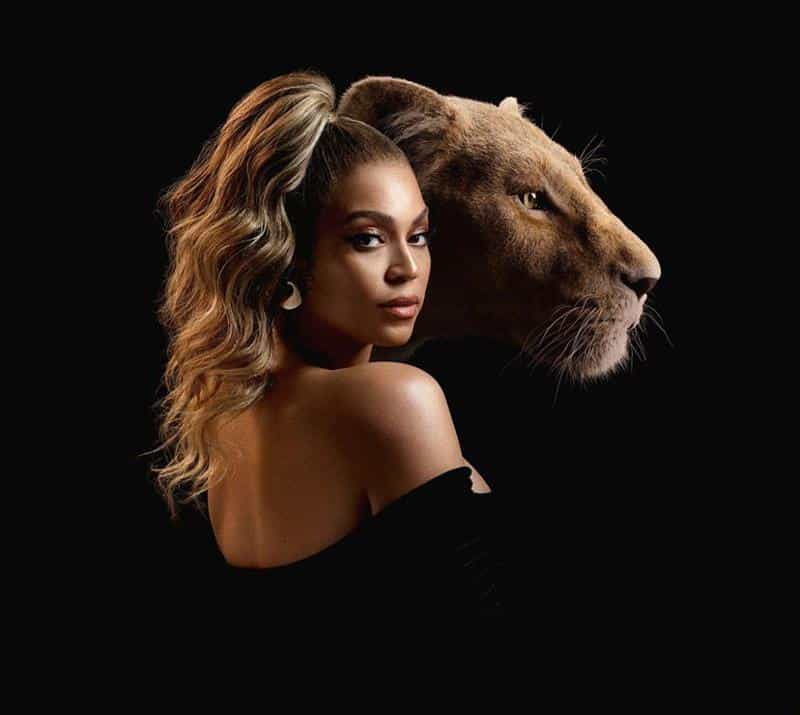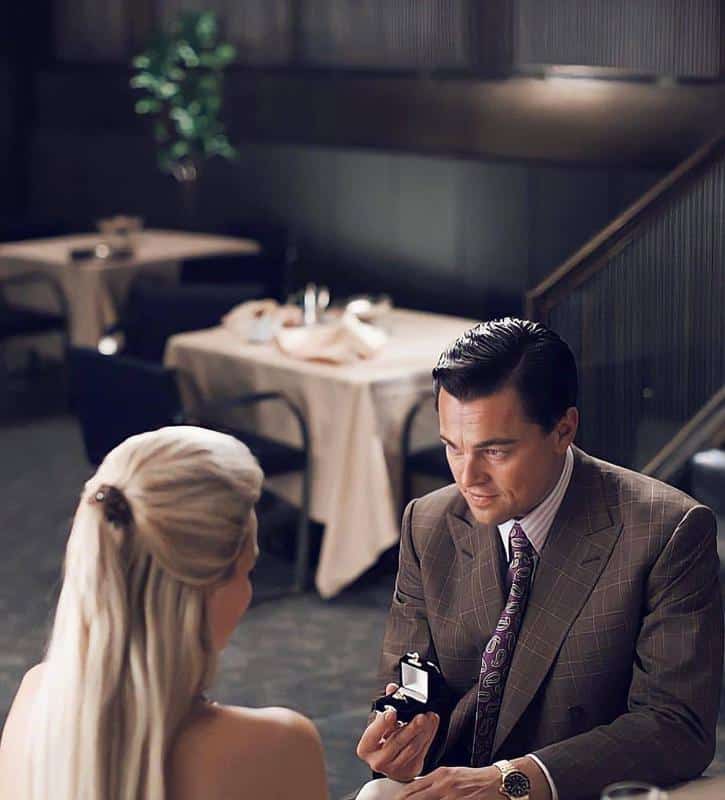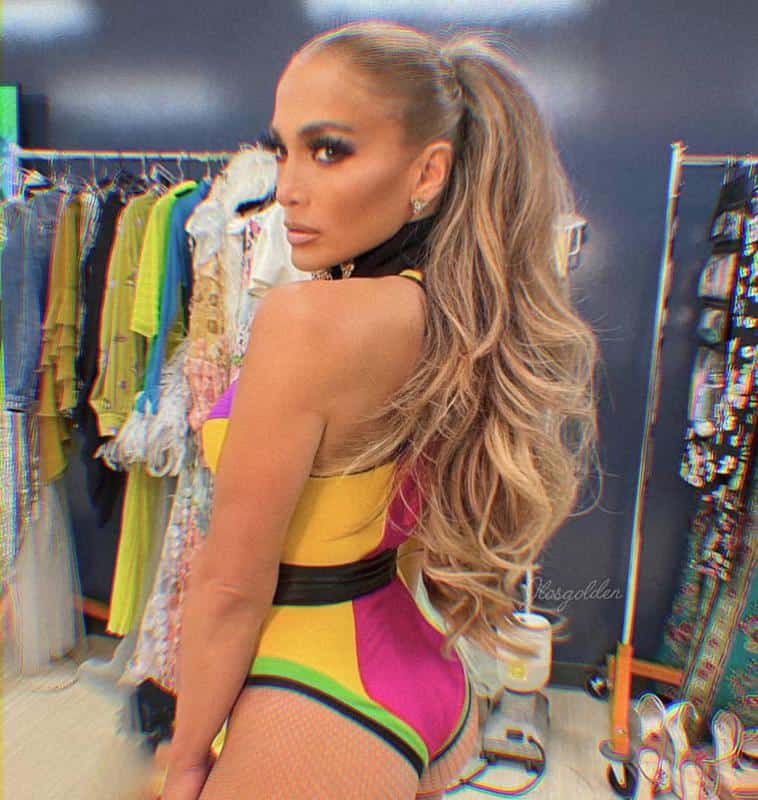 From Constance Wu To Beyonce, Jennifer Lopez, Margot Robbie, and many more film and music stars, lots of hair stylists prefer to make their famous clients look stylish using ponytail secrets.
Perfect as a summer style and for going to a cocktail party, no matter what type of hair you have, there is a ponytail out there for you. Within minutes, you will wear your hair in the ideal style.
These days, we can talk about countless ponytail hairstyles, multiple accessories, oversized bows, and minimal pearls to accompany the style of ponytails.
There are so many methods to update the classic go-to ponytail hairstyle, so bear with us and discover some of the rocking hair ponytails in 2022.
Best Ponytail Hairstyle To Try At Home
Take your time and explore some of the top ponytail hairstyles this year. From simple to more complex hair coiffures, choose the one that suits you best. Let's start the list:
High & Voluminous Ponytail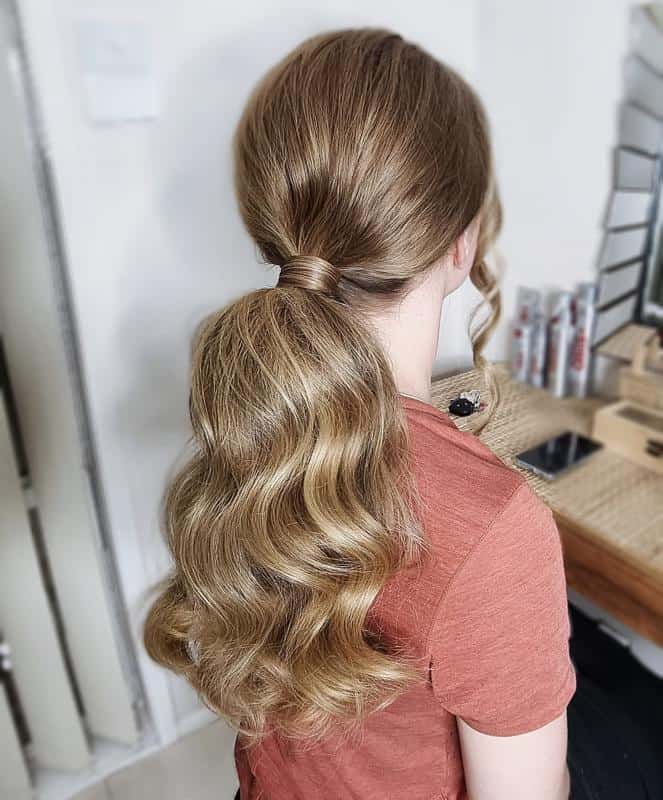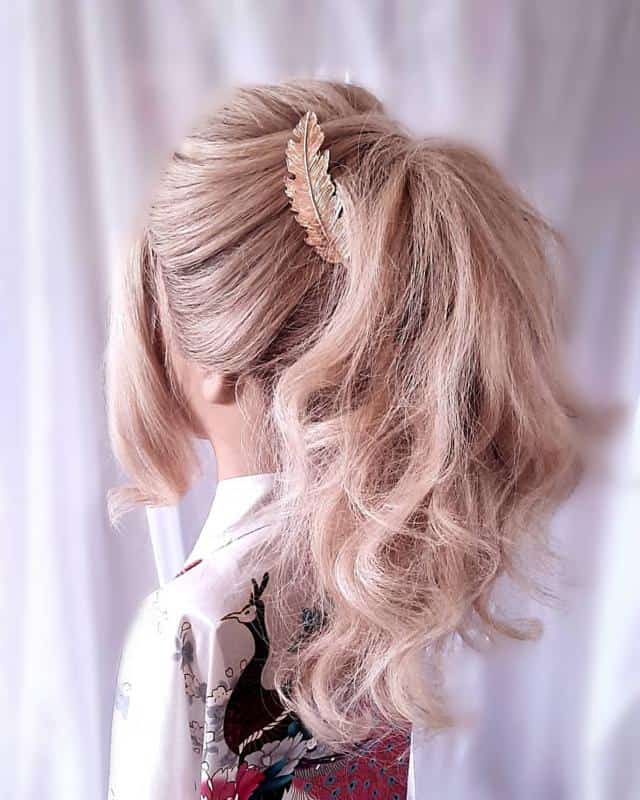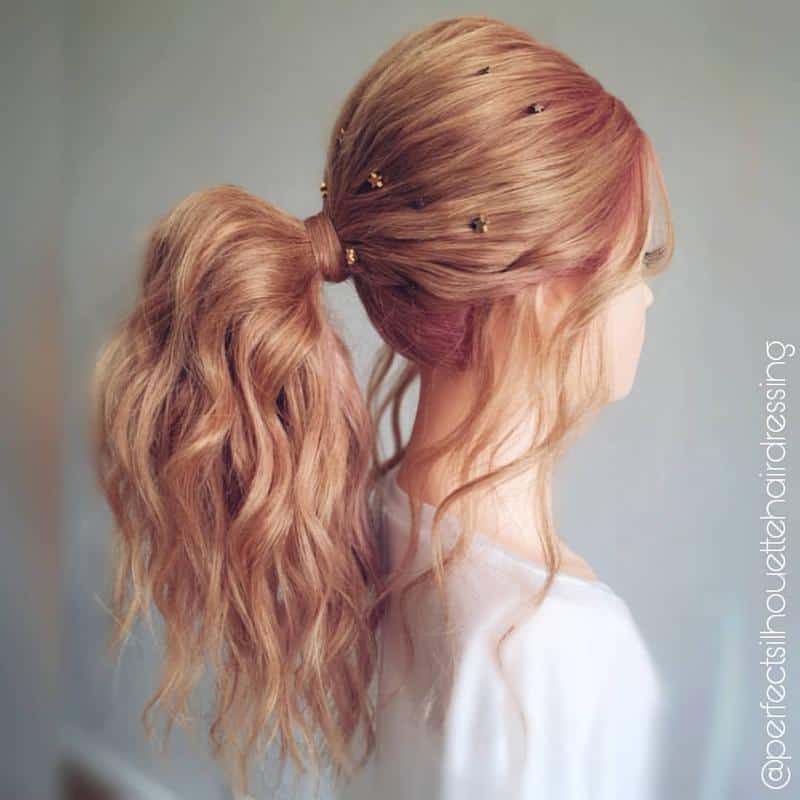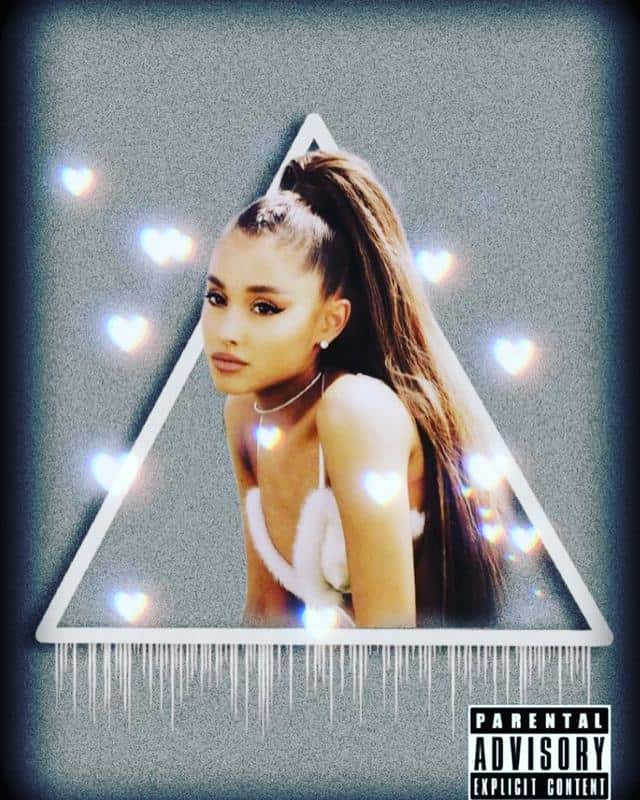 This high and voluminous ponytail style is a timeless way to comb your hair. Offering more volume to your wig never runs out of trend, as it is comfortable, kind of sophisticated, and a signature look among some stars, like Ariana Grande.
This type of ponytail is relatively high, so the volume of the hair is easily noticeable. Ariana Grande wears this hairstyle amazingly; no wonder it is one of her signature looks during Video Music Awards or American Music Awards.
Personal opinion: Just like her, you can look stunning and fabulous while wearing this high ponytail hairstyle.
Tips and Tricks:
First of all, start by straightening your hair, using some heat protection
Apply a hair mousse for voluminous hair
Take all your hair and pull it to the center of the crown
Adjust a small bun
Add some extensions around the bun to offer more volume
Straighten the hair extensions as good as possible
For a natural look, take a small piece of hair right from the middle of wings, and wrap it all around the bun
Use a shine sprag for a more elegant aspect, and that's it
Braided Ponytails Look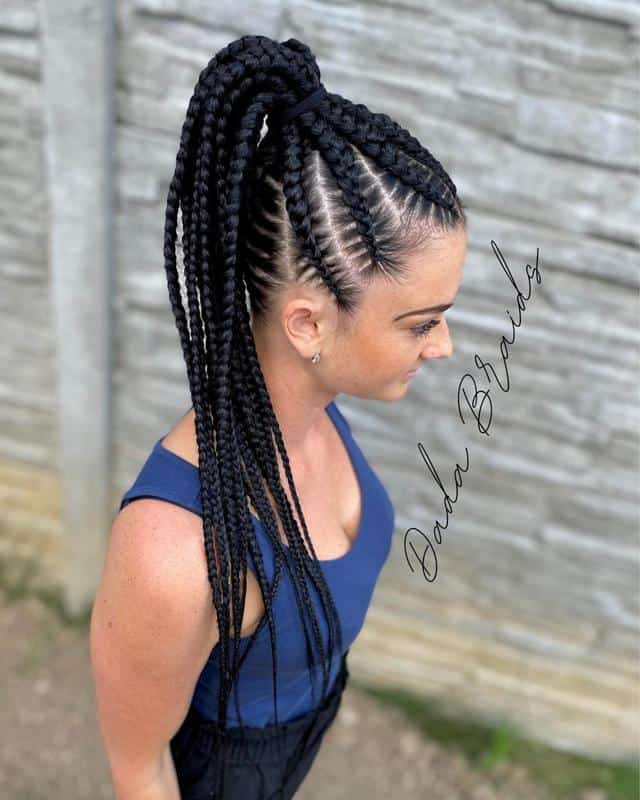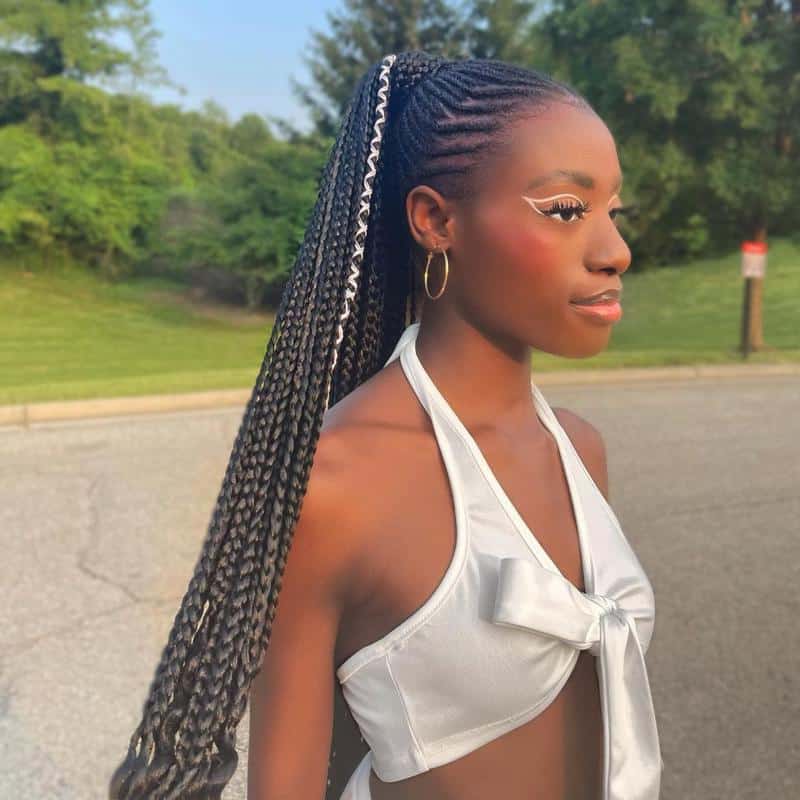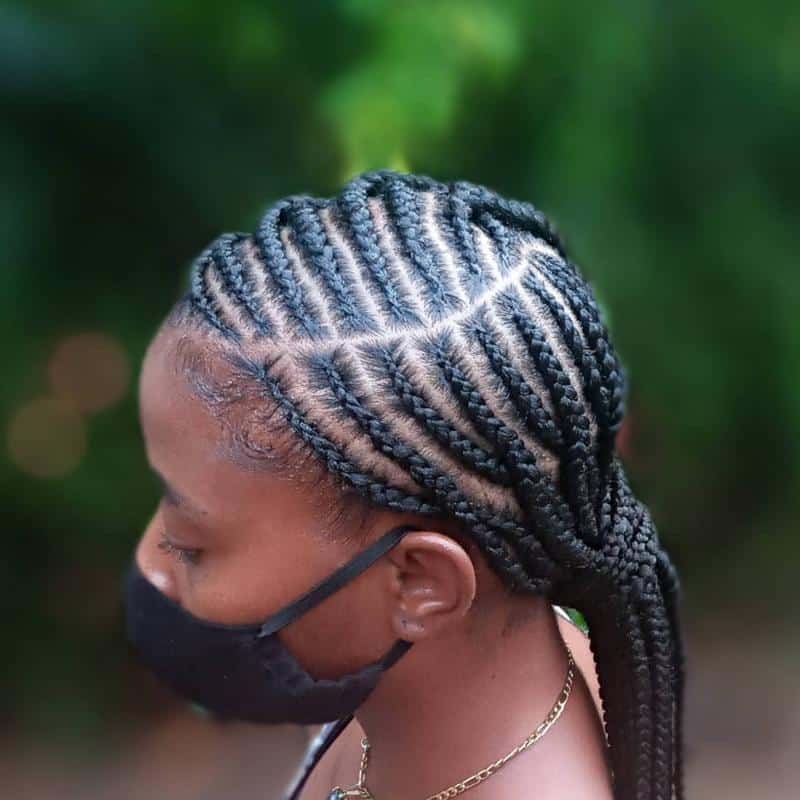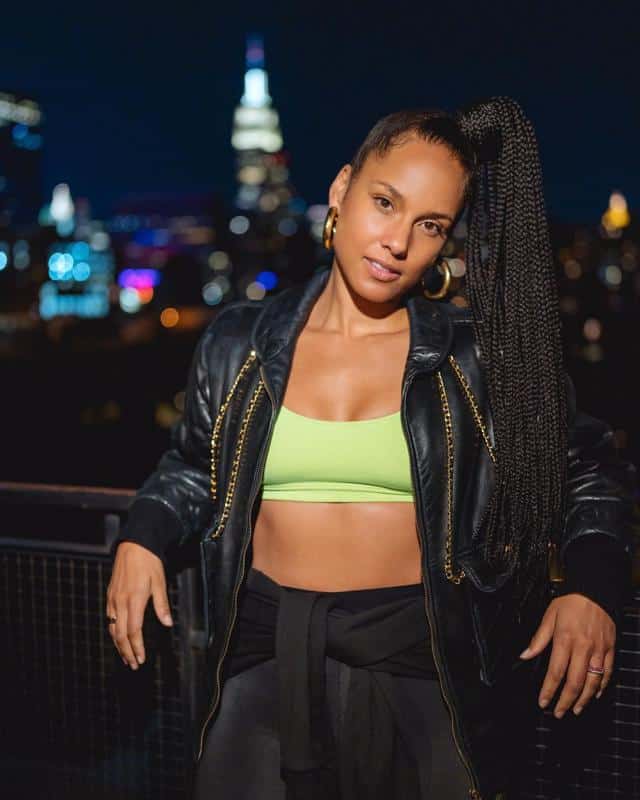 It might take longer to obtain the perfect look; in this case, however, I recommend you make an effort. If you are looking for some ponytail hairstyles for black women, this one is ideal for keeping the hair volume all appeased.
Try it every season, and get that polished and clean hairdo. Stars like Ciara or Alicia Keys would go for this ponytail hairstyle with braids for both an elegant look or for a vacation at the seaside.
Personal opinion: This is not only a ponytail hairstyle for black hair, but it goes perfectly with blonde or red hair too.
Tips And Tricks:
Avoid curly hair by using a dry shampoo
Comb the hair in one direction
Take a rubber band and a rattail comb to make a high ponytail
Wrap the hair extensions on your natural hair to make it thicker
Split the hair into three strands and start braiding the extensions
Do the braiding till the tip of the hair, then tie it with a small rubber band
Apply some shiny spray to finish the look
Curly Ponytail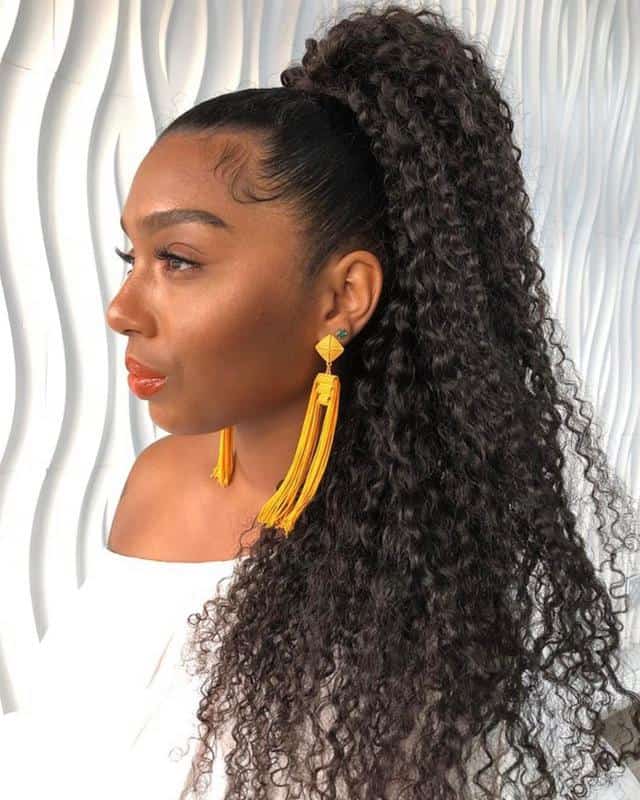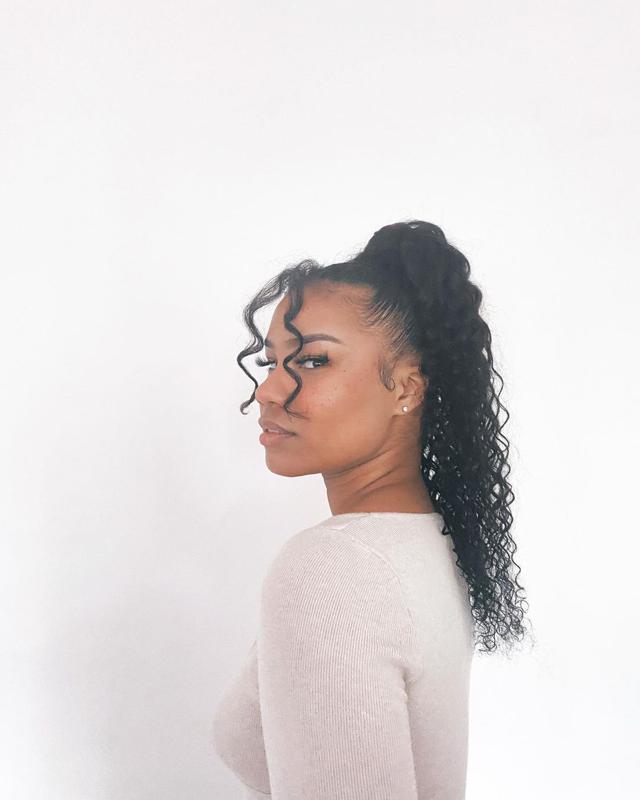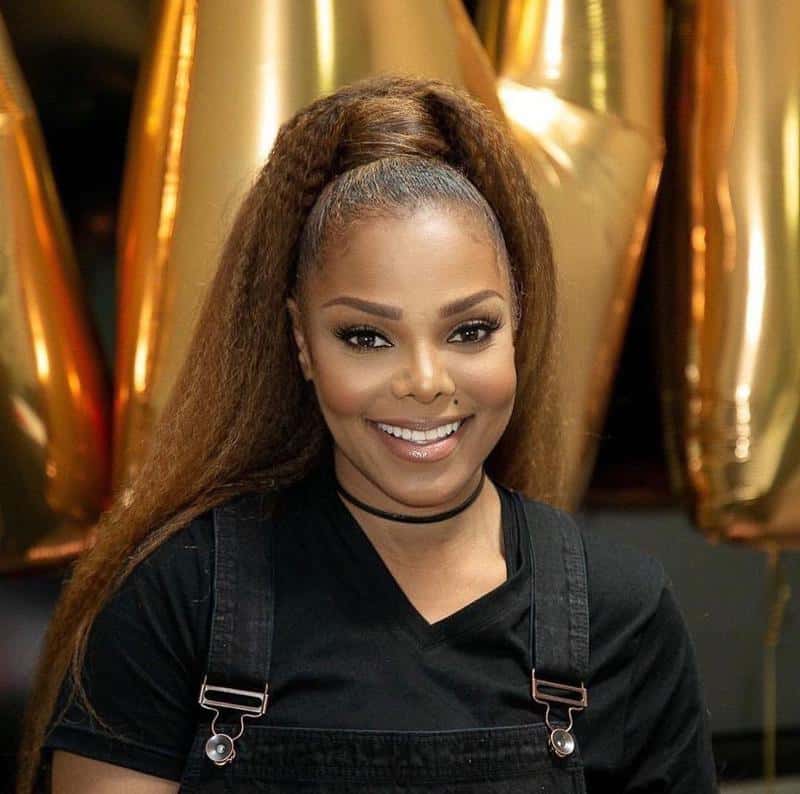 When it comes to ponytail hairstyles for natural black hair, the curly ponytails are nicely textured and look excellent due to the voluminous style. Putting the hair together in a curly ponytail is straightforward, especially if you already have curly hair.
High or low, with defined or all-natural curls, these ponytail hairstyles for black girls will complement their look.
For instance, you can see Janet Jackson looking stunning with this hairstyle during her concerts or on the red carpet.
Personal opinion: If you don't have naturally curly hair but still want to try this style, wear some blunt bangs and enjoy the result.
Tips in creating curly ponytails:
For this curly ponytail, you will need a bunch of products, such as bristle brushes, curl defining cream, curler, rat retail comb, and finally, a hair spray;
Wash then dry your hair using a special hairdryer;
Brush the hair using a wide-tooth comb and start detangling the curly hair;
Distribute the bumble defining cream evenly to accentuate the curls;
Pull the curly hair into a ponytail and arrange it all sleek at the front and side
Ponytail Hairstyles With Weave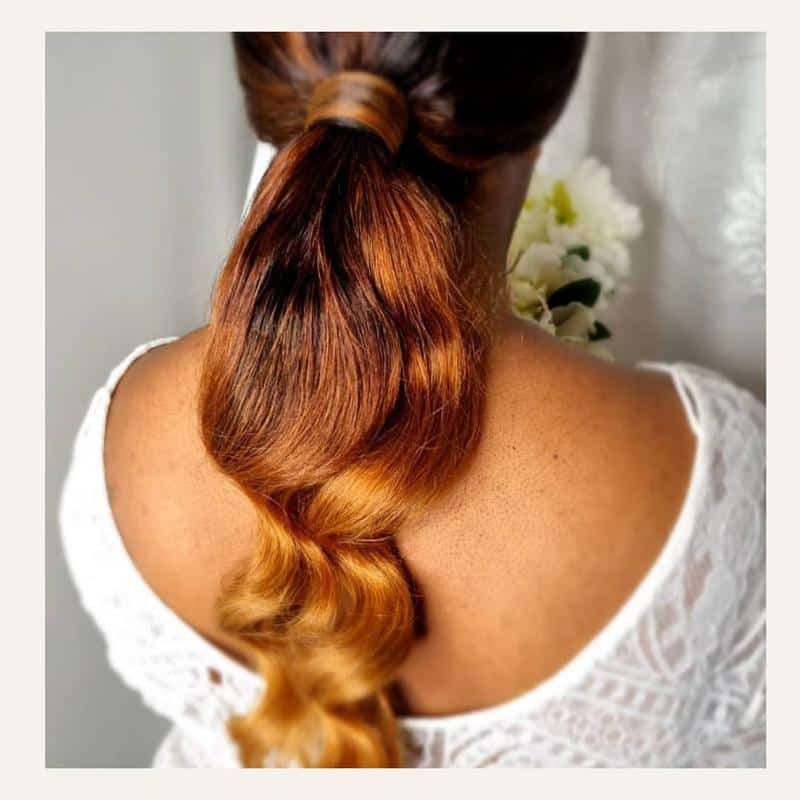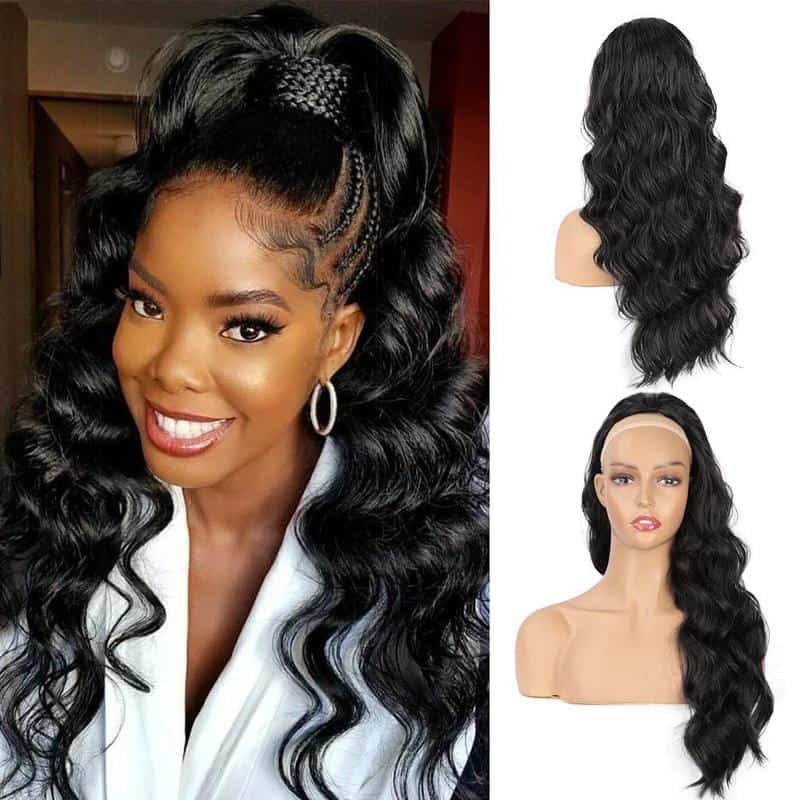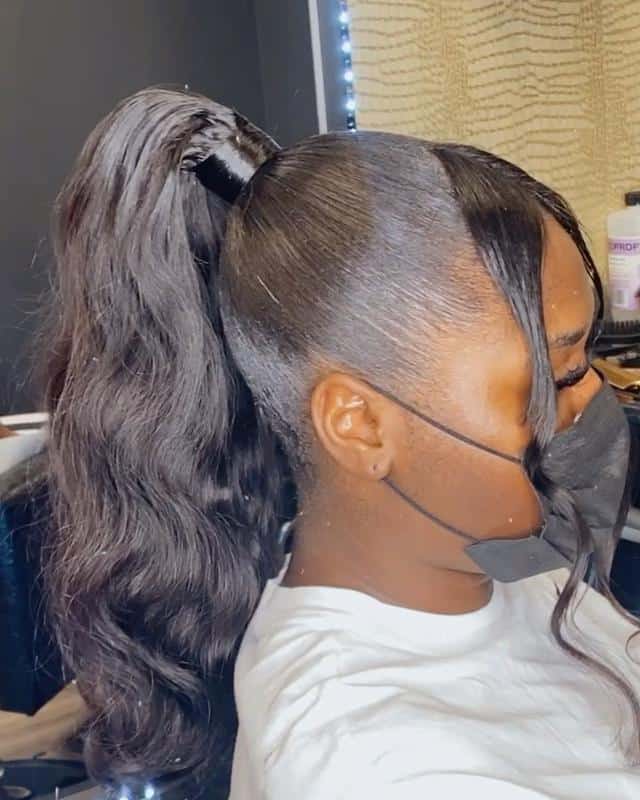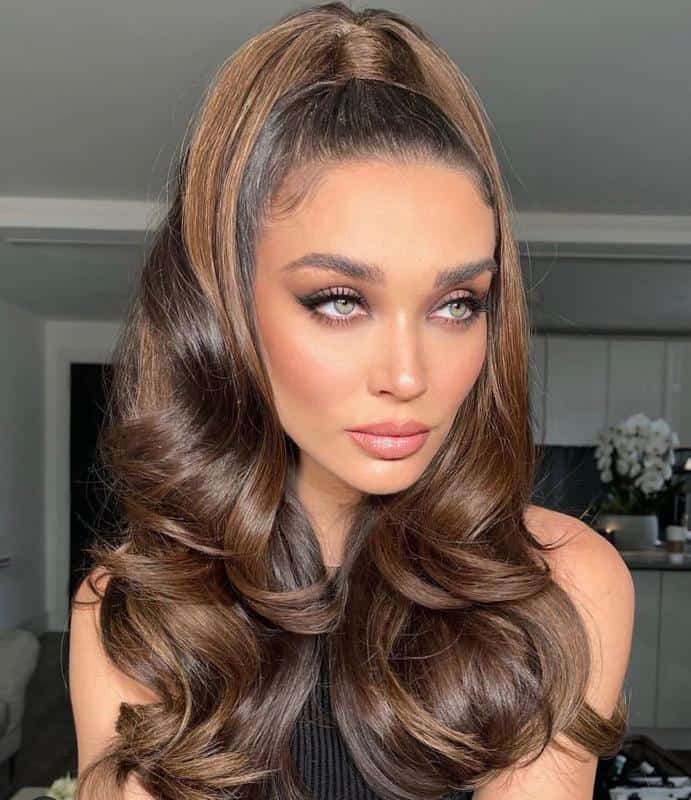 Ok, let's have a moment and admire this fantastic ponytail hairstyle with weave. If you go with this hair look, it's impossible to make a mistake.
Many celebrities choose this hairstyle for the red carpet, but it is also suited as a ponytail hairstyle for weddings.
Personal opinion: Versatile, timeless, elegant, chic, the wavy ponytail will make you look fabulous.
Tips and tricks:
Brush the natural hair using a special brush to smooth and detangle the strands
Pull all the hair back to your head, following the ponytail hairstyle
Apply for some heat protection, then use a special curler to obtain the waves
Finish the look by applying a lock hairspray
These steps are the best ones for ponytail hairstyles for black hair with weave and blondes or redheads.
Balloon Ponytails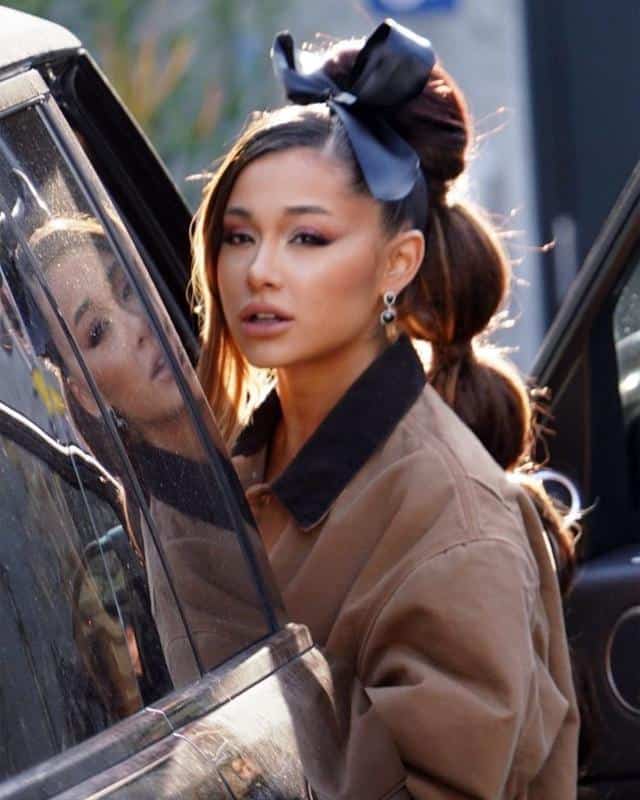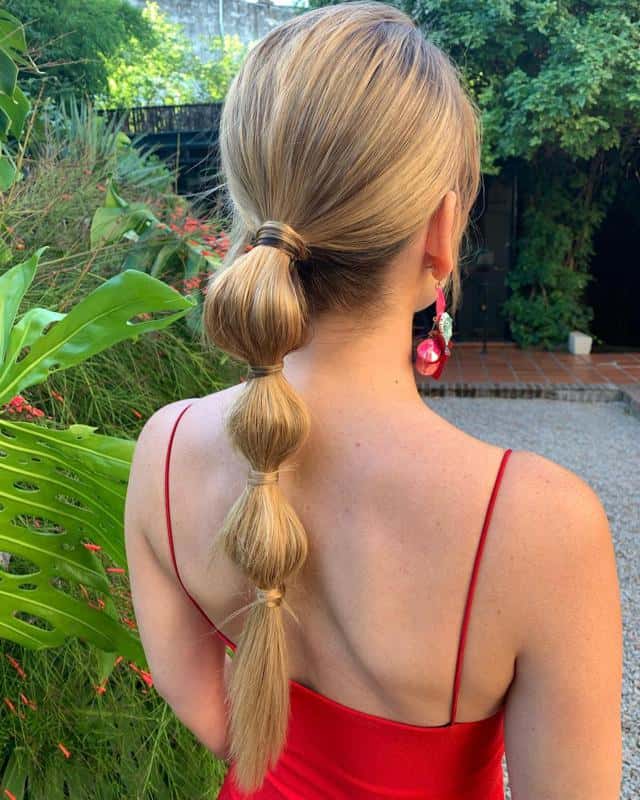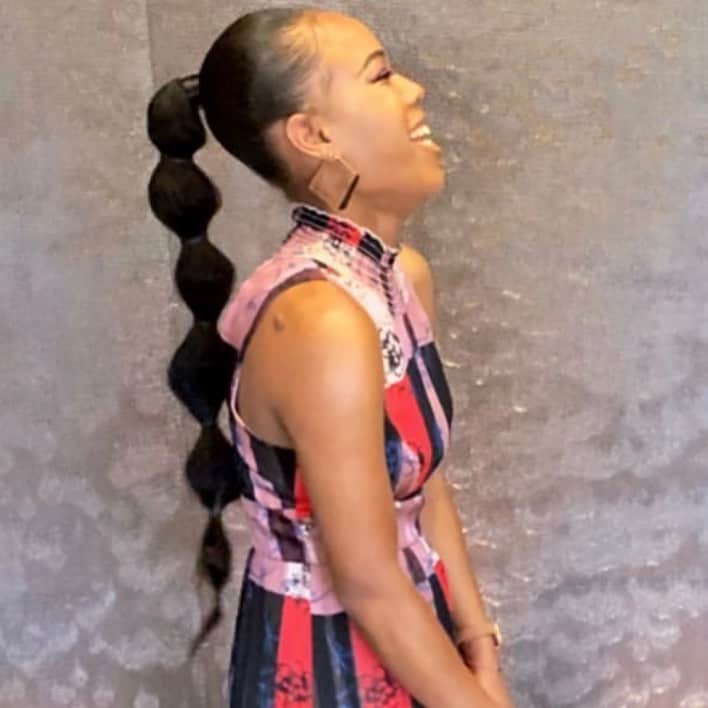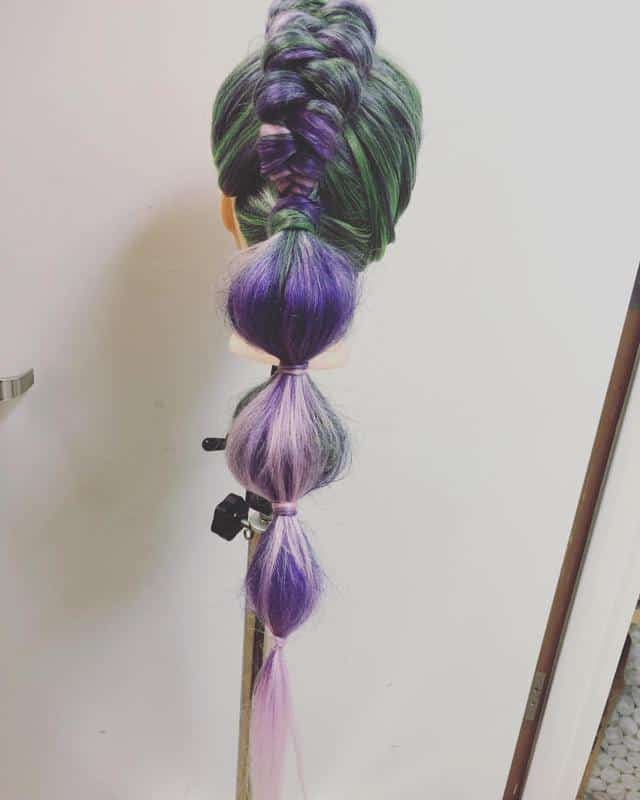 Balloon ponytails look fantastic, and they are one of the most creative ways to enhance the classic ponytail style.
However, you will need some more products, such as rubber bands, fixing sprays, and a hair texturizer.
Tips And Tricks:
Start this hairstyle with a high pony
Tie everything together with an elastic
Fluff out hair section by section, then tie them with rubber bands
If your hair is curly, you should try to strengthen it right before stylization
Half-Twisted Ponytail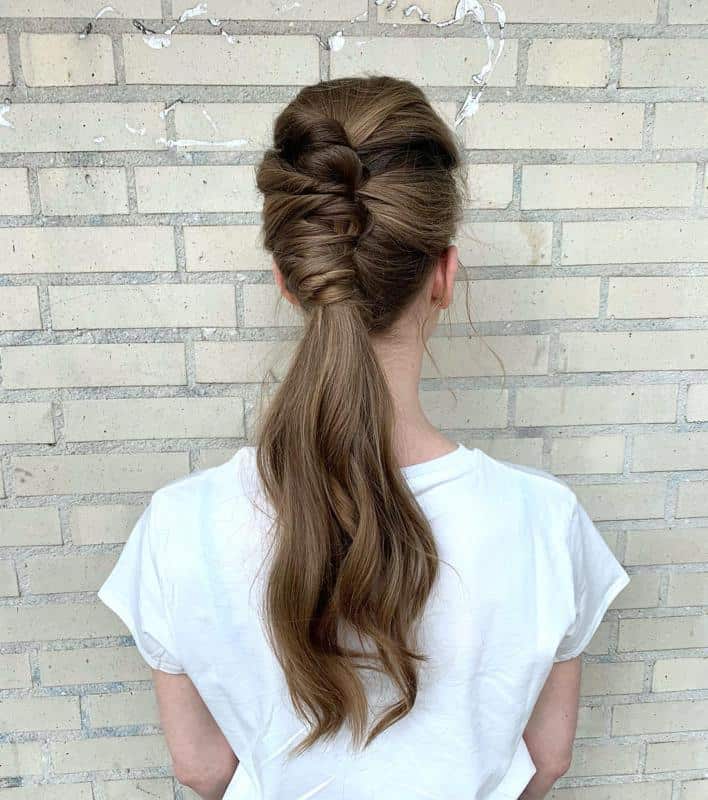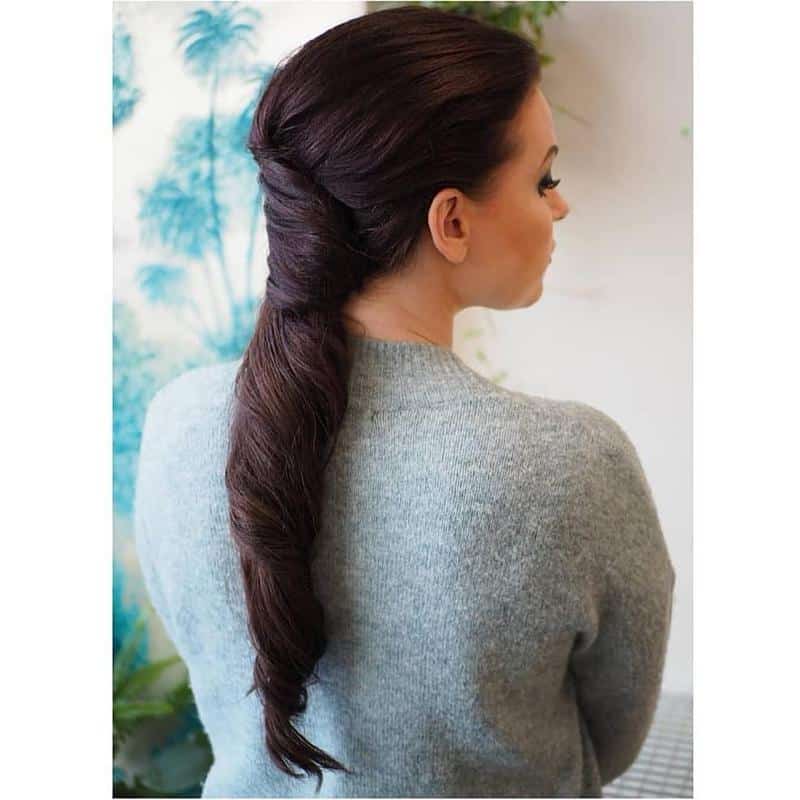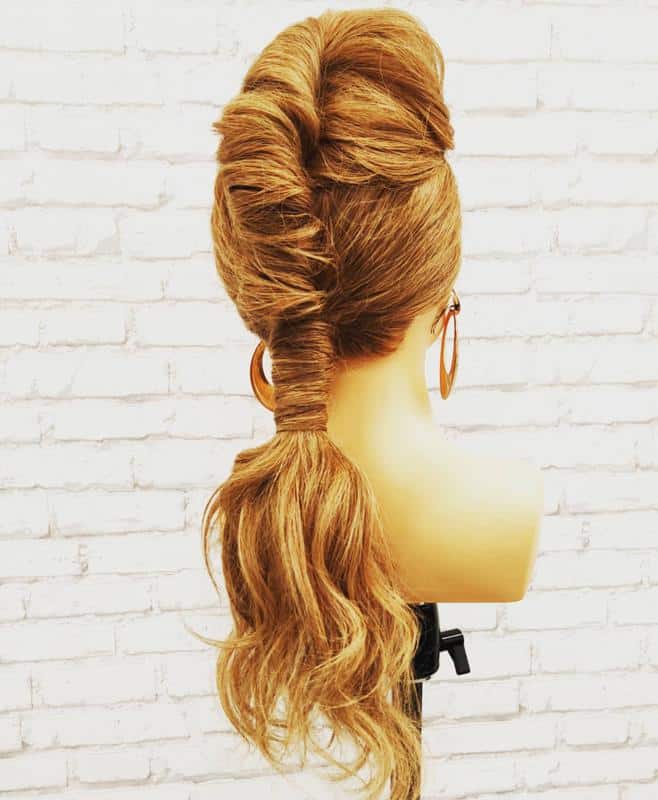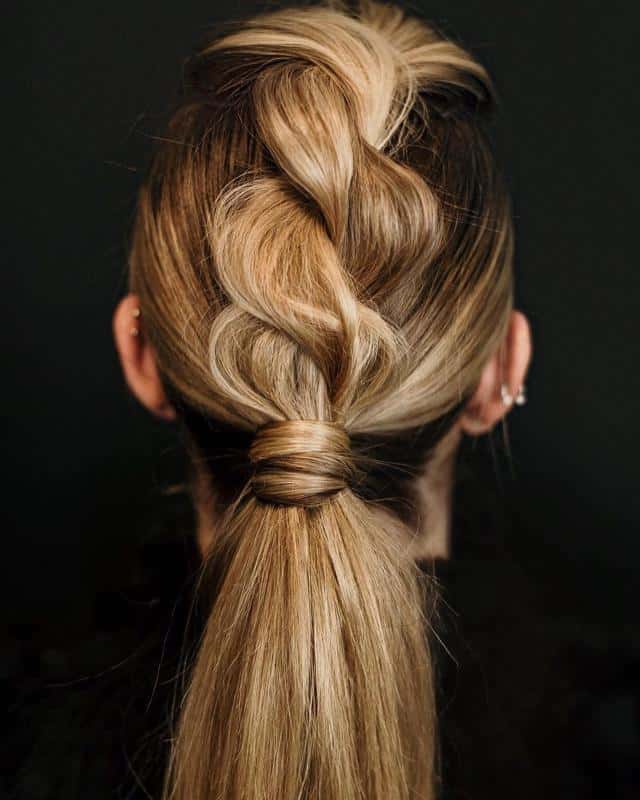 One of my favorite ponytail hairstyles is by far the half-twisted one. This is so stylish, complex, and sophisticated, but still very easy to do at home.
You need some excellent scrunchies, clips, and a hair spray to fix everything.
Personal opinion: You can twist the upper half of your hair and leave the rest all straight, or you can curl it for a more elegant effect. Wavy ends will complete the ponytails hairstyle for your wedding or a cocktail party.
Tips:
Make sure the scrunchies are black or translucent so that they won't be too visible in the hair;
For perfectly done waves, use some curl cream. It does miracles;
Sleek Ponytail With Center Parting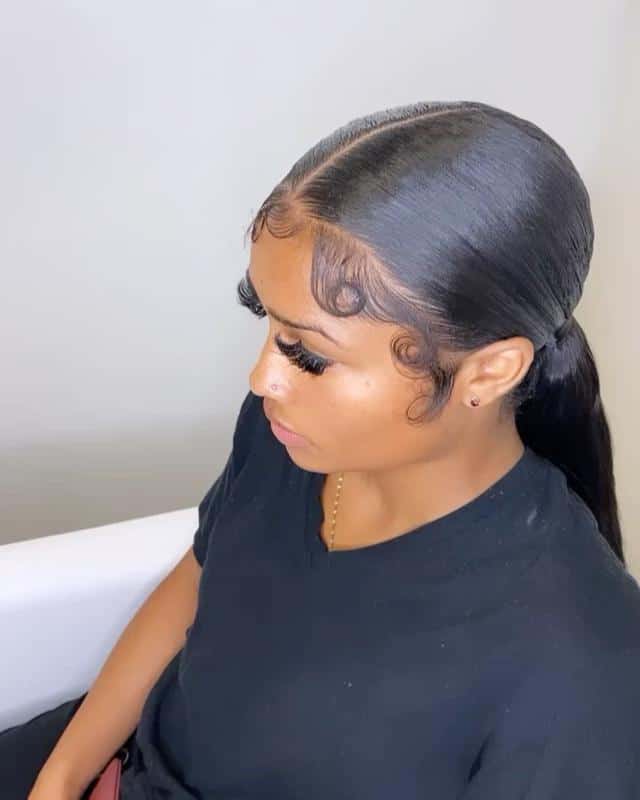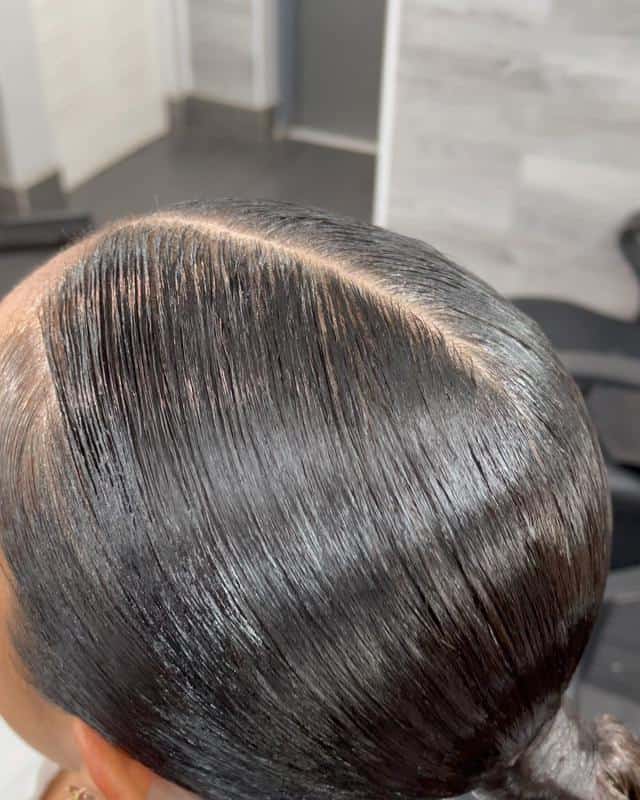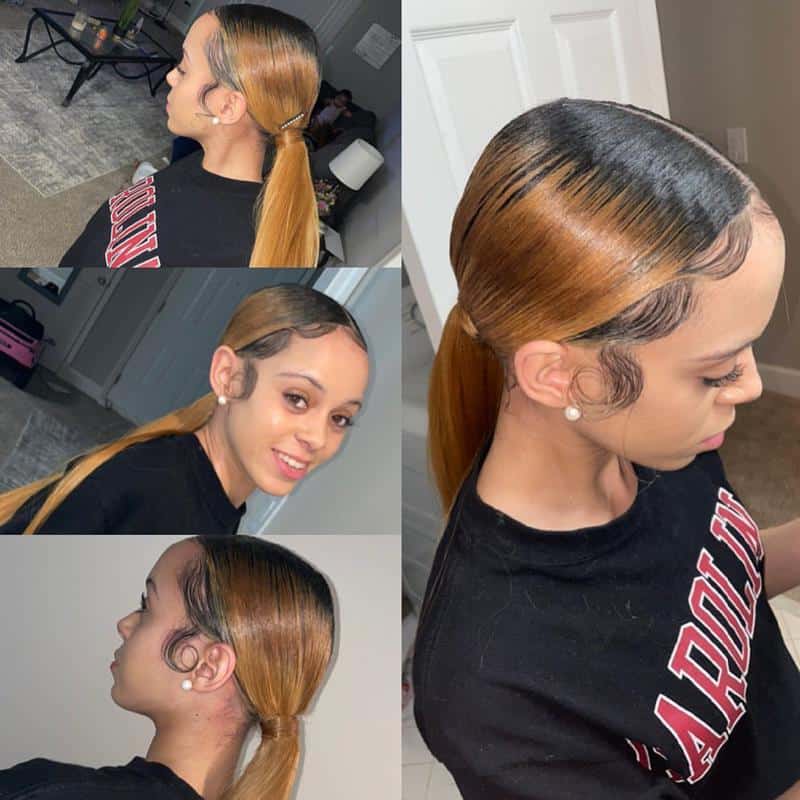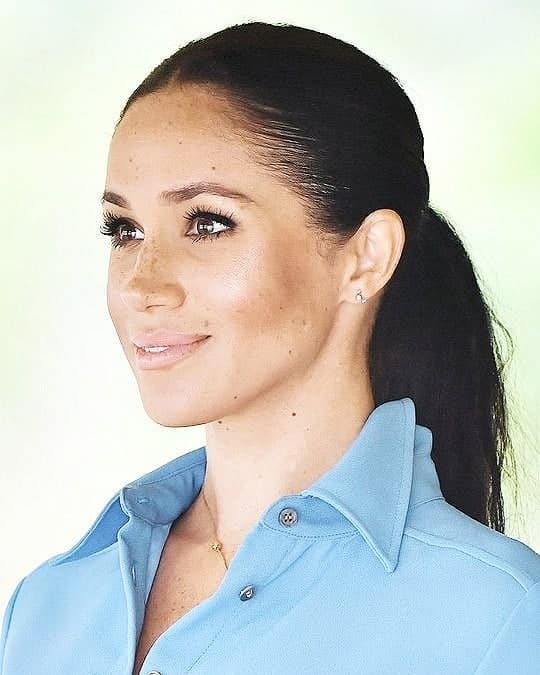 A ponytail hairstyle easy to make and that suits almost any feminine cut is the sleek ponytail with center parting.
The final look is stunning and will give that glamorous look we all look for without making any effort.
Tips and Tricks:
To achieve the perfect sleek ponytail, you need a rat tail comb, hair mousse, hair gel or cream, a toothbrush, and a hair tie;
Make sure you straighten the hair evenly, so the ponytail is all sleek;
Comb the hair with a rat tail comb, so you can make the perfect center parting all straight;
After you have made the ideal parting, brush the hair using a toothbrush all through;
Gently run all the hair in the very same direction;
Pull the tail at the backside, at the nape of your neck;
After you have done the sleek ponytail, use a hairspray to fix everything and get that elegant look.
Personal opinion: When it comes to the sleek ponytail hairstyle, this is ideal for arranging the hair for multiple occasions. Whether you want to wear it as a ponytail hairstyle for school, for a cocktail party, or a simple walk in the park, your hair will look fantastic, every day extraordinary, and all brought together.
Curved Short Ponytail (Add some cool crunchies)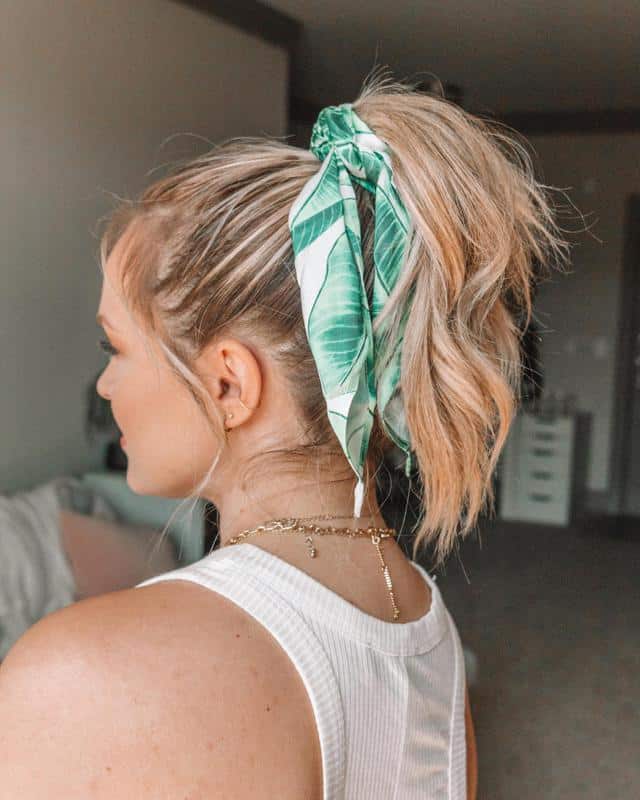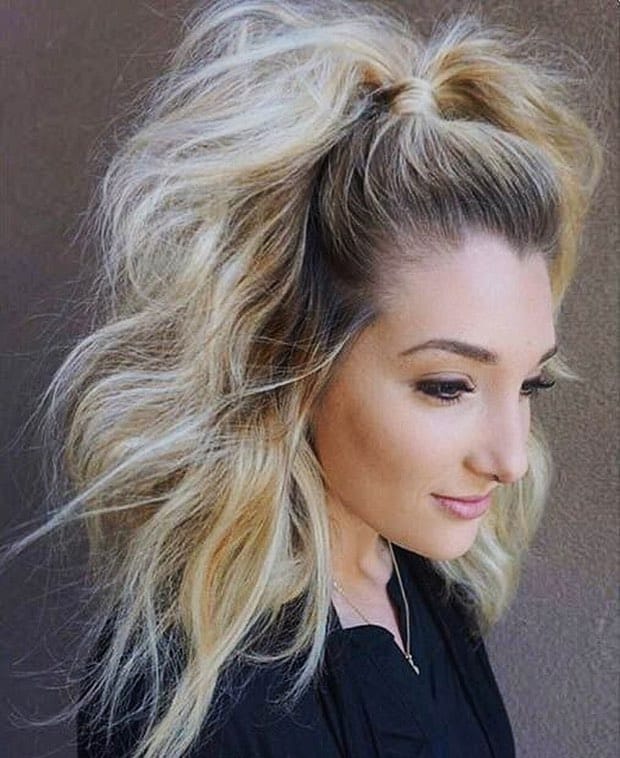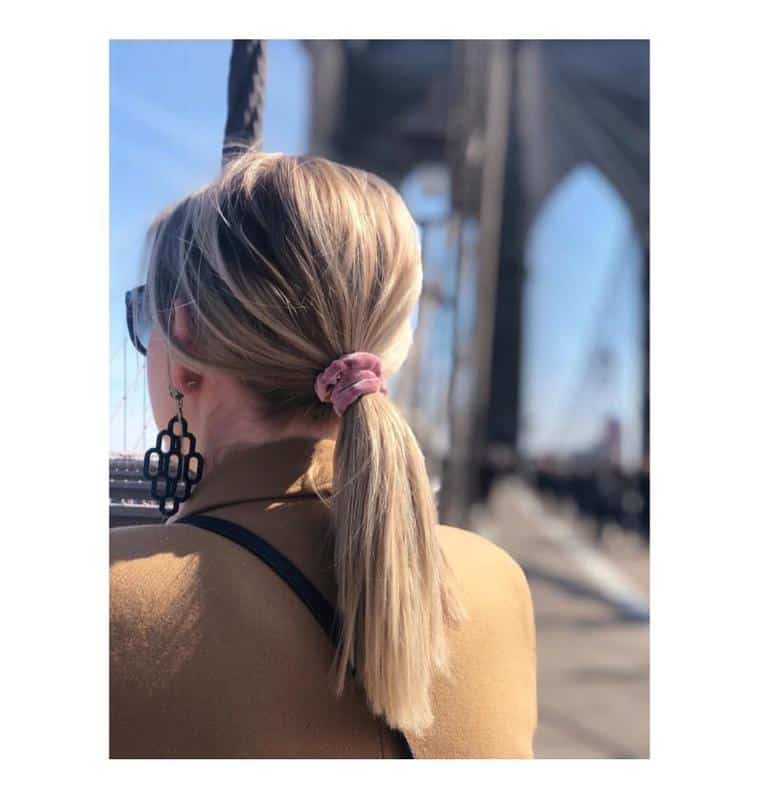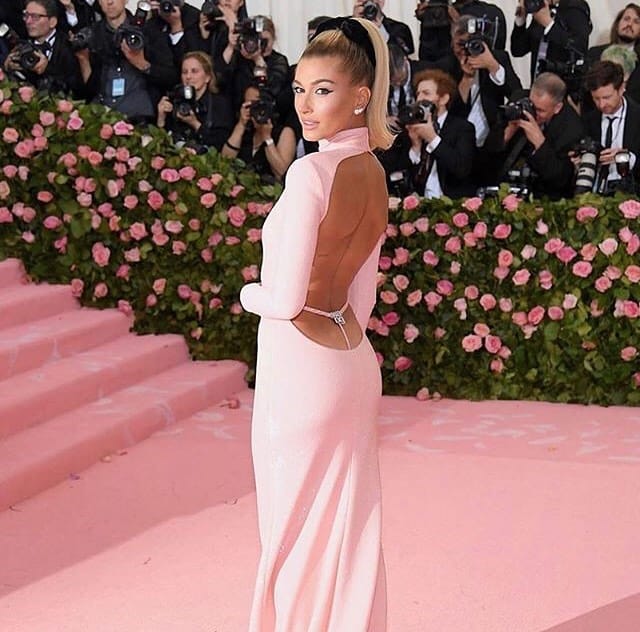 If you have shorter hair, it does not matter. You can still take advantage of ponytail hairstyles. Moreover, once adding some colorful scrunchies hair bands, everything will look even more elegant and suit the daily workout routine.
Even celebrities prefer to add this little accessory, even when they attend high-end parties, such as the Met Gala.
Right above, you can see Hailey Bieber wearing a short cured ponytail with an elegant black scrunchy.
If your hair is even faster than this, you can always apply for some clip-in-pony extensions and add more volume to the final look.
Scrunchies will complete the ponytail hairstyles for school, go out with your friends, or even for a more sophisticated look.
What you will need for ponytails hairstyle with puff:
Use products like iron, hair gel, hair spray, brushes, tangles, and crunchies;
Always detangle the hair evenly;
Use some hair gel on the hair if you want to achieve a ponytail hairstyle for short hair;
Pull the hair at the center of the head crown to keep the hair all together;
Tie the short ponytail using some scrunchies to achieve a statement look.
Braided Single-Ponytail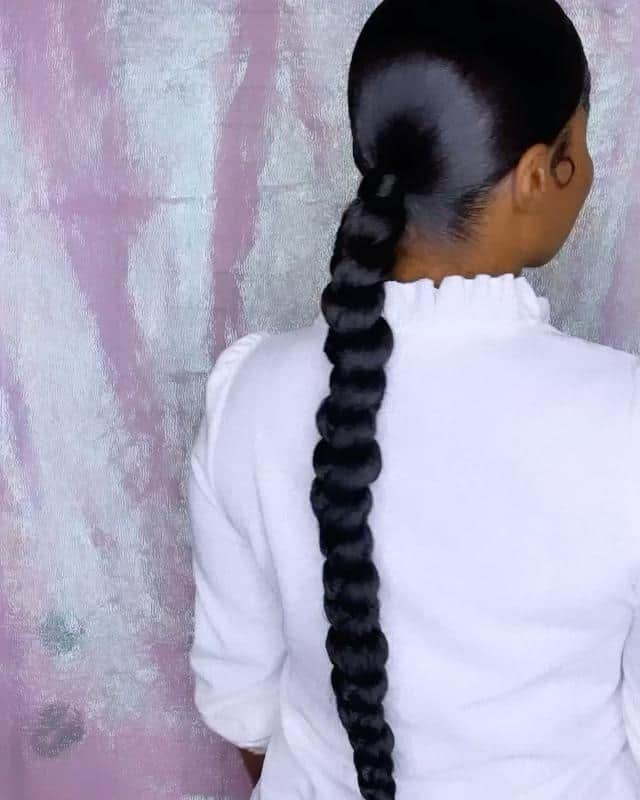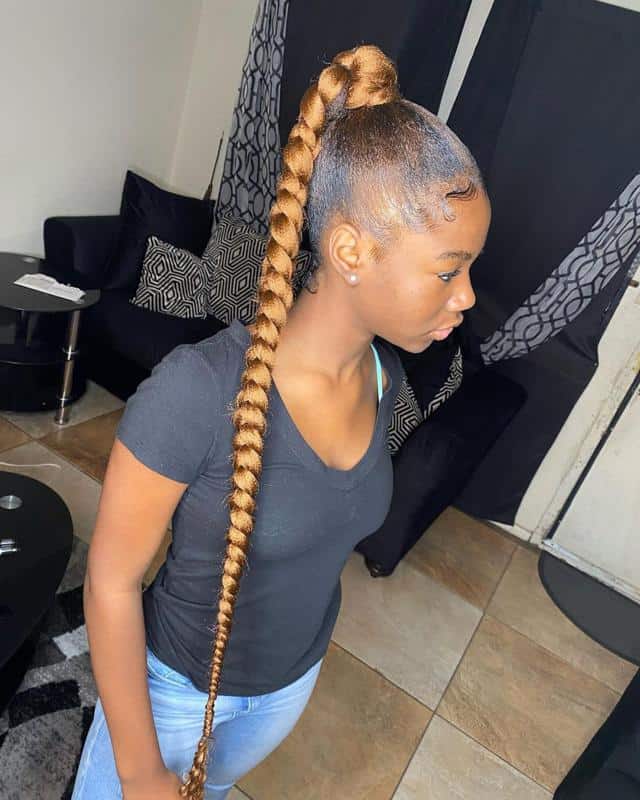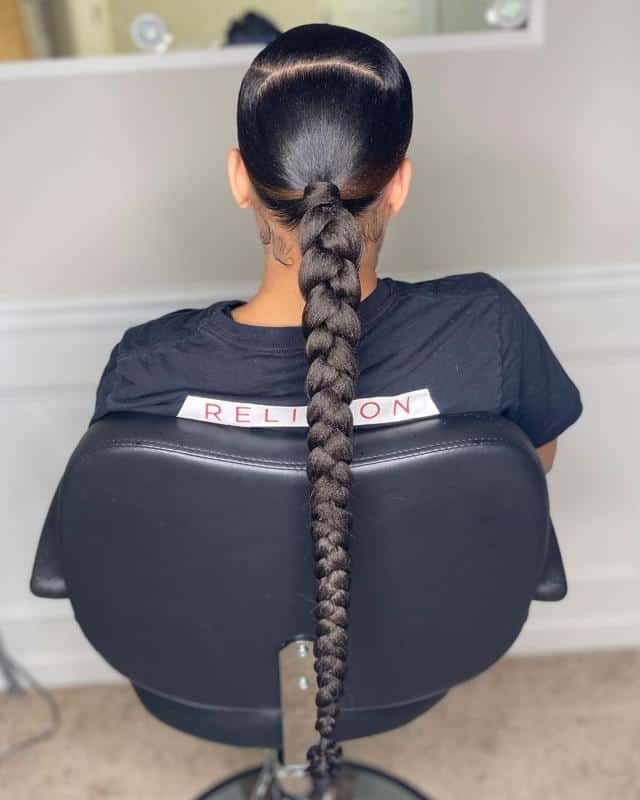 One of the most appreciated ponytail hairstyles for black hair is the braided one. The very first style mentioned above was the ponytail hairstyle with multiple braids.
Naturally, we should also talk about a single braided ponytail. This one suits amazingly women who have very long hair.
Personal opinion: The look is sleek, powerful, elegant, comfortable, and versatile. You don't require too much to achieve this beautiful hairstyle.
What you'll need:
Some skills in braiding the long hair;
Hairspray, to arrange all the stubborn baby hairs;
Eventual hair clips
Some scrunchies to add more color.
High Ponytail Hairstyles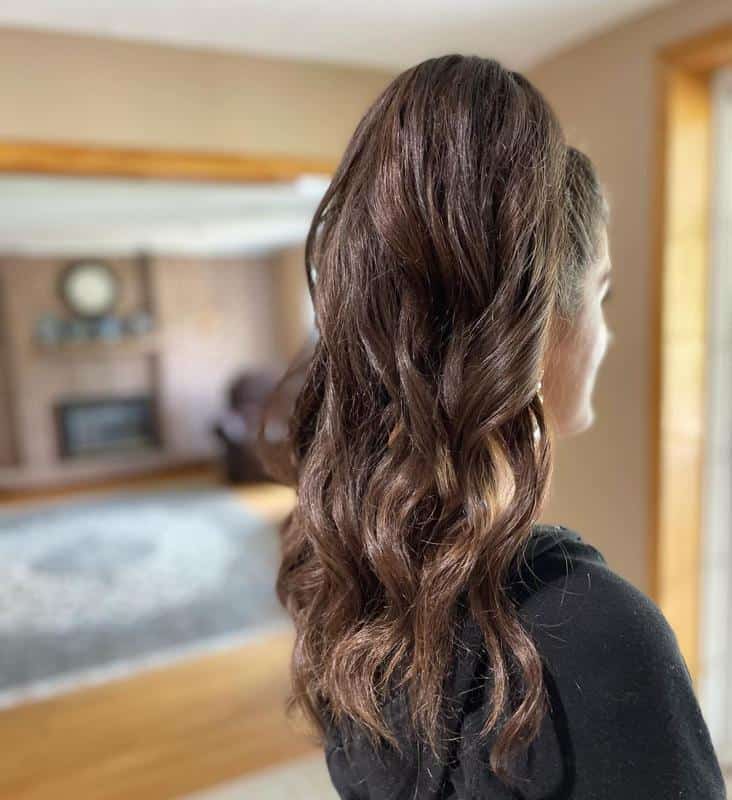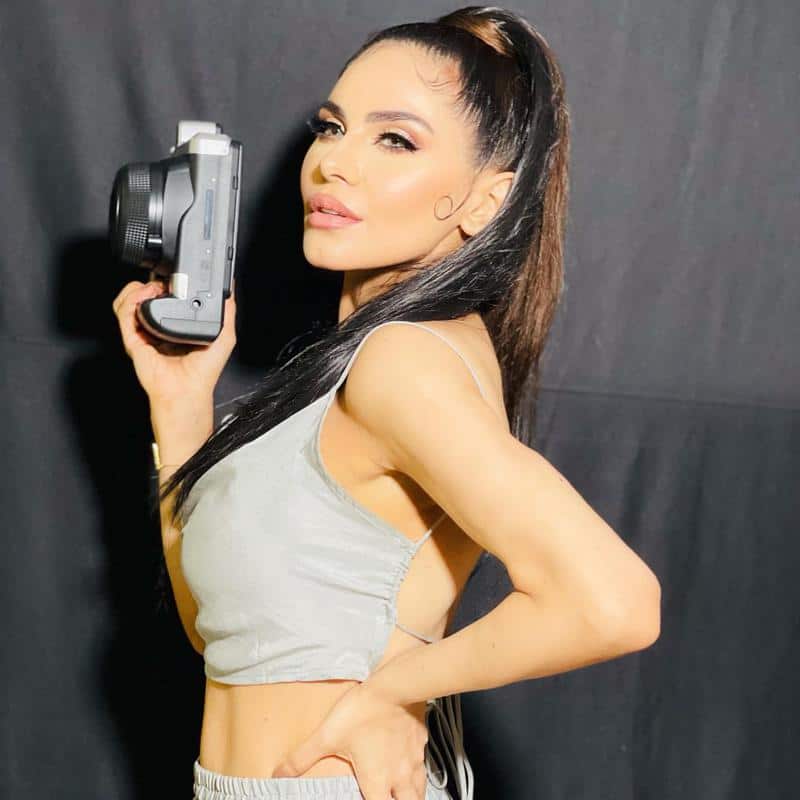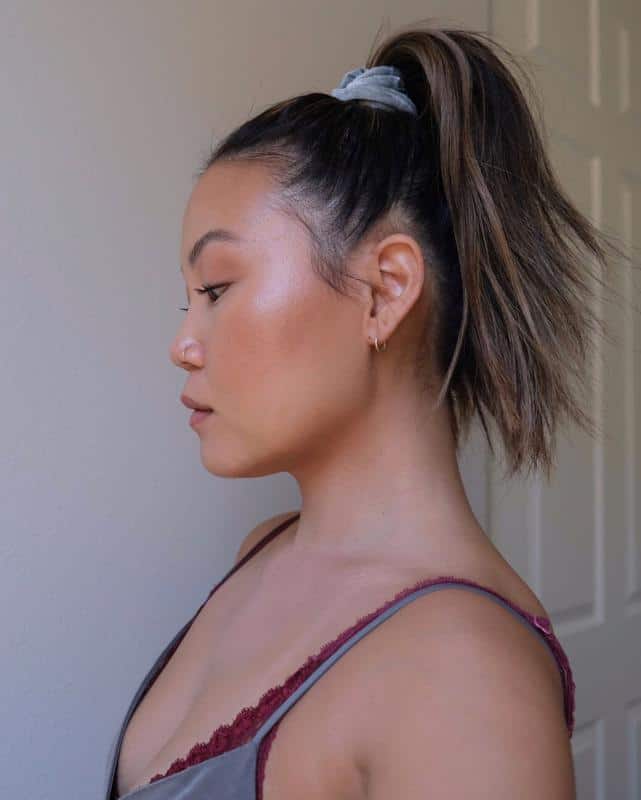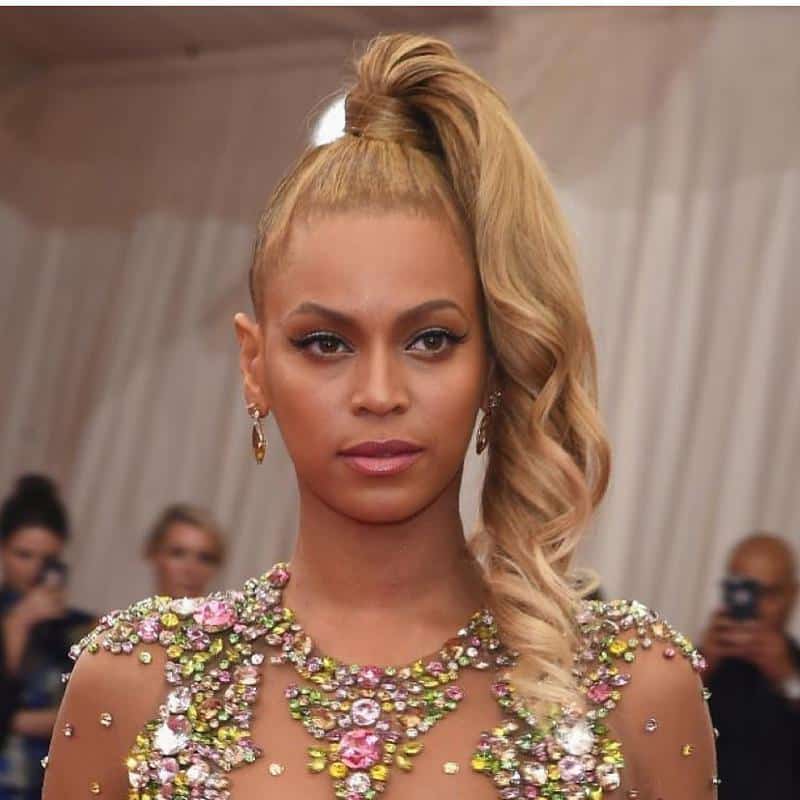 One of the most iconic hairstyles of Beyonce was the Met Gala high ponytail hairstyle. Her stylist chose to make some curls, so the look is even more elegant, chic, sophisticated, and a bit childish.
The high ponytail hairstyles will give a fresher look to the one who is wearing them. It does not matter what color your hair is or how long, as the high ponytail will suit anyone. I love this hairstyle because it is comfortable, fresh, cheerful, young, and it takes so little time to achieve.
Personal opinion: Use some colorful crunches or a little scarf to add more style.
Sophisticated Ponytail Hairstyles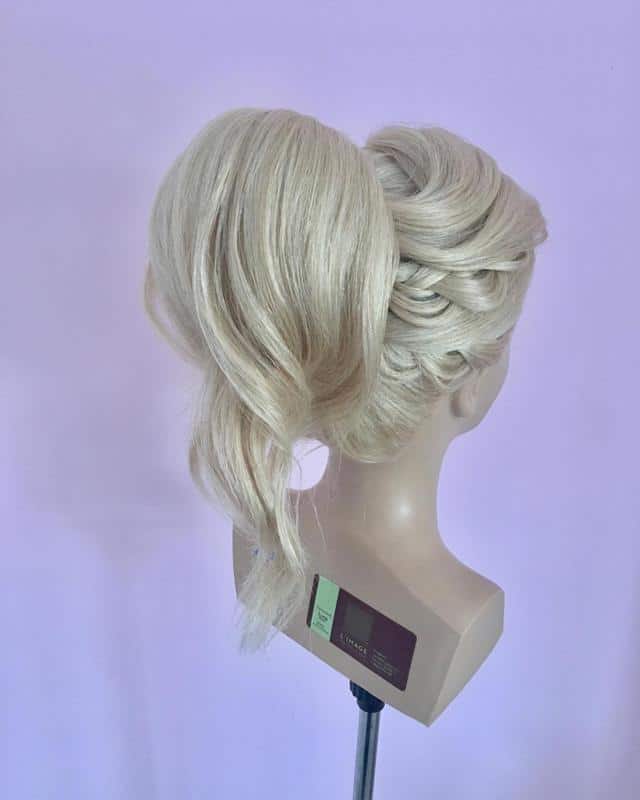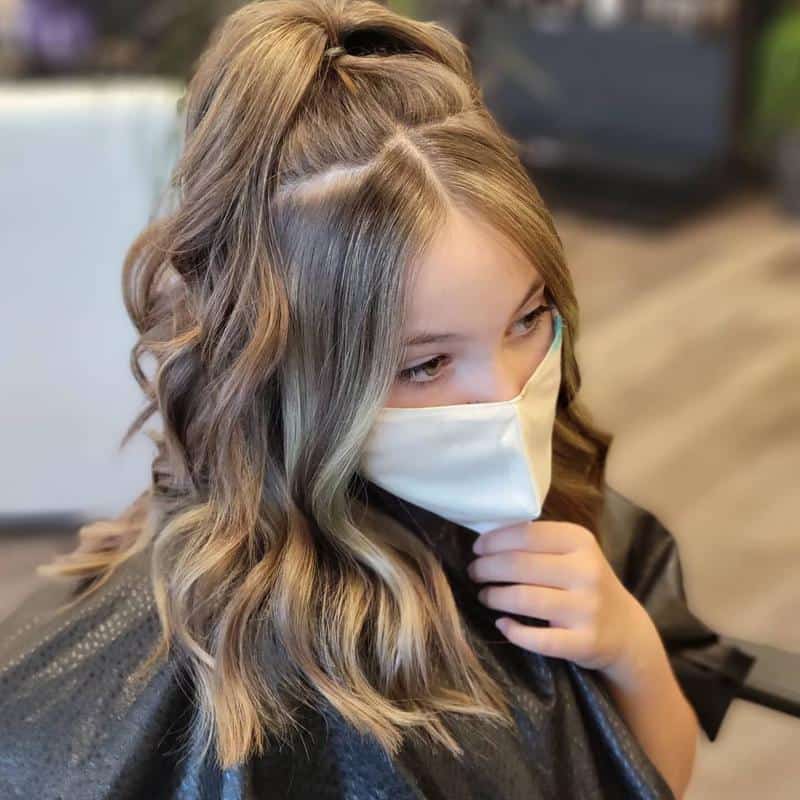 Go big or go home, right? If you want to have a more sophisticated look, try adding some unique elements to the ponytail.
Some braids, or special curls, even particular accessories can transform a common ponytail into a real piece of hair art.
Personal opinion: You might need more products, such as hair clips, puffs, dry shampoos, hair sprays, or fixing hair gels.
Ponytail Hairstyles For Male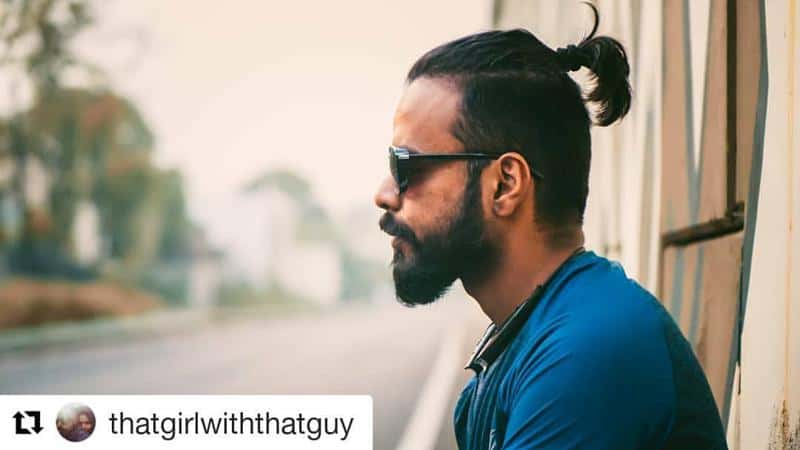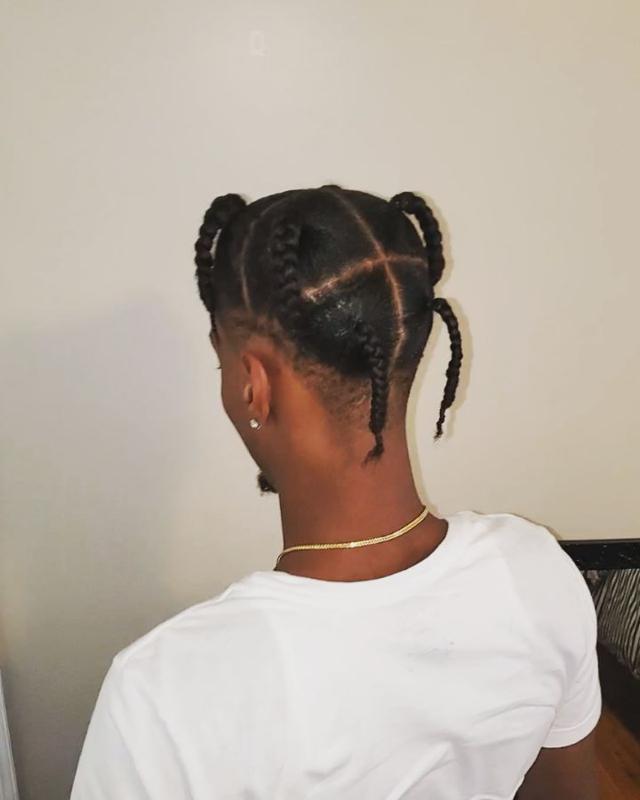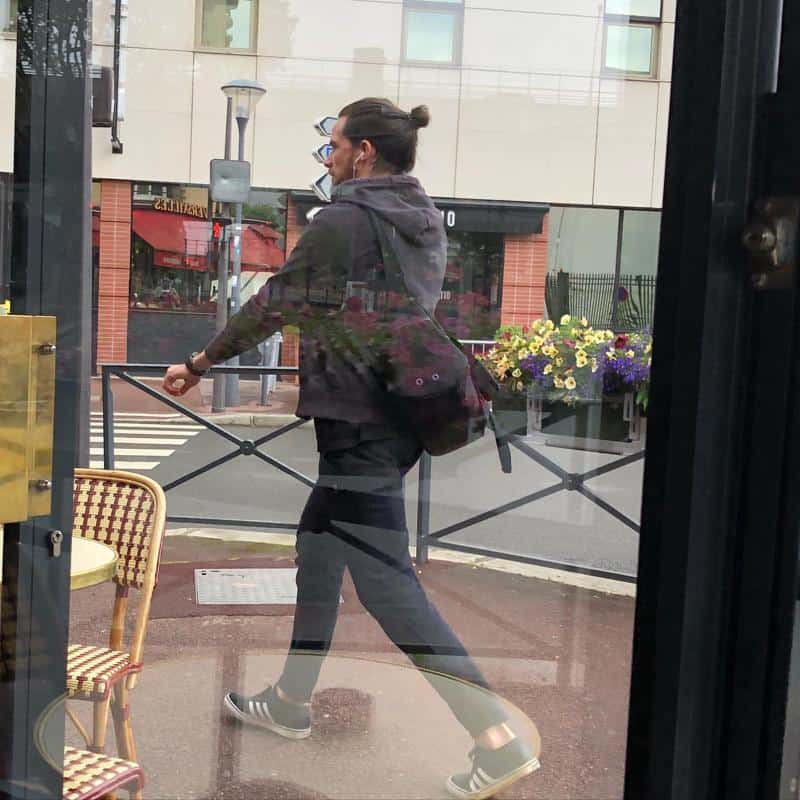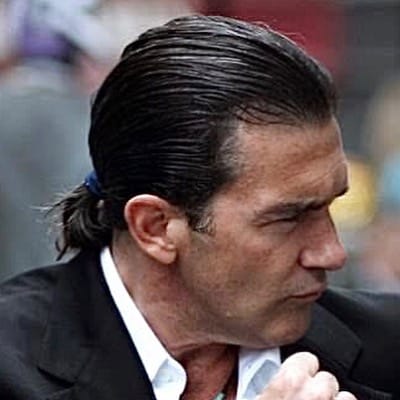 Not only women have long hair, right? Men can also adopt some awesome-looking ponytail hairstyles for males without using too many products or accessories. They will need only a black scrunch, and that's it.
The previous ponytail hairstyles are the most common ones, and go for short hairstyles and longer ones.
Personal opinion: Choose to braid the hair or keep it simple, in one place so that it can match your lifestyle and personality.
Two Ponytails For The Youthful Us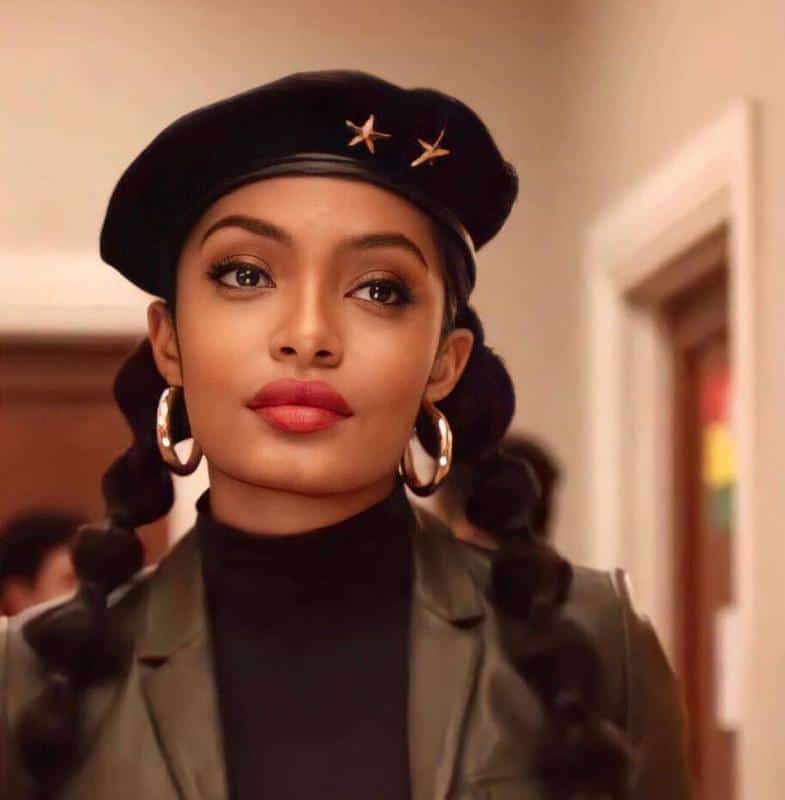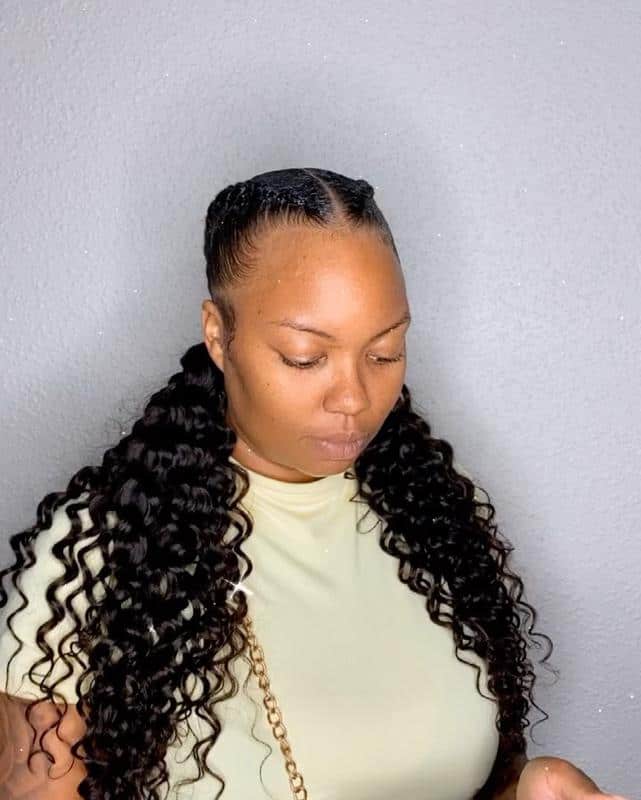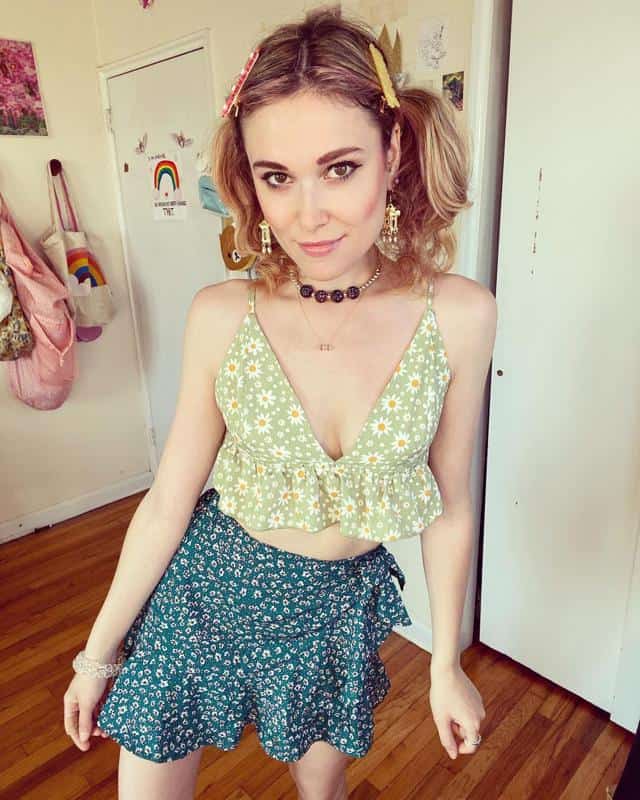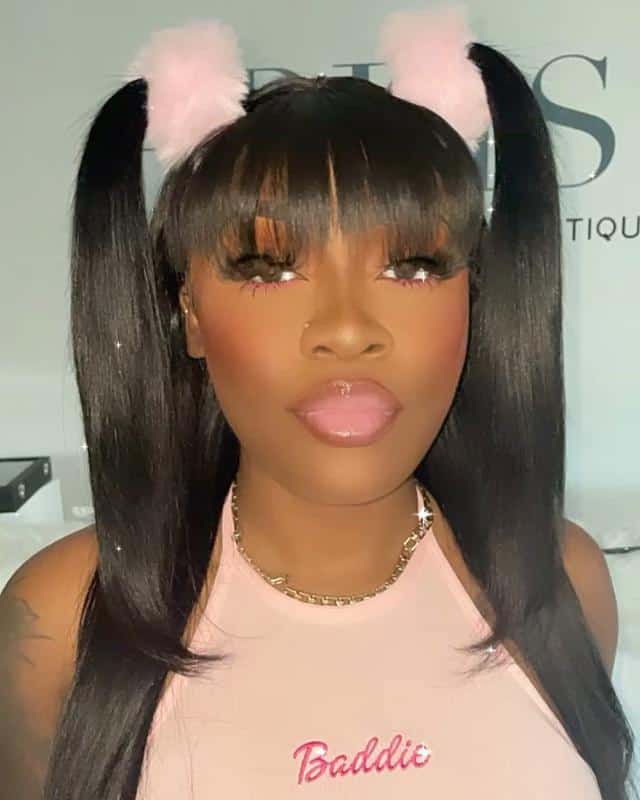 Whether they are braided, all sleek, with waves, curls, or hair extensions, the two ponytails hairstyle is easy to achieve.
Moreover, this hairstyle goes fantastic when you have a school party, when you are going to ski, or you simply want to have a more childish vibe.
Tips:
Make sure you separate your hair into two equal parts
Brush the hair evenly, especially on the superior part of your head
Tie-down the baby hairs using a hair gel or hair cream
Last Thoughts
When it comes to hairstyles that can suit anyone, ponytails are bliss. They go excellent with any type of face shape and can make you feel fresh, young, beautiful, and styled.
Try all the easy ponytail hairstyles we mentioned today and see which one suits you best. Ariana Grande, Beyonce, Gigi Hadid, Hailey Bieber, and many other Hollywood celebrities can serve as excellent inspiration for you.
Make sure you grab all the hair products you need, so you can finally achieve that type of ponytail you always wished to have.
Also Read:

Top 30 Beautiful Little Girl Haircut Ideas (2022 Updated)