Top 30 Mother Of The Bride Hairstyles (2023 Updated)
When you shop through links on our site, we may earn an affiliate commission. This educational content is not intended to be a substitute for professional advice.
Are you a proud mother who can't wait to get her daughter married to the man of her life? If you're excited about this big step and move you'll enjoy this article. Right here and right now, we are going to focus on some gorgeous hairstyle ideas for the mother of the bride who's seeking an appropriate hairstyle idea that will leave all the guests breathless. Find your perfect inspiration down below and among these 30 unique hair ideas.
What Hairstyle To Go For If You Are A Mother Of The Bride?
A mother of the bride should wear something appropriate for her age group and her mature features. For a lot of women, these are the following hairstyle ideas:
A bun
Chignon
Blowout
Curled Hollywood waves
Ombré and balayage looks
Can You Do Your Hair On Your Own For This Big Day?
It is quite tricky to try and do these looks on your own. This is why a lot of women prefer to book a hairstylist and a hairdresser who is skilled enough when it comes to more complex looks. You should book a hairstylist yourself if you don't have the right level of experience when it comes to your hair creations.
Are These Hairstyles Pricey?
These hairstyle ideas don't have to be too pricey. However, their final price point will depend a lot on the knowledge level of your hairstylist, their reputation, as well as your location and place of living. Most hairstyles for mothers of brides usually go for $100-300. This includes a hair wash, blowout, as well as styling of the hair.
However, if you plan on using some new hair dye, if you wish to incorporate highlights, or if you have a complex look in mind, you will pay more money for the final result and its outcome.
15 Bun Hairstyle Ideas for Mother Of The Bride
1. Twisted Bun Light Brown Hair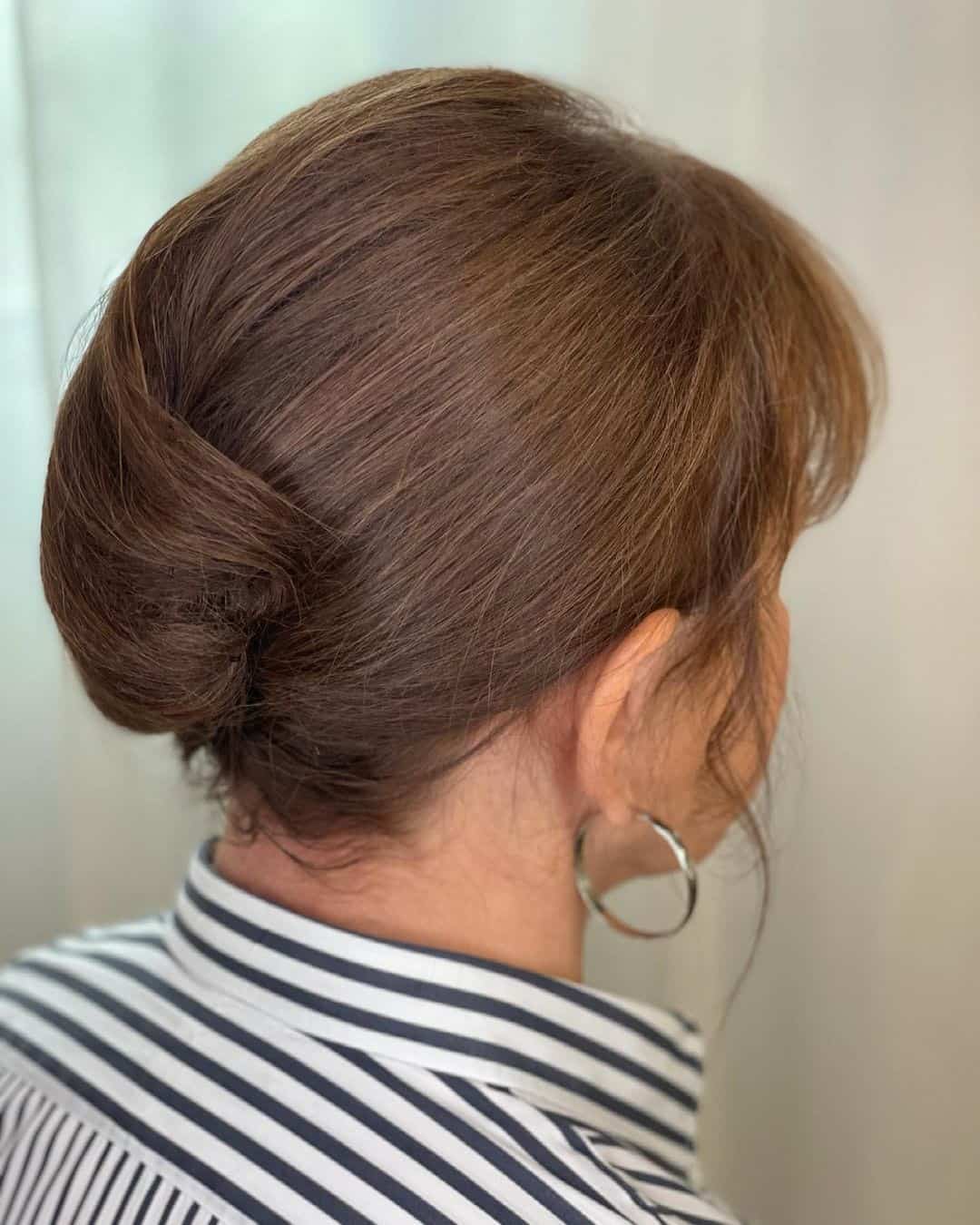 Light brown hair is usually seamless on mature women as well as those who want to try out a subtle change. You can also hide some grays with this chosen color and wear it as a proud mother of the bride.
The final result is low-key and low-maintenance. You don't have to be too aggressive or attention-seeking, wouldn't you agree? This look won't take you more than two hours to achieve at a hair salon.
2. Blonde Silver Hair With Pins
Moms can also rock some gorgeous accessories in their buns. If you're a fan of gorgeous ideas and something that will seek attention, this is it!
Let the beauty of this style speak for itself. The final result will show they you're someone who loves traditional and gracious looks.
3. Formal Chignon Light Hair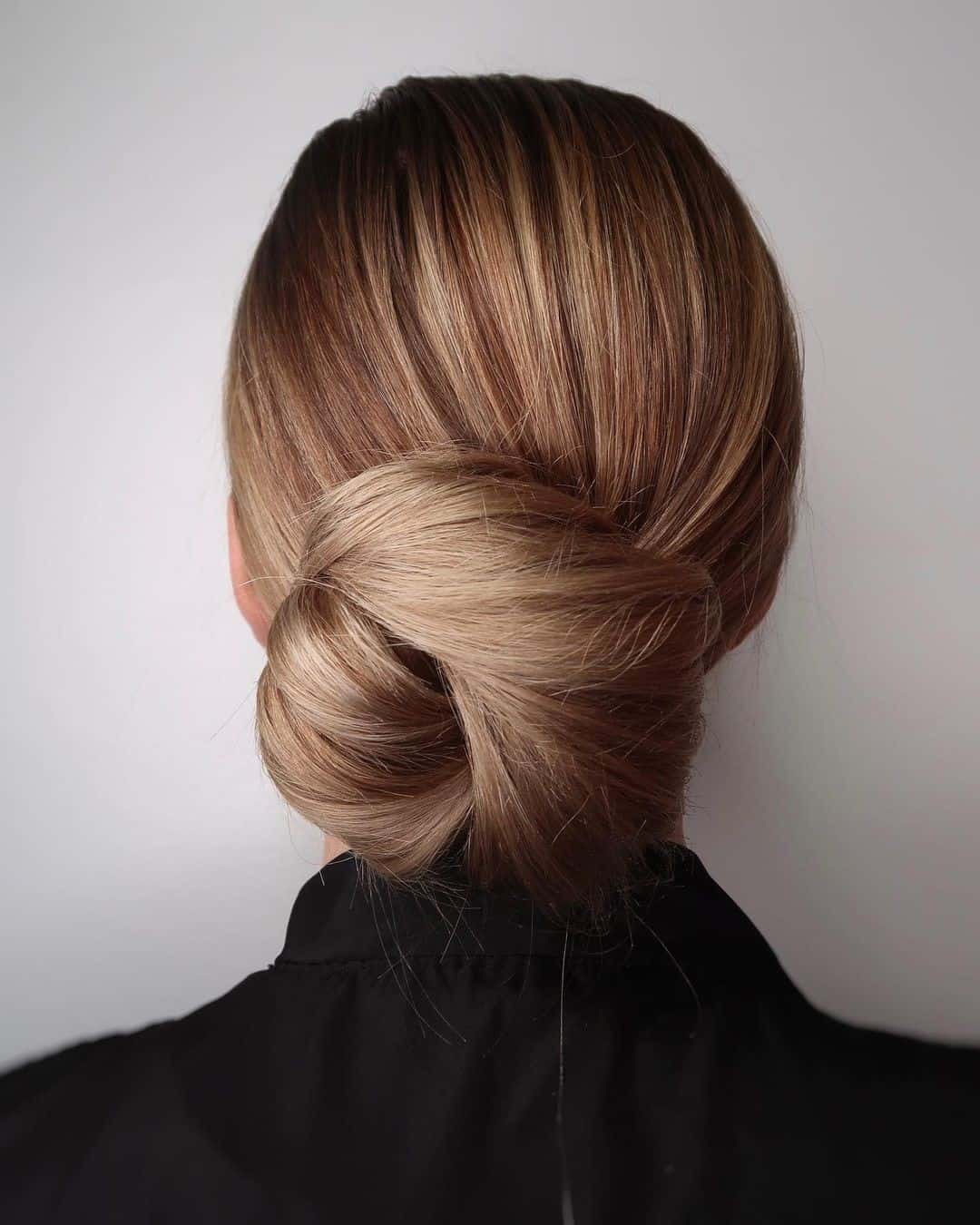 A formal bun will look amazing on those who love lower hairstyles. This one is placed quite low yet in the middle centerpiece of your hair, which makes it stylish and wanted.
This twisted bun looks elegant and not as hard to achieve. If you're a natural blonde you'll want to recreate this concept.
4. Loose Low Bun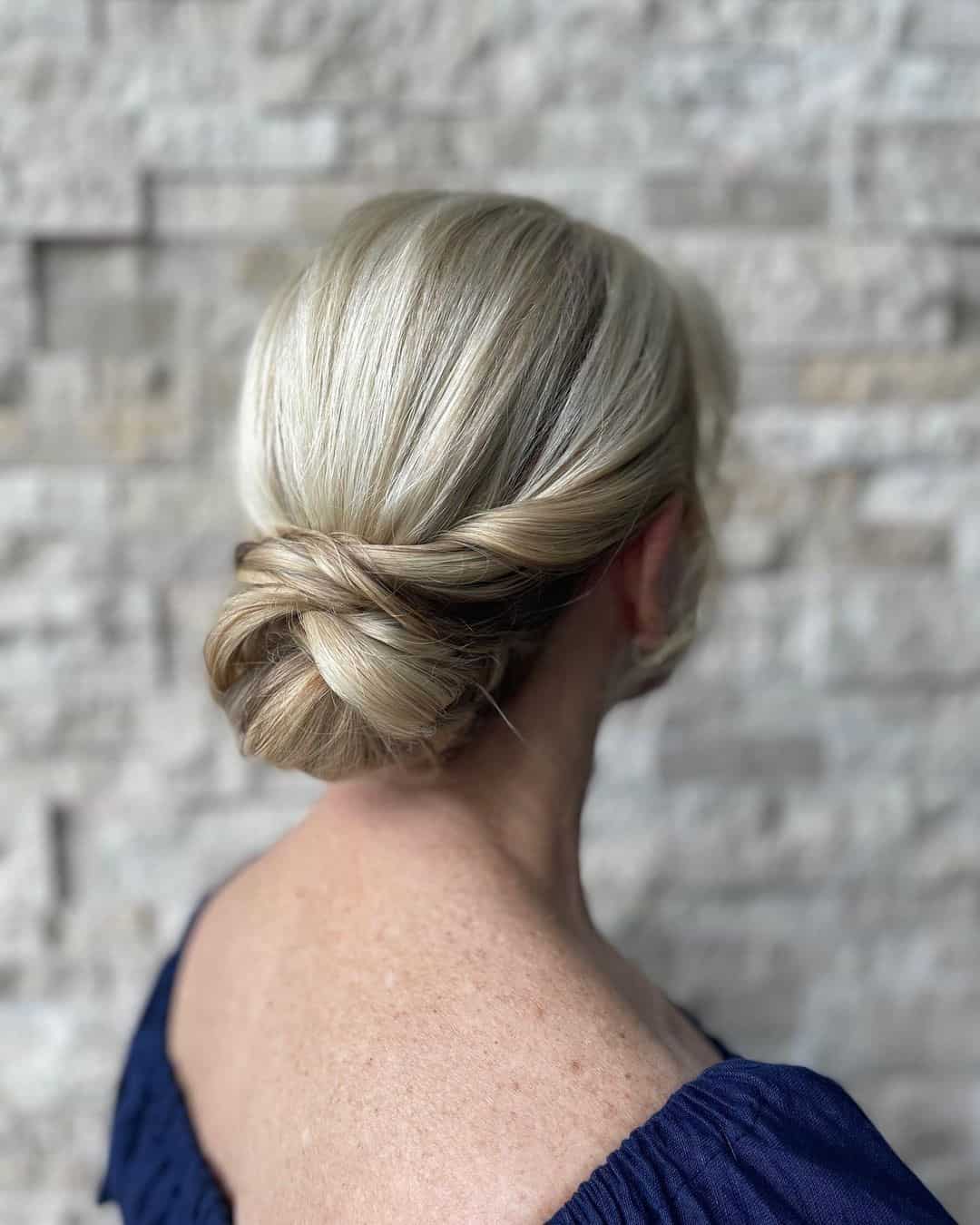 Oftentimes blonde hair can wash out and end up looking slightly yellow or orange. This hue doesn't have to be bad or ugly, just a bit unusual. If you prefer different colors on top of your head, you'll like this unusual outcome.
Go for a soft and sweet braid in the back. Once done properly this braid will look perfect for some serious moms!
5. Gorgeous & Dramatic Hairstyle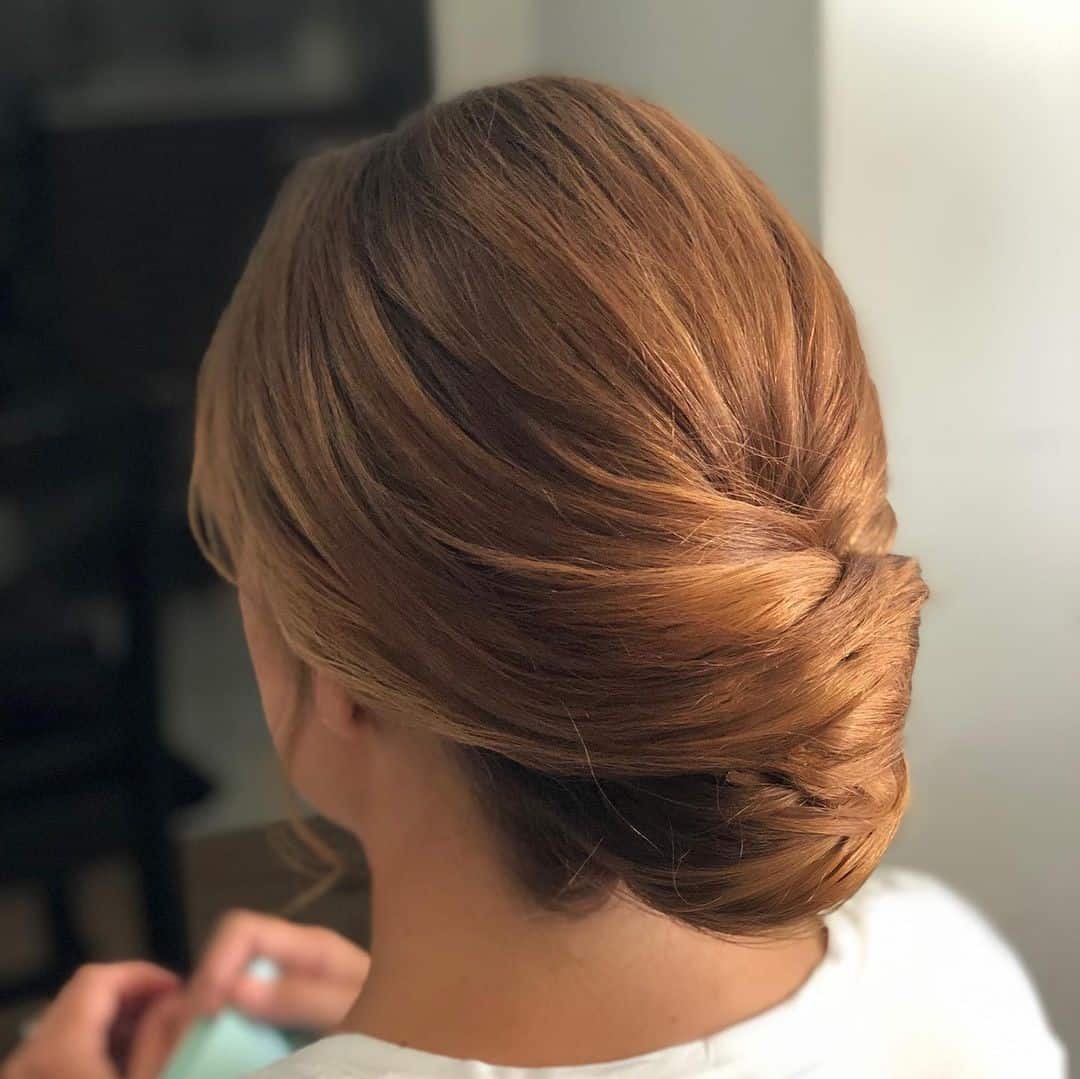 Auburn color is usually worn by mature women. This look and color choice suits those who love to look classy and who want to wear a color that matches their age and agenda.
The end result is feminine without being too overpowering. This cut and style are perfect for those who have shorter hair, as well as women who are looking for something that is going to be huge this Autumn.
6. Loose Messy Back Bun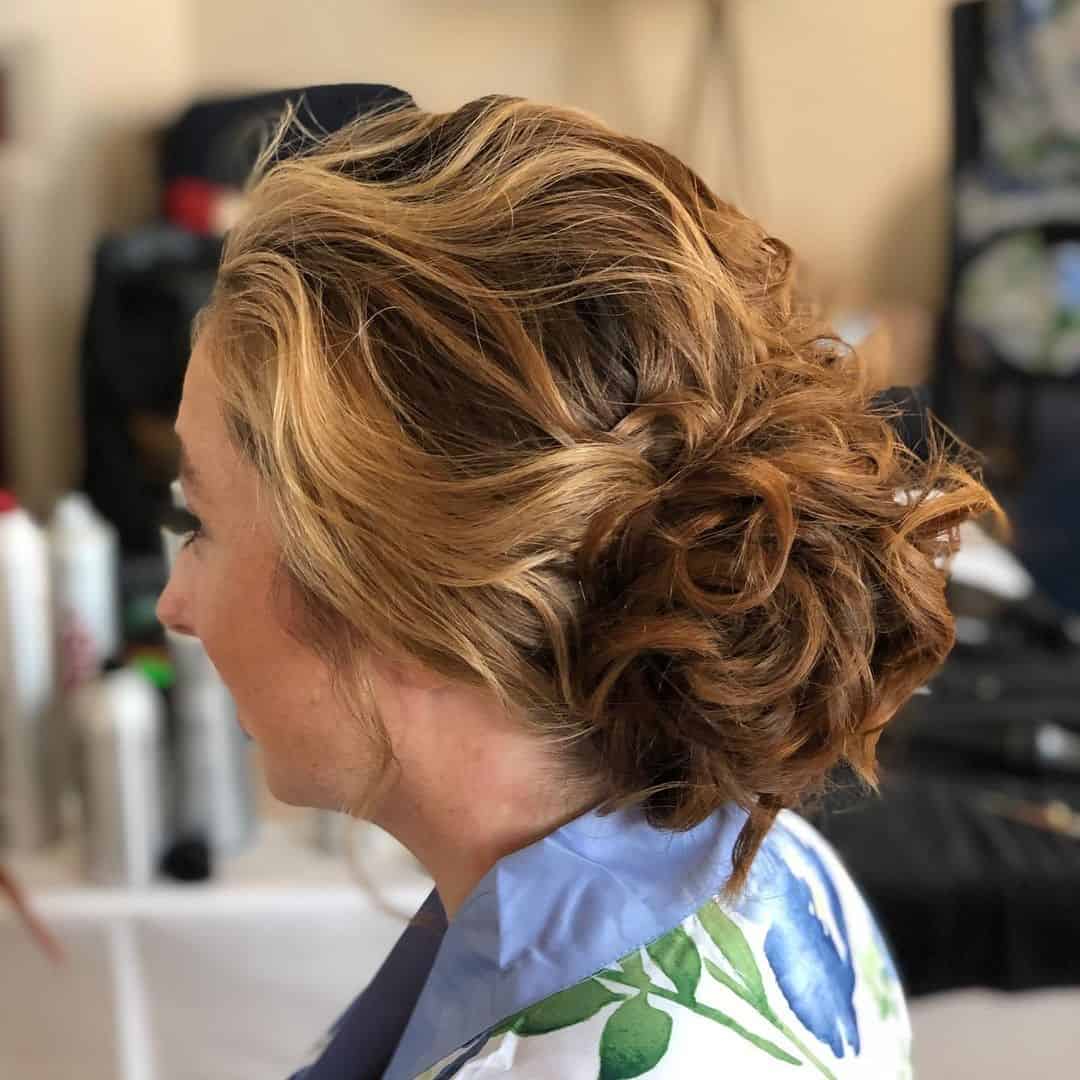 A lot of volume in the back is sexy and stylish. If you are a mom that loves to stand out and you enjoy fierce buns, you'll like this one!
It will take you 1-2 hours to end up with these voluminous and cute buns. They are secured deep in and held with bobi pins.
7. Sleek & Formal Dark Brown Chignon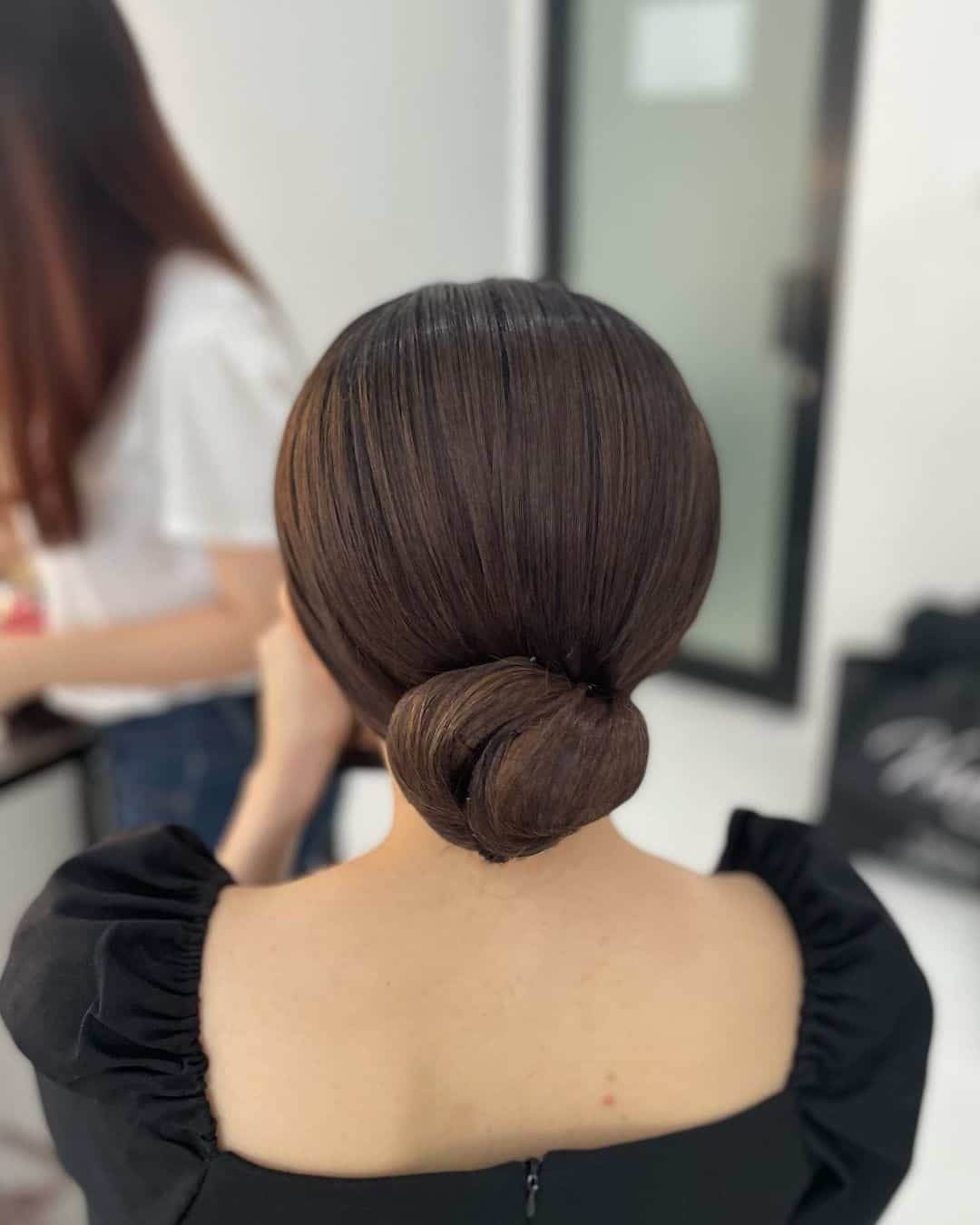 This loose and simple chignon is for moms who love to look cute without investing way too much time in their hair. Another pro when it comes to this hairstyle is the fact that you can wear it and style on your own, you just got to have some experience.
The end result is cute and stylish. It will look amazing on women who are in their late 40s for sure!
8. Puffed & Voluminous Black Bun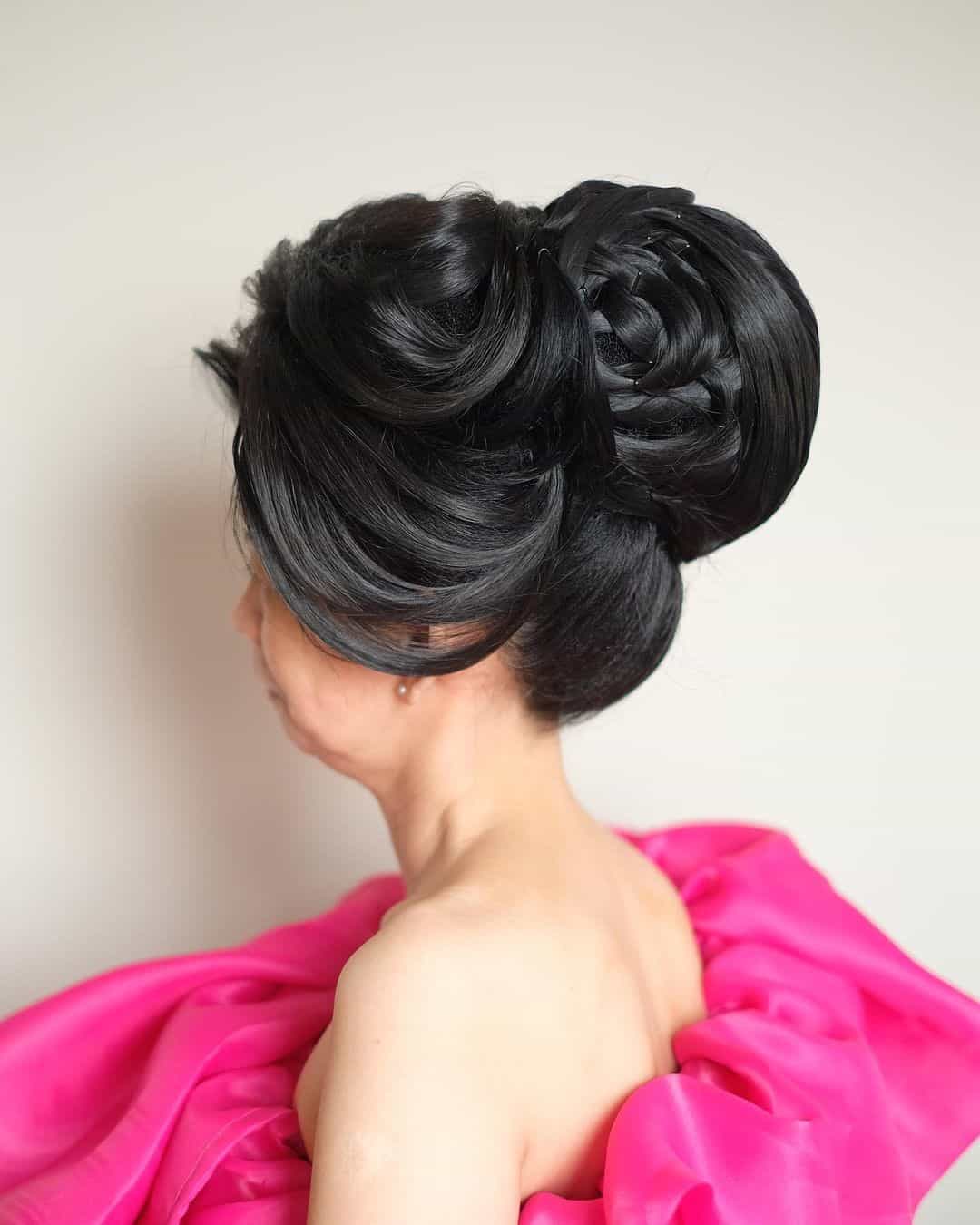 Women love to look cute with their dramatic and fluffy hairdos. This updo is creative and perfect for anyone who loves that additional volume. The end result is quite impressive and gorgeous.
Go for some side-swept bangs and a large braid in the back to make it look different. If you enjoy a bit of everything just know that this hairstyle has all of it.
9. Sleek Up Bun With Flower Details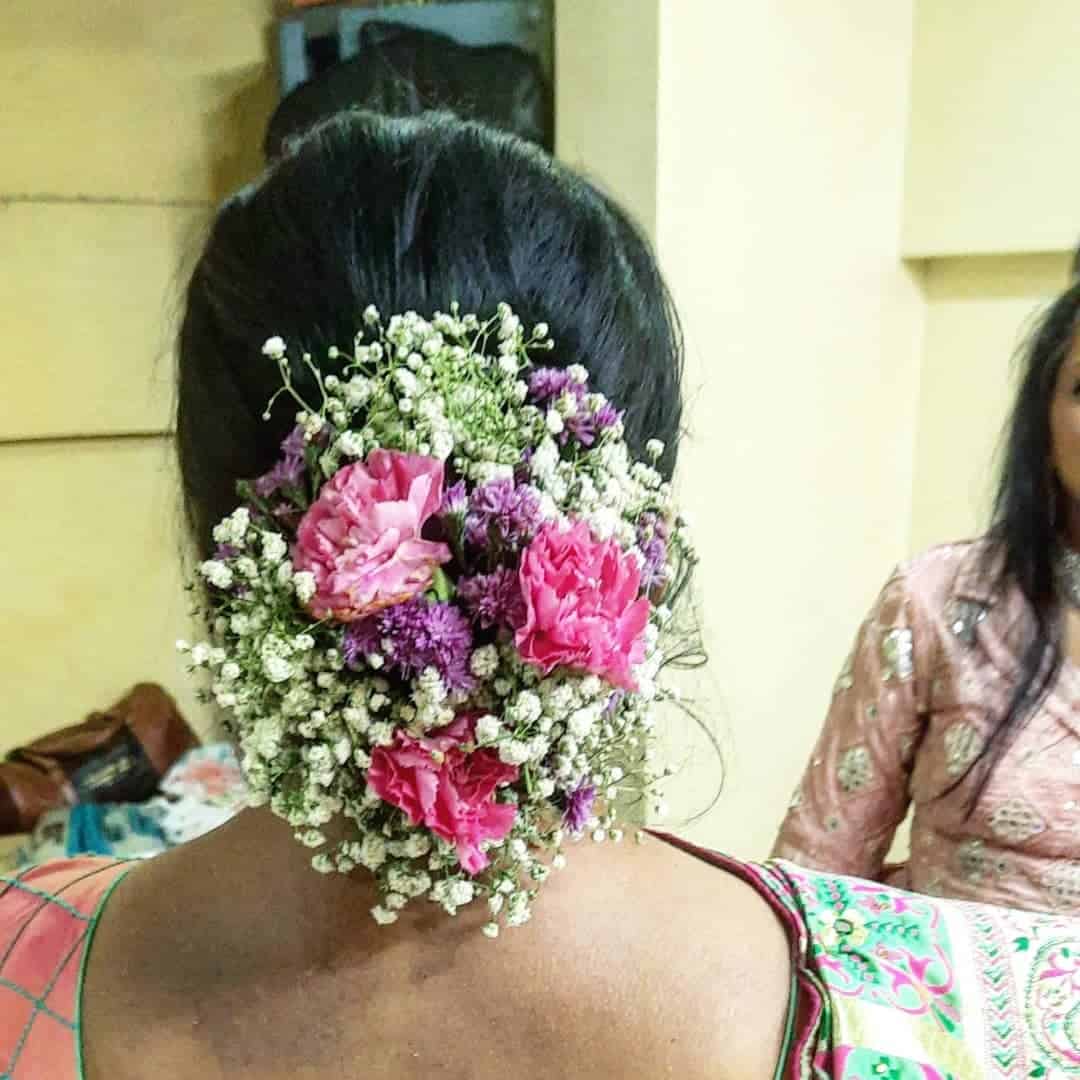 Some moms love to look extra and out of this world. If you're a mom who loves that extravaganza and you're looking for an extraordinary cut, you'll enjoy this one.
Add loads of actual flowers over your back bun. This bun will look powerful and feminine once you add fresh flowers and place them tightly in the back.
10. Low Bun Look With Highlights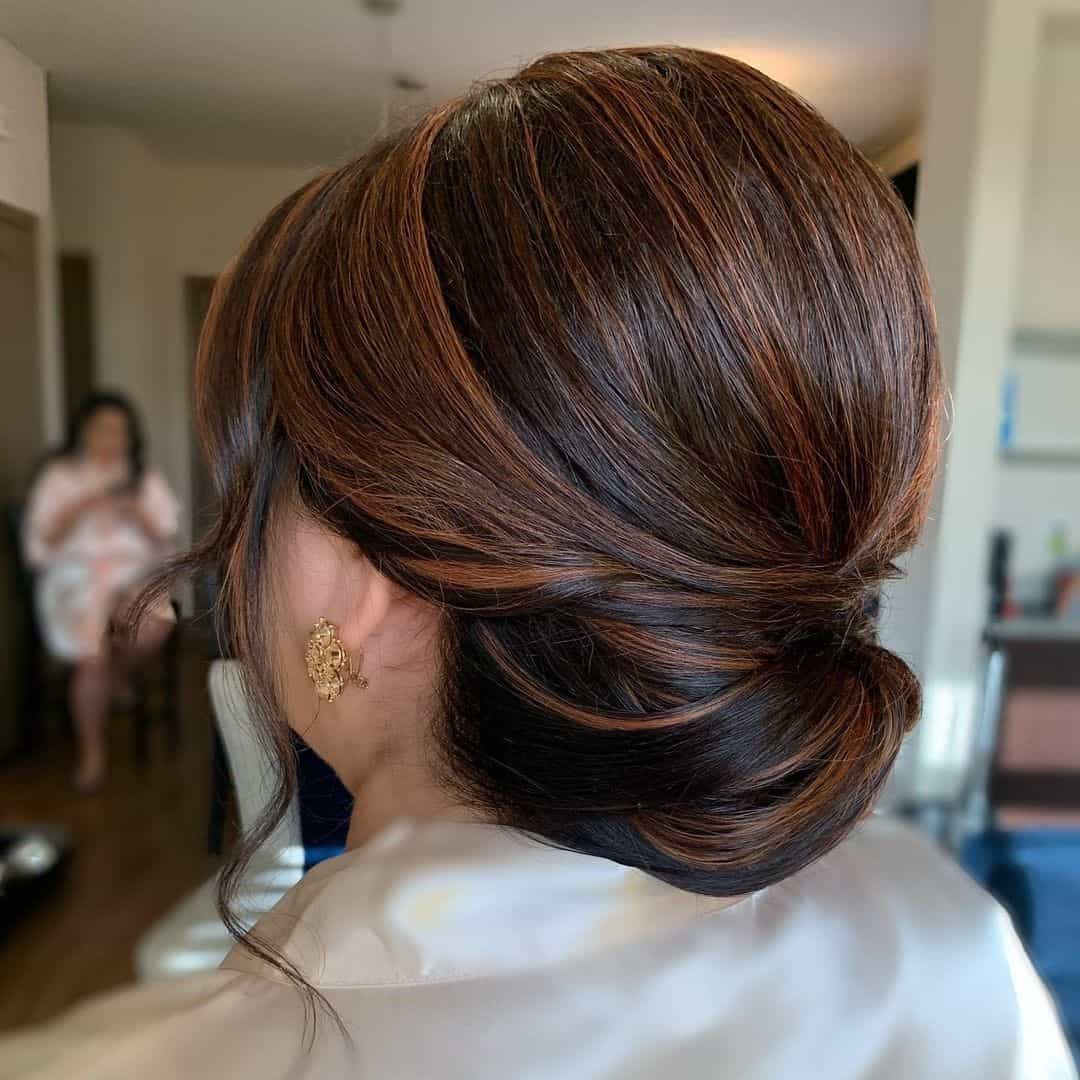 Some moms love to color their hair, and others love to get some stylish and feminine highlights. If you're someone who loves to add dimension to your cut you'll enjoy this look.
The end result is soft and fresh hair. Get your highlights 5-10 days before the wedding just so that you get used to them.
11. Formal Blonde Twisted Bun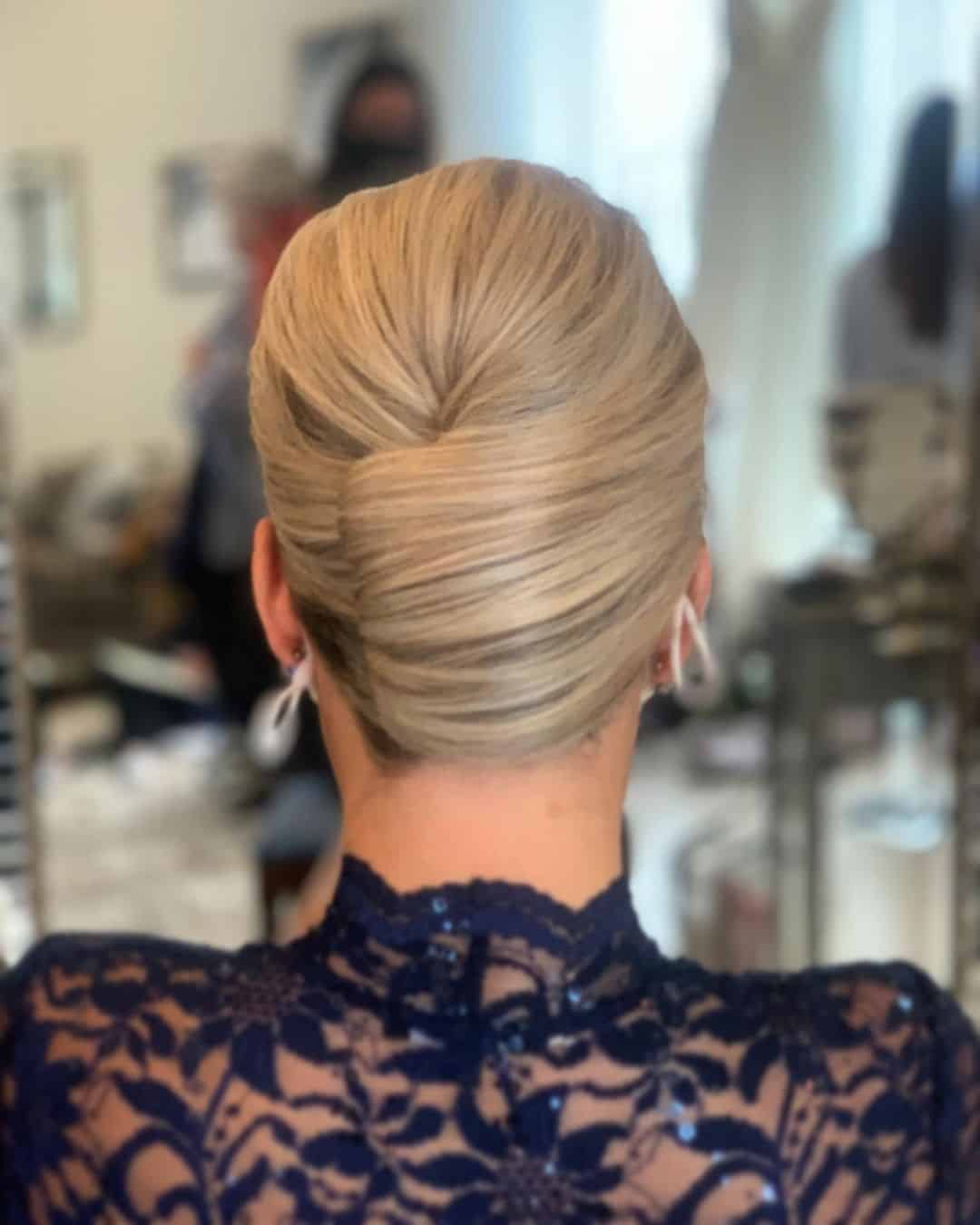 Classy hairstyles will never die. If you like to seek attention with your presence this idea is for you. Most moms will look like royalty with this idea.
Get this hairstyle and rock it for the big day. Secure it in the back with some bobi pins and let it speak for itself. Ideal for women who are in their 50s!
12. Feminine Blonde Bun With Pins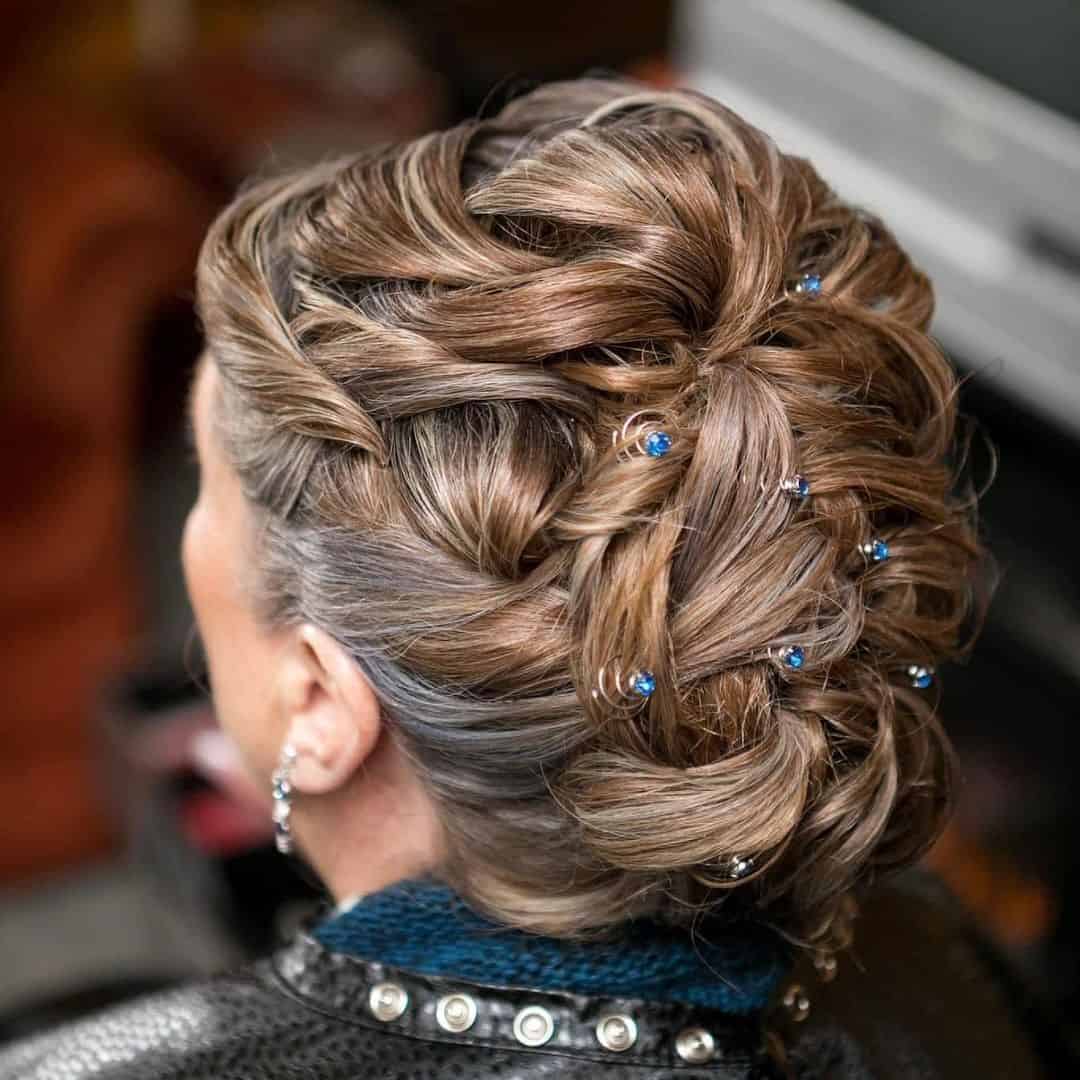 A bunch of details will make every look stand out and look classy. If you're someone who knows how to incorporate the right key pieces into your hair, and you know how to match them with your dress, give it a go with this cute look.
Braids and volume look pretty and powerful. If you're someone who knows how to look classy you'll enjoy this design. It will make every mom sassy, wouldn't you agree?
13. Messy Low Bun With Highlights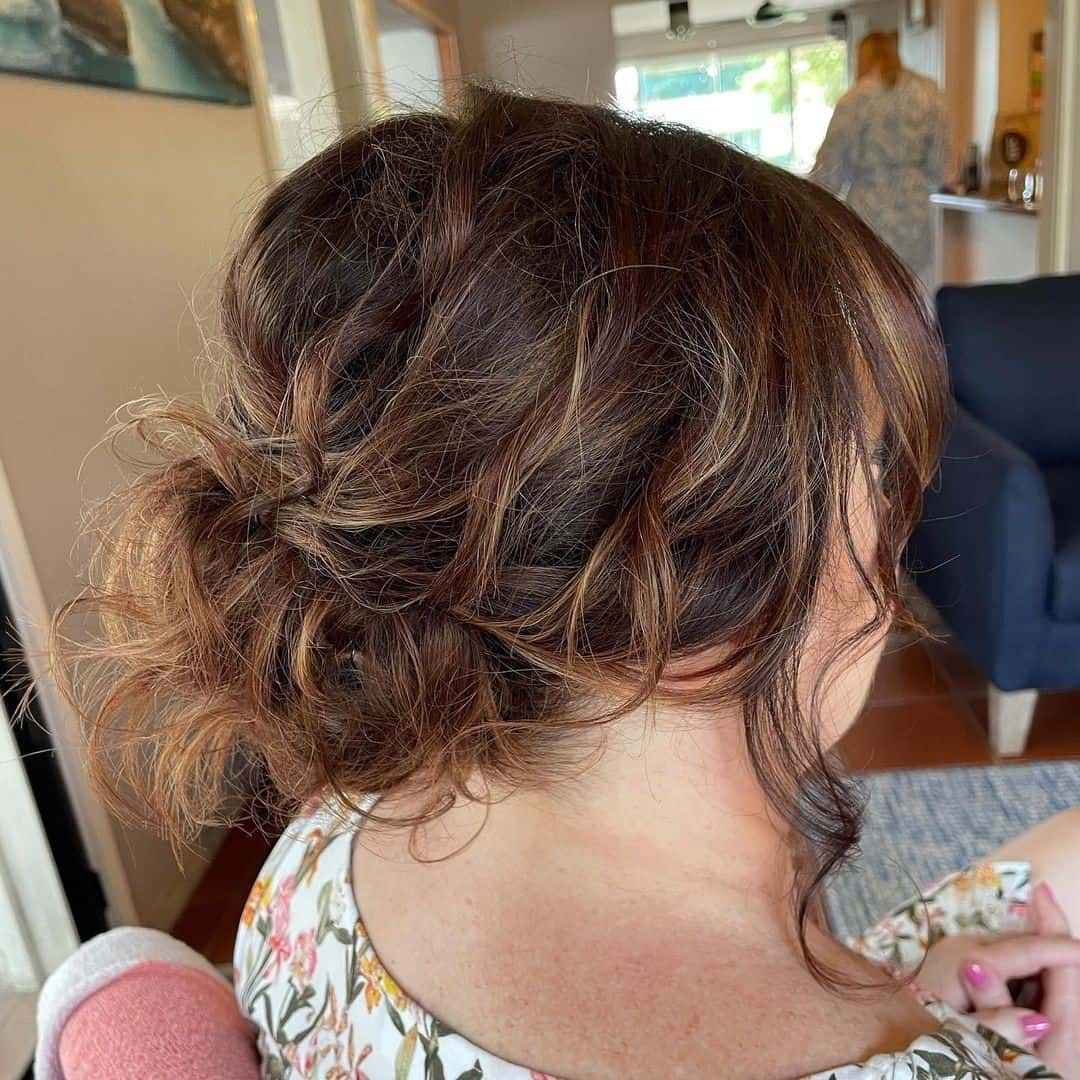 A formal bun with subtle highlights will always look great. You can try this look if you're someone who wants to have a stylish look after the wedding is done.
Make sure that you get a blowout one day before the wedding. The final result with some perfectly placed strands and on the right part of your hair will look magical.
14. Light Blonde Bun For Mother Of Bride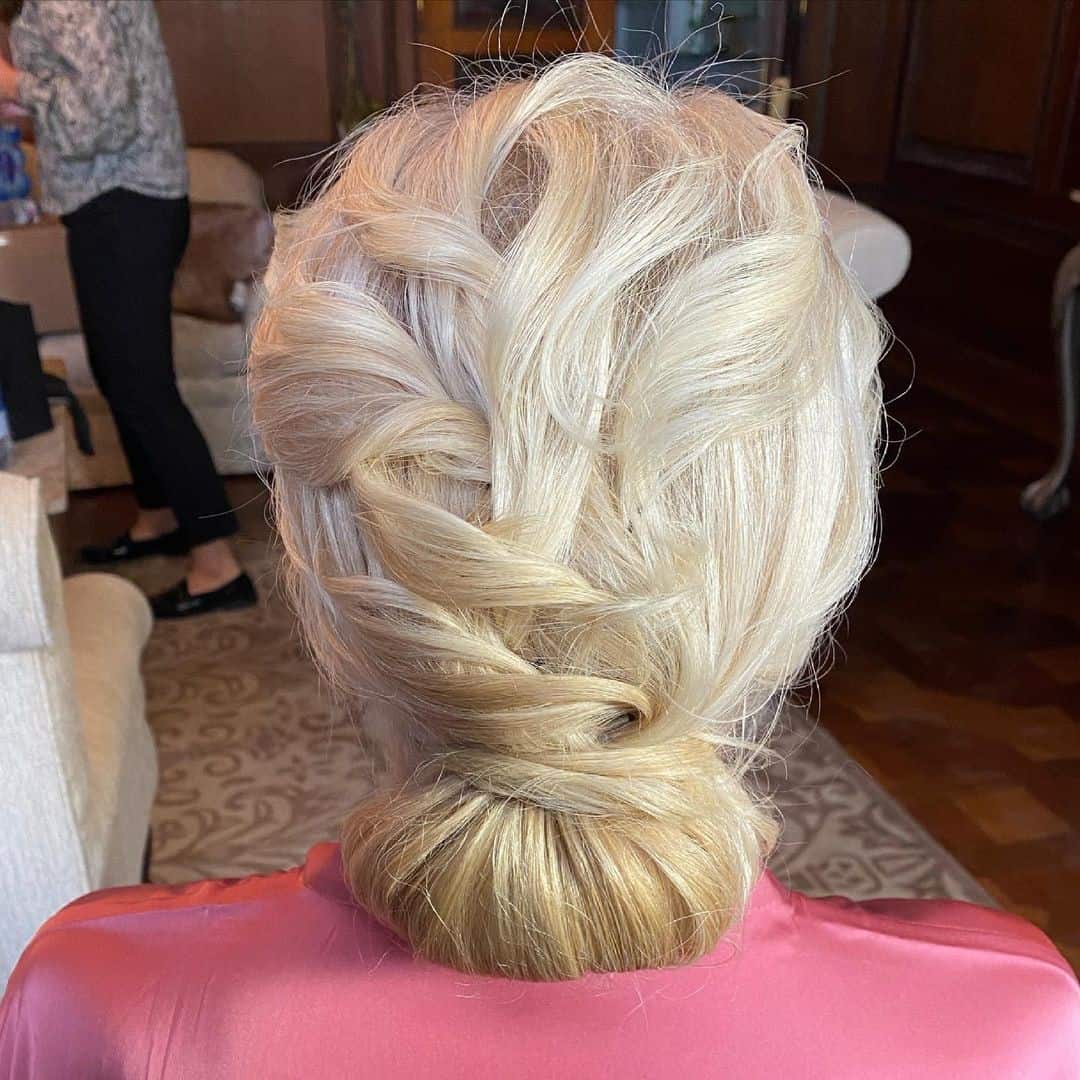 Mature women who have a lot of grays will like this look. You can hide your grays if you color your hair perfectly days before the wedding. The right hair color will also take years off of your face!
Tie the hair in the back and make it look cute. It is not a difficult hairstyle, yet it is ideal for anyone who is a proud mom.
15. Ombre Hair Twisted In Look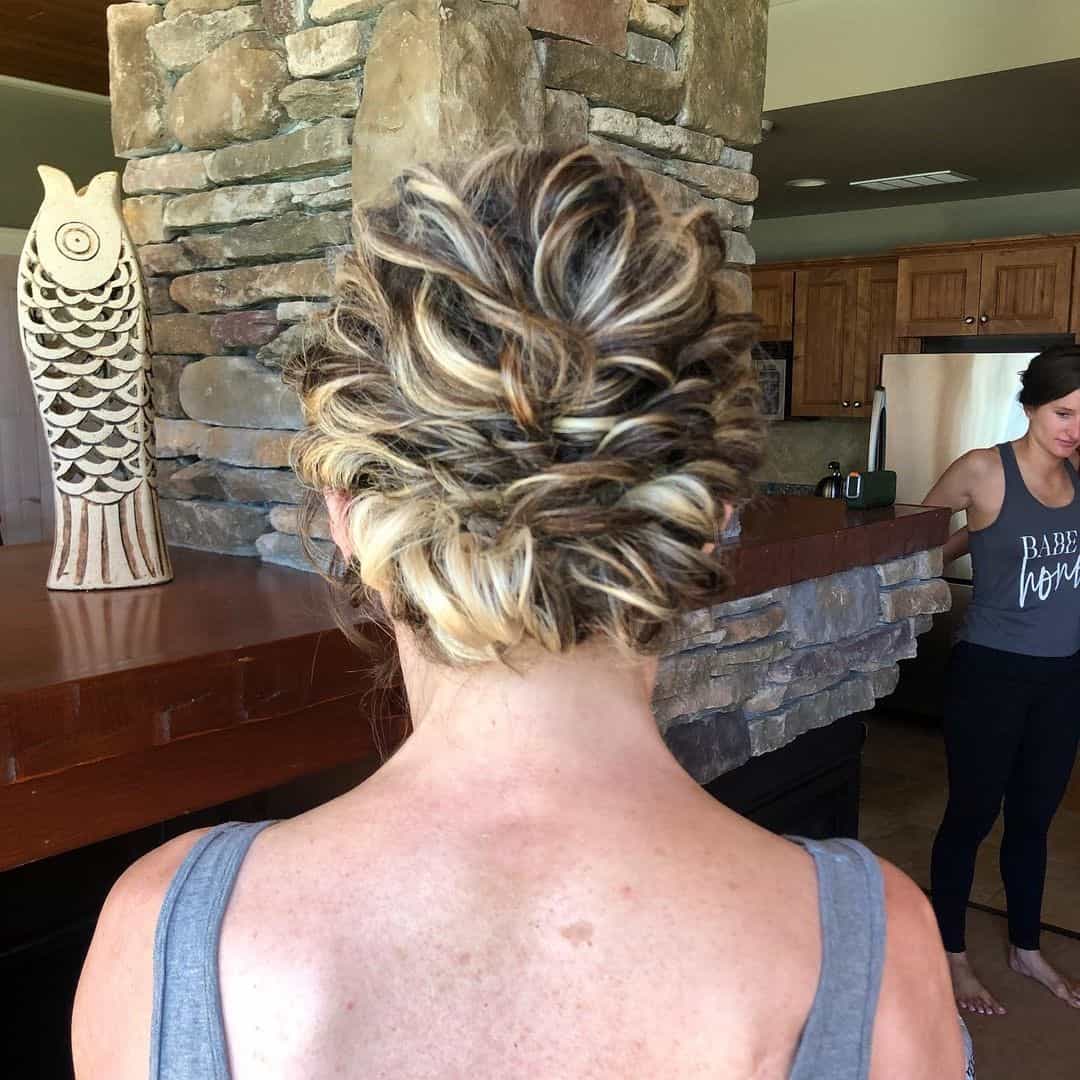 Something like this could be tricky to get and master the right way. If you're a fan of more complicated looks this one is for you.
The end result shows a stylish mom. If you're into color and waves, as well as some fierce color that not a lot of people have you'll enjoy this idea.
15 Straight & Loose Ideas For Mother Of The Bride
1. Loose Short Curls With Beads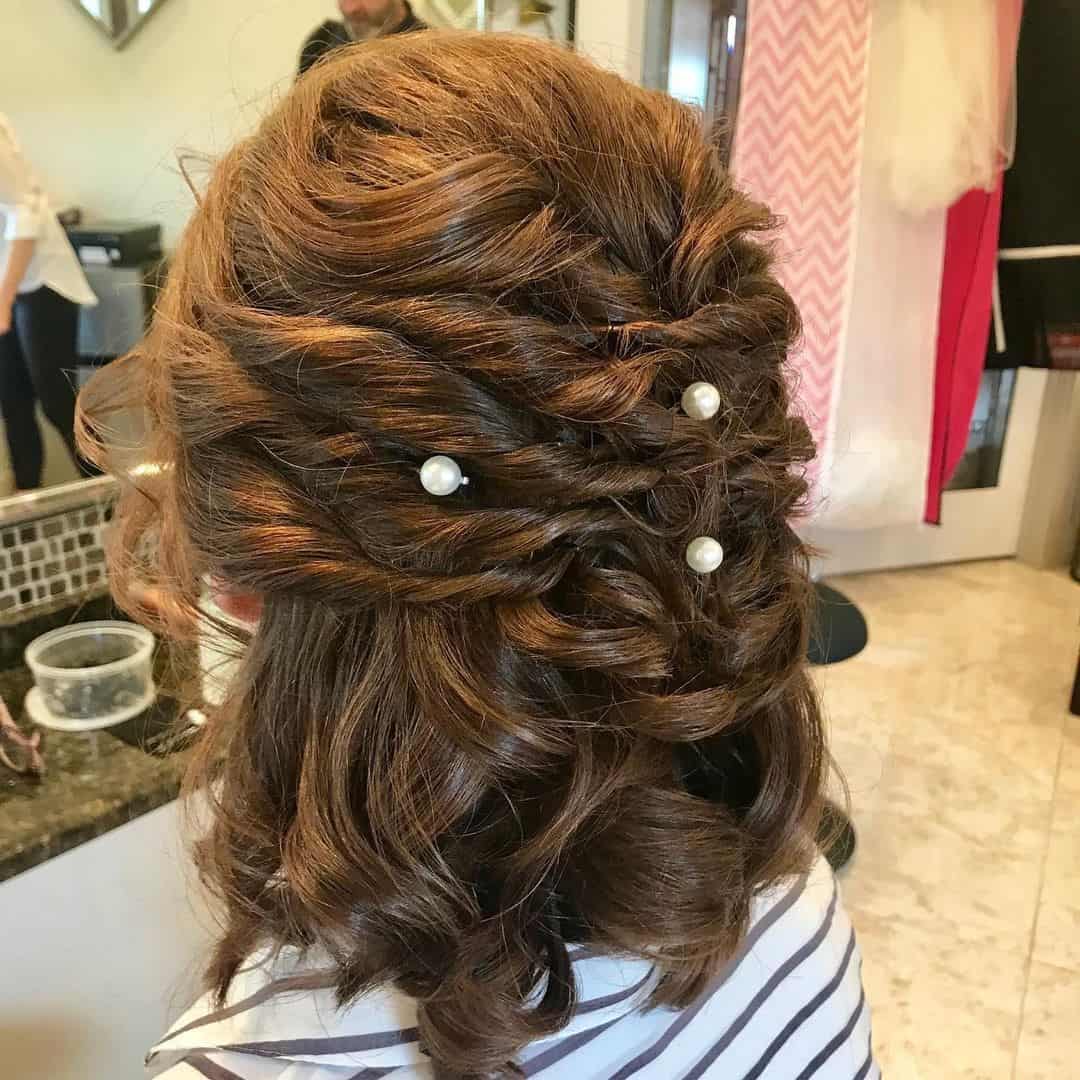 Loose curls and hair flipped in the back look stylish and appropriate for the wedding. If you need some key pieces and accessories you'll like this look.
Add some pearls and beads to the back. Match them with your dress and your jewelry if you wish to look cohesive and feminine.
2. Sleek A-Line Bob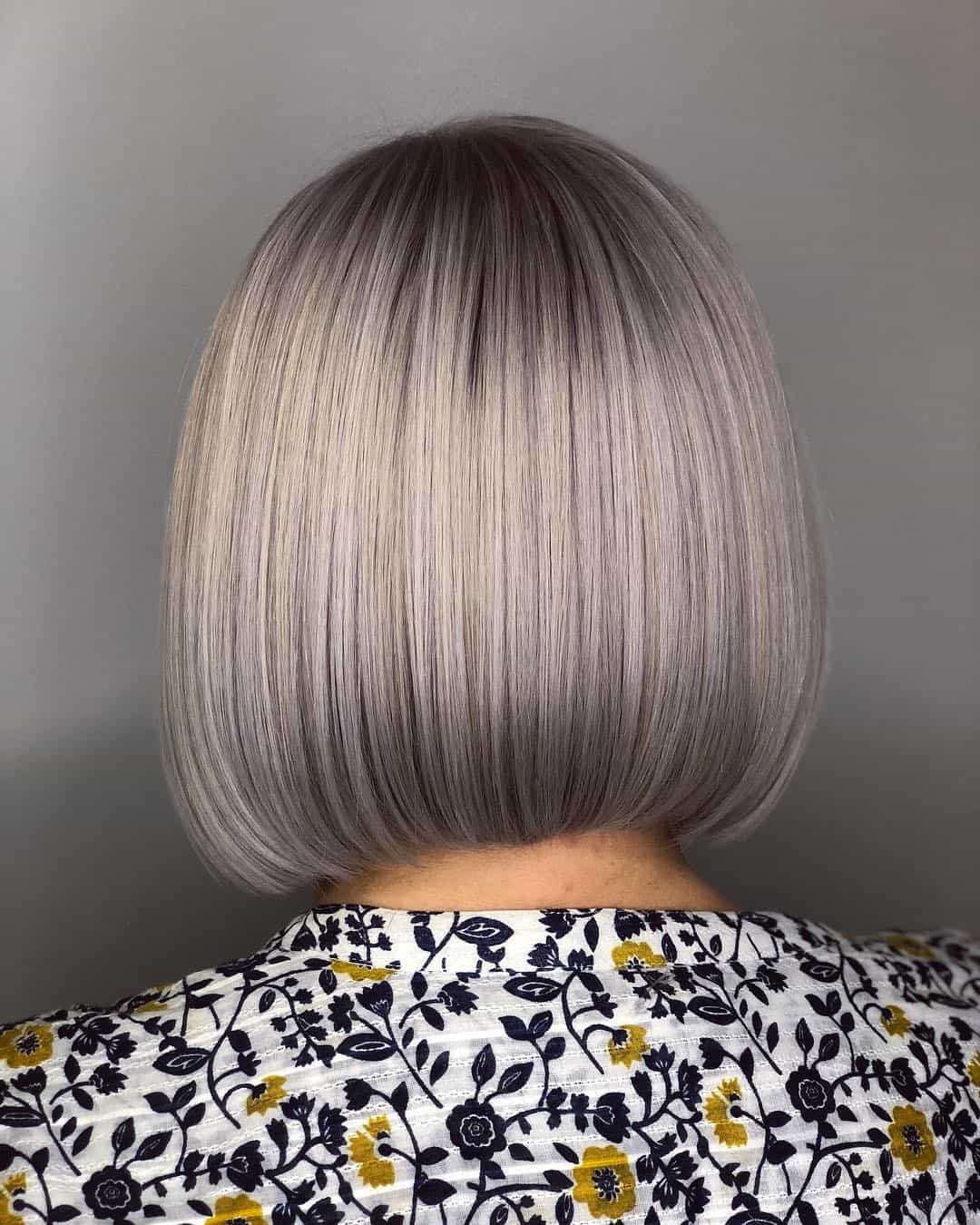 A simple straight hair look is for anyone who doesn't want to look "too much" for the wedding. You'll enjoy this straight hairdo if you're a low-maintenance mother.
The best part about this hairstyle is its quick and easy styling properties. Show that you can achieve a sleek and stylish look in less than 30 minutes!
3. Ombre Cut With Waves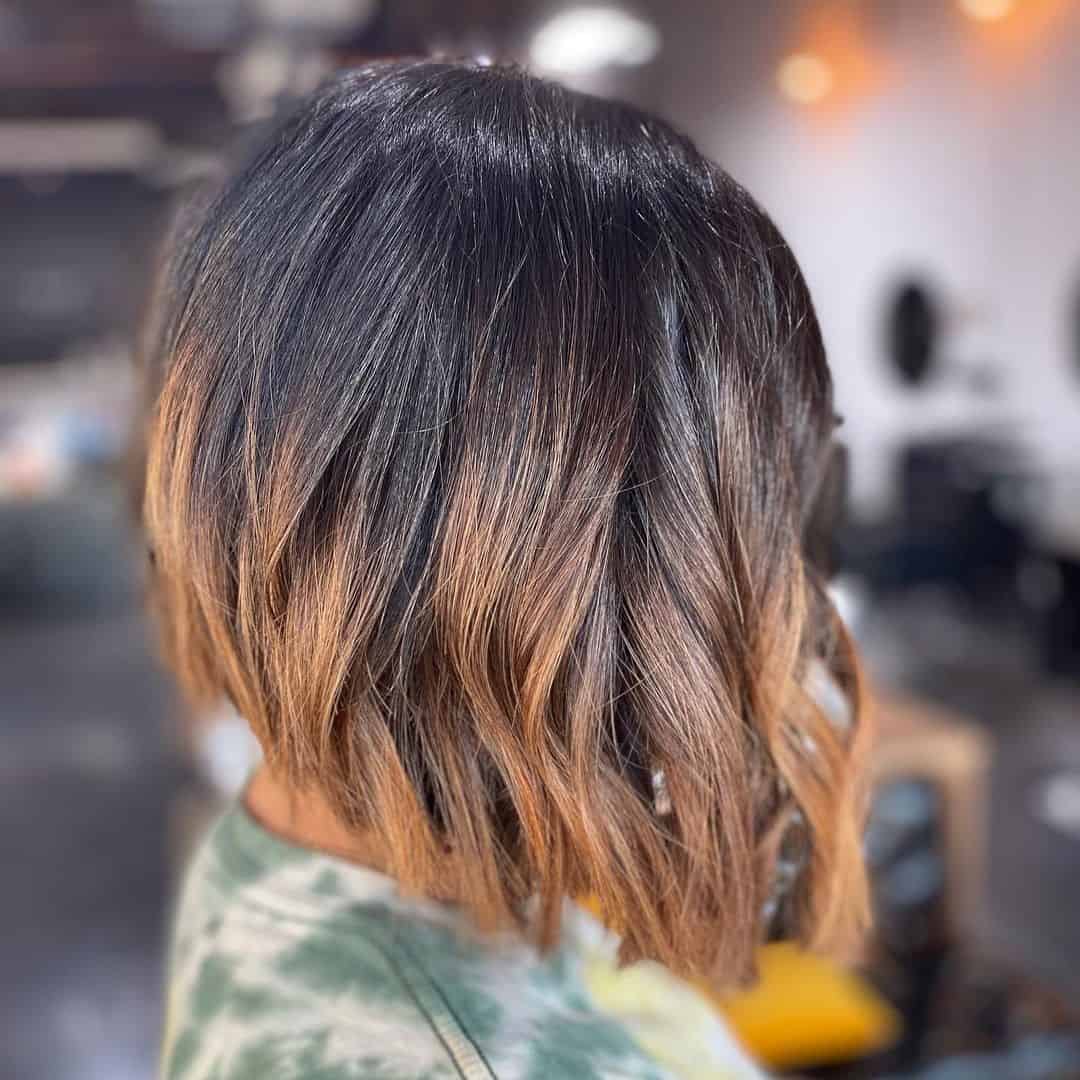 Some moms love ombré highlights and a pop of color. If you don't want to do too much to your hair and you're a fan of sleek ideas this color change will suit you.
Go for curly and wavy ends to make your look chic. You'll like this powerful hairdo if you're a subtle queen.
4. Chocolate Brown Hair Blowout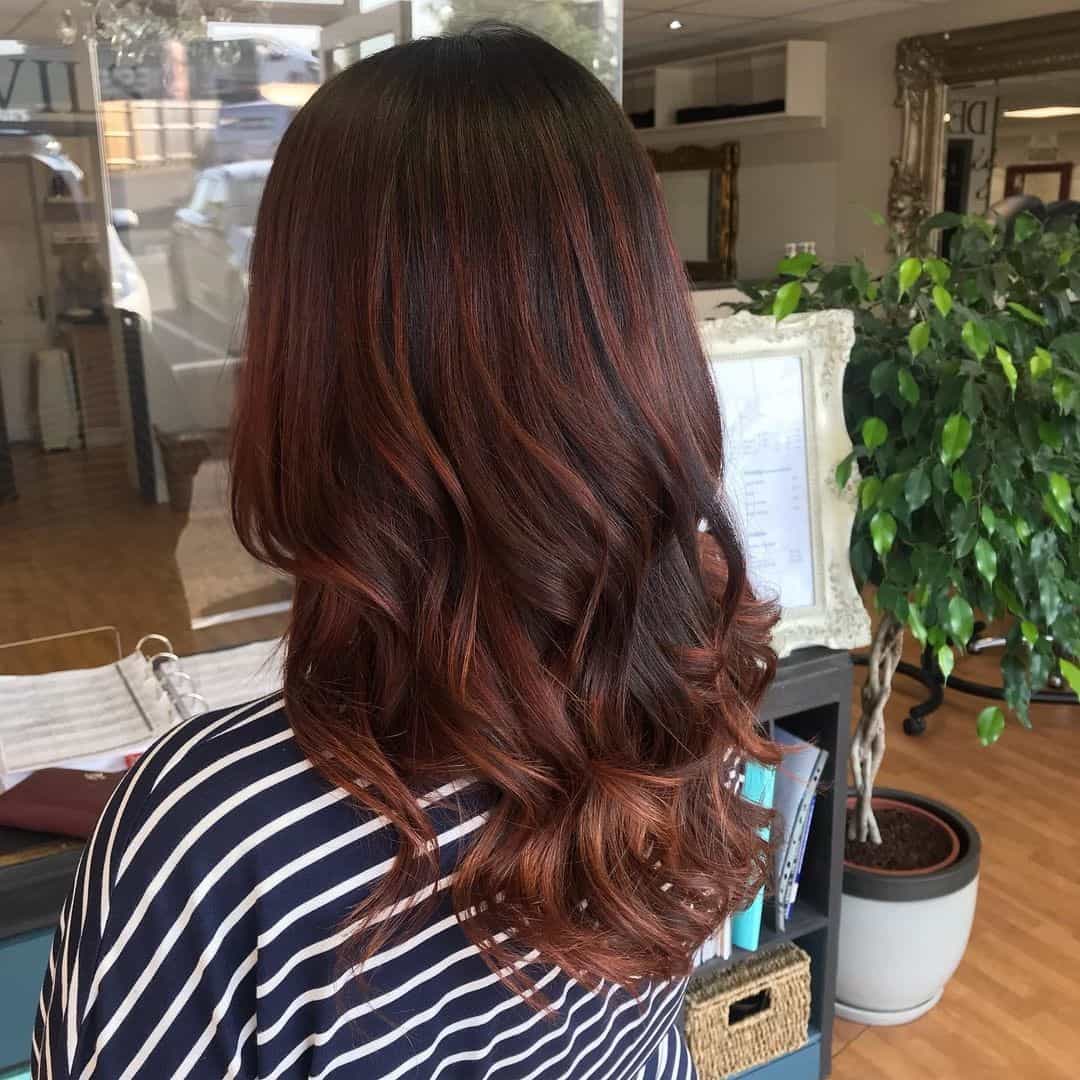 The ultimate hair color for moms of brides that are getting married in the Autumn. If your hair is in good health you'll like this color change.
Wear your ends wavy and show off this color even after the wedding. It is super easy to achieve and it is low maintenance.
5. Loose & Retro Ponytail
Who says that moms can't rock a stylish pony? If you're someone who is into cool and "younger" looks, you'll want to try out a ponytail with a braid detail in the back.
This hairdo with some side hairpieces is cute and feminine. It is also a flirty look. Are you a single mom who wants to get all the attention?
6. Blonde Hair Loose Waves Blowout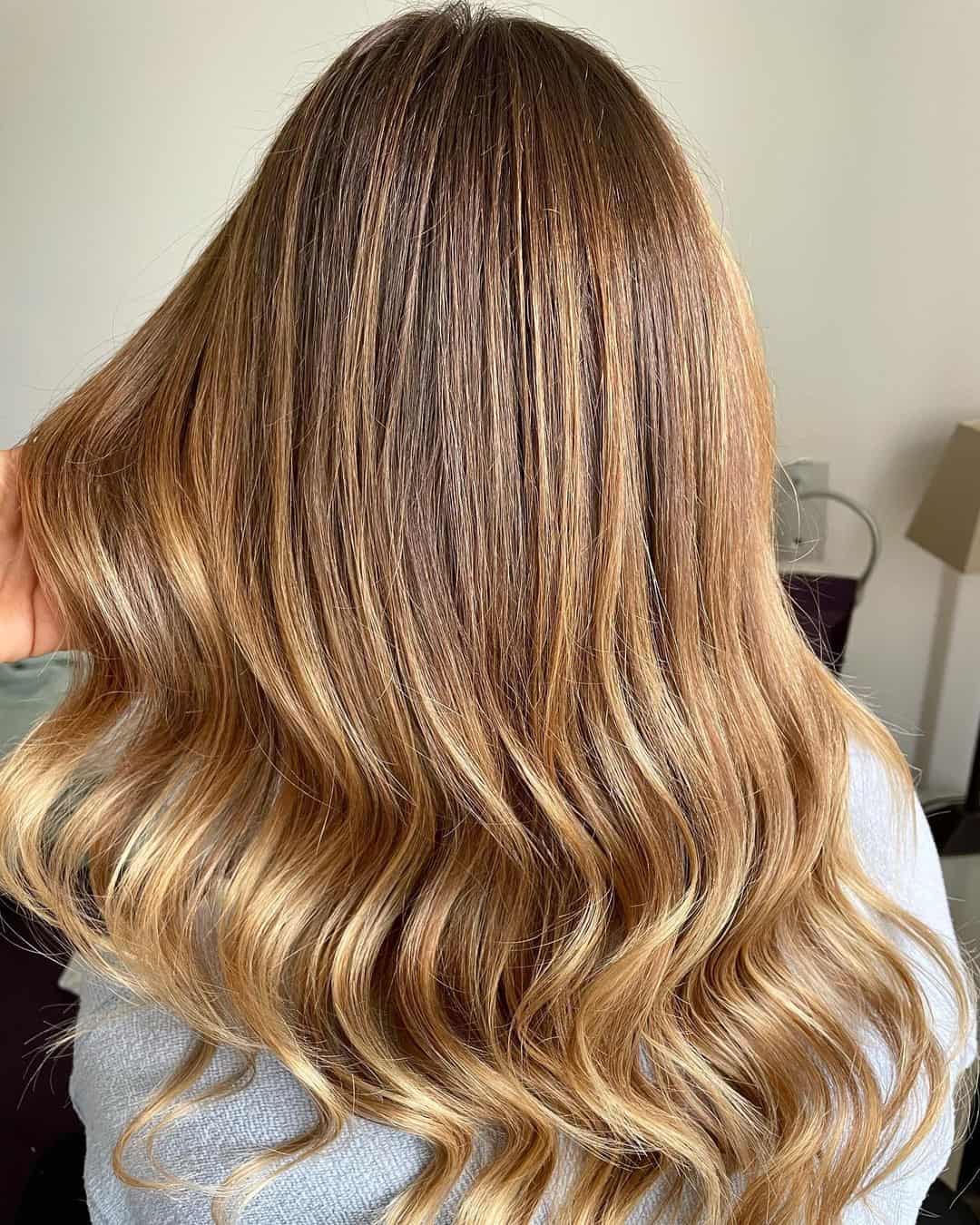 Blowout looks and blowout hairstyles are feminine once done the right way. If you're someone who doesn't want a loud hair idea you'll like this creation.
It is a classy idea that will take you less than an hour to achieve. Just make sure that your hairstylist is good at giving you wavy blowouts.
7. Brown Ponytail Sleek Design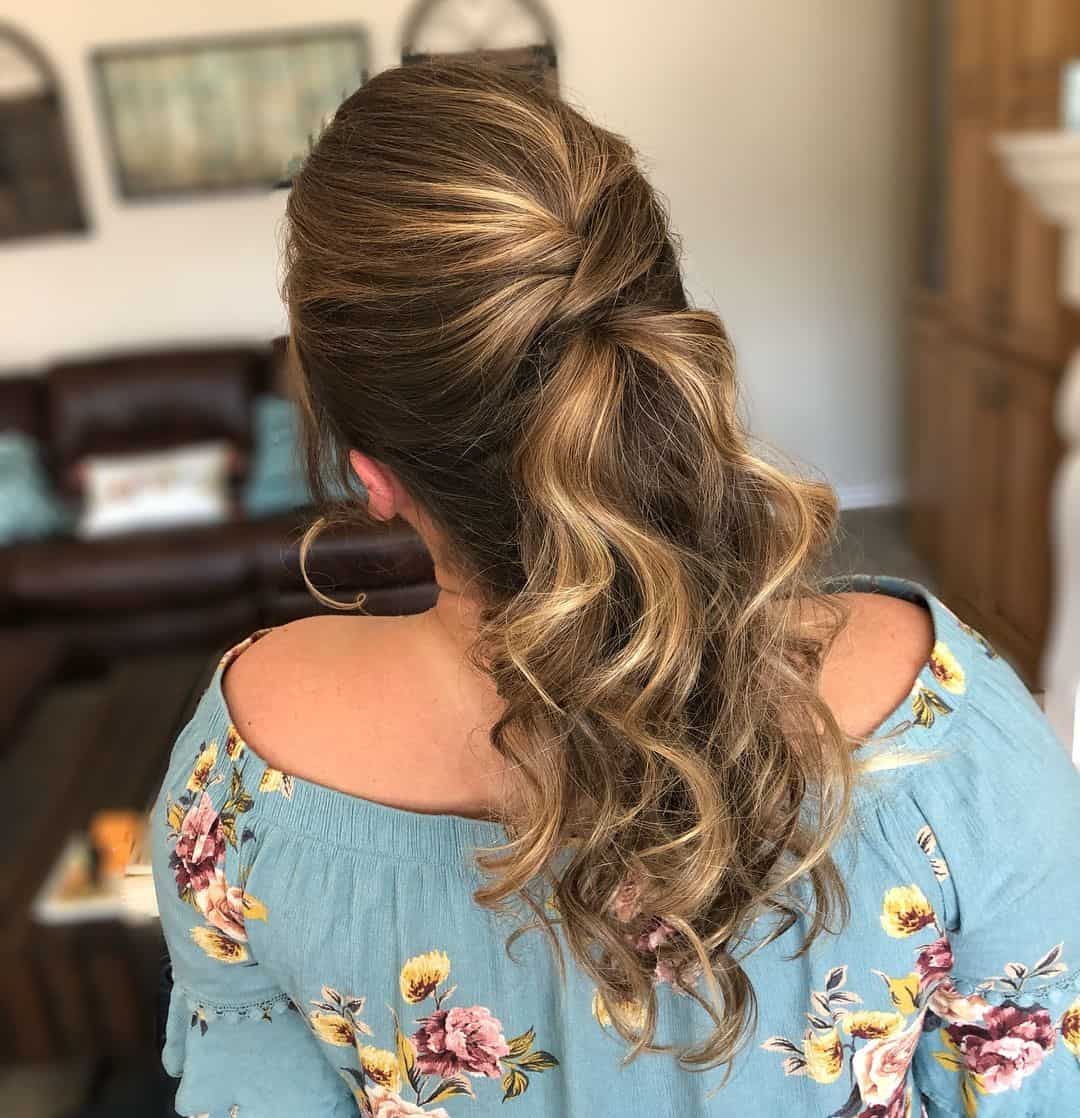 Loose curls and feminine waves are for women who love that quick and easy hairdo. If you have highlights already you'll easily recreate this look.
A ponytail with loads of volume that has been tweezed in the front section will make you look youthful and younger. This hairstyle is gorgeous, just make sure that you add a lot of hairspray to keep it shiny and in place.
8. Short Auburn Hair With Waves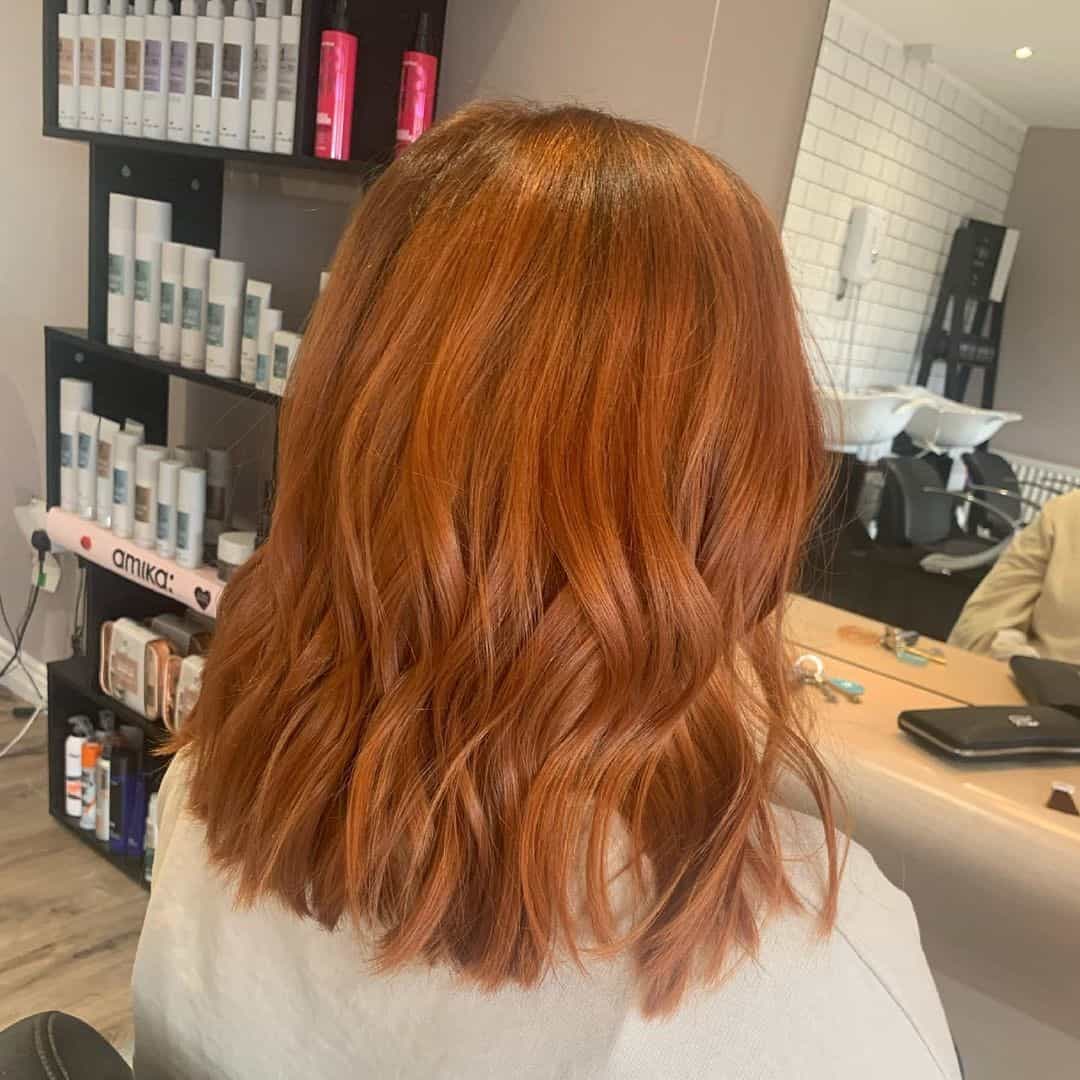 Orange hair and orange look are perfect for the Autumn season. It is a chic color and something that you'll easily style.
Wear your hair short and wavy. It will make every mom stylish without overpowering the bride.
9. Black Curls Mini Hair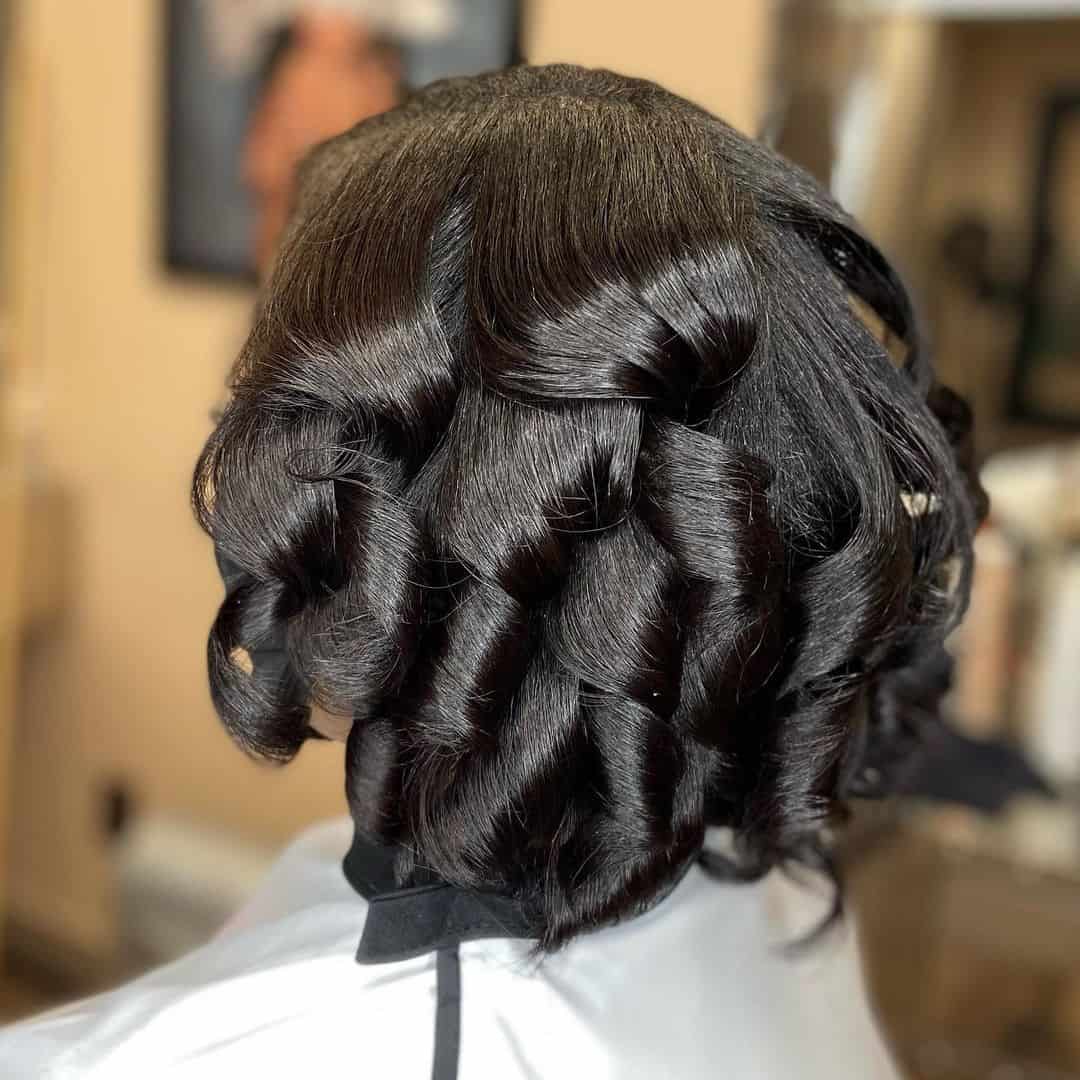 Shorter hair can also look feminine and gorgeous. If you're someone who loves to style your hair in a curly-wavy pattern you'll like this for the big day.
If your hairstylist knows how to give pure wavy blowouts, you'll easily wear this look. Go for a lot of hairspray to make it stay in place.
10. Short Blonde Hair With Braid Detail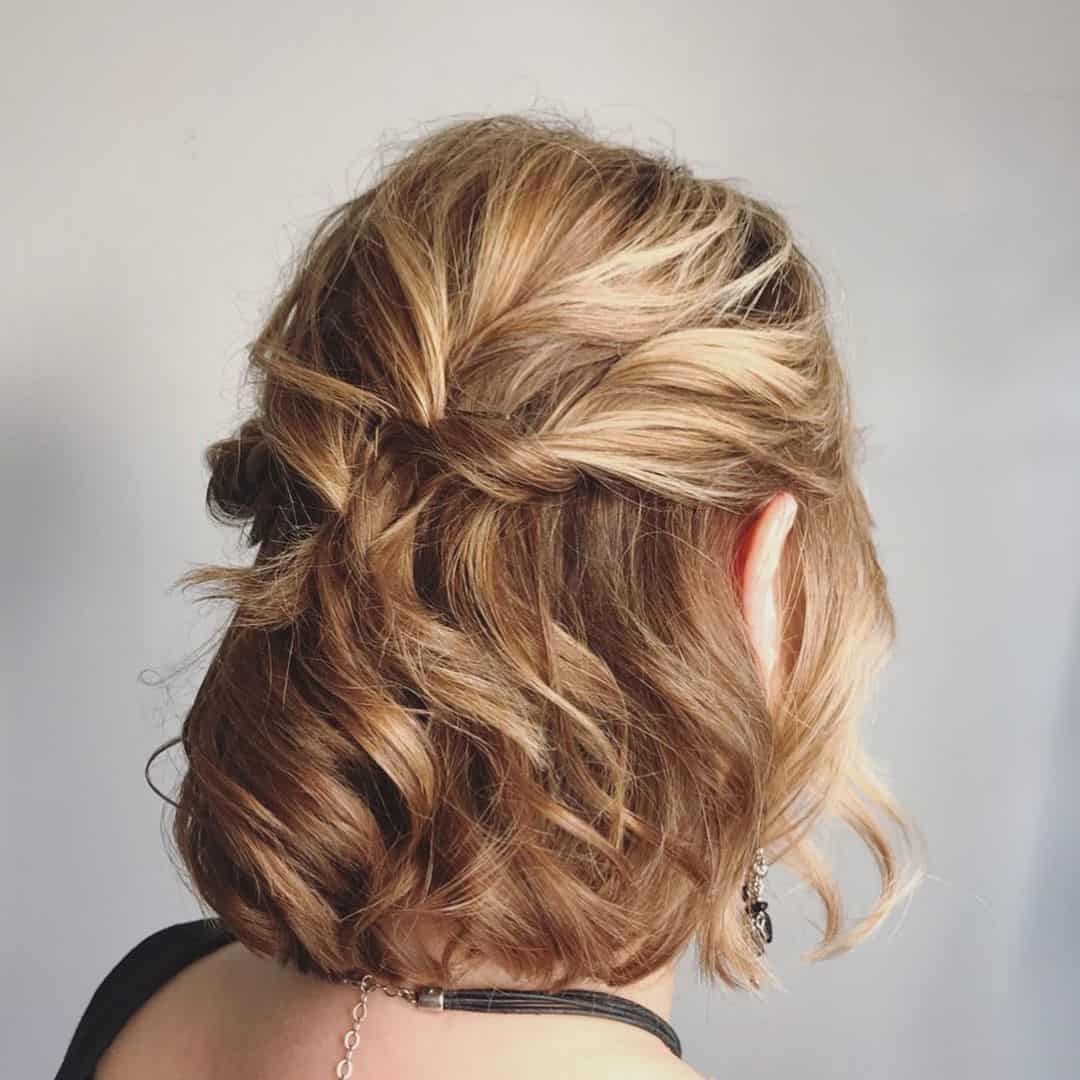 Shorter hair is for women who don't love to grow it out and who are looking for something different. If you have a hard time growing out your hair naturally and you're looking for something short and sweet, this is it.
Tie a subtle braid in the back since it will hold all of your pieces in the back. It will also add a subtle pop.
11. Wavy Blonde Blowout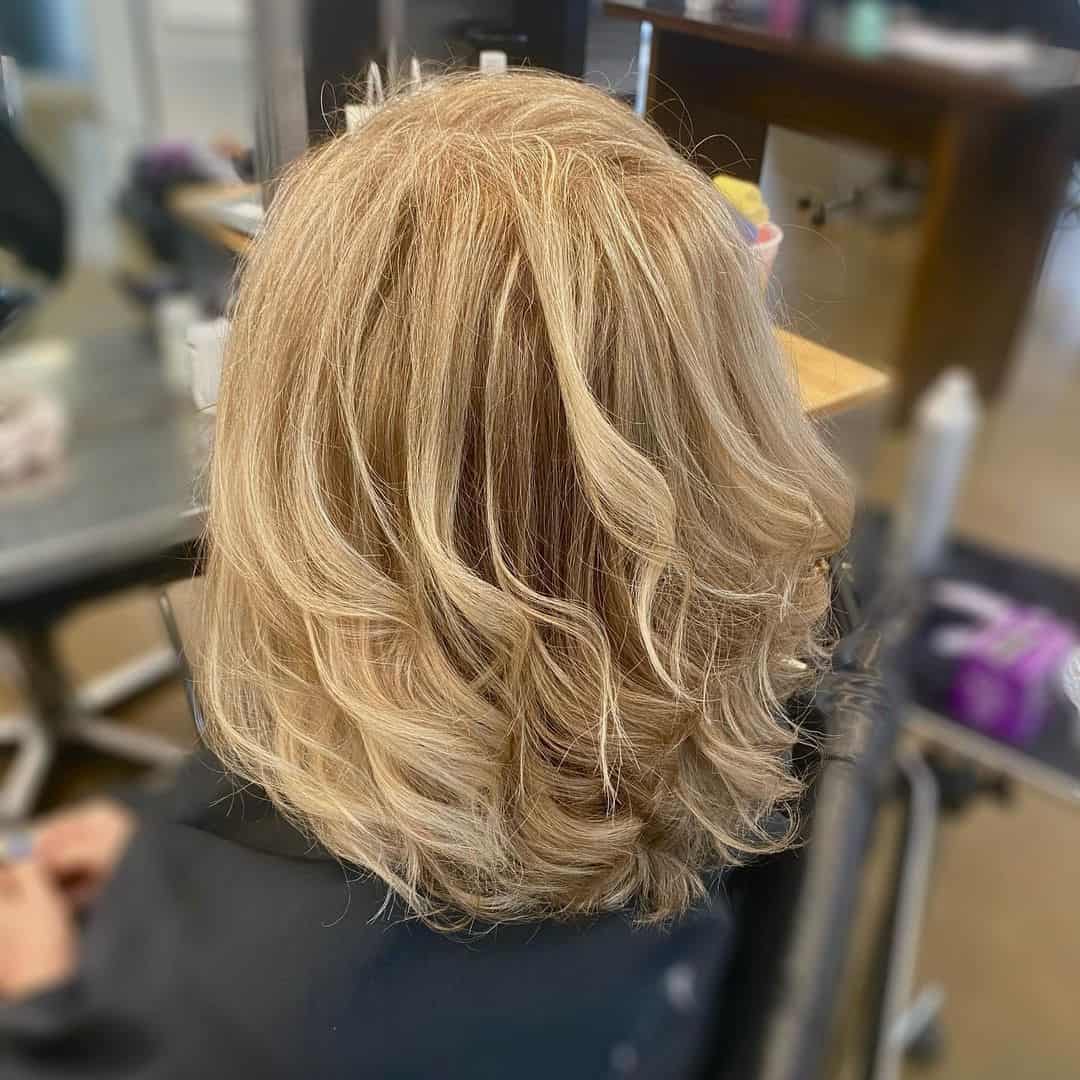 Natural blondes can look so good without investing too much time or effort into their styling process. This hairstyle is for anyone who's a fan of volume.
Add some curls at the bottom portion and make your hair lady-like. The end result is so fierce.
12. Fresh Cut Wavy Look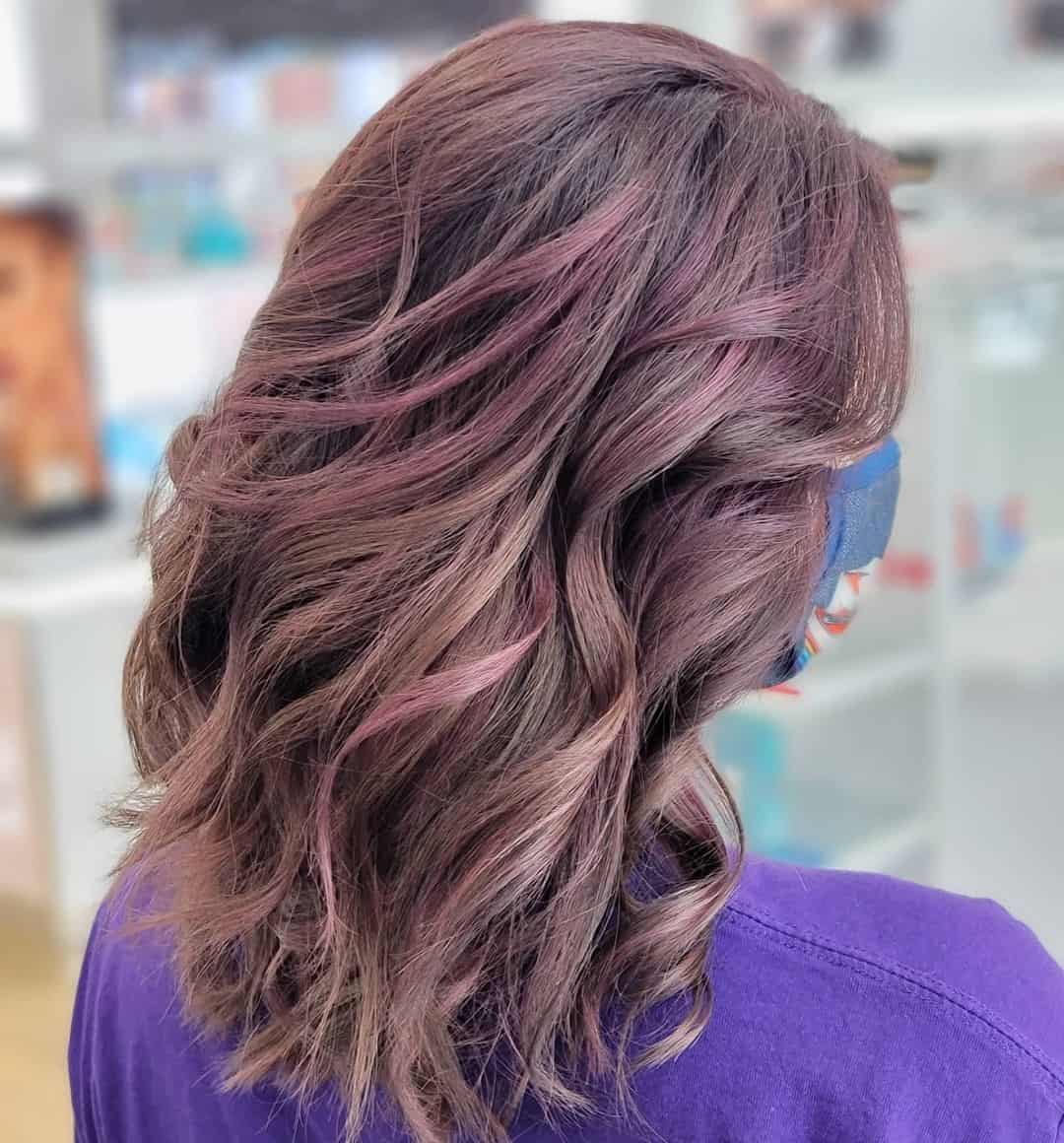 Not all moms have to be too strict when it comes to their hair color. If you are naturally driven to colorful ideas you'll like this concept. It is a time-consuming piece, so be prepared.
Add some hues of purple and pink to your look. Make your hairstyle cohesive and stylish without being worried that you'll look like a boring mom.
13. Balayage Hairstyle For Mom Of The Bride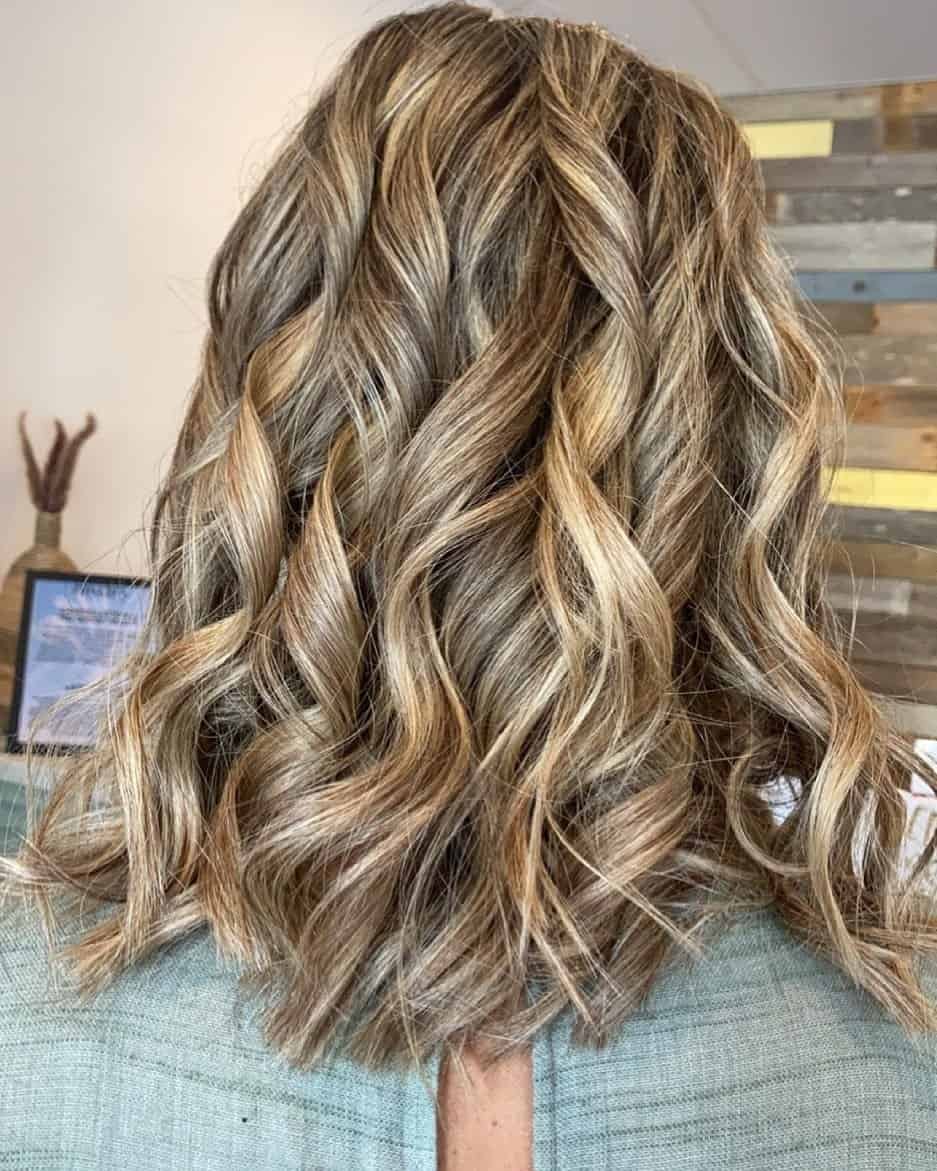 Curls and waves are always appreciated and welcome. If you love to look feminine and low-maintenance you'll enjoy this blonde hairdo.
The end result shows a mom who is effortless and who's always running around. If you want a hairstyle that you can wear after the wedding you'll like this idea.
14. Long & Healthy Loose Waves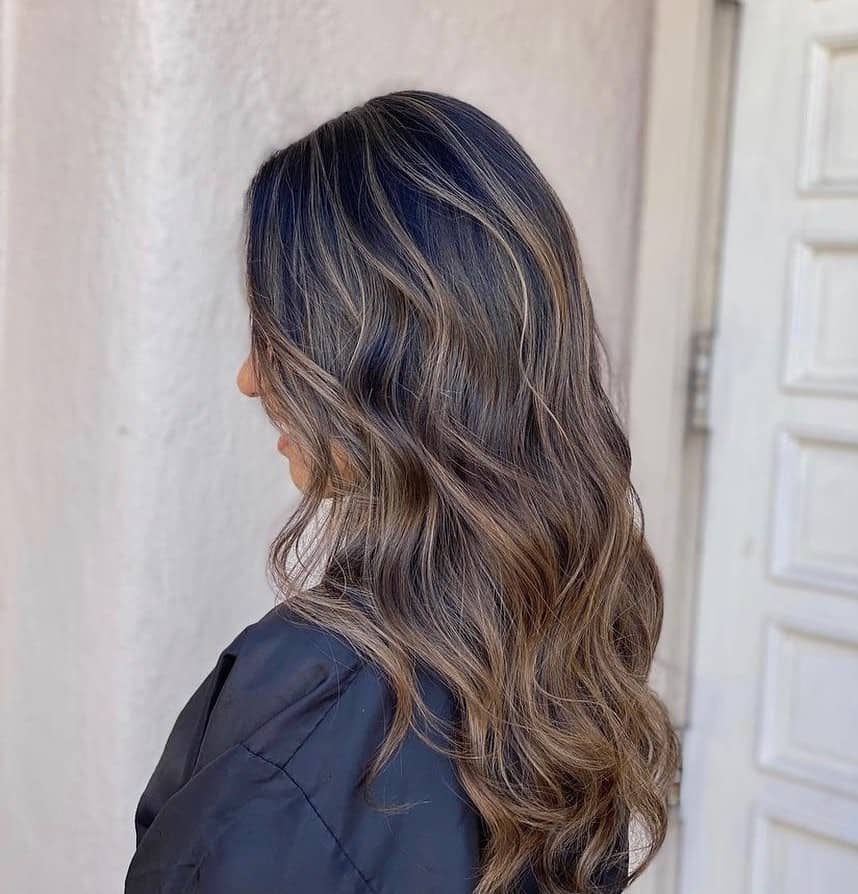 Longer hair is for women who don't mind the upkeep. Make sure that you're up for some high maintenance when it comes to your cuts and treatments.
The end result is a perfectly wavy and balayage hairdo. This is super extravagant while not being too dramatic, let your daughter shine for her big day!
15. Retro Ponytail Blonde Look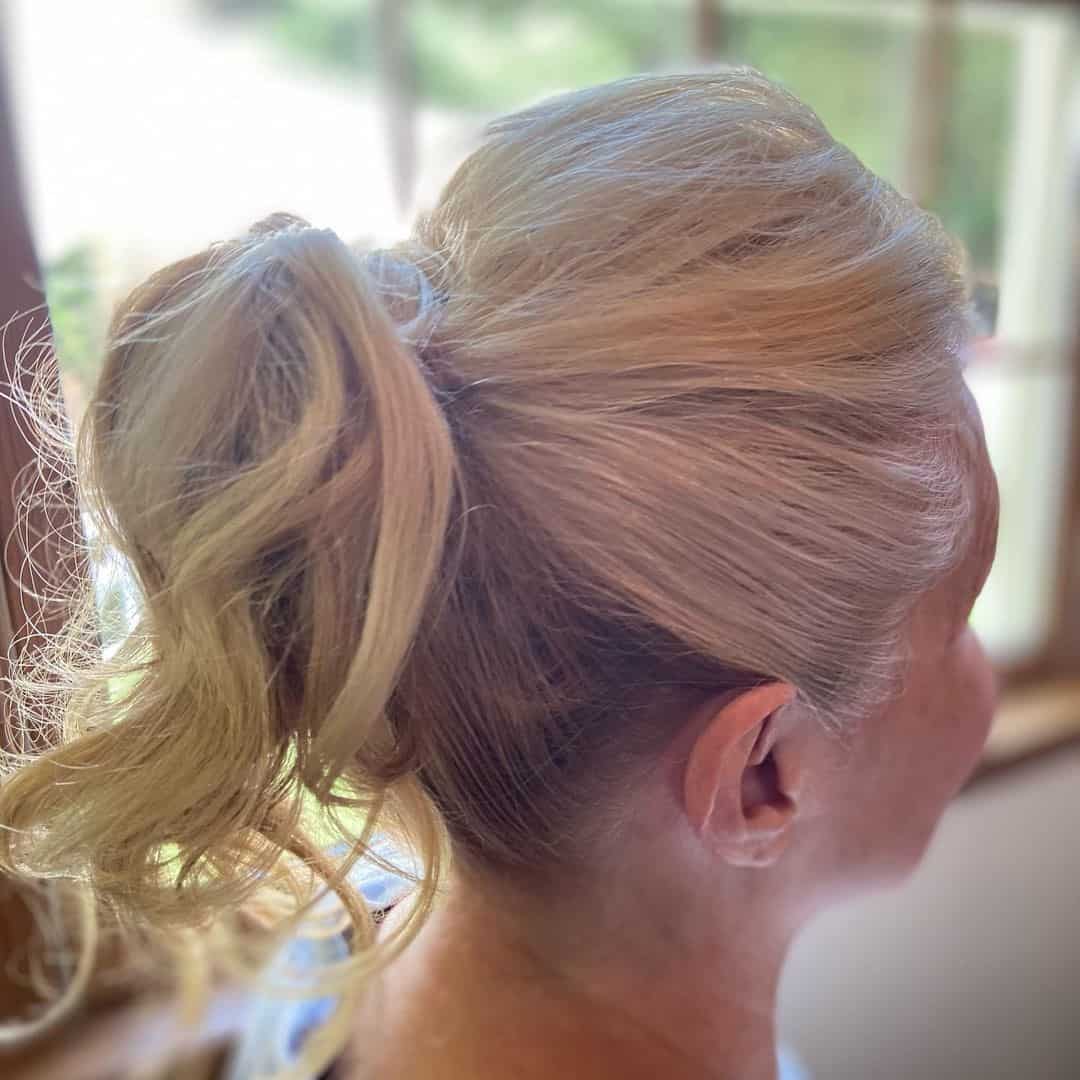 Lastly, how about this ponytail? It is stylish and sleek without being too much or attention-seeking.
Show that you're a modern woman who knows how to wear her natural curls and some subtle volume.
Ready To Look Like The Prettiest Mom?
Which hairstyle you can't wait to wear and rock as a proud mom? We have reviewed and talked about loads of different options that most women will prefer and love. Let us know your age, personal preference, as well as your must-have look, we can't wait to hear more about it!