50 Best Hairstyles for Receding Hairlines (2022 Updated)
A receding hairline is one of the most common types of hair loss for men. You don't have to shave your whole hairline off to hide the receding hair. Choosing the right hairstyle for your receding hairline can be an important way of maintaining your look. Whether you're thinning on top, have a widow's peak or are unhappy with the way it's aging, this guide will show you the best hairstyles for a receding hairline.
The Best Hairstyles for Receding Hairlines
Undercut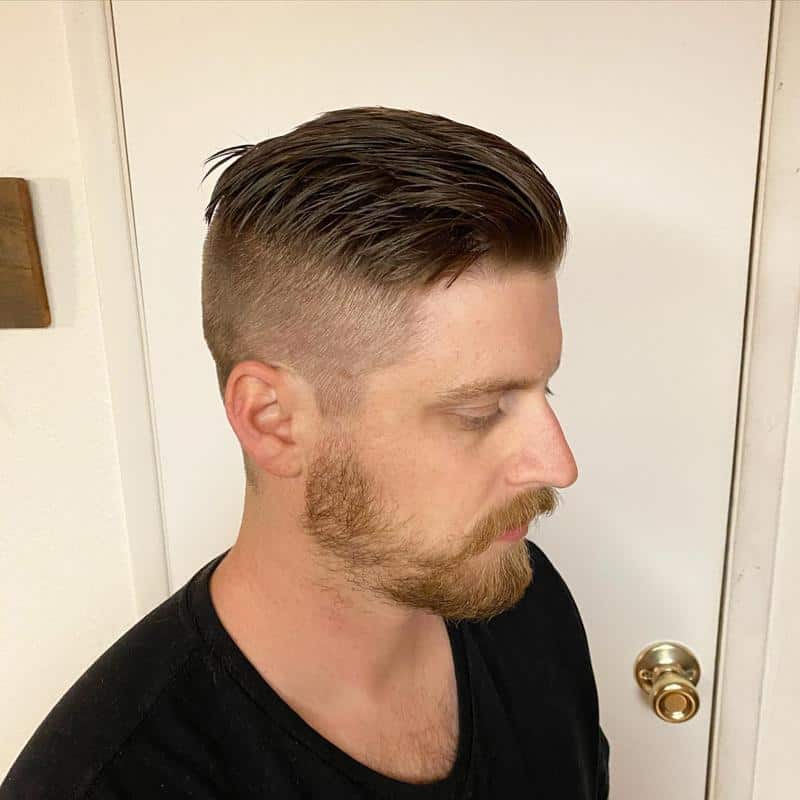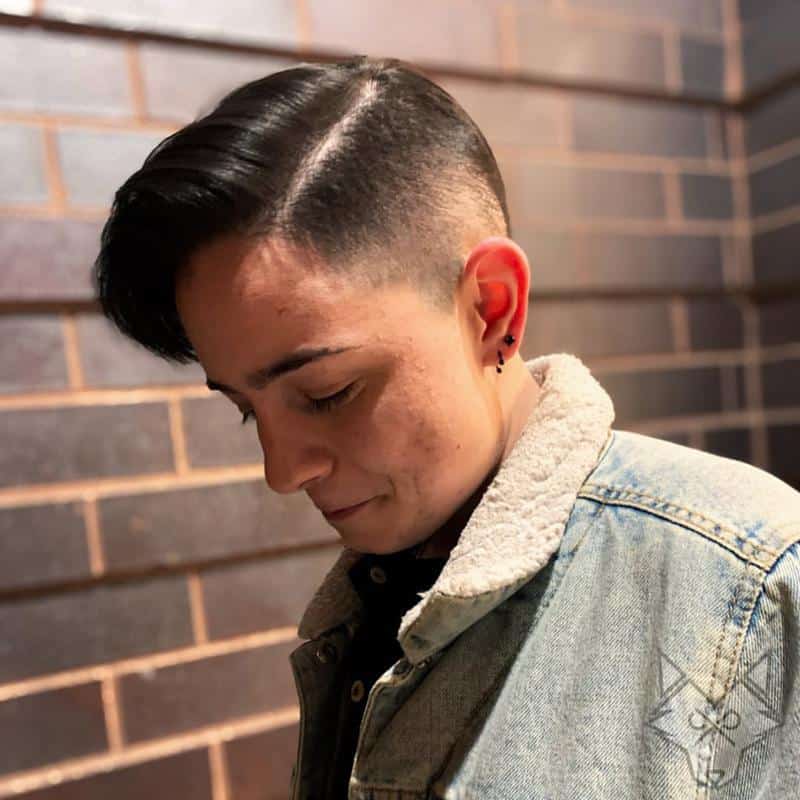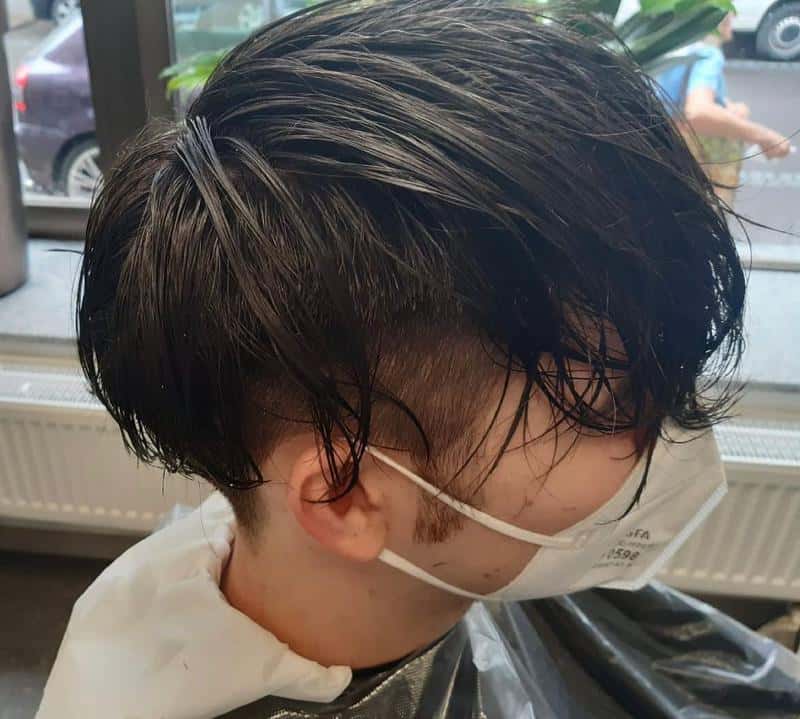 The undercut is one of the best ways to balance out a receding hairline. A popular and trendy hairstyle for men, you can stay on trend whilst hiding your thinning hairline. The short haircut on the side can be combined with a variety of styles, including slick back, the quiff or the comb over. The undercut can also be used to hair of different textures and lengths.
Did you know:

Look to stars like Brad Pitt, Adam Levine and David Beckham for undercut inspiration.
Taper Fade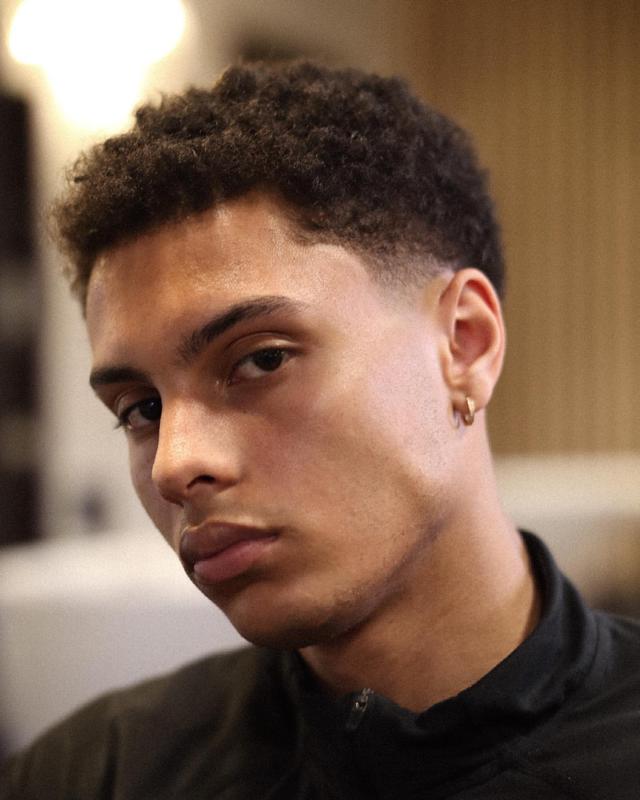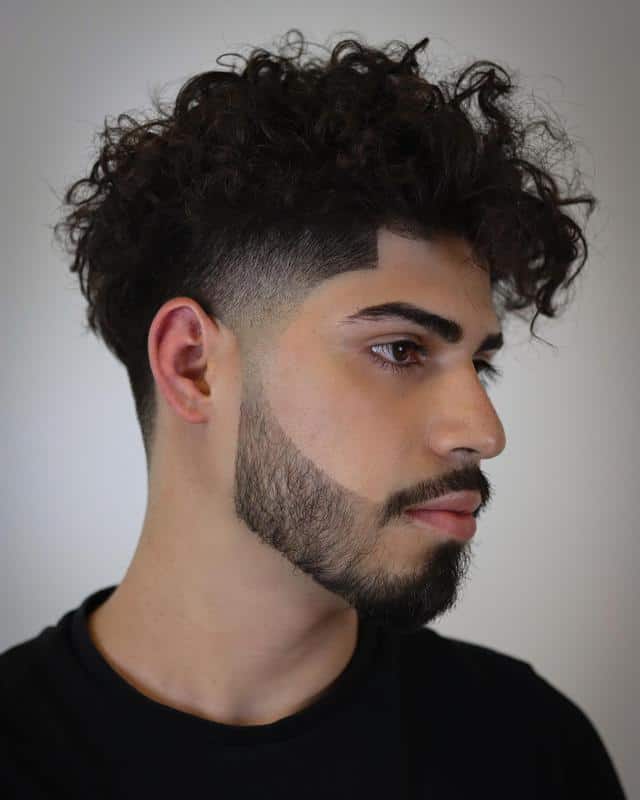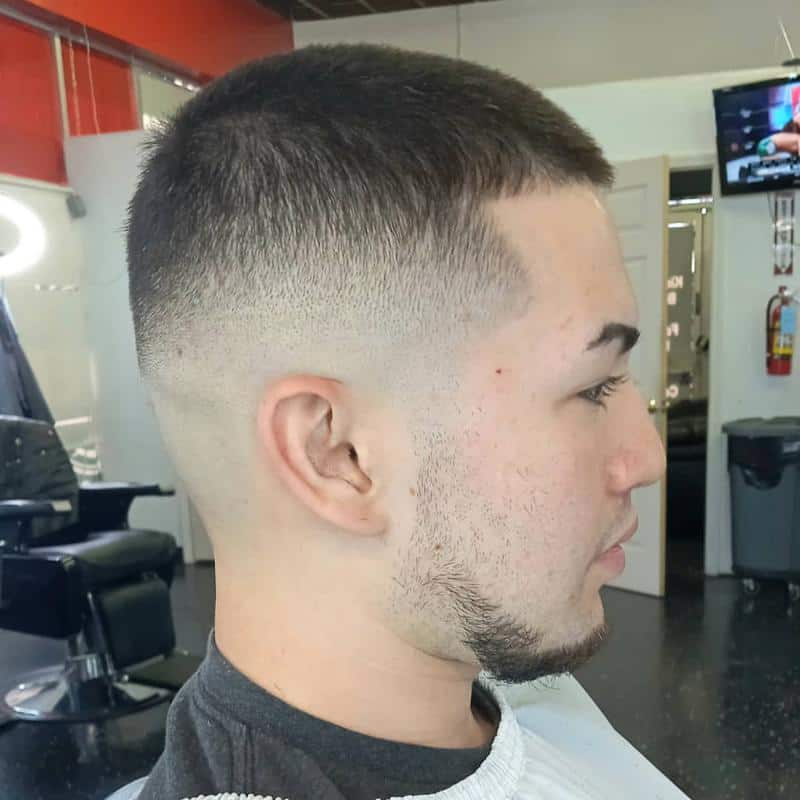 The taper fade haircut is another stylish style that works for men with receding hairlines. With so many different types of fades, guys can really tailor their cut. We recommend a skin fade or taper fade that blends directly into the hairline if you are concerned about your receding hairline.
A taper fade is different from a classic fade, even if they both involve gradually cutting the side and back of the hair short, but the top section longer. A taper fade is cut shorter and can fade into the skin at any point.
Buzz Cut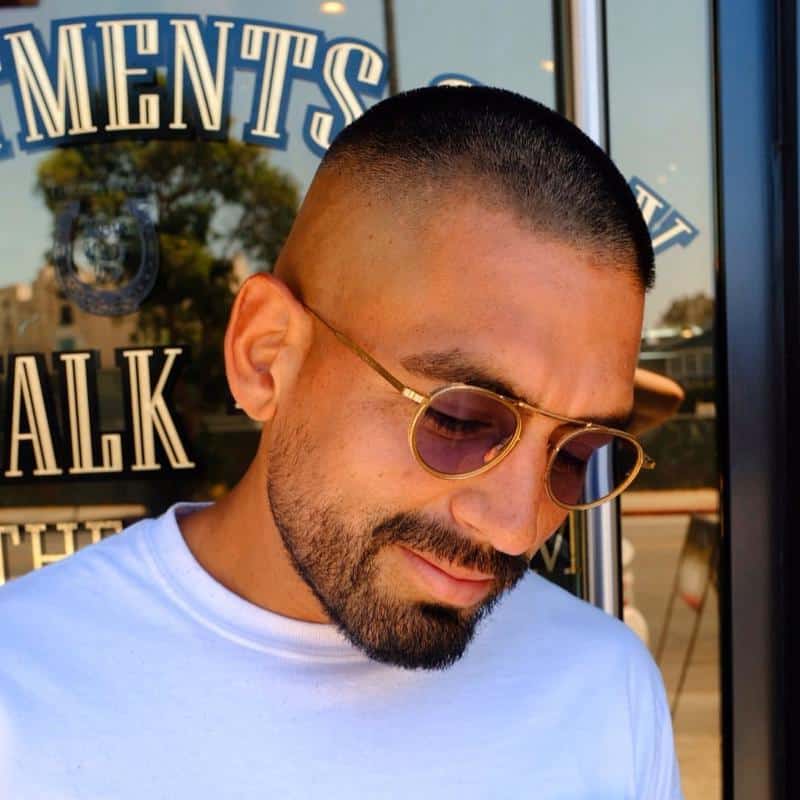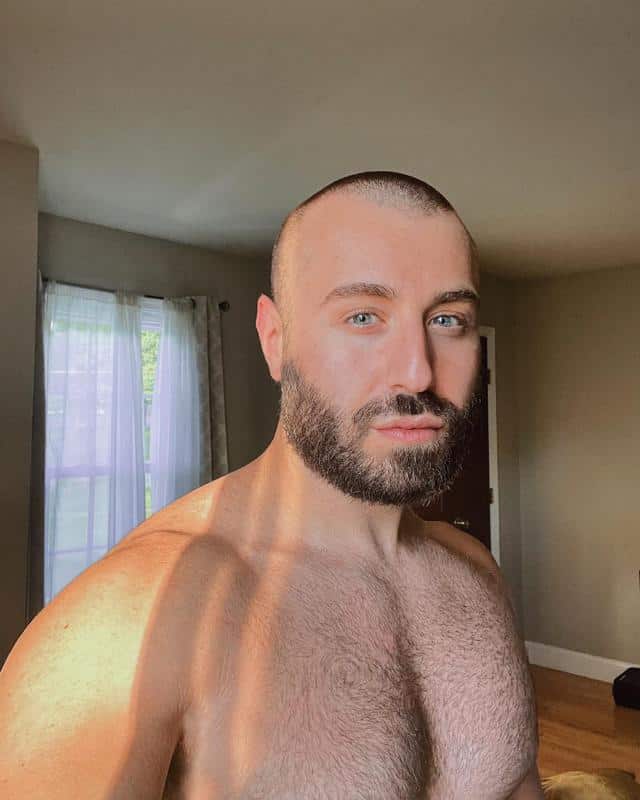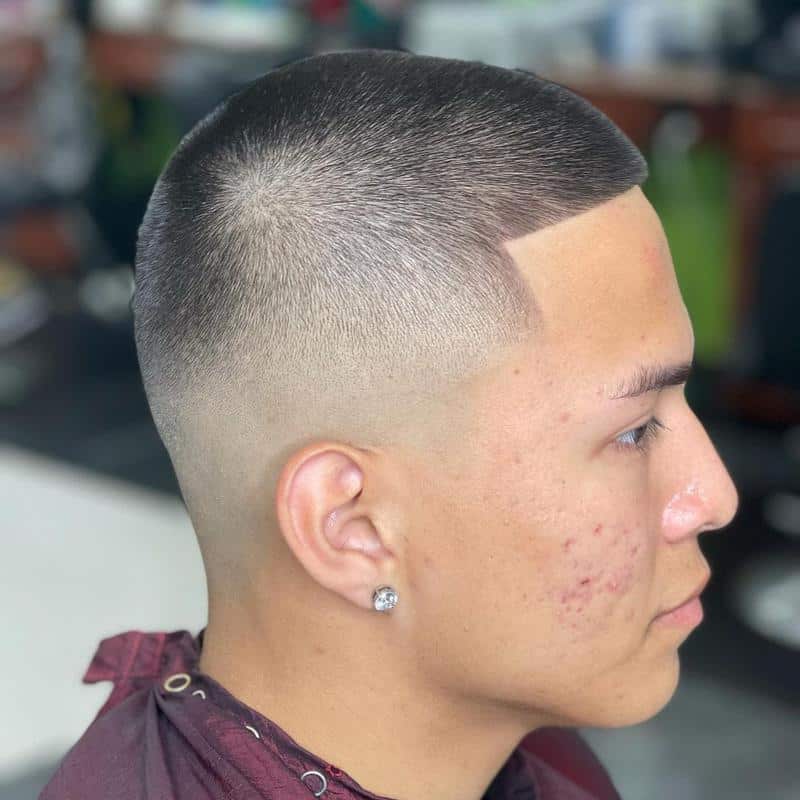 The buzz cut is the most popular hairstyle for receding hairlines because it's easy. It tones down the look of your receding hairline and can look very masculine. The joy of a buzzcut is it's easy to maintain and suits all types of hair textures.
Did you know:

Ask your barbers to use scissors to cut your hair. Clippers can produce a very harsh finish. Dropping the length around the neck will offer a softer, natural finish.
Crew Cut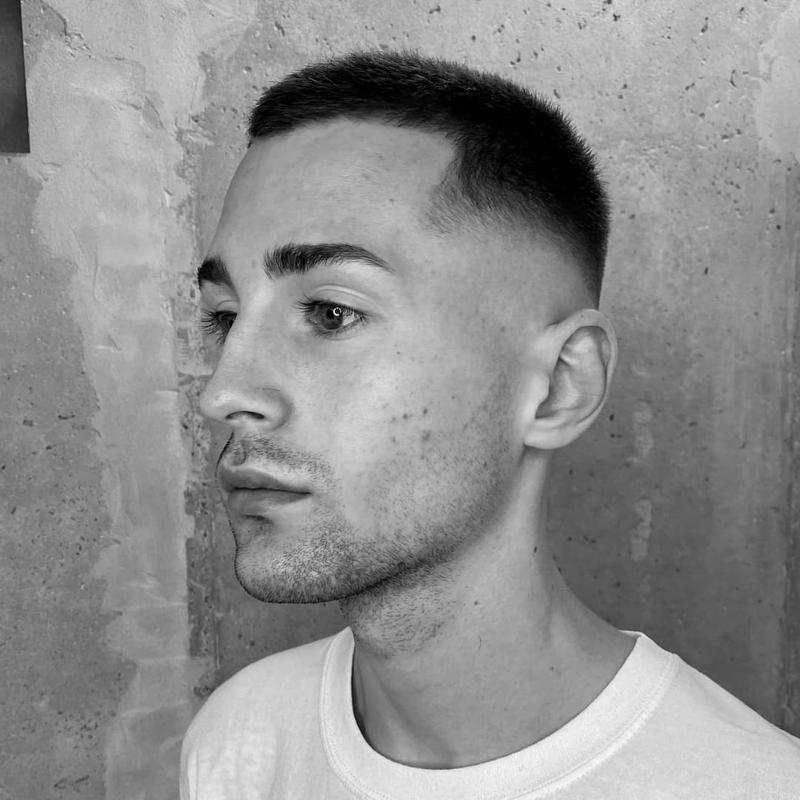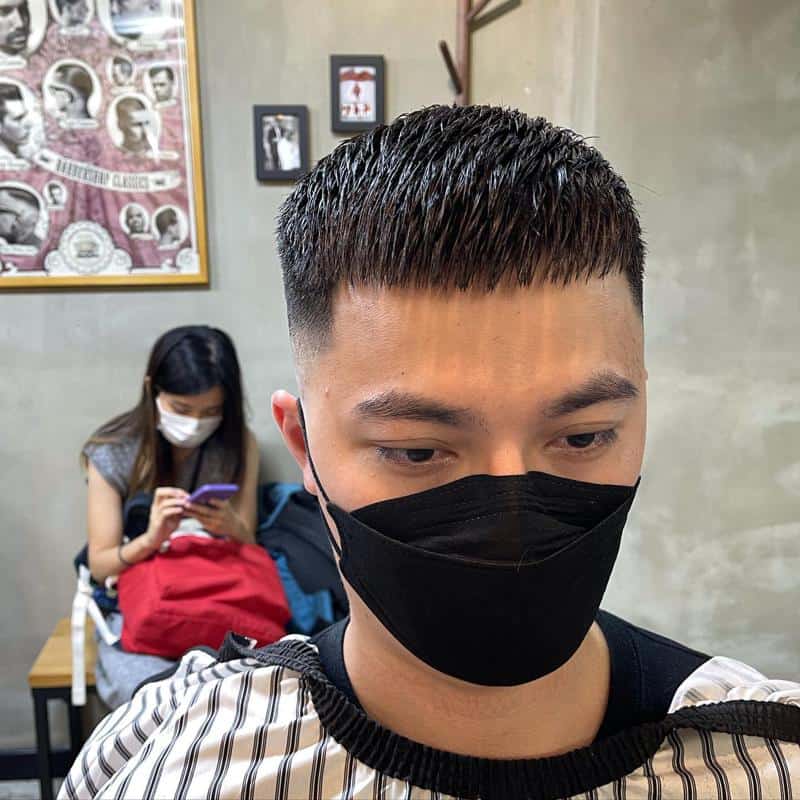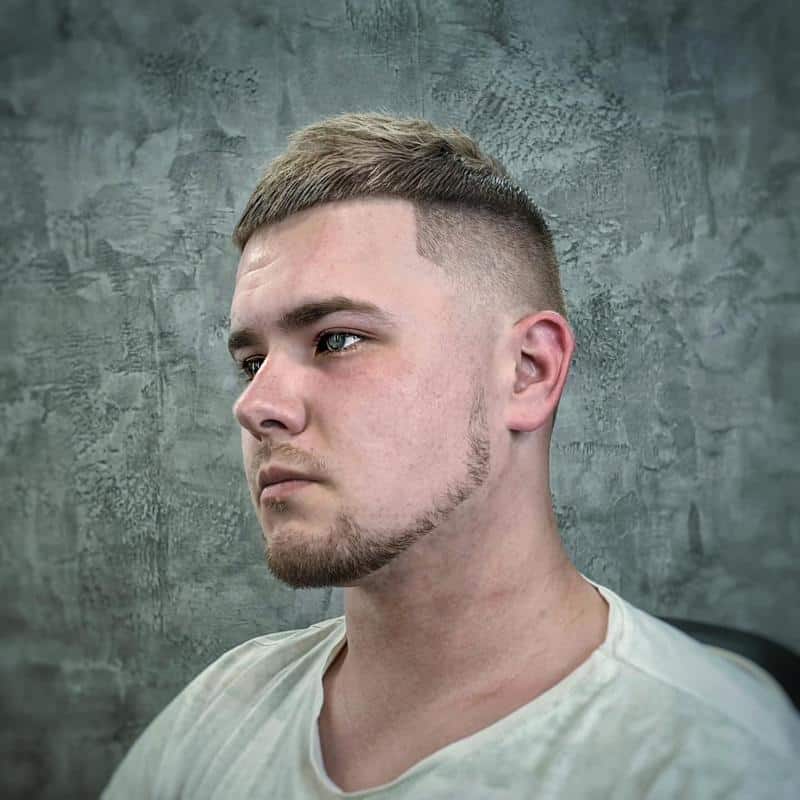 The crew cut is another great option. Especially if you think a buzz cut is too short. They are popular with business professionals as the length is longer, with no scalp exposed. They will make a receding hairline less noticeable.
Did you know:

Varieties of crew cuts include the regulation, where the top is left a bit longer, which allows for a little styling or the Ivy League which leaves enough room for side partings or bangs.
Comb Over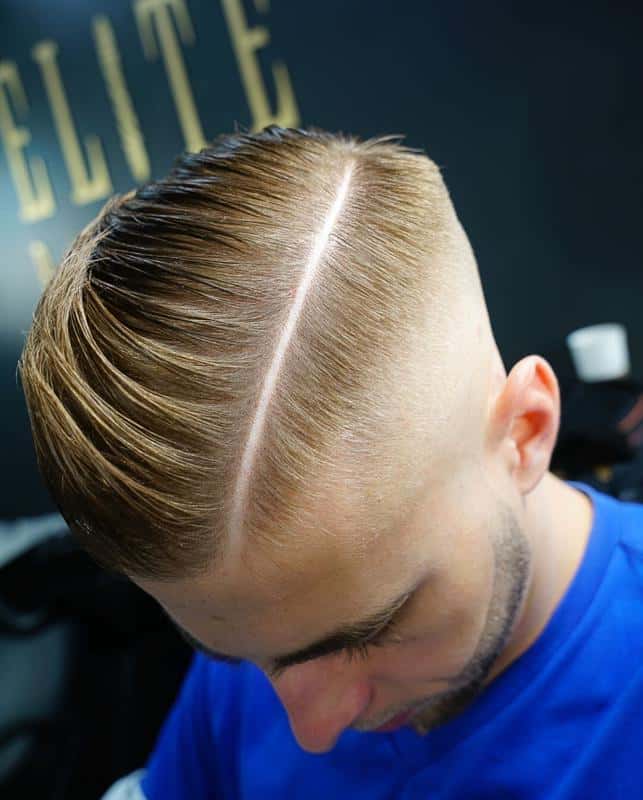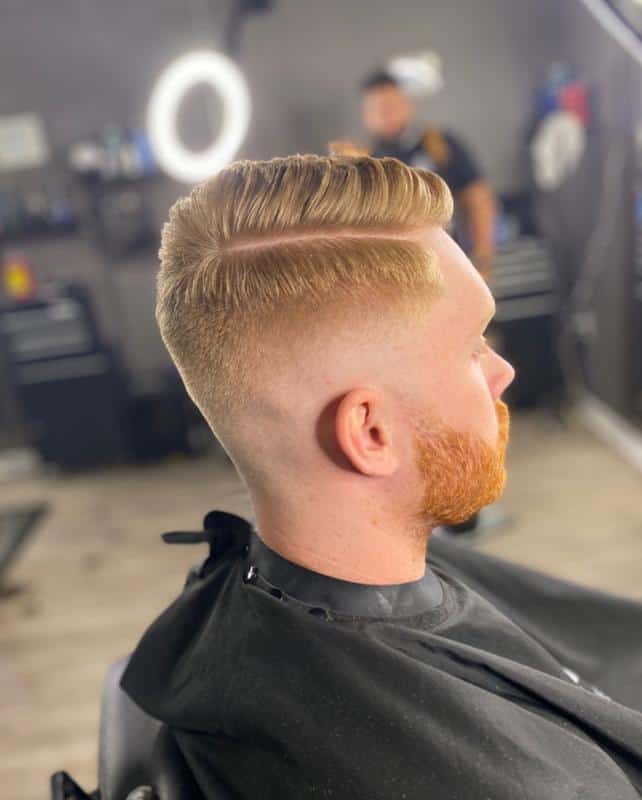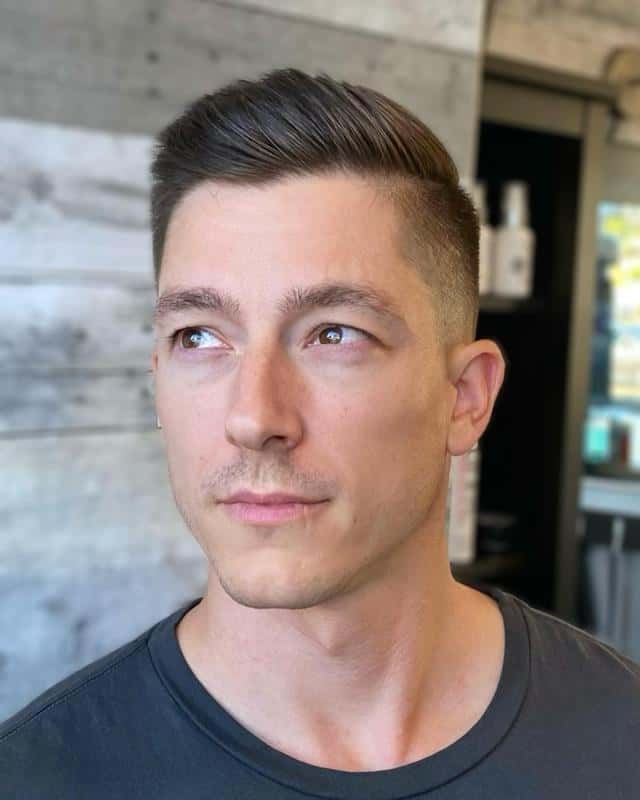 The com bover has become a recent favorite in barbershops. The comb over is often paired with a fade, especially if you have thick, full hair. You can part your hair over to one side and help hide your receding hairline.
This haircut is not recommended if you have thin hair. The comb over hairstyles many think of happen when hair that is too thin on the top parts.
Slicked Back Hair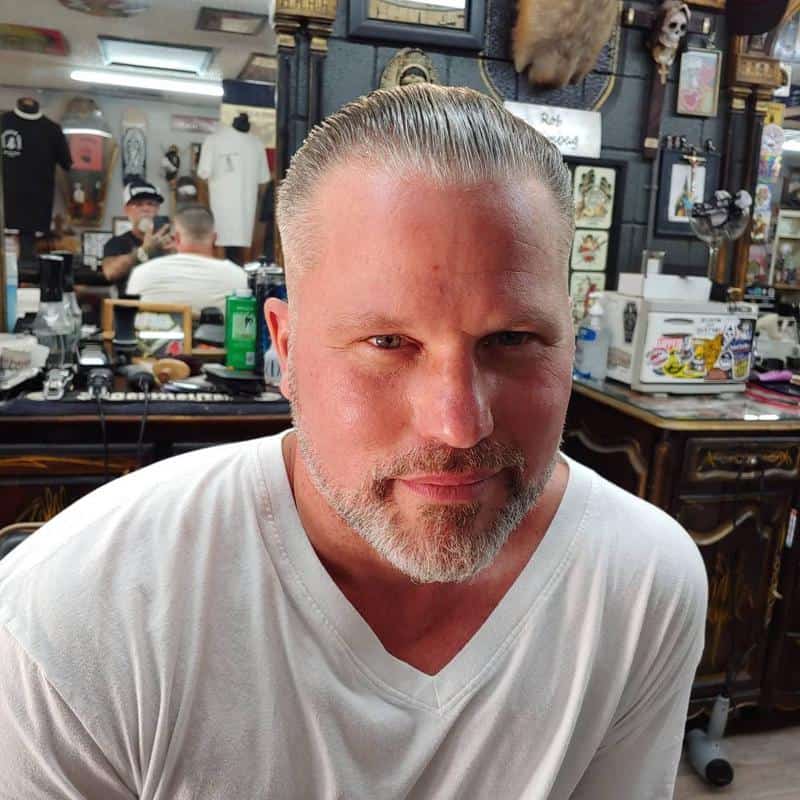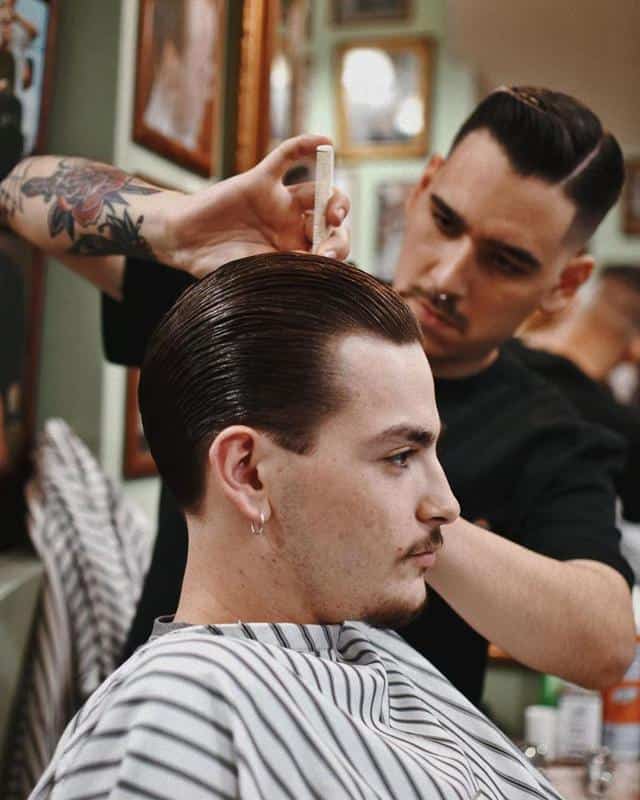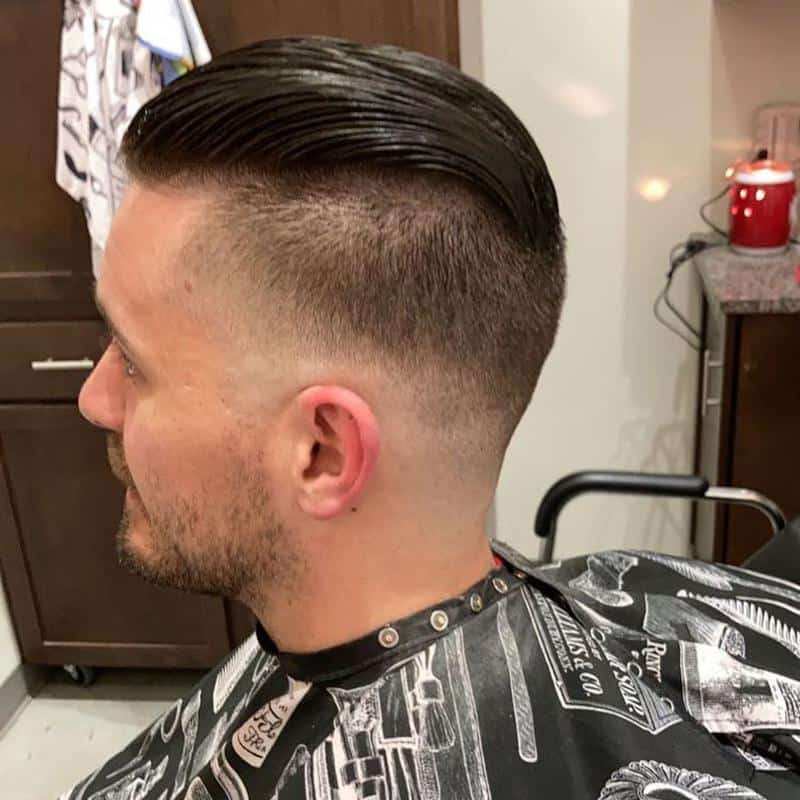 Inspired by retro 1950s hairstyles, the slick back hair is a sexy yet very cool way to pay with a receding hairline. The slick back undercut and slick back fade are the modern, updated version of this universally attractive look.
When you comb your hair back use a strong pomade or wax to hold the style. Use a textured brush to comb it back and ensure the finish is slick and shiny.
Mohawk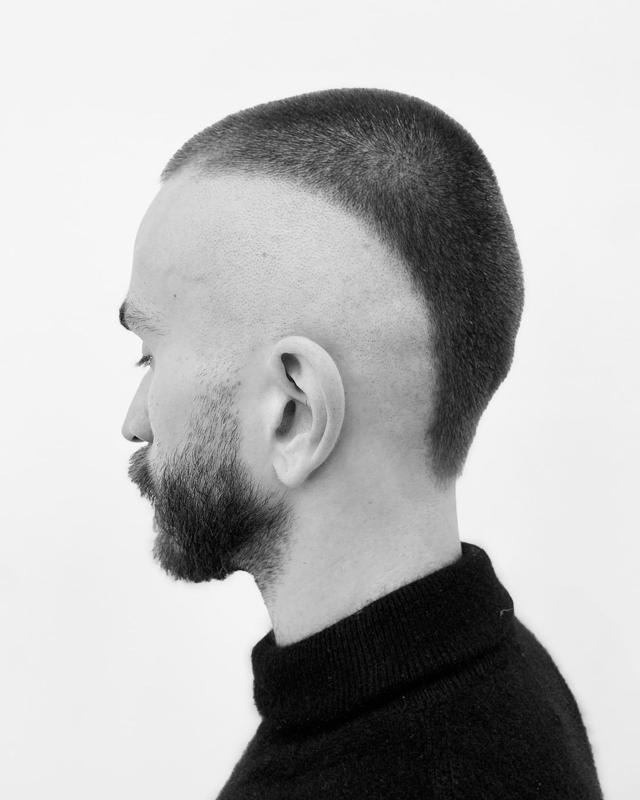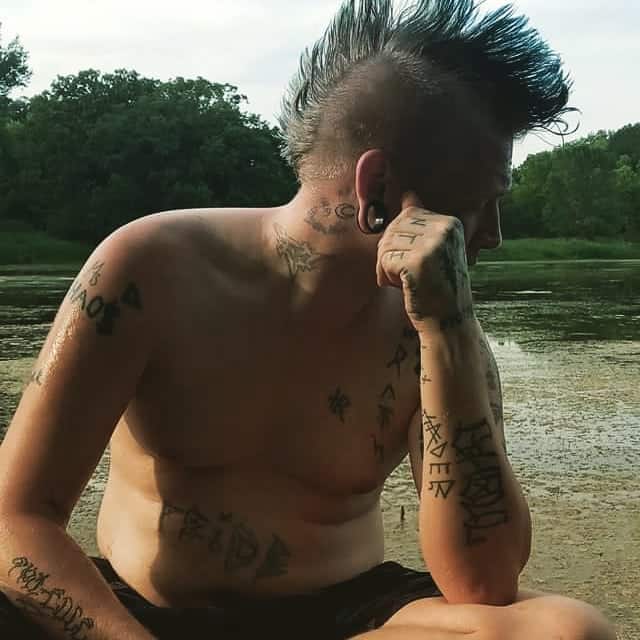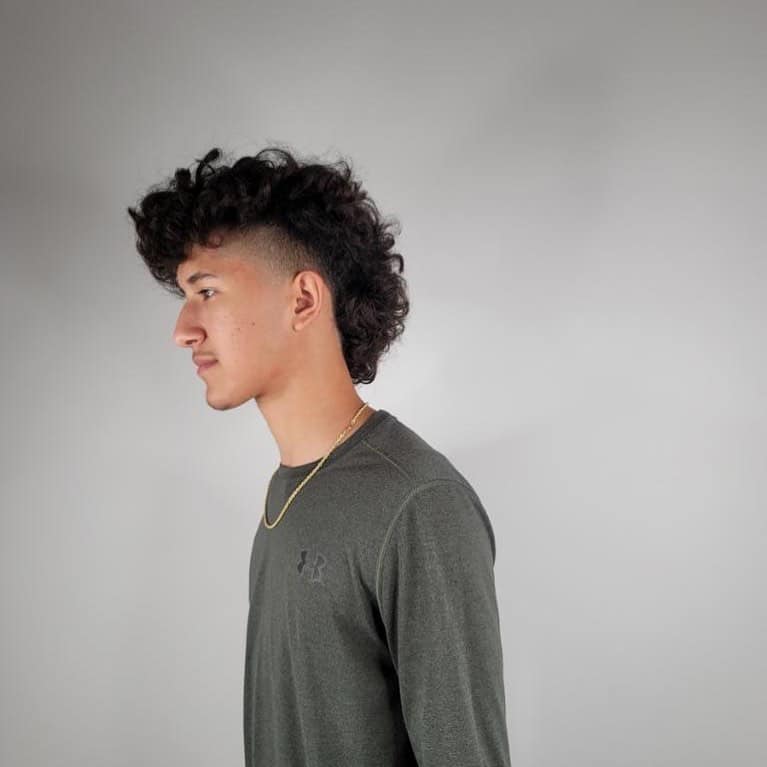 Because a mohawk has shaved sides, it will stop people from seeing your receding hairline. Mohawks are versatile from aggressive punk rock hairstyles to shorter, more manageable styles. A mohawk has defined shaved sides, but the shape, height and width on top is versatile. The signature strip of hair on top of the head is ideal for balding, thinning or receding hairlines.
Did you know:

If you want your mohawk to have a messier, less put together, look, use your fingers to style your hair and add natural volume.
Faux Hawk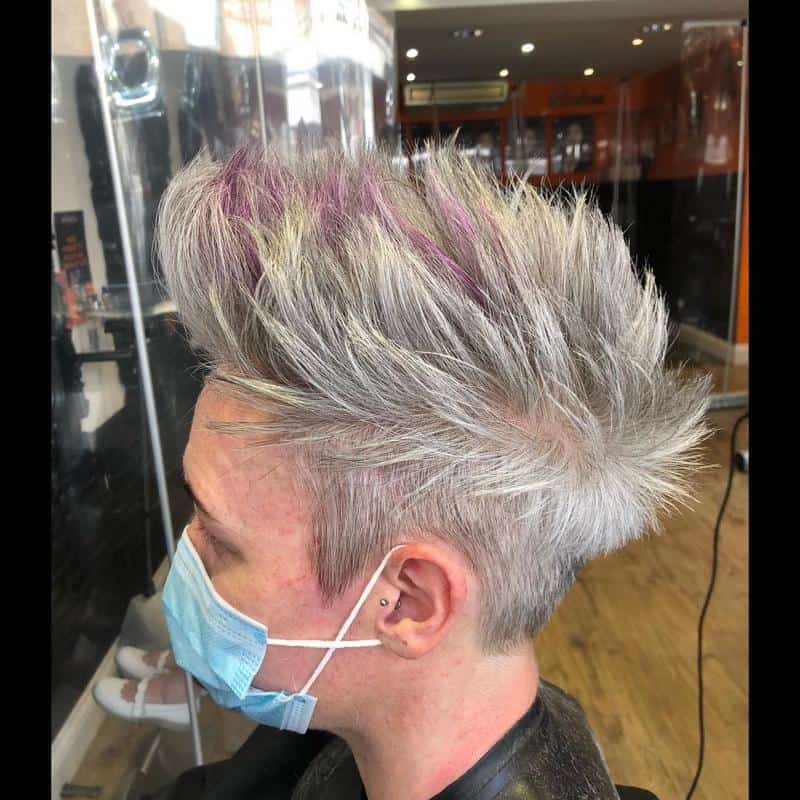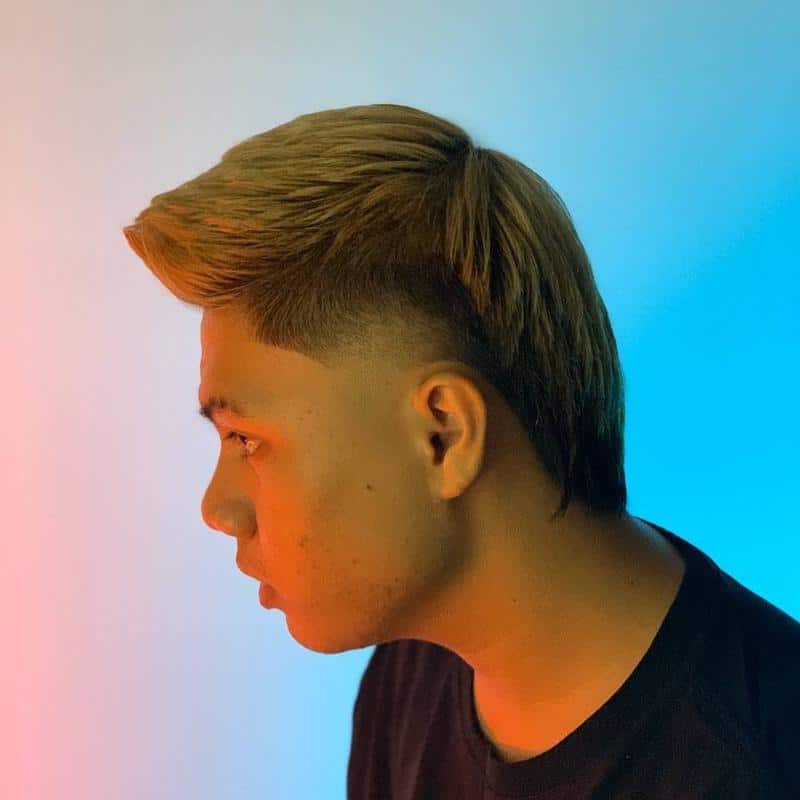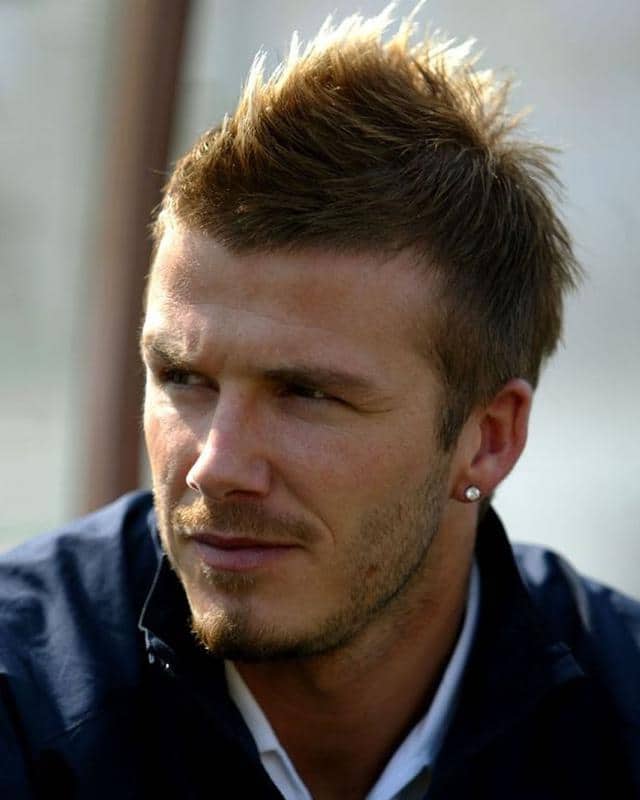 The faux hawk is ideal if the mohawk is a little too much for you. Achieve a similar look without needing to shave the hair on the sides or the back. The faux hawk is a short fade, but less dramatic and more work appropriate.
By pushing your hair towards the center, drawing attention to the style on top, and minimizing the contrast on the sides, the faux hawk haircut will help mask your receding hairline.
Clean Shave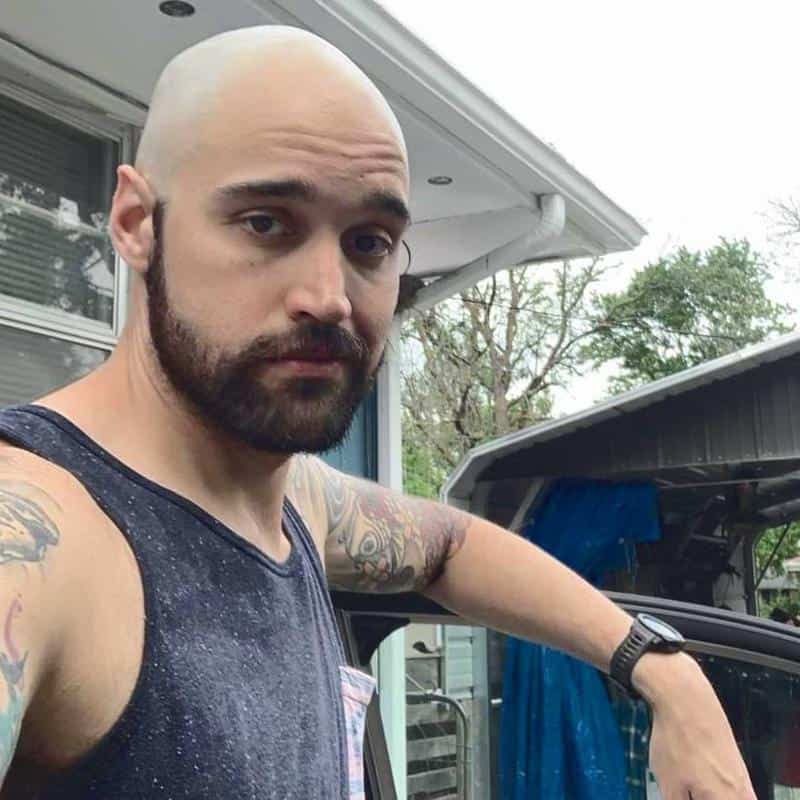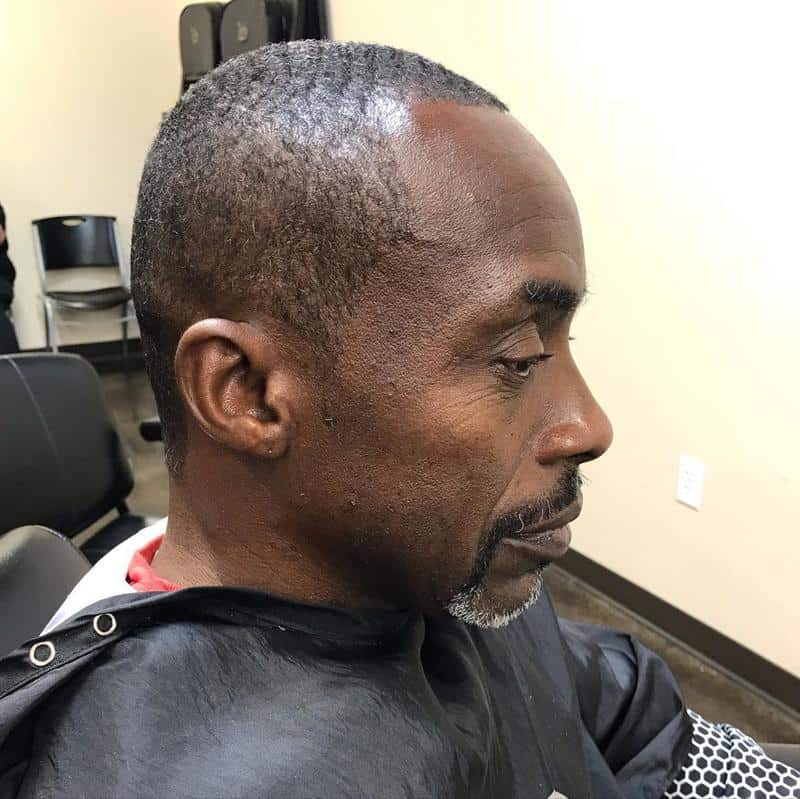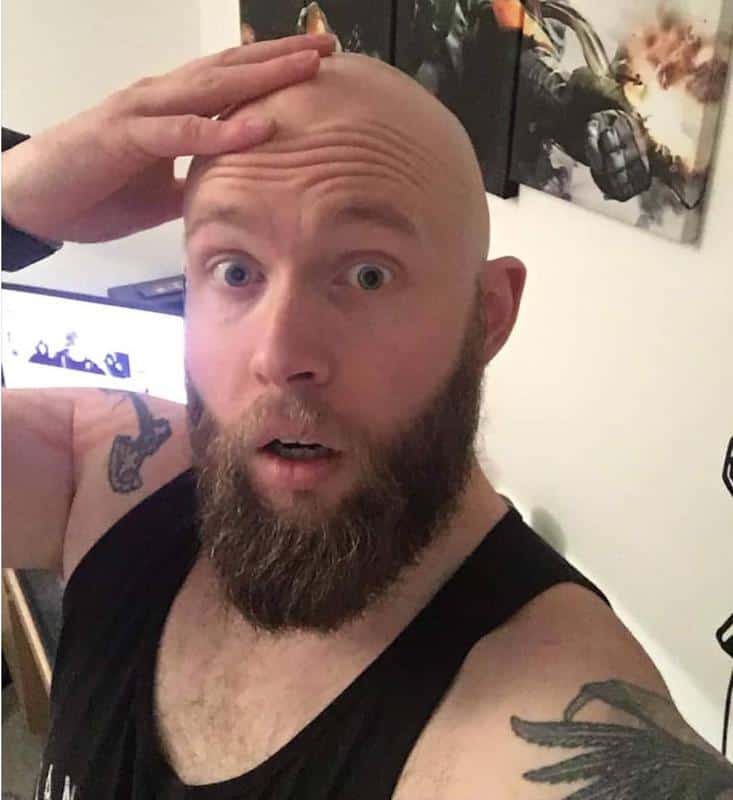 The ultimate hairstyle for the receding hairline is the clean shave. It won't work for everyone and needs confidence. If you're confident in the shape of your head and your bone structure, you can rock this look. The clean shave works best if you have a full beard, as it brings a sense of balance to your otherwise hairless head.
Did you know:

Some of the most respected and admired celebrity men have taken the plunge. Dwayne Johnson, Terry Crews, Bruce Willis, Tom Hardy and even Matt Damon have committed to the clean shaven look.
Long Hair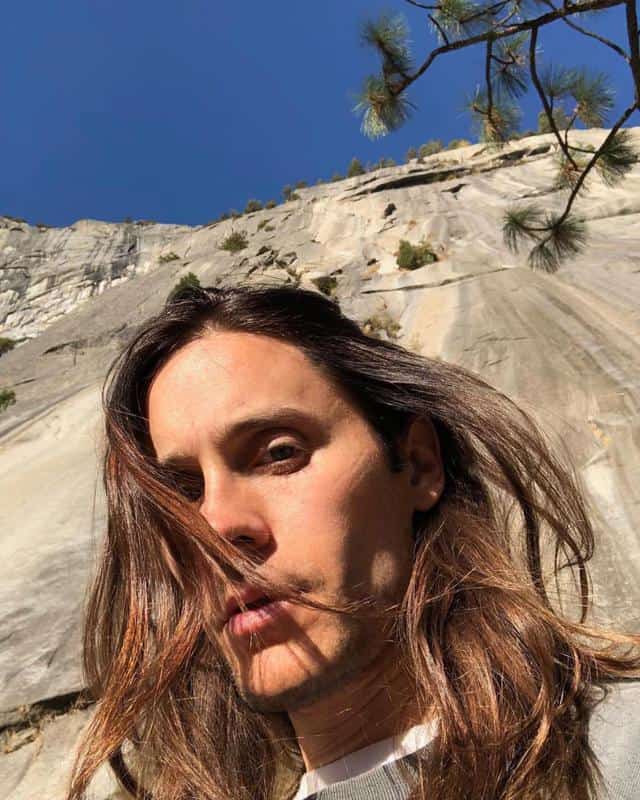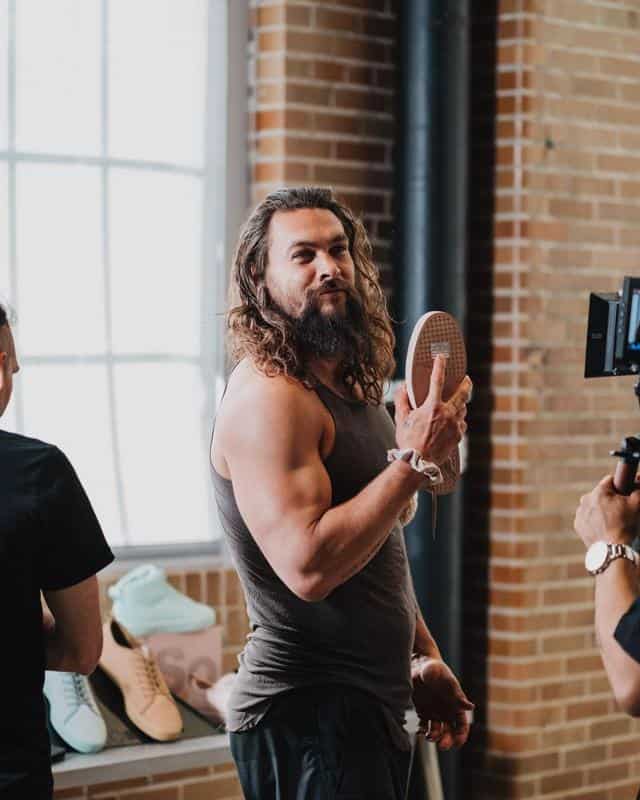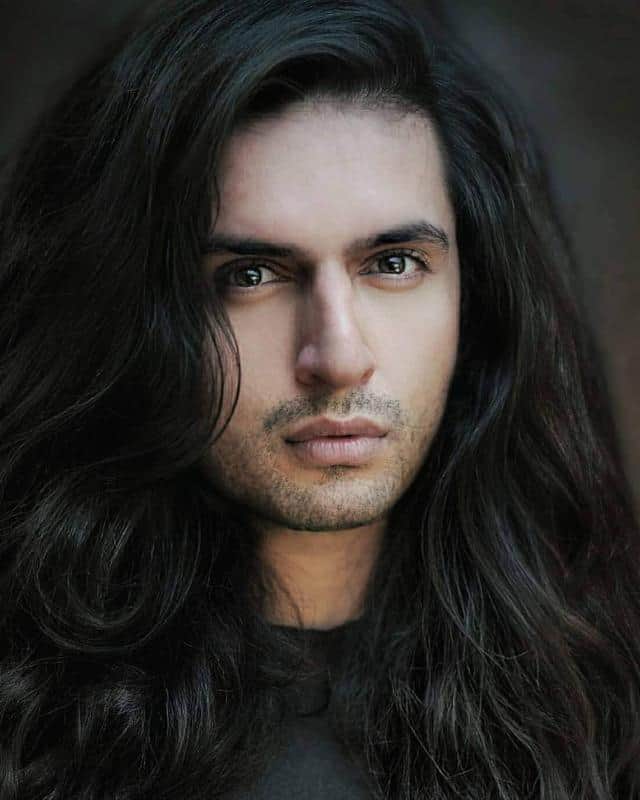 If your hair is still reasonably thick, try a longer hairstyle. Long hair can hide the area above your temples, which is where early signs of a receding hairline start to appear. Long textured waves suits most hair styles and can be achieved by using a styling mousse and scrunching your locks together. Alternatively, use a hair dryer and diffuser, directing the front sections back.
Did you know:

Avoid hairstyles like ponytails and man buns. They will put a strain on your hair and will only draw attention to your receding hairline. If you want to keep your hair out of your face during workouts, try a half-up style.
Short Back and Sides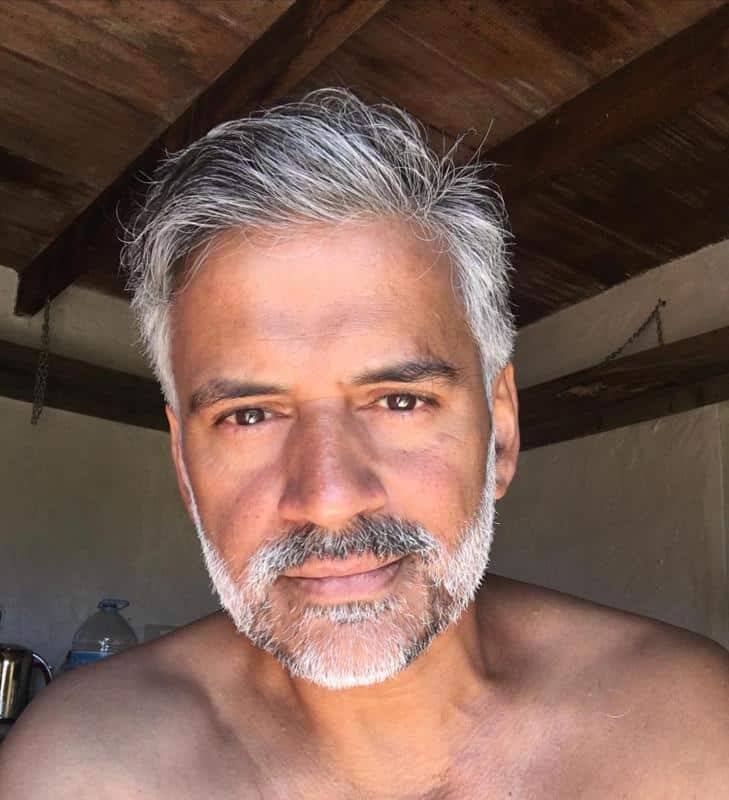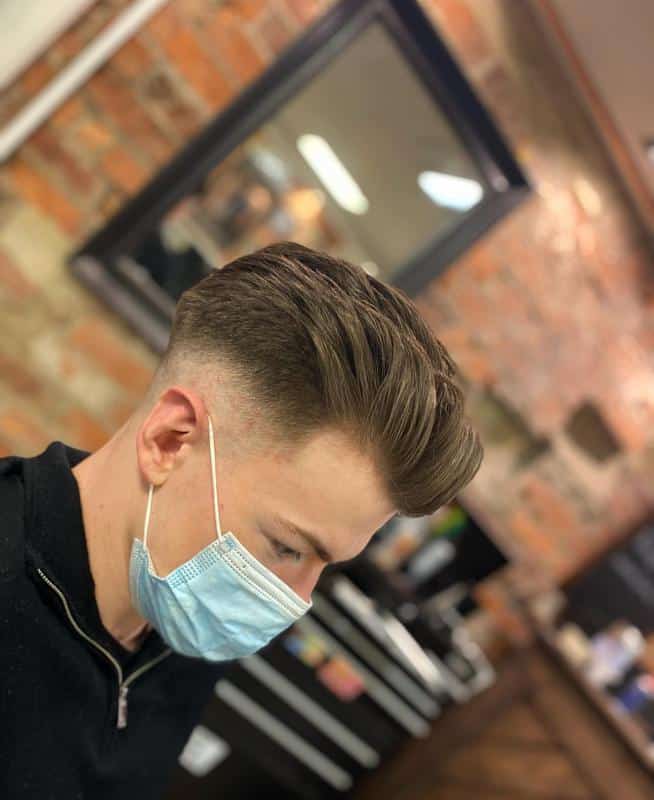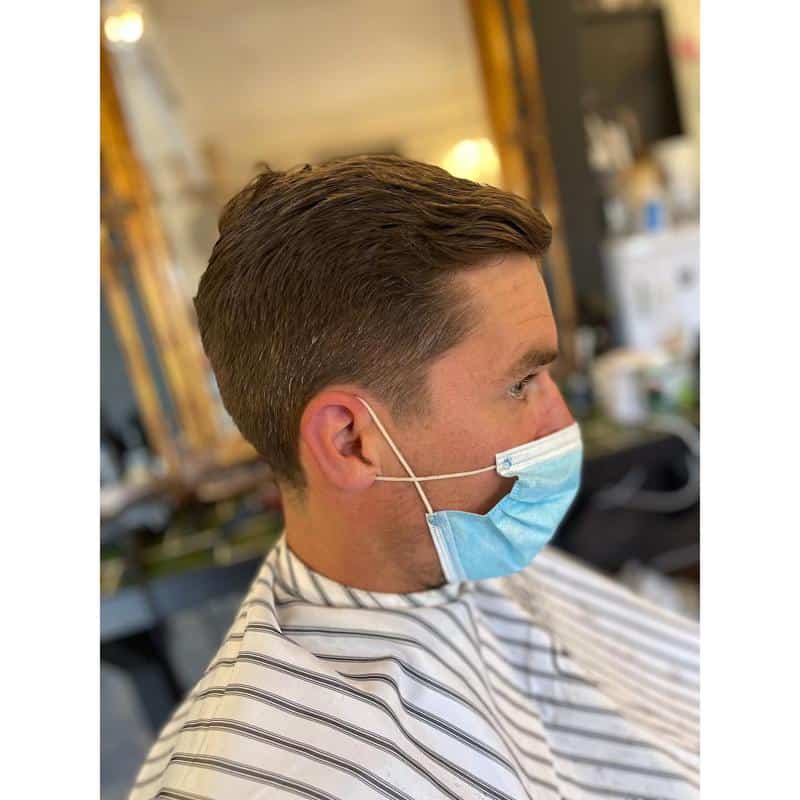 The classic short back and sides is so beloved by barbers because it works on all men, not just the ones trying to disguise their receding hairline. Play around with the hair on top of your head with styling products to create more of a textured cropped hairstyle, or something more severe.
The French Crop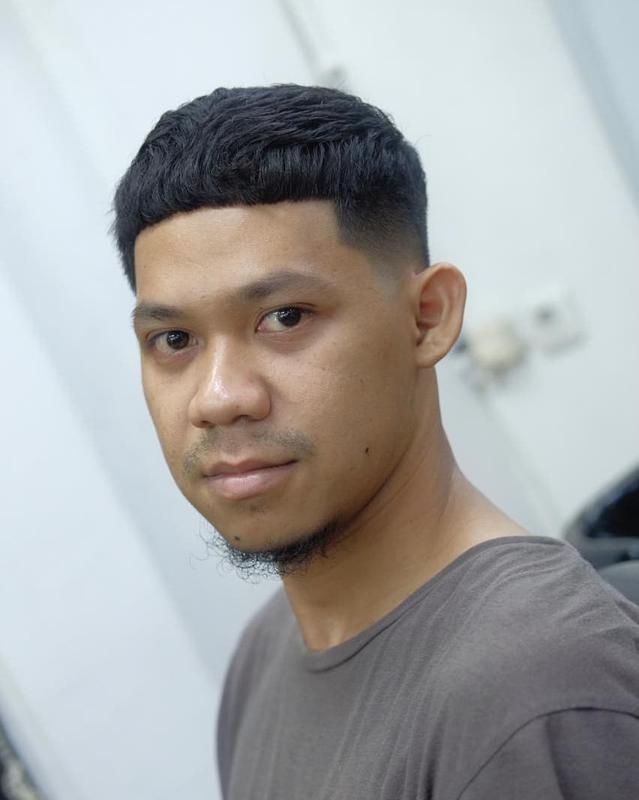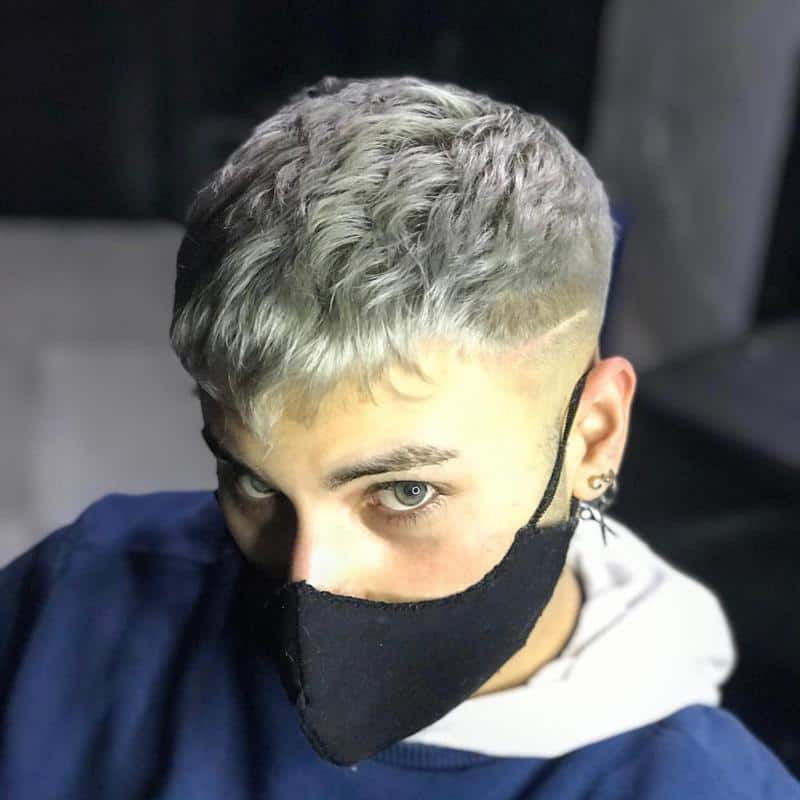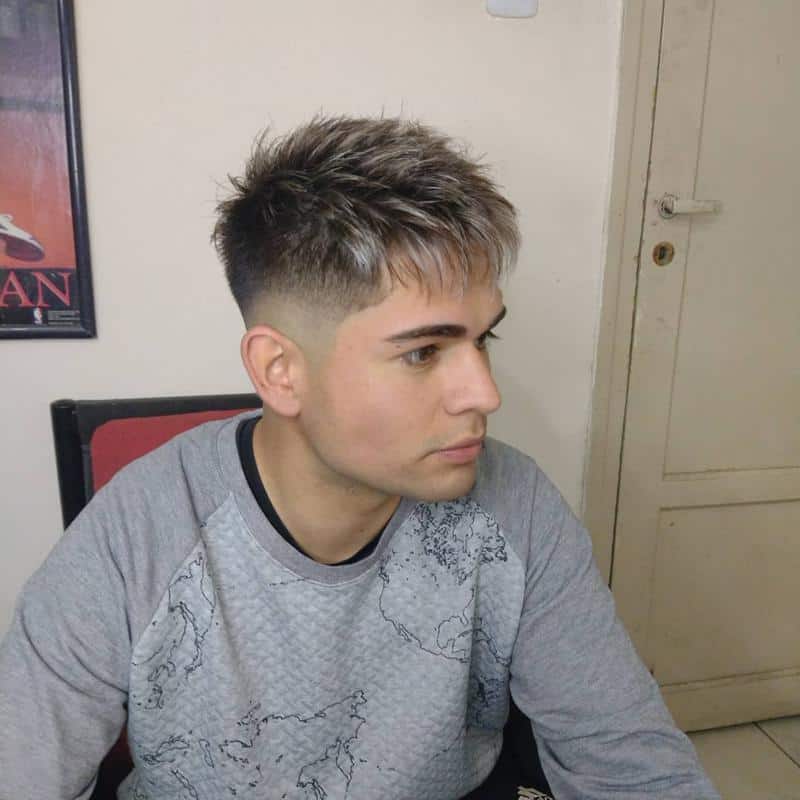 The French crop has gained popularity in recent years, even with guys who don't have a receding hairline. Your barber will fade out the back and sides before blending the top of the hair and bangs. The bangs will be cut in a line and layered to give texture. Use a lightweight product to produce a messy yet stylish finish.
Short Messy Hairstyles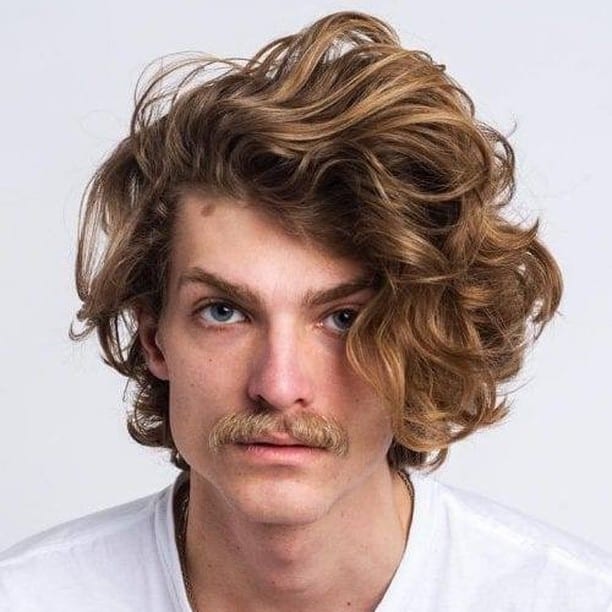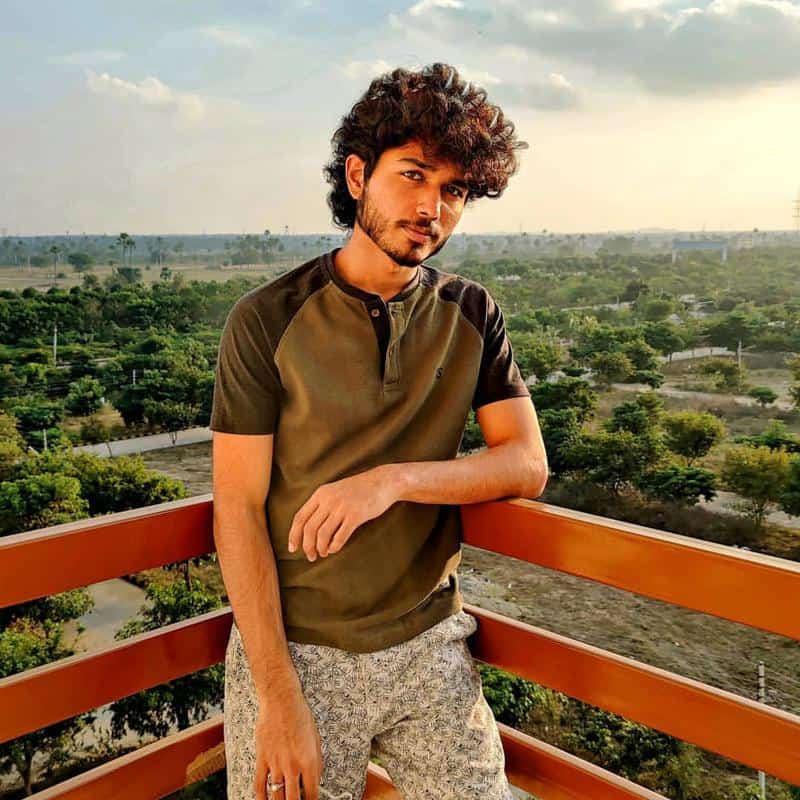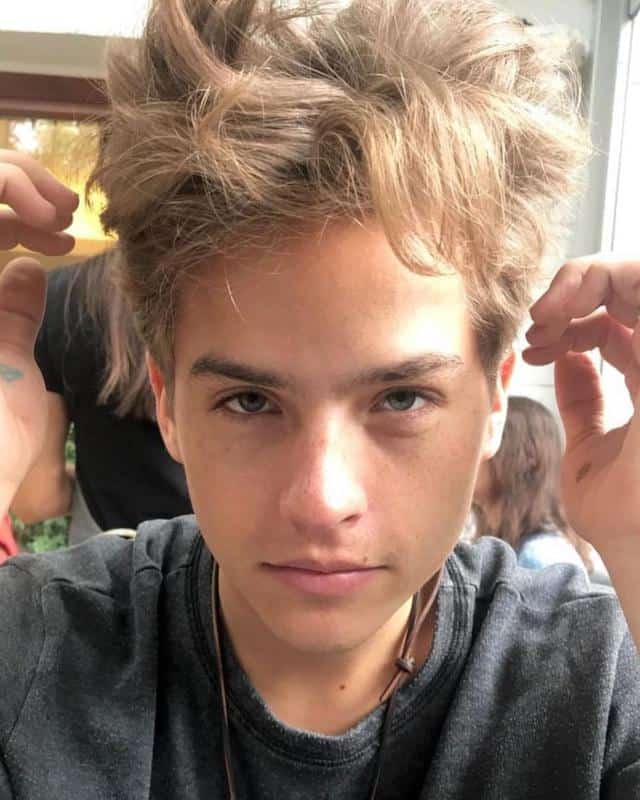 Short messy hairstyles are a fantastic way to hide a receding hairline, especially if you have fine or thinning hair as well. Short hair with lots of texture can look sexy and cool in an effortless way. Ask your barber for a short haircut with a little bit more length in the hair near your hairline. This longer section will help give the illusion of thickness.
Did you know:

To maximize volume and thickness, style your hair with a clay or wax product.
Fringe with Undercut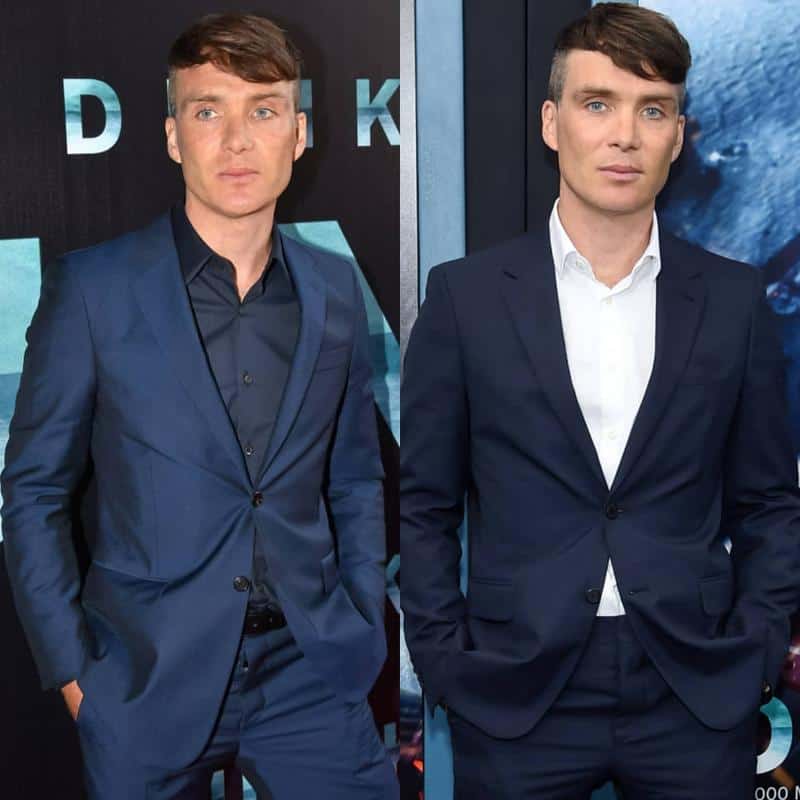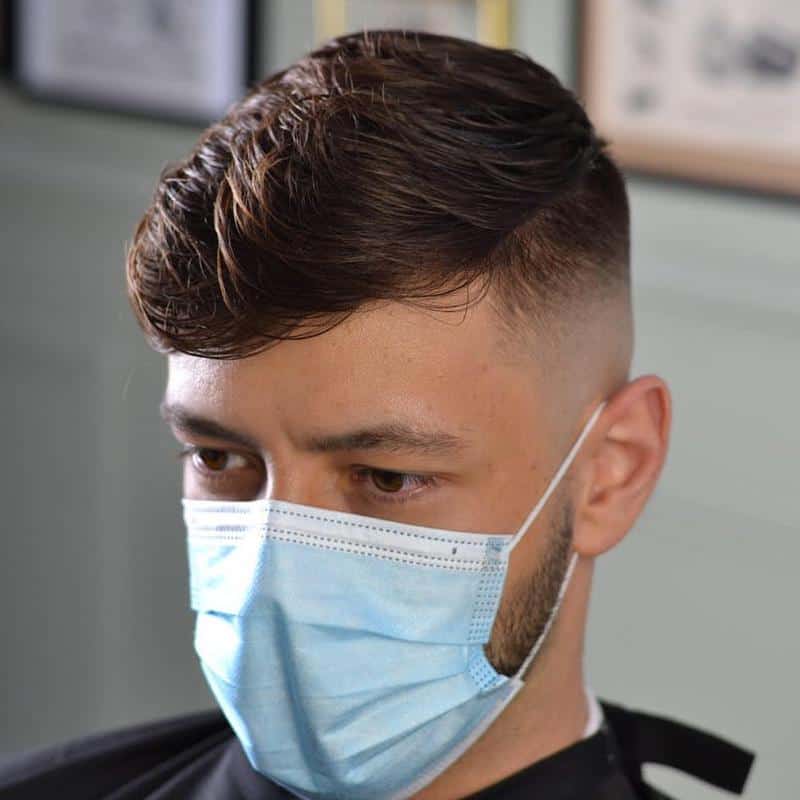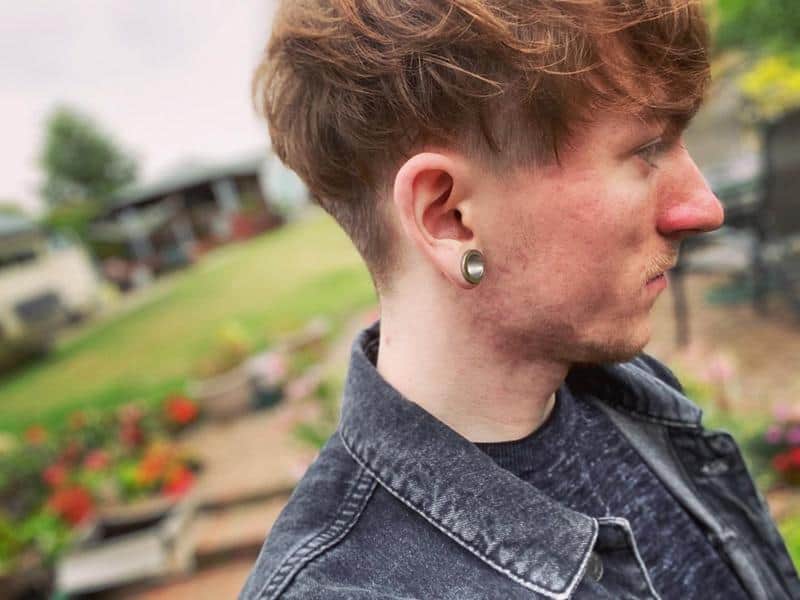 Think Cillian Murphy in Peaky Blinders. A fringe haircut is great if you are concerned that pushing your bangs back will only emphasize your receding hairline. This cut has shorter sides with a longer top. Style your hair by dampening it with a salt spray, before blow-drying and working in a men's styling clay.
Widow's Peak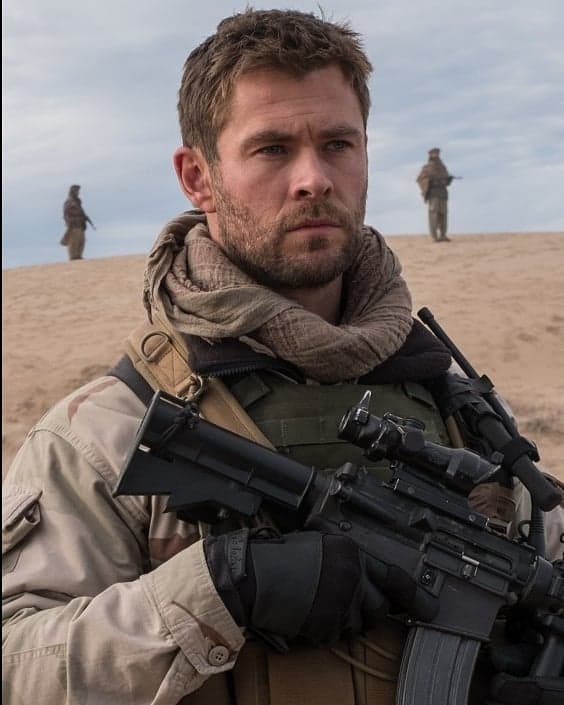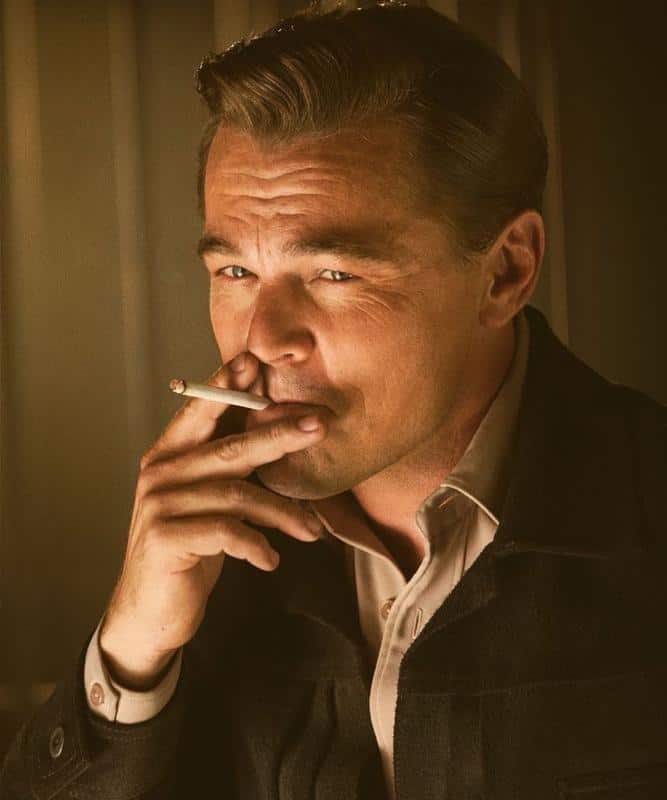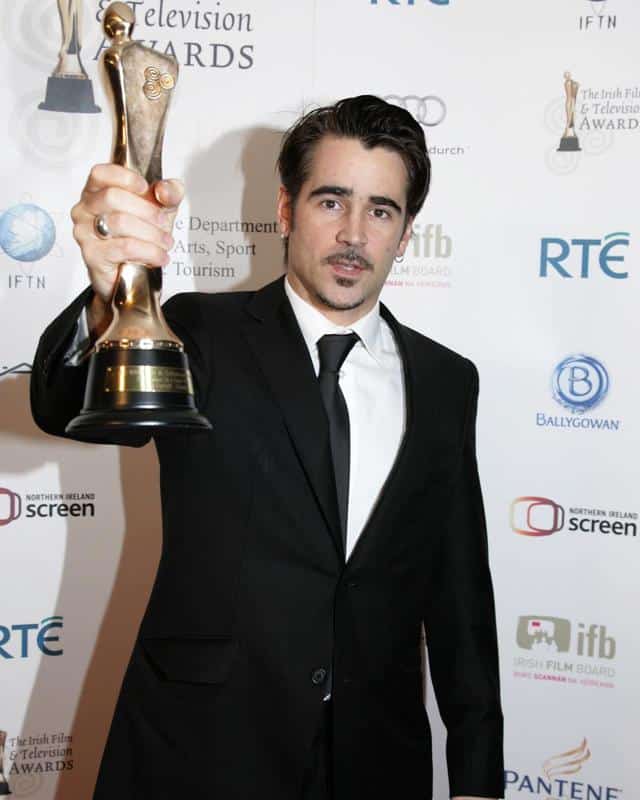 If you're already sporting a v-cut hair, why not embrace it? Grow out as much hair as you can and then get busy with the sculpting clay. Shape and style your hairline around the window's peak with clay. Slick back and pompadour styles also look great with the widow's peak, even a receding one.
Did you know:

If you want to hide your widow's peak, choose fringes, side paring, undercuts or grow your hair long.
Bald Fade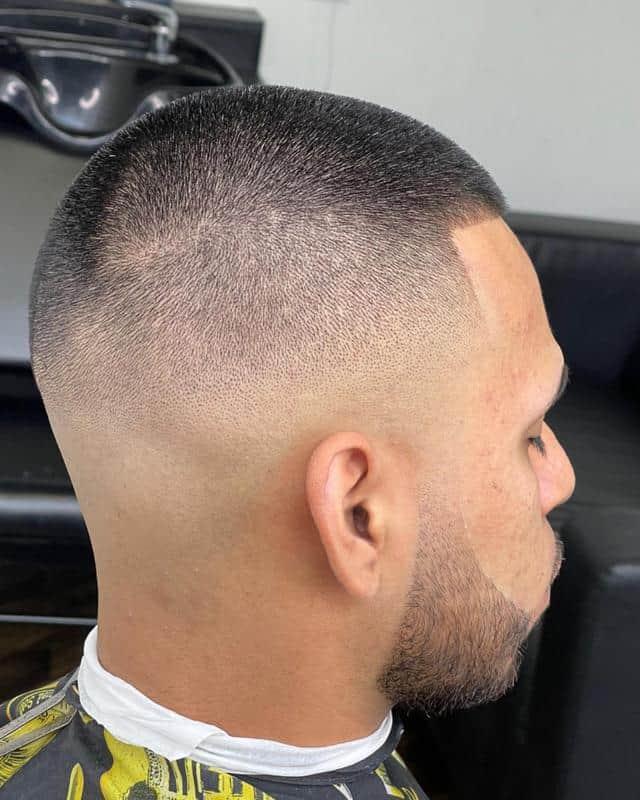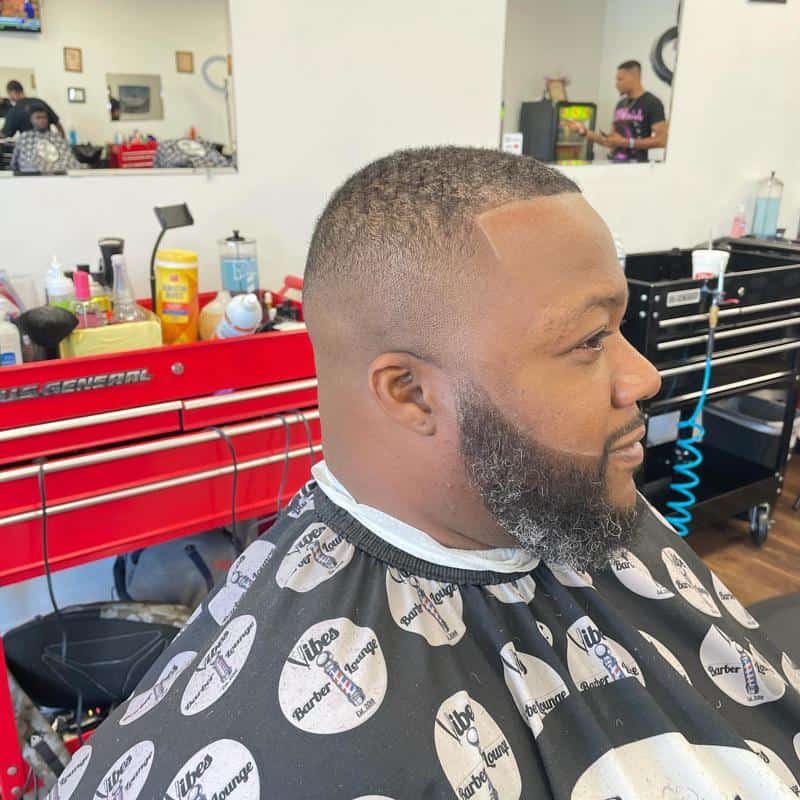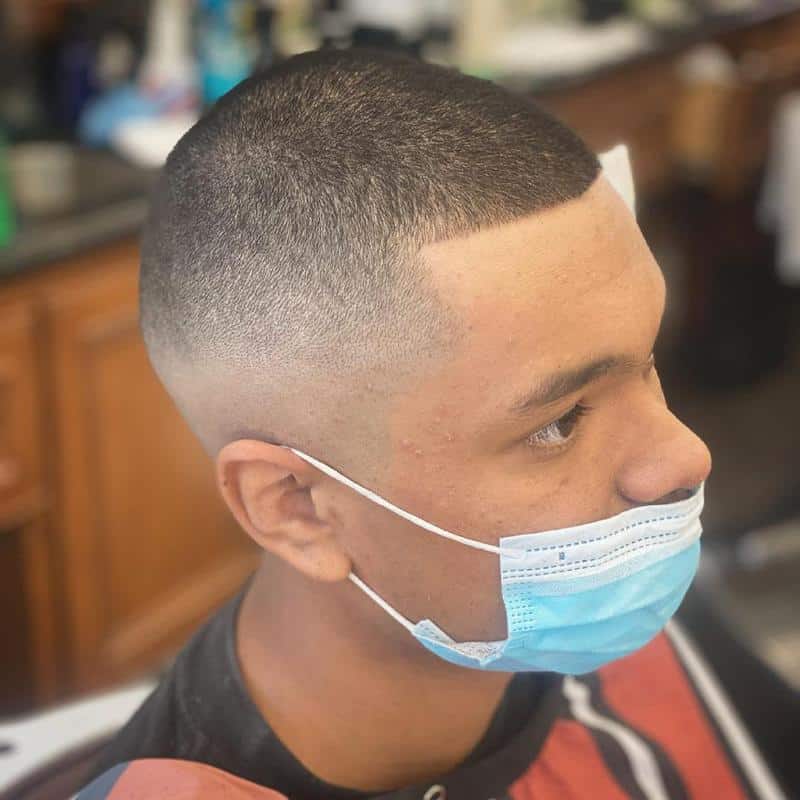 A bald fade is a modern short back and sides. Buzz your hair down to a low maintenance size and then apply hard edges to every hairline. This style is all about hard edges and contours, embracing all your natural lines. A regular fade, a seamless transition between short and longer lengths and the back and sides, is between a grade two or give. A bald fade goes right down to skin level.
How to Style Hairstyles for a Receding Hairline
Blow-drying your hair will instantly make it look fuller and thicker. Be careful to not fry your hair. Always use a heat protectant and a medium heat setting. This will allow you to style your hair without damaging the structural proteins. Avoid air-drying your hair because it causes strands to fall straight.
Try thickening shampoos. They work by coating the hair with volumizing polymers, so it appears thicker and fuller. This is only a temporary effect, but it's a fantastic short-term solution. Experts recommend shampooing thinning hair 3 to 4 times a week as clean hair looks naturally thicker.
When it comes to styling products, keep it sample. Avoid using anything too thick, tailored or any wet looks. Hair can easily clump together with thick product and make it look even thinner. Choose dry hair styling products which keep the fullness. Don't be afraid to try a light hairspray to secure the style throughout the day.
Tactical plucking can help to reduce the "M" shape associated with a receding hairline, which often makes it looks worse than it actually is. Plucking certain areas of your hairline can make it look more consistent and smoother. Removing those patchy hairs can actually create the illusion of full, natural-look hair. It may seem counterproductive but it really works!
If you are placed with the ability to grow a mustache or a beard, make the most out of it. Facial hair can easily distract from any hair issues you may be having.
Hairstyles for a Receding Hairline: More FAQ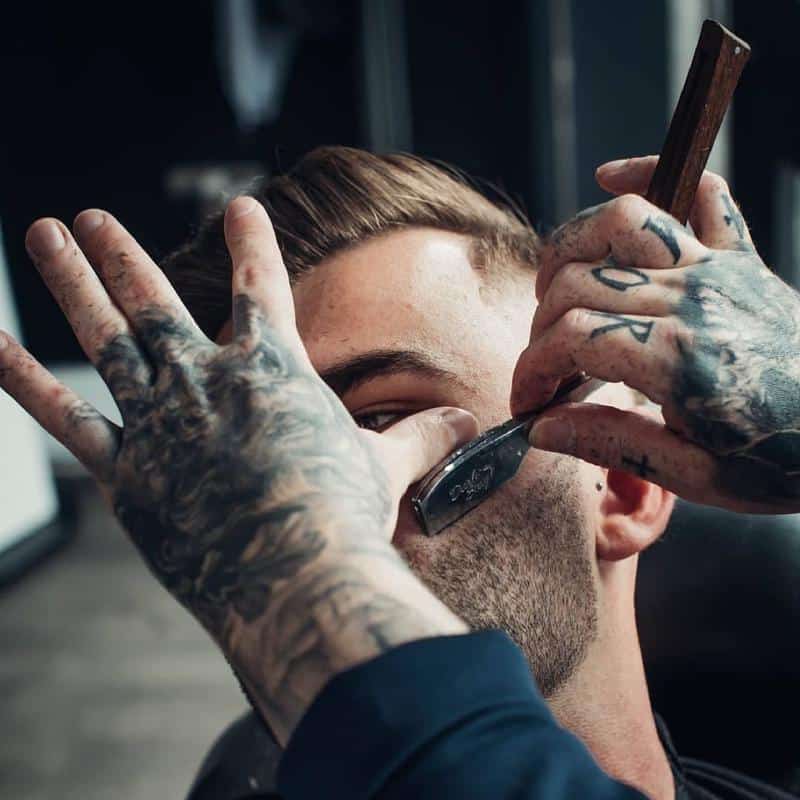 What is a Receding Hairline?
A receding hairline is a common type of baldness, often caused by androgenetic alopecia. It is better known as male pattern balding and is often hereditary. A receding hairline is the loss of hair around the front of the head, starting near the temples. Sadly, it only gets worse over time.
How Can I Stop a Receding Hairline?
https://www.shutterstock.com/image-photo/rear-view-shot-handsome-hairdresser-cutting-569535106
There's not much that you can do once your hair has started receding. For most people it's caused by a mixture of aging and genetics. There are some at-home remedies, therapies and treatments that can keep your hair looking fuller and healthier for longer. Here are some ways to help your receding hairline:
Eat a diet that is high in antioxidants, which fight stress and help your hair look healthy and full. Foods like walnut, blueberries and spinach are rich in antioxidants.
Vitamin A, E, B-12, iron and zinc can also maintain hair health.
There are over the counter medications that can help. Minidoxil, also known Rogaie, has been found to help improve the hairline.
Finasteride (Propecia) is a prescription medication that lowers the hormone levels that can cause your hairline to recede. It can also promote scalp health and minimize hair loss.
Chinese hibiscus, ginseng, gotu kala, aloe vera and gooseberry all have roots in traditional holistic medicine and have been used to help treat hair loss.
Some shampoos have been designed to be gentle on the hair and stimulate hair follicles. Avoid using shampoos that contain chemicals that strip sebum (oil) from the scalp as they weaken the follicles.
Rosemary oil, peppermint oil, and lavender oil have all been found to help treat receding hairlines.
Research has shown that regularly performed scalp massage could help your hair grow thicker and healthier.
Minimize stress to prevent hair loss and improve your general health.
Avoid using chemicals like peroxide and bleaching your hair.
Stop smoking.
Avoid using too much heat to style your hair. Also ditch tight hairstyles like braids or cornrows.
Which Celebrities Have a Receding Hairline?
Even the most admired leading men have a receding hairline. Jude Law often paired his with highlights or a full beard. The Rock explained in a Vanity Fair interview that he is bald by choice because he was unhappy with how his hair looked. LeBron James has battled with his hairline for years, which is why he now mostly keeps it trimmed.
Matthew McConaughey has revealed that was dealing with a massively receding hairline in the late nineties. He claims he fixed it using a hair loss product called Regenix. Robert Pattinson has suffered from hair loss due to bleaching his hair and daily styling, it is thought he used medication and natural remedies to remedy it.
Ashton Kutcher dealt with hair loss since he was 25. He revealed he used Avodart — a medication also known as Dutasteride — for years, but once he stopped, his hair loss began again. Now he hides it behind smart and trendy haircuts, he is also a big fan of a hat.
Can Women get Receding Hairlines?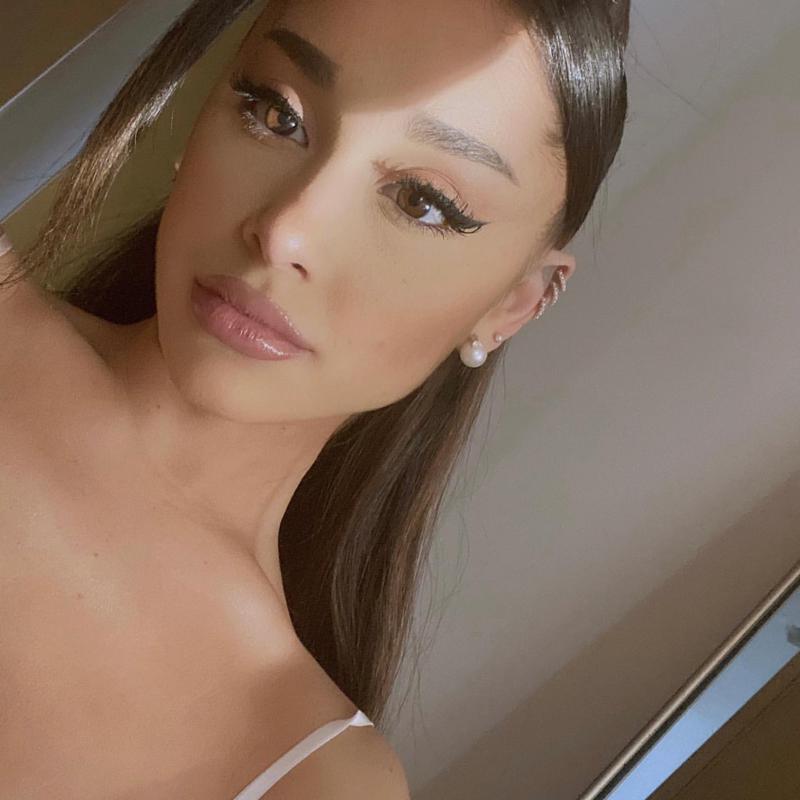 Yes, women can get a receding hairline and thinning hair. It's not uncommon and is known as female pattern hair loss. Women generally suffer less from a receding hairline and more from thinning. Hair may appear patchy with irregular bald areas.
A common cause for hair loss in women is hormonal imbalance, generic factors and aging. Another common cause is ponytails. Thinning hair can happen if a woman regularly pulls their hair back into a tight ponytail, braids or pigtails.
Can I Dye My Hair If I Have a Receding Hairline?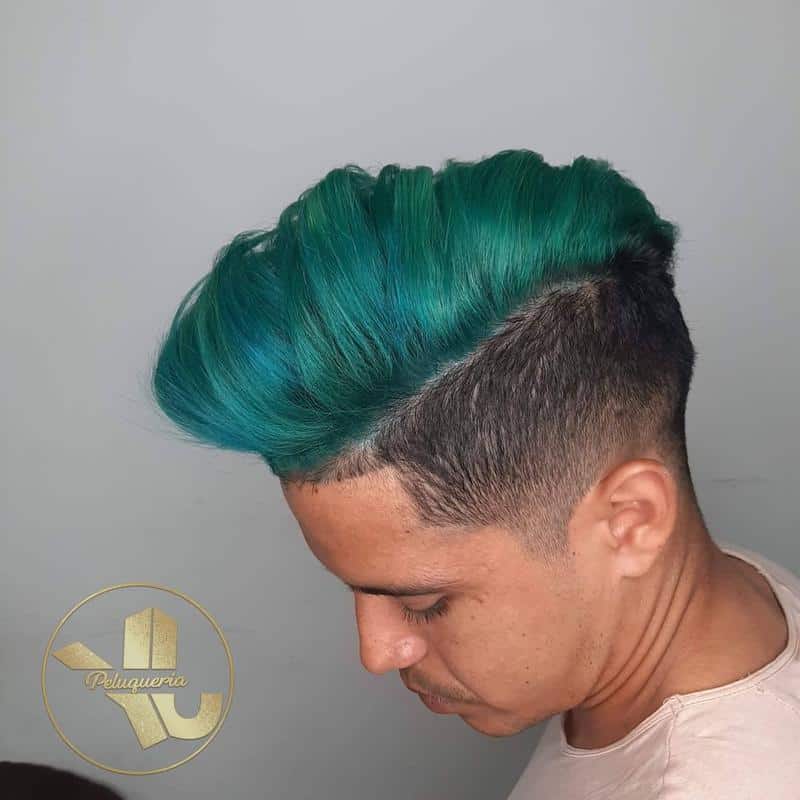 Dye your hair a color which closely matches your skin tone. This could help conceal the effect of your receding hairline or thinning hair. If the hair tone is close to your skin tone, the eye won't be able to identify the thinning areas in comparison to the skin. Just be careful dyeing or bleaching your hair, as this can damage the fibers of the hair.