50+ Best Vintage Tattoo Design Ideas (2023 Updated)
When you shop through links on our site, we may earn an affiliate commission. This educational content is not intended to be a substitute for professional advice.
People use the word "vintage" to refer to different things. For some people vintage means old. However, vintage is actually something that is at least 50 (and according to some people 20) years old, but younger than 100. Everything vintage is popular nowadays from cars to fashion. This style is a popular tattoo choice as well. If you're looking for a vintage tattoo idea to match your love for this beautiful style, then you're at the right place. In this post, we're going to cover some vintage tattoo ideas, discuss the meaning of this ink, and more.
50+ Best Vintage Tattoo Design Ideas
Vintage tattoos range from gentle to bold, from demure to edgy, and from simple to elaborate. Throughout this guide, you'll get to see some amazing vintage tattoo ideas and fall in love with them instantly. Let's check them out.
1. Flower vintage tattoo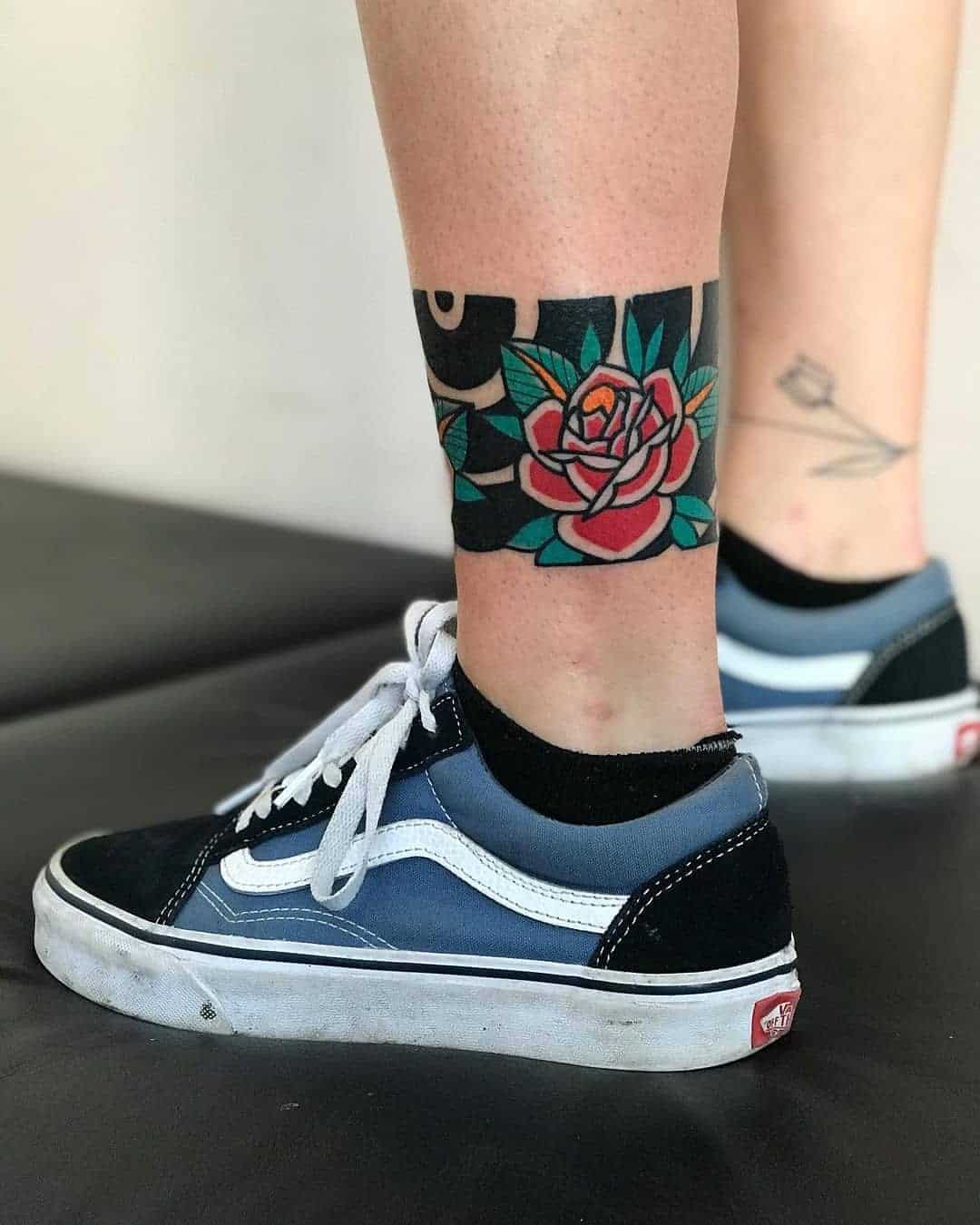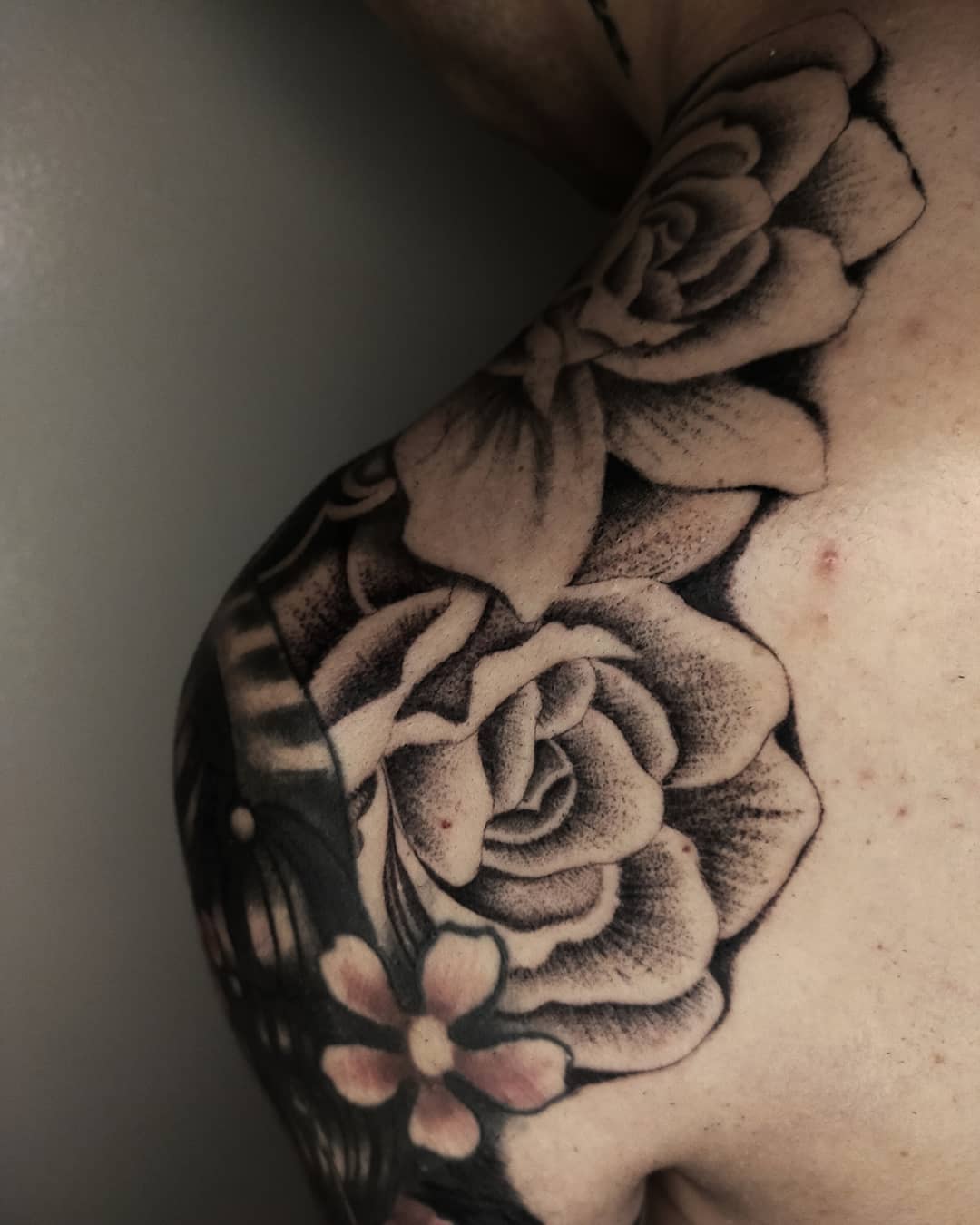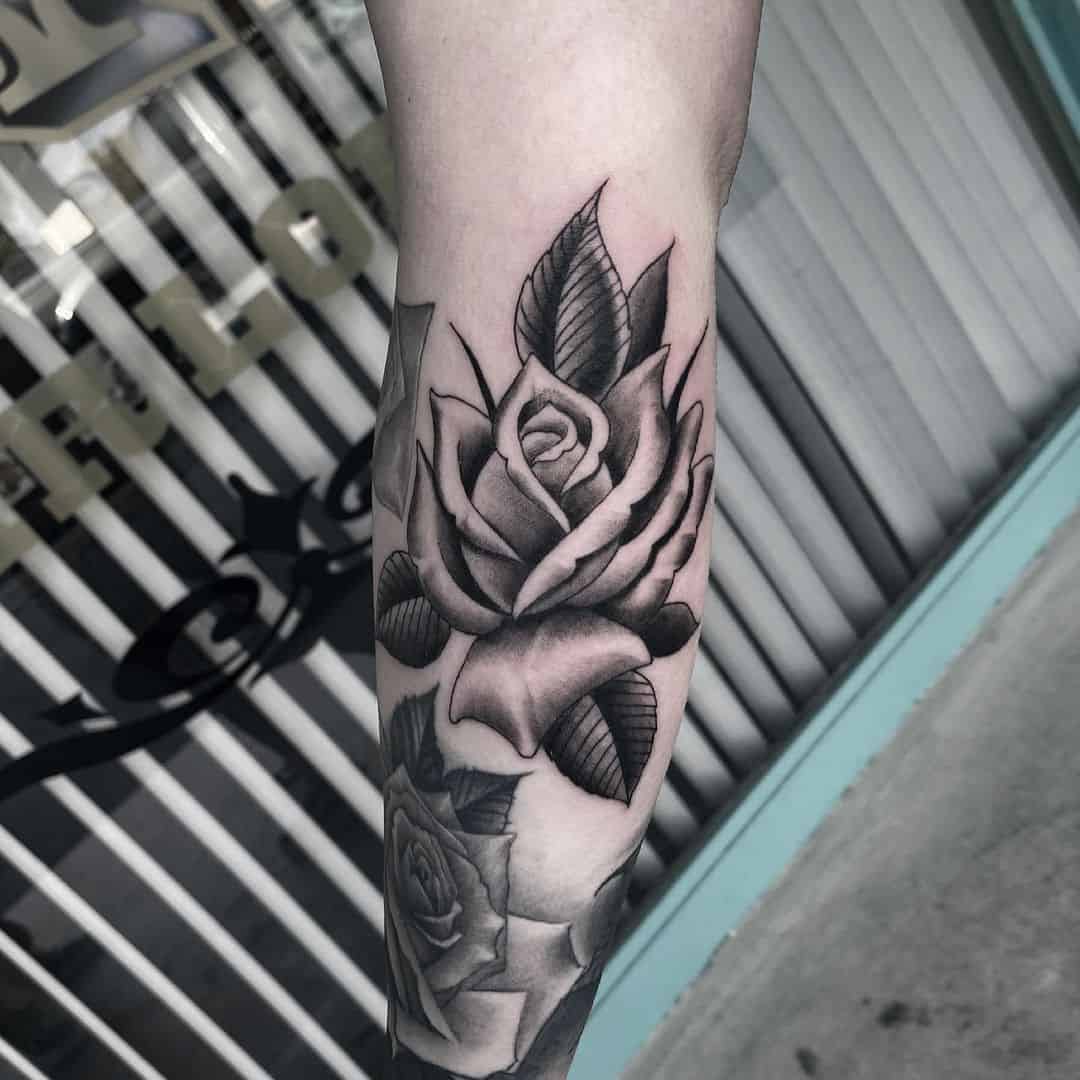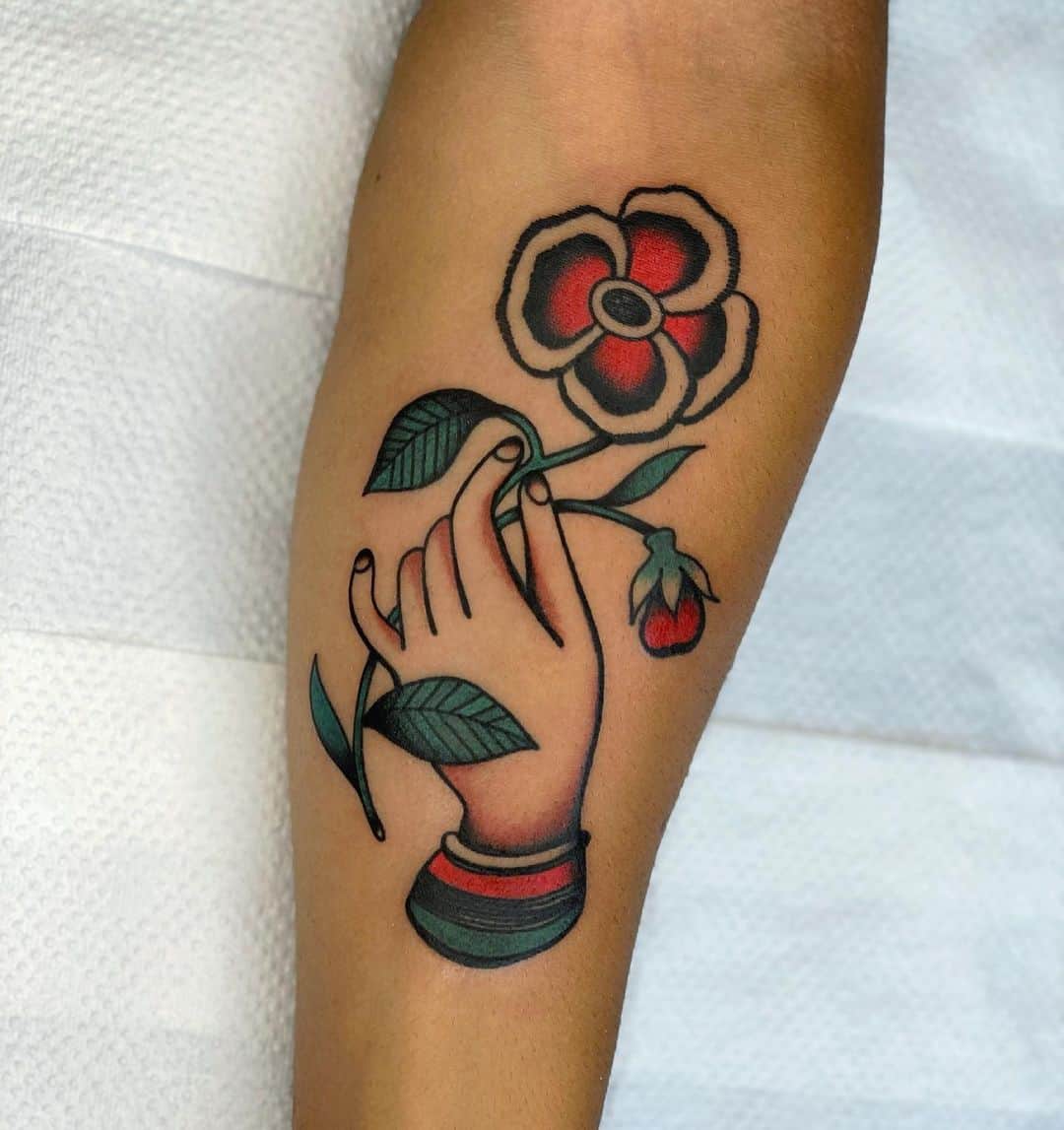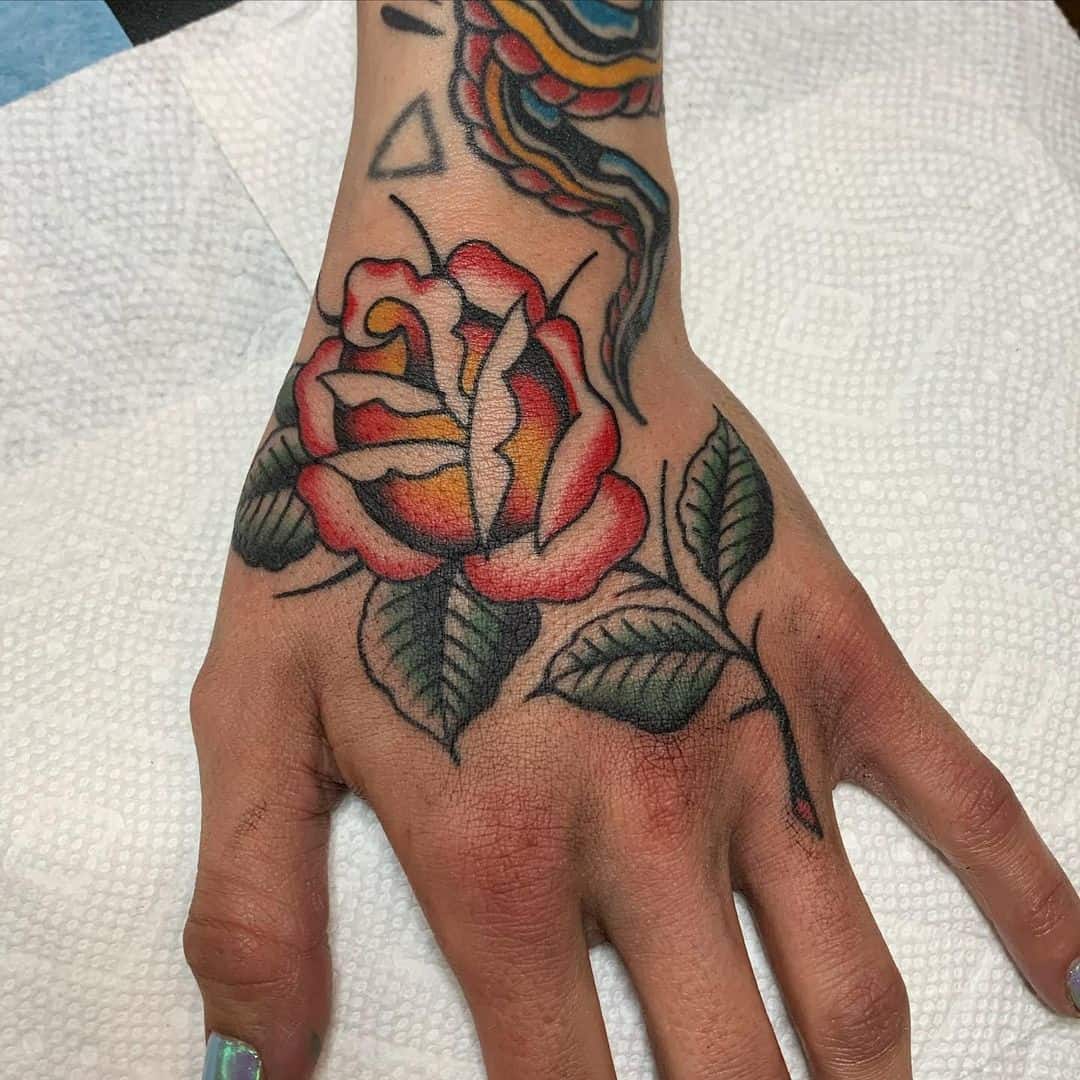 Flowers are among the most common images on vintage tattoos. Their meanings vary from one type to another. But generally speaking, a flower represents beauty, love, innocence, strength, and other values a person stands for. If you're looking for a bold, yet somehow delicate ink vintage flower tattoo is always a great option. You can go one step further and combine flowers with a vintage bee tattoo.
2. Pin-up girl tattoo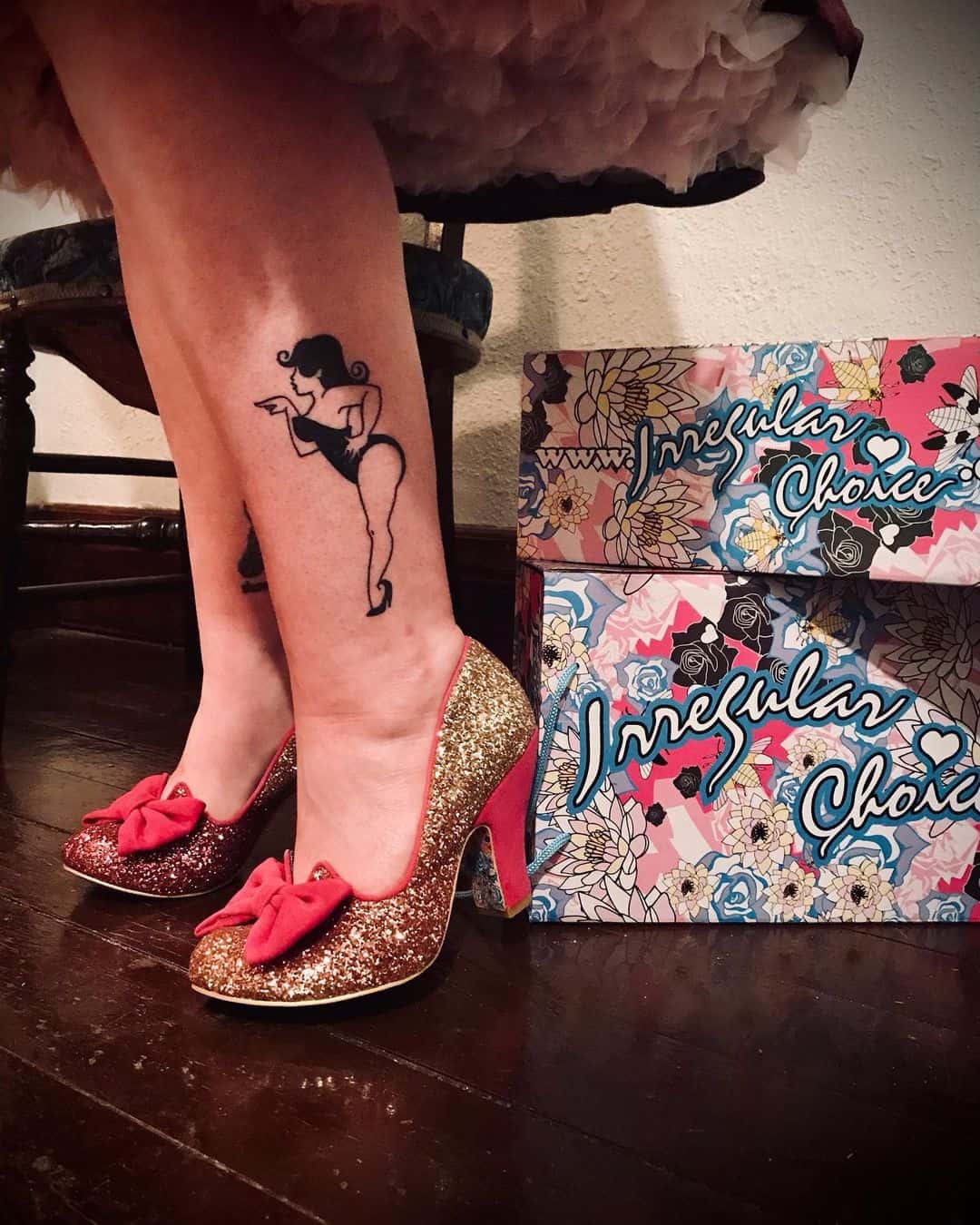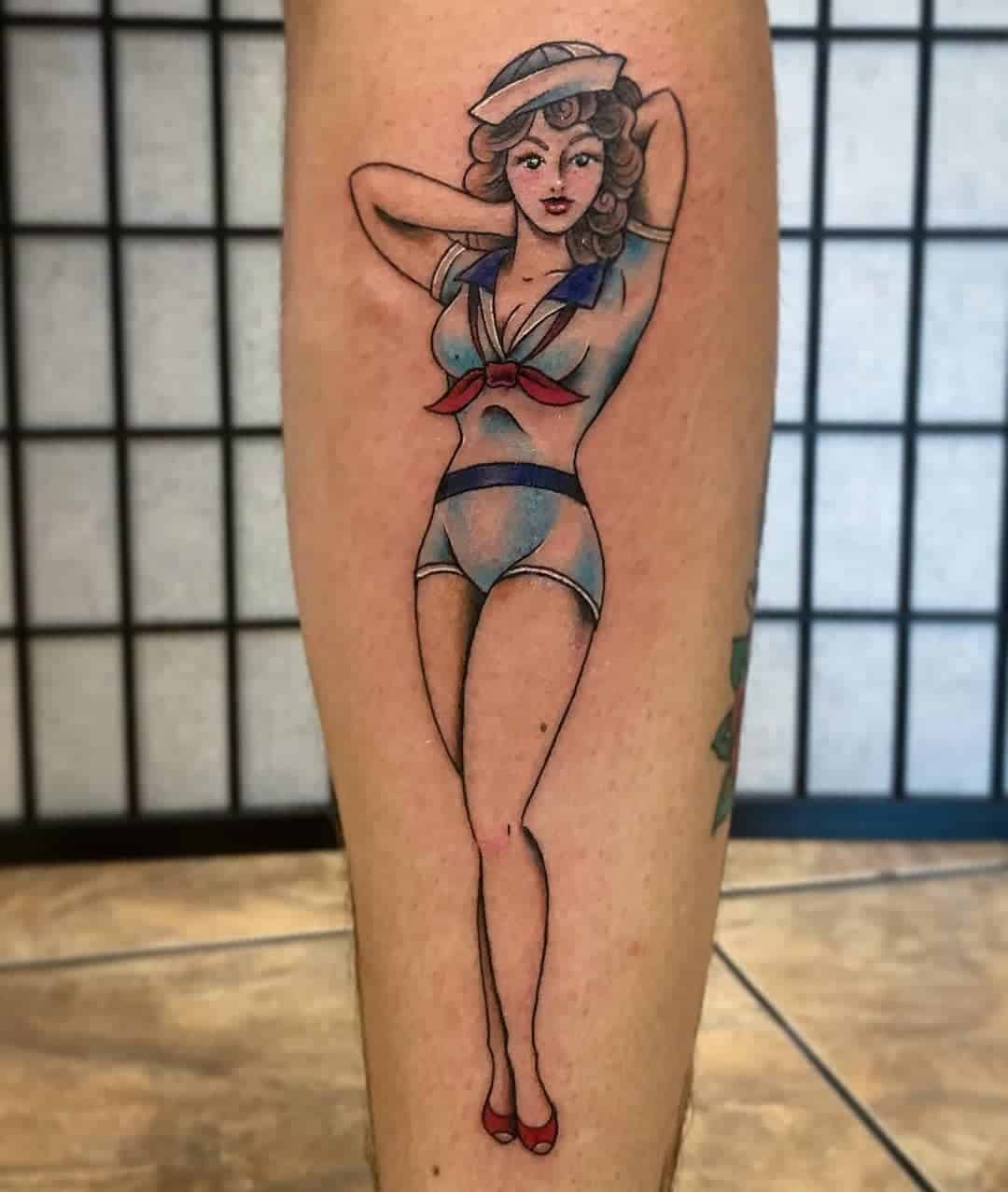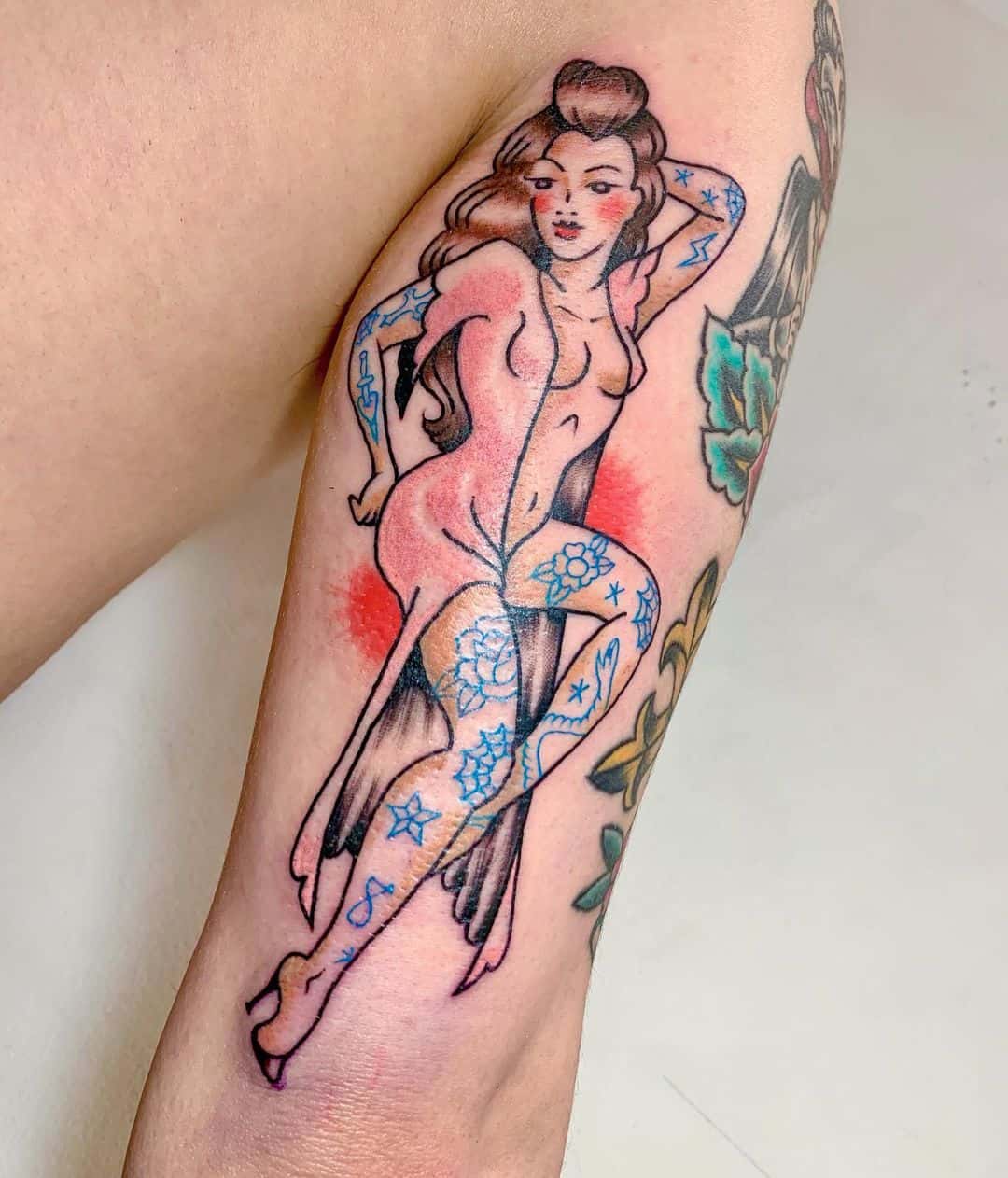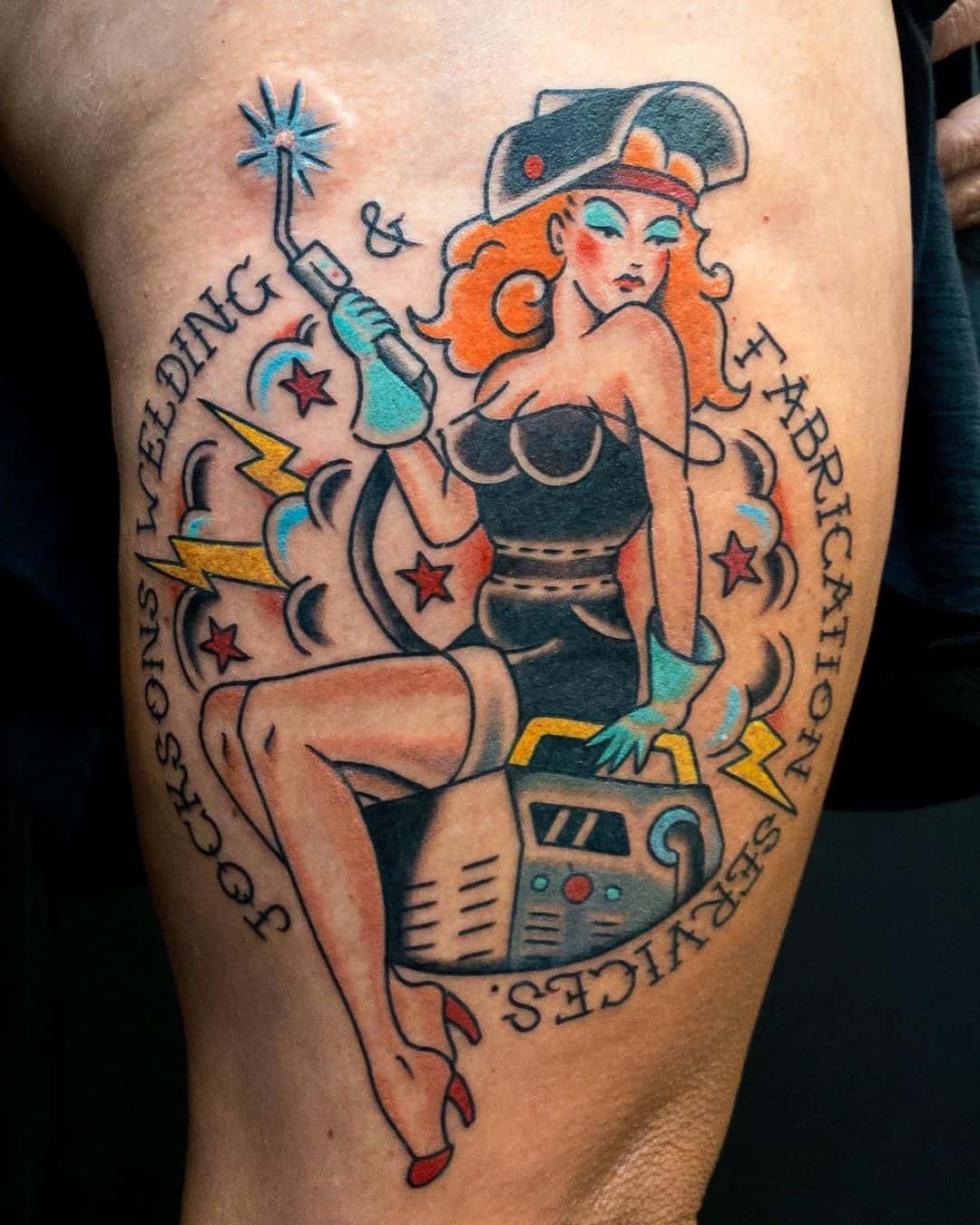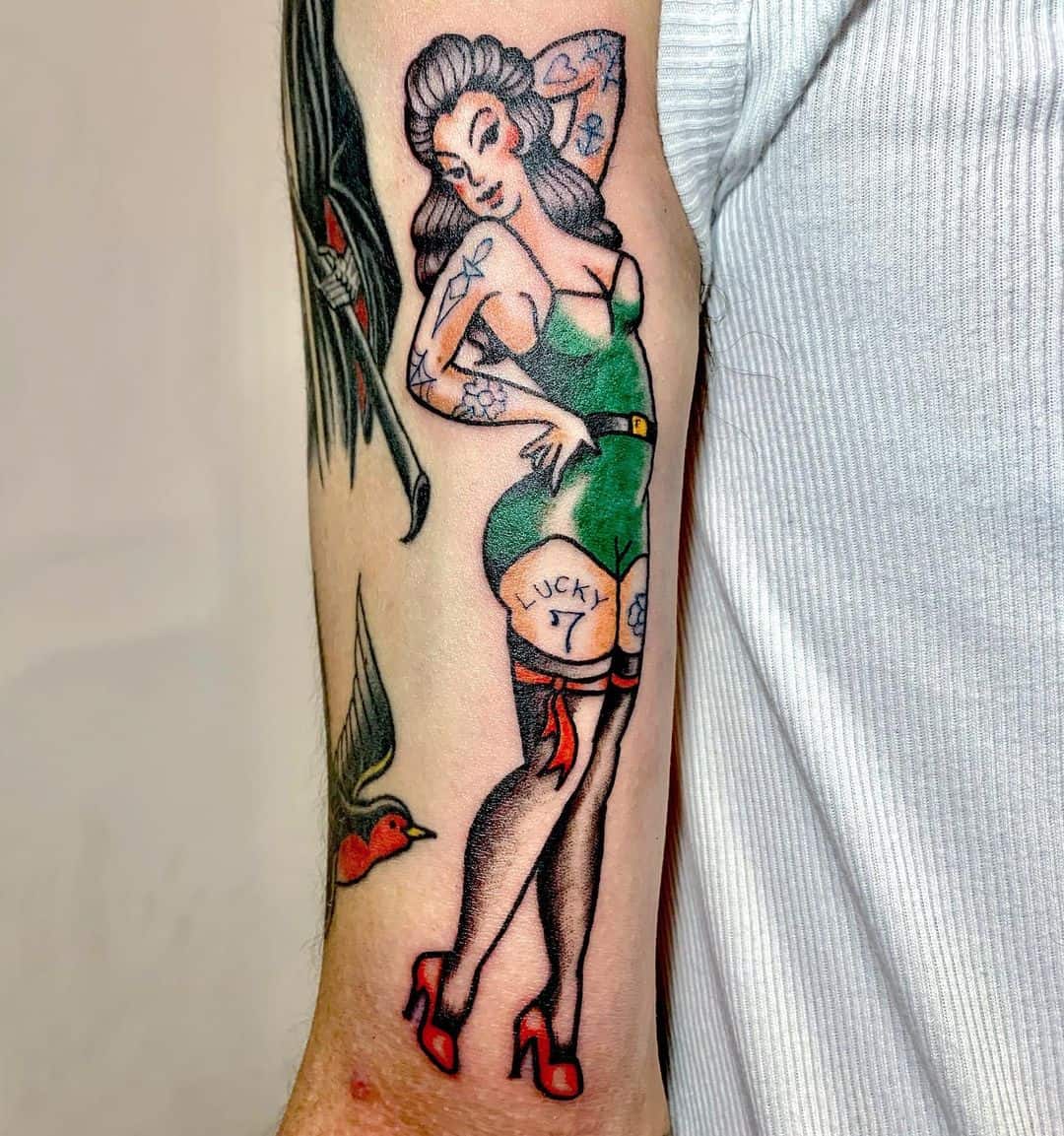 A popular American vintage tattoo choice, pin-up girls have strong feminine energy. These images combine sexual and sensual vibes in quite an elegant fashion. Back in times, men wore pin-up girl tattoos, but today women choose to rock them as well. Your pin-up girl can be anything you want from a welder to a singer.
3. Swallow tattoo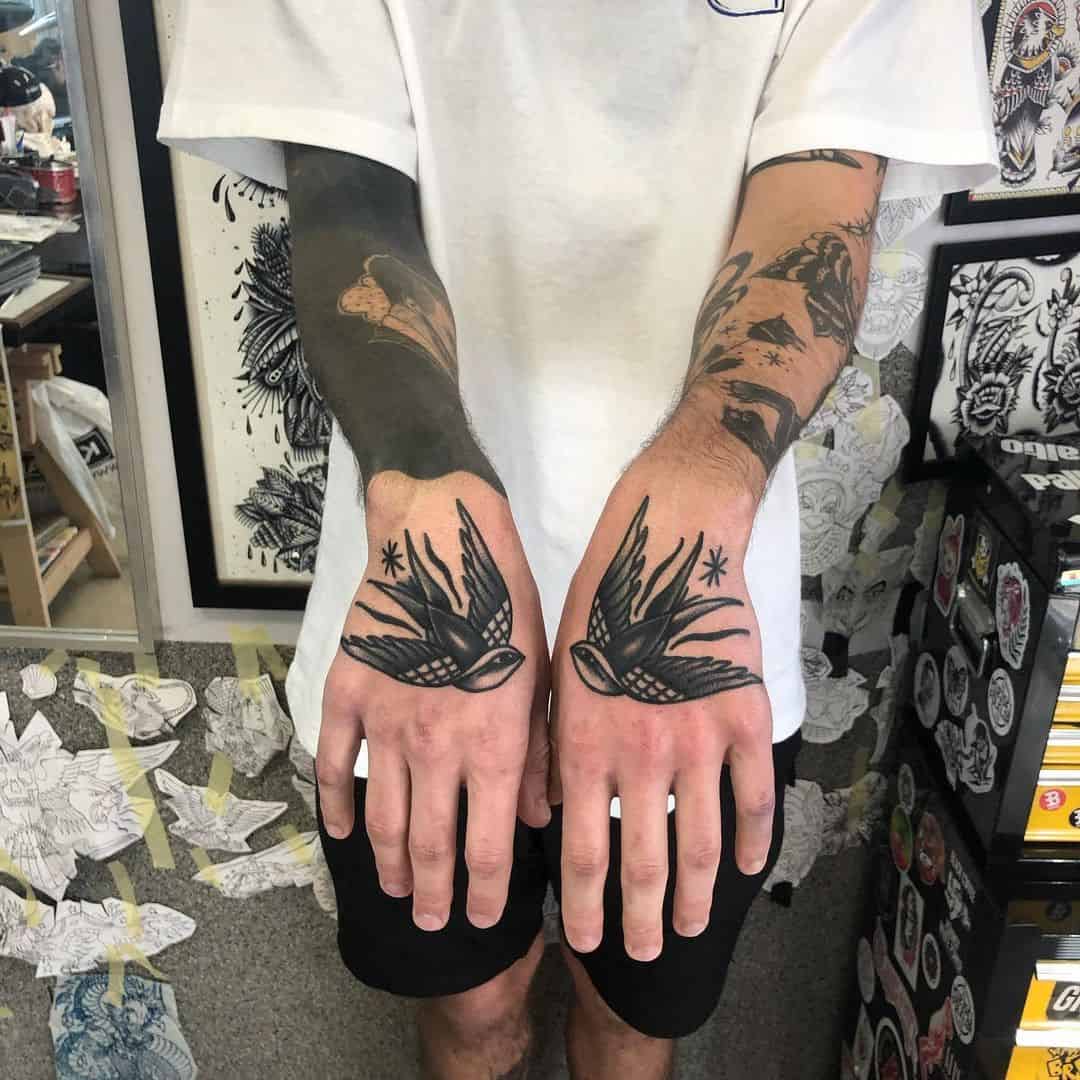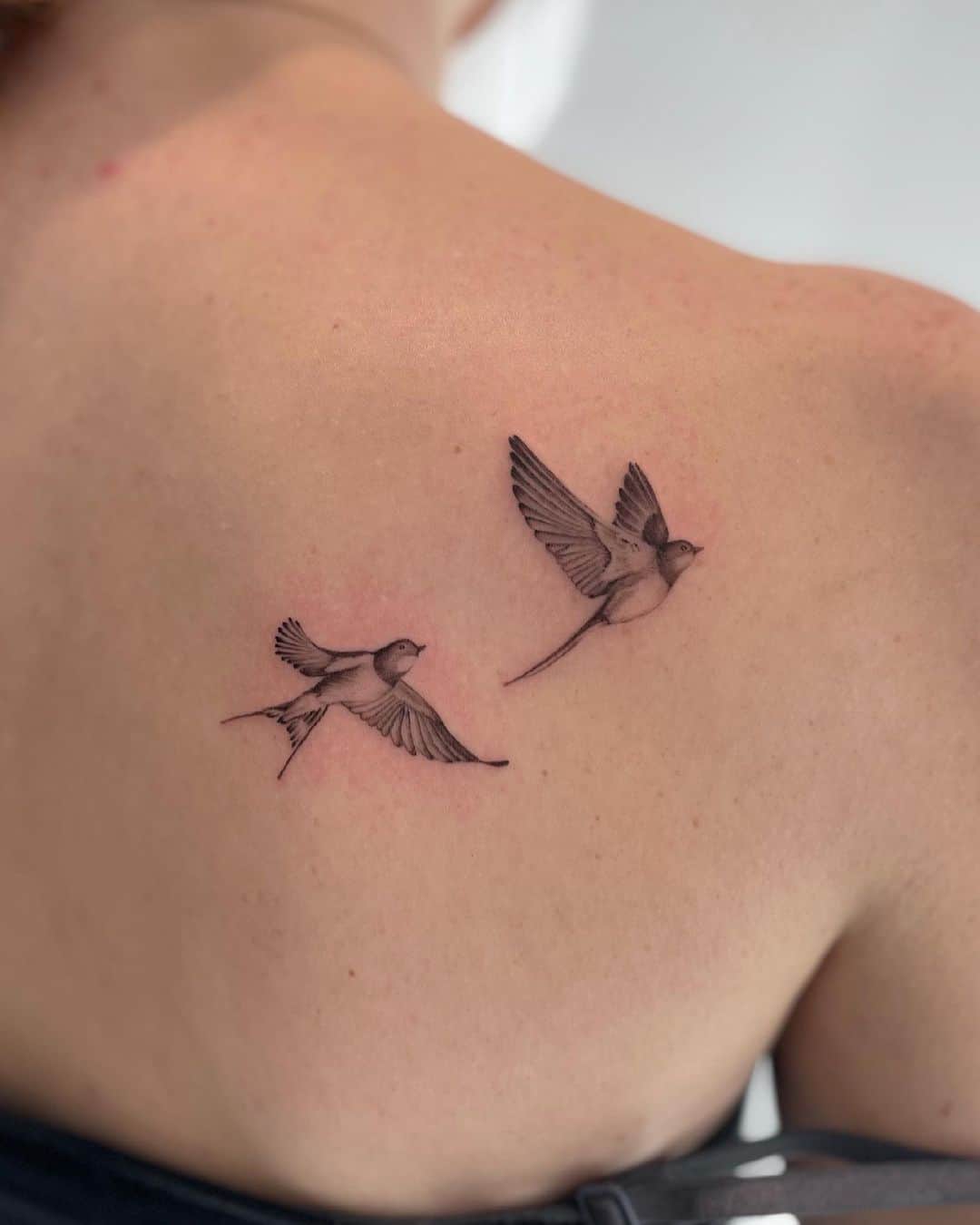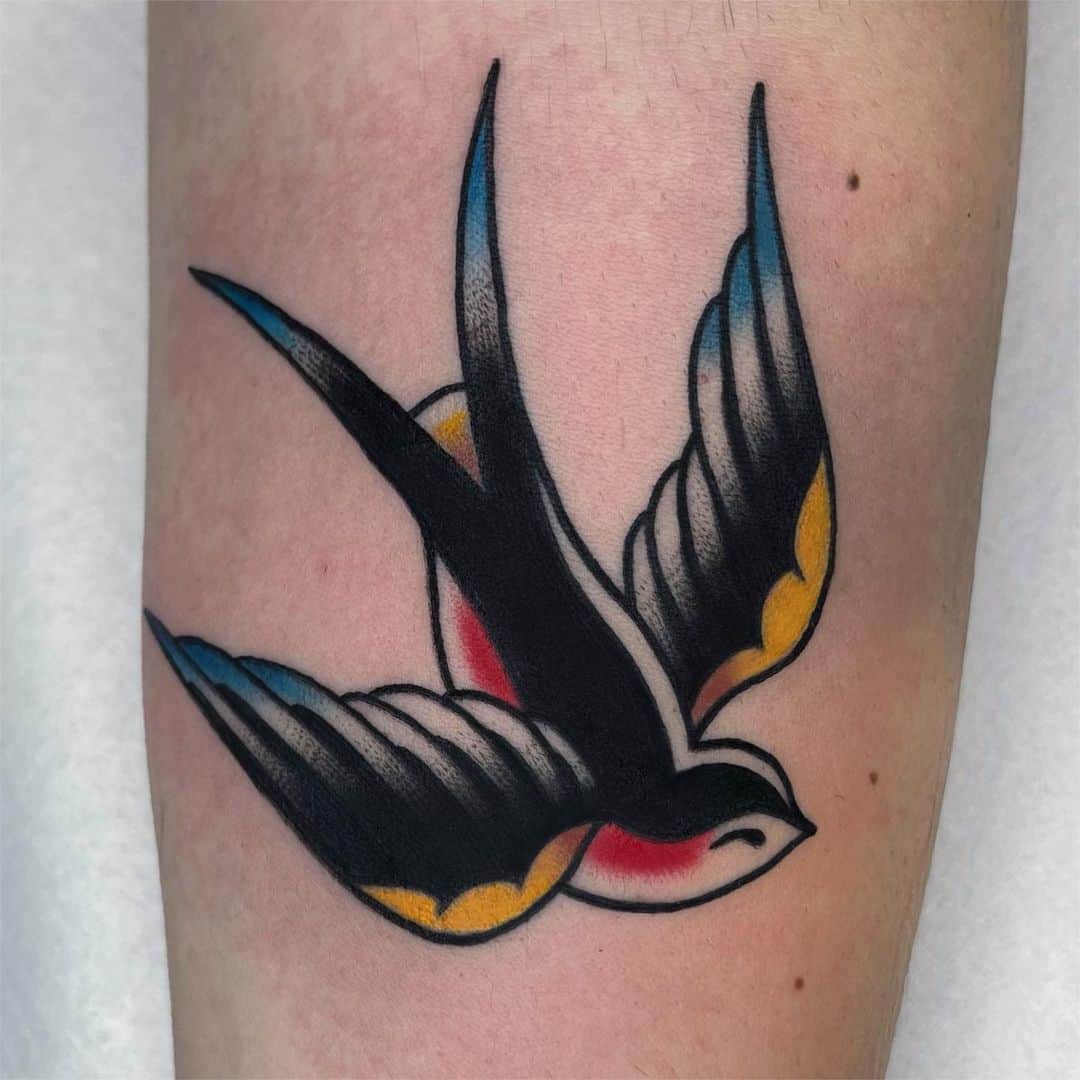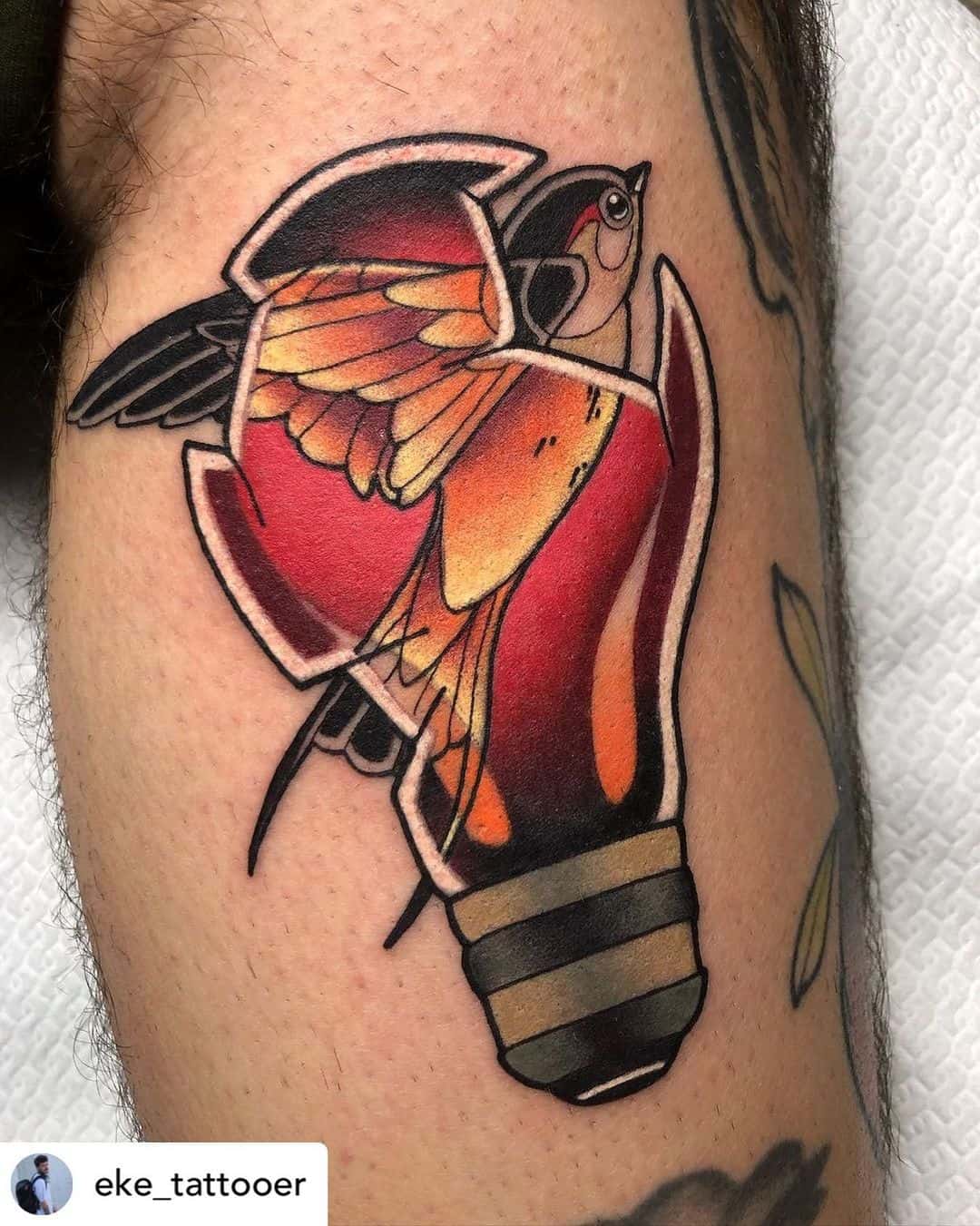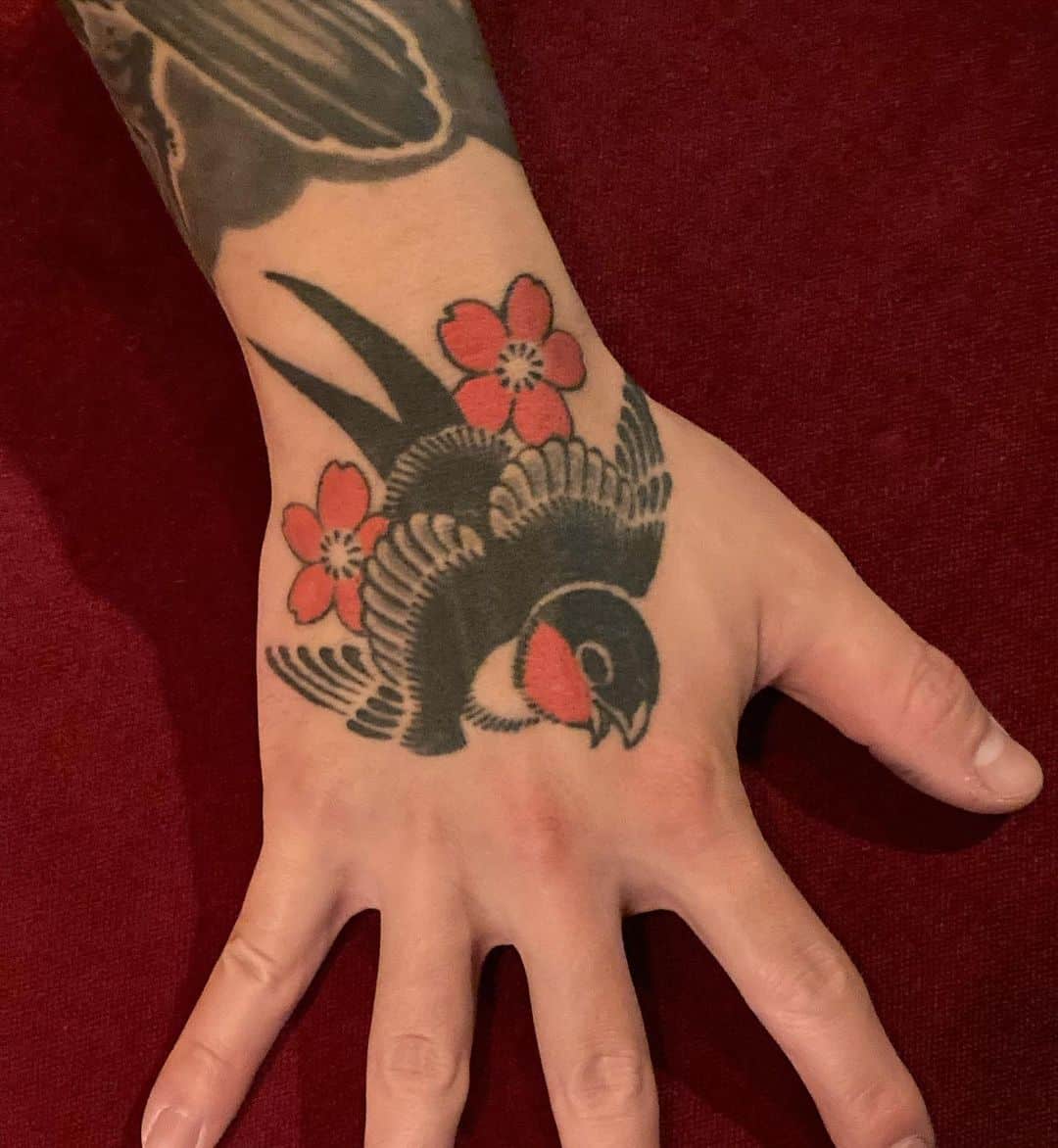 Vintage tattoos have strong lines that make the imagery more powerful. Swallows are among the most popular traditional tattoos and have a lot to do with sailors, their long voyages, and their return home. If you want a less striking look, you can opt for a swallow tattoo with softer lines. This tattoo carries the significance of vintage ink but also remains discreet.
4. Skull tattoo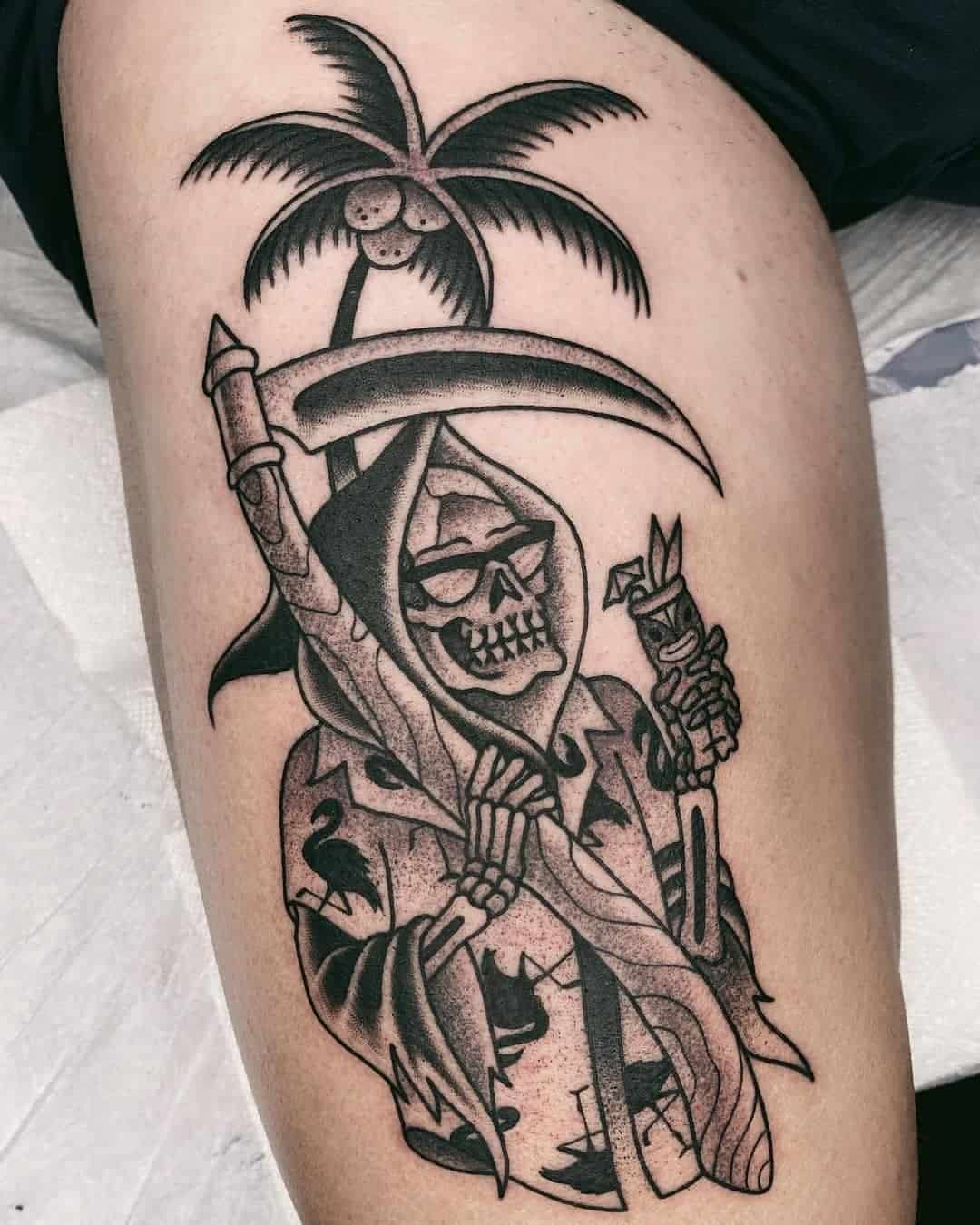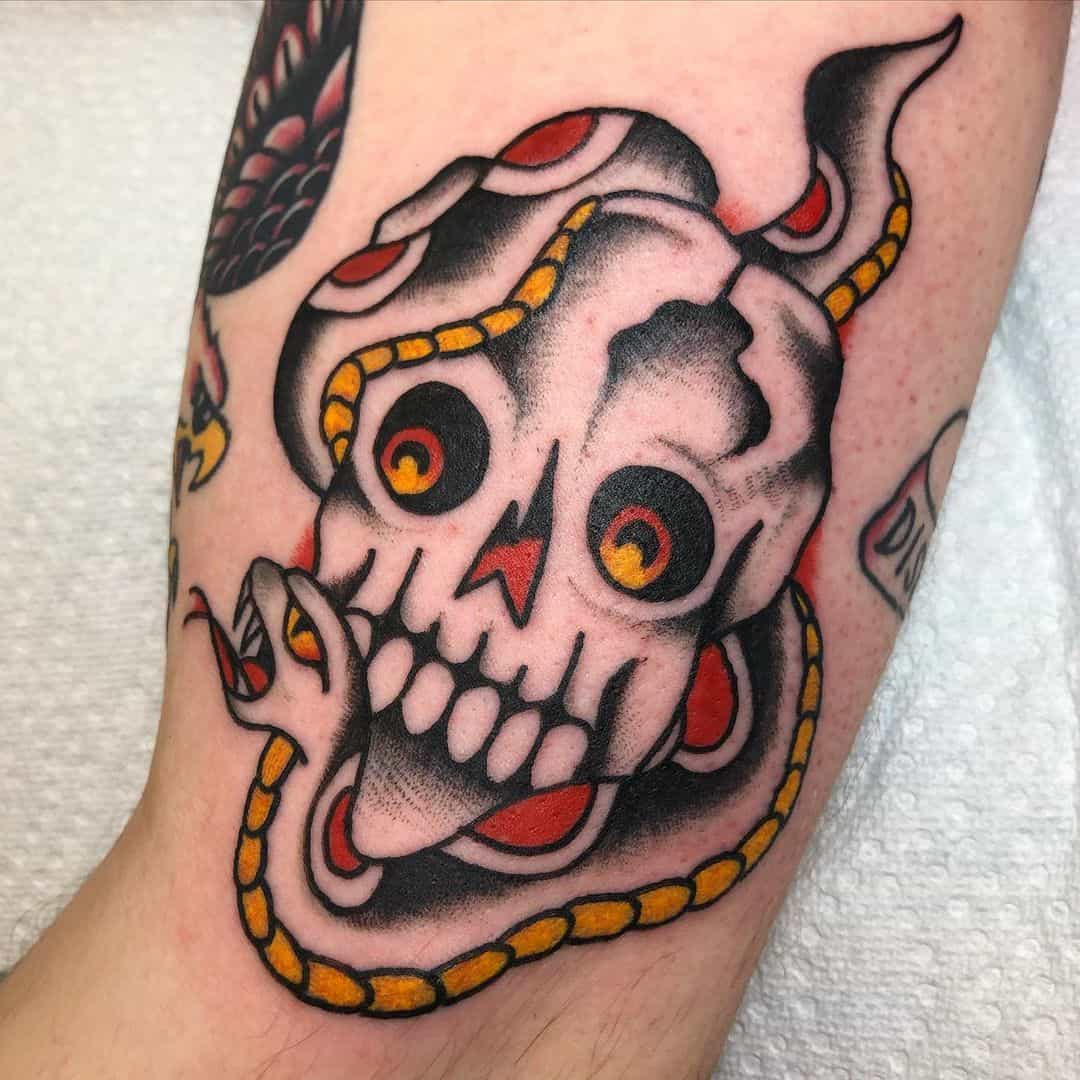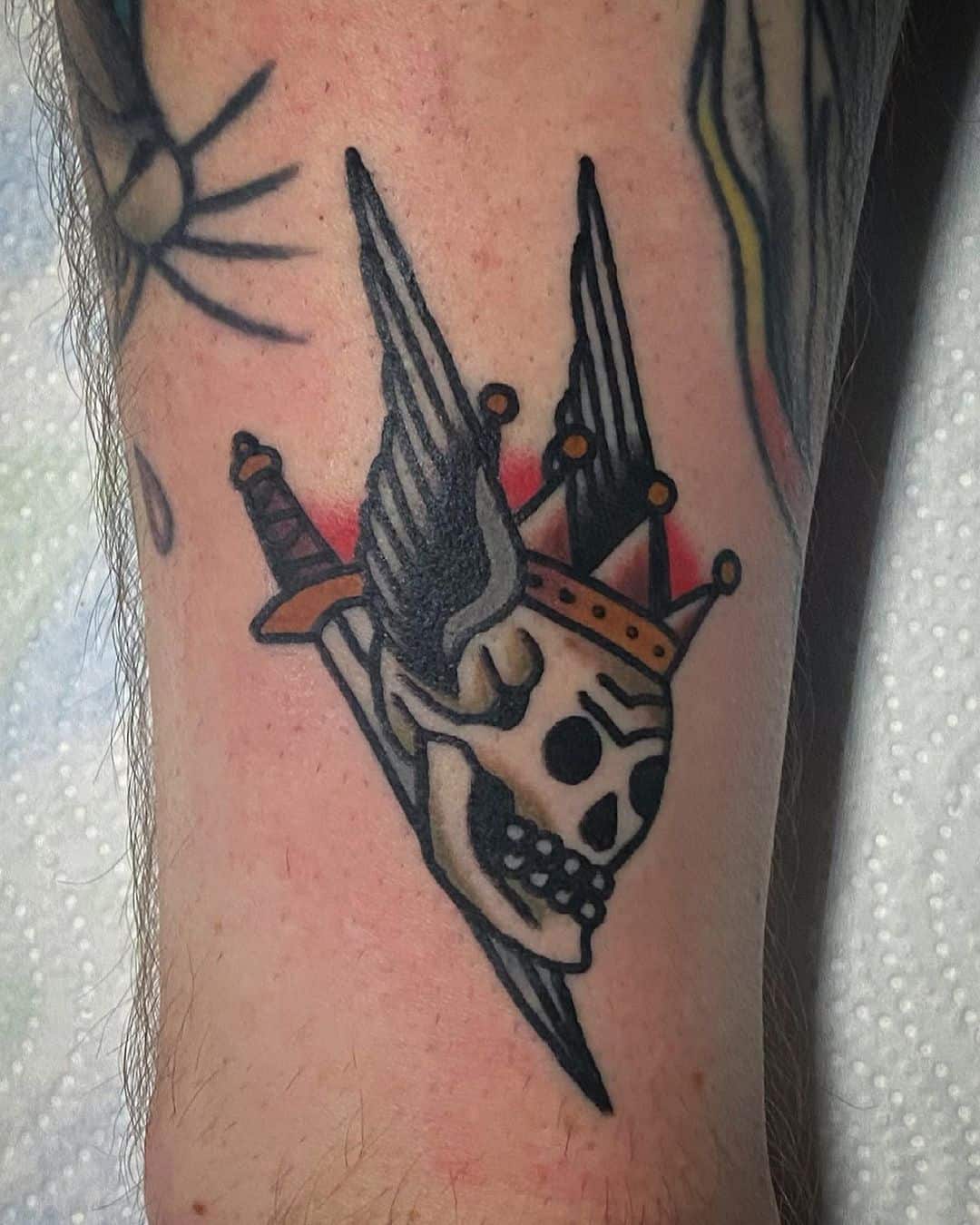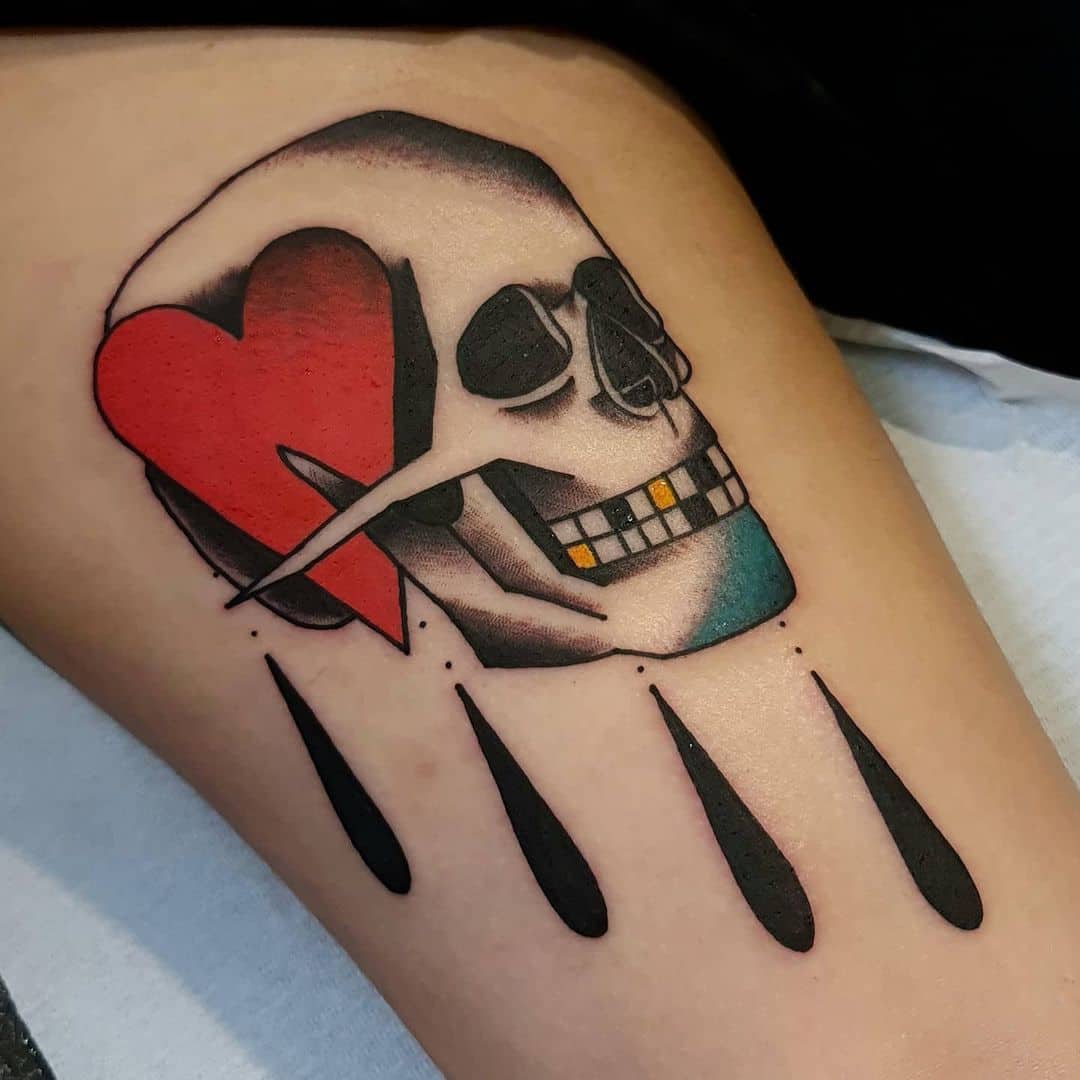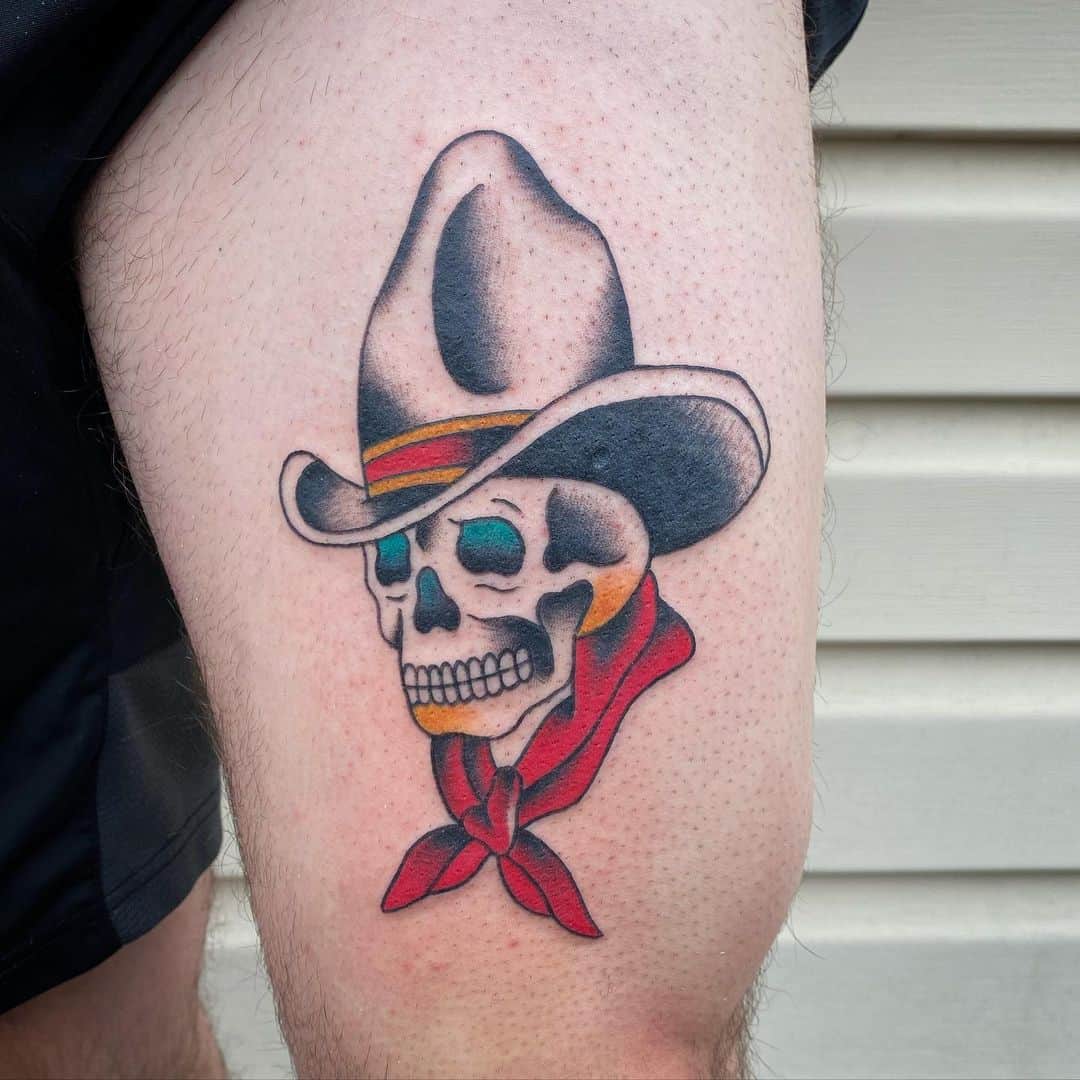 Skull tattoos may look too bold or menacing, but they could represent your carpe diem approach to life. Plus, a skull tattoo is often combined with quirky and unique designs that perfectly depict your creativity and desire for adventure.
5. Gypsy woman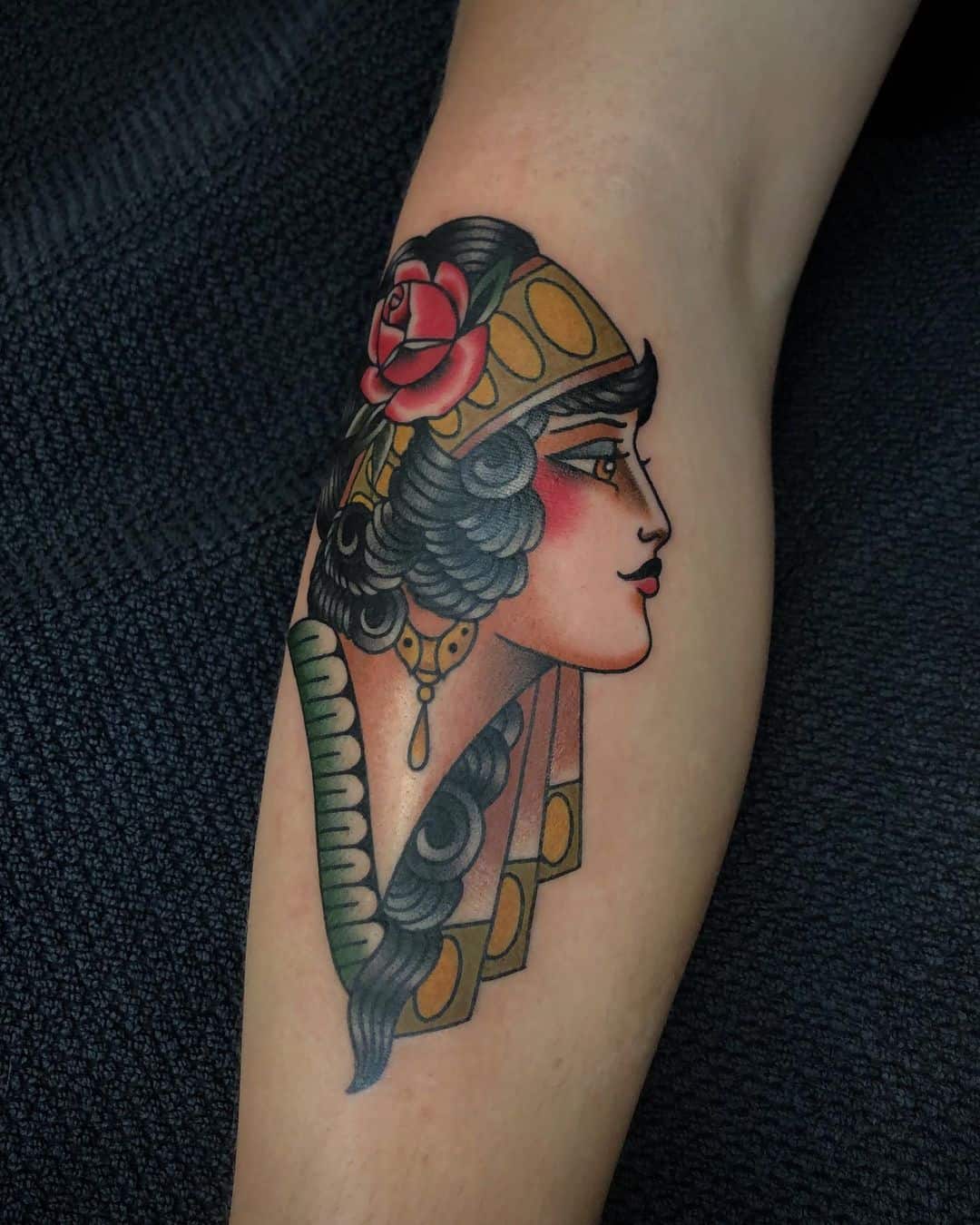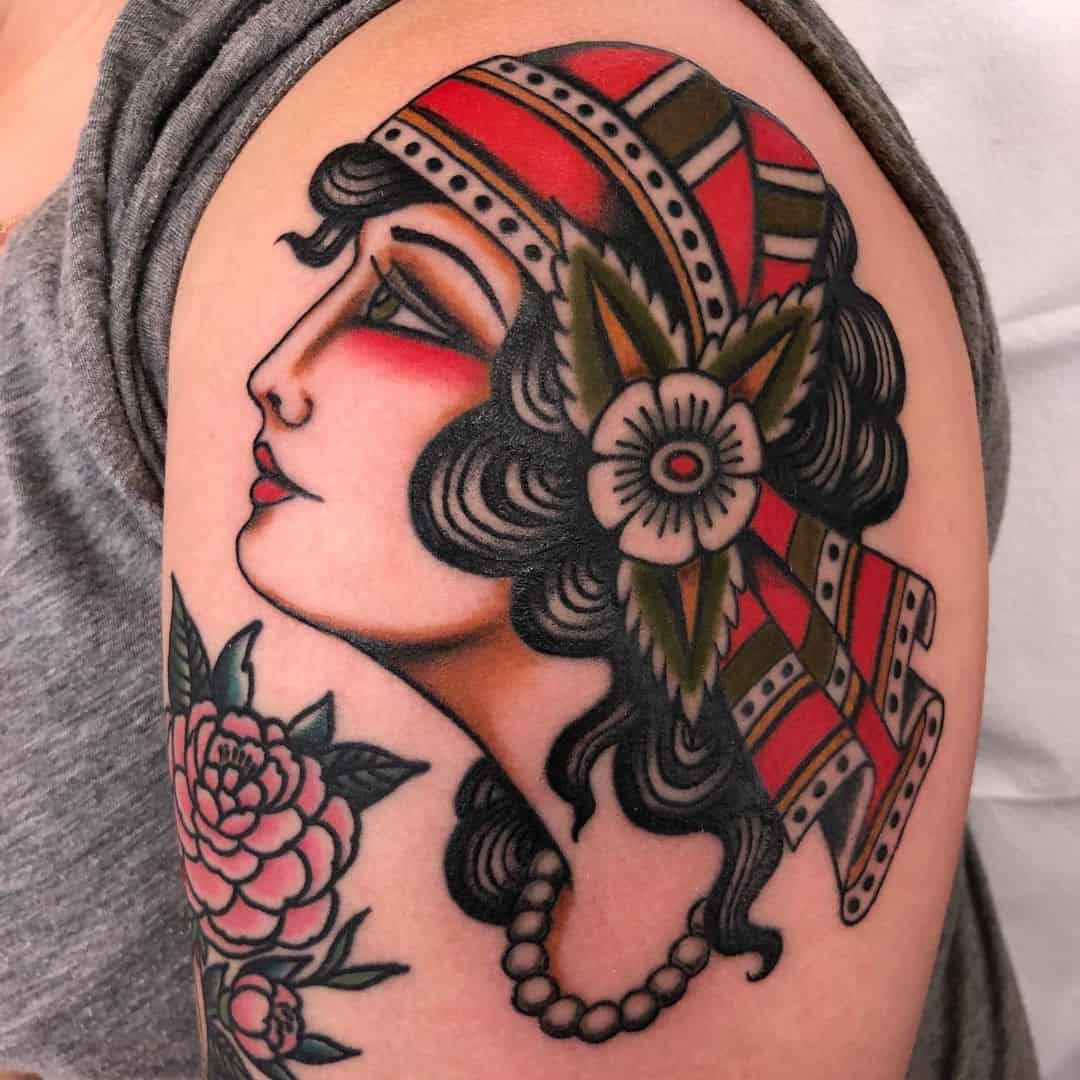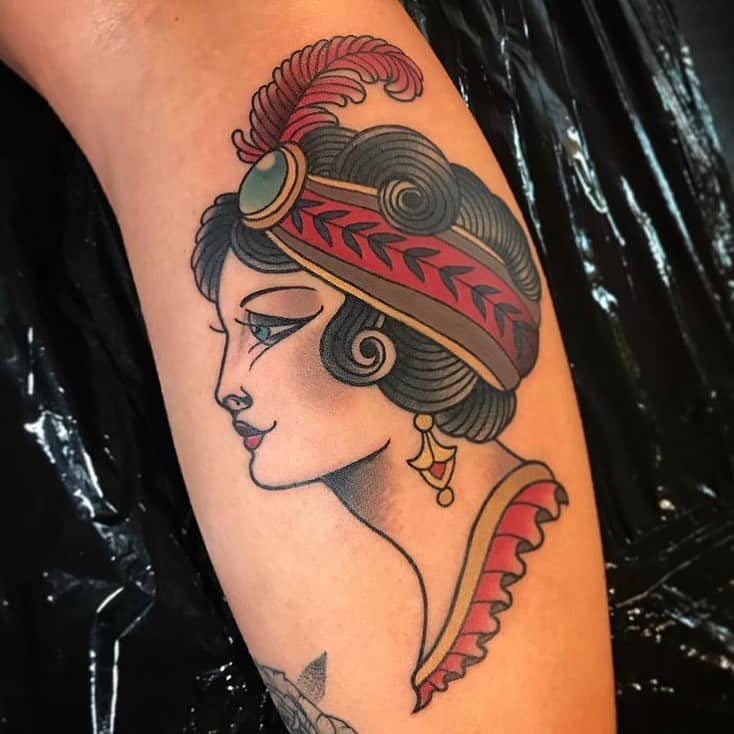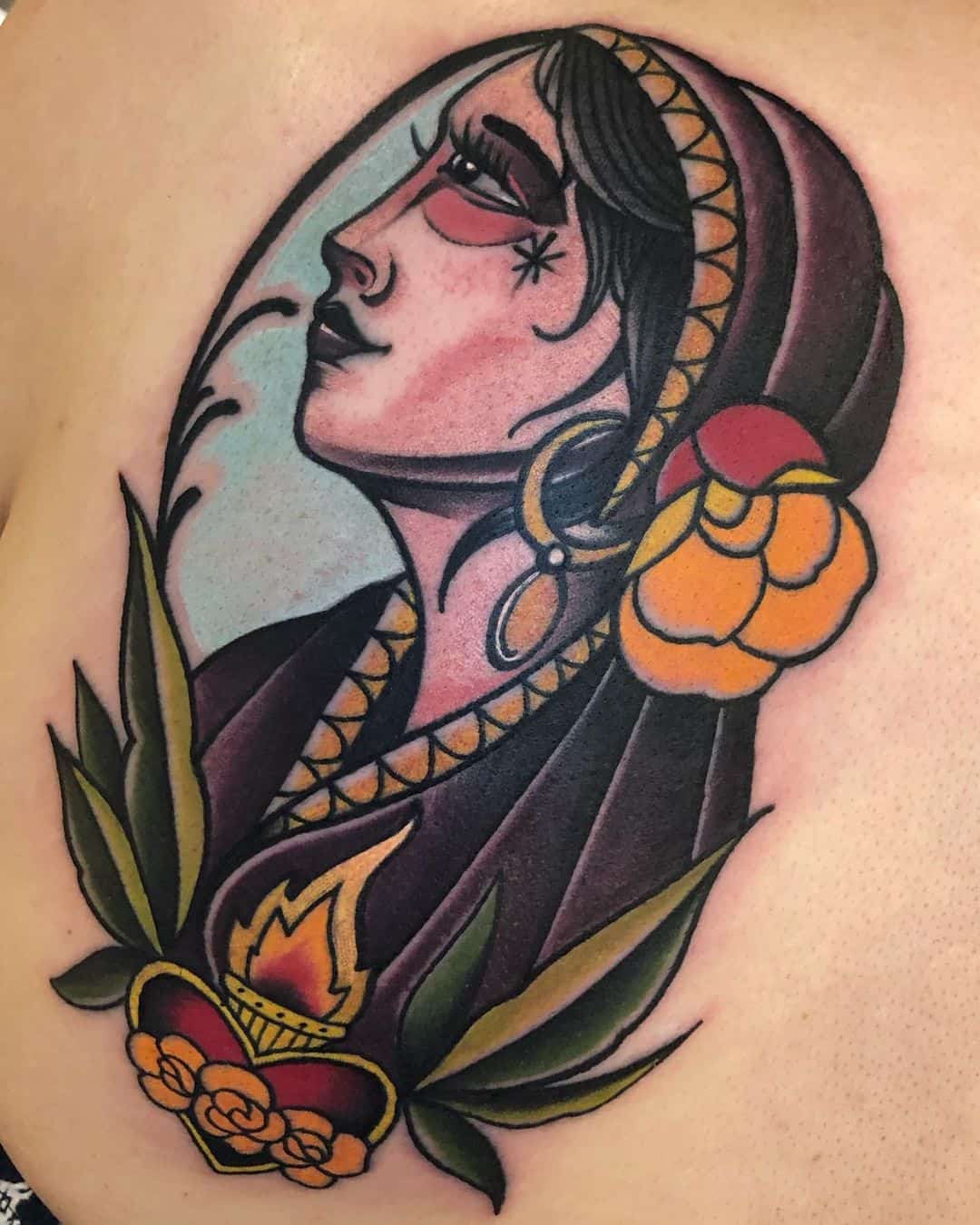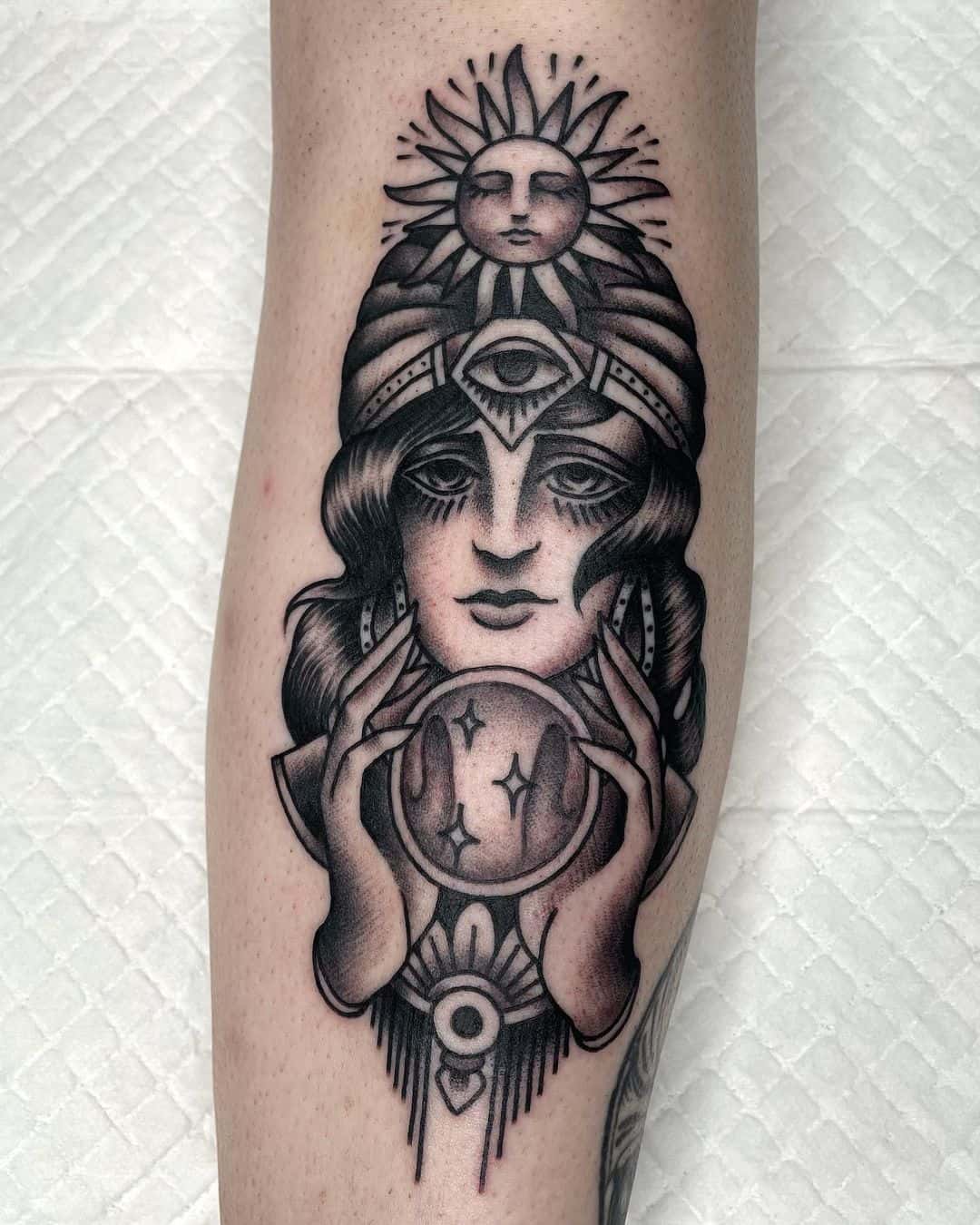 Female figures are prominent in vintage tattoos. Gypsy woman tattoo represents a lot of things at the same time. It could depict your adventurous spirit, mysterious character, but also great love for someone. This type of tattoo is feminine, but also edgy.
6. Mermaid tattoo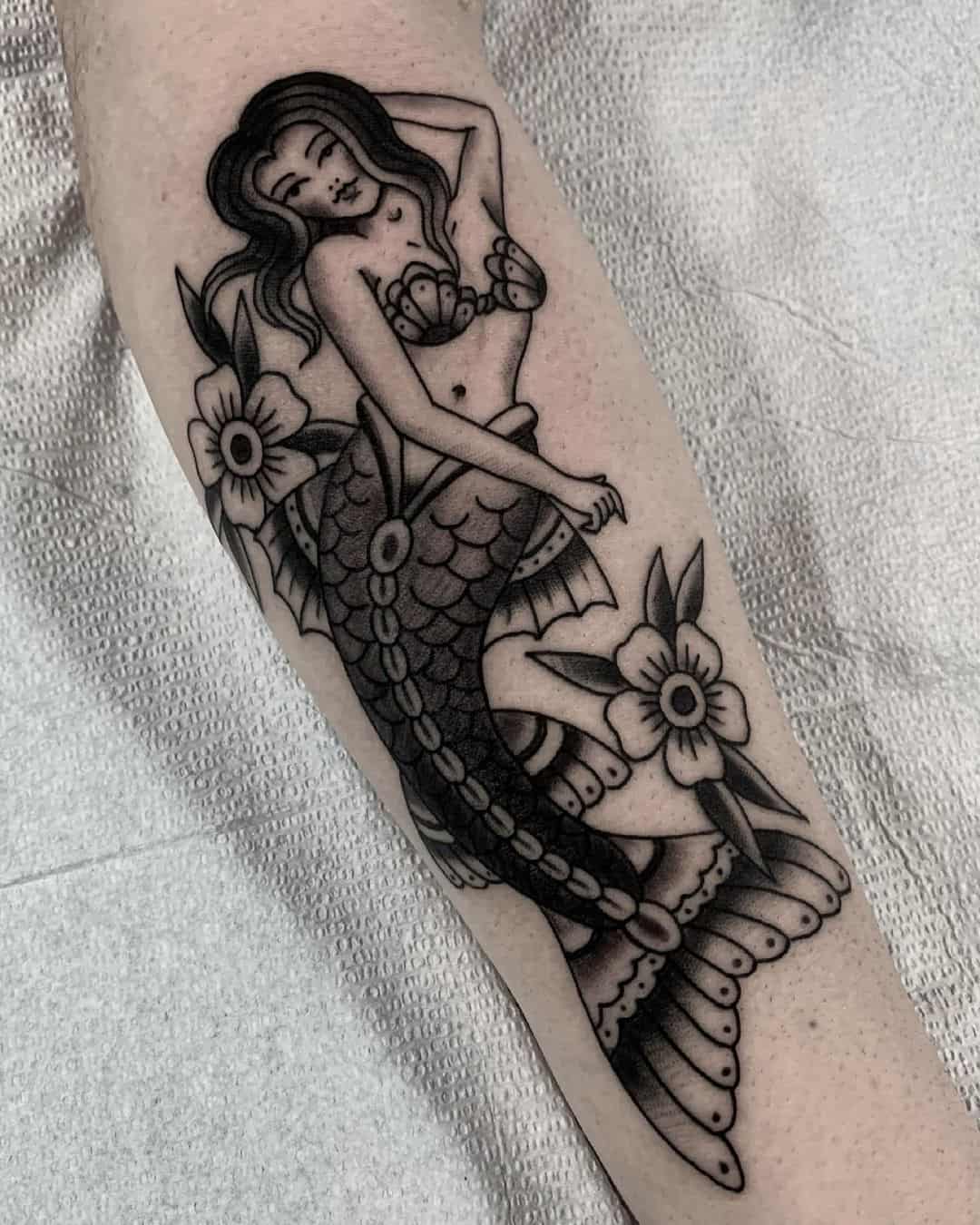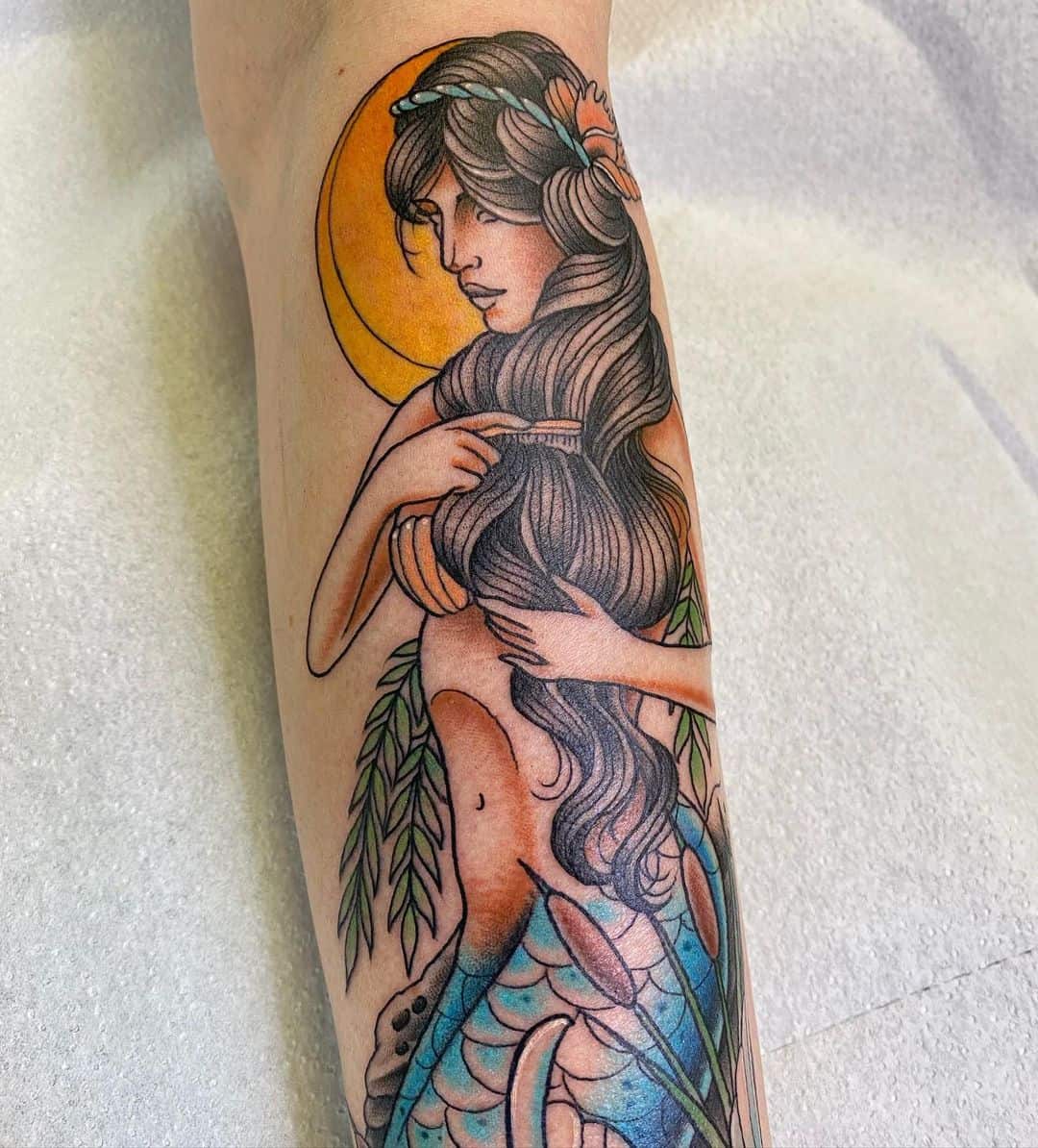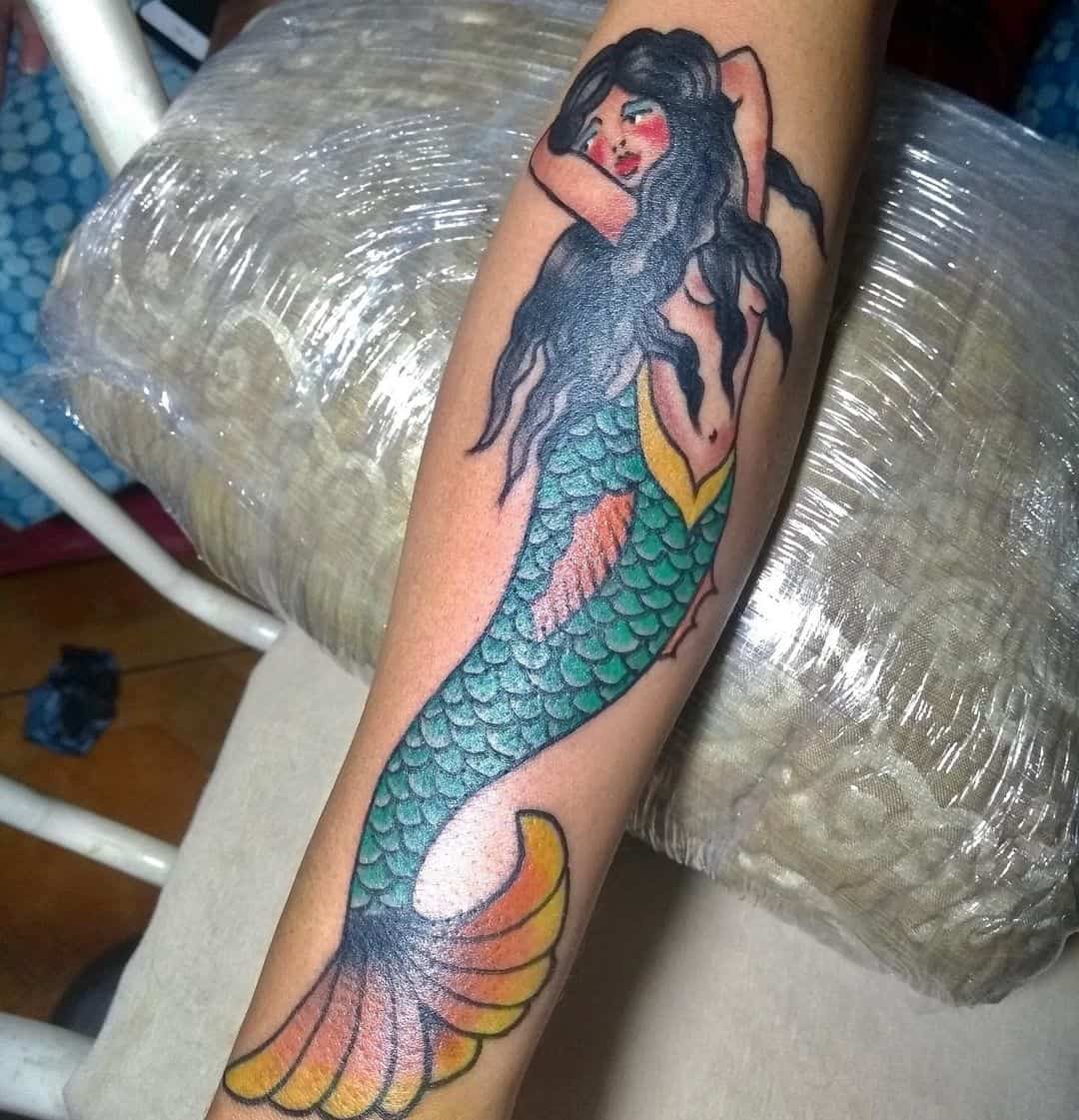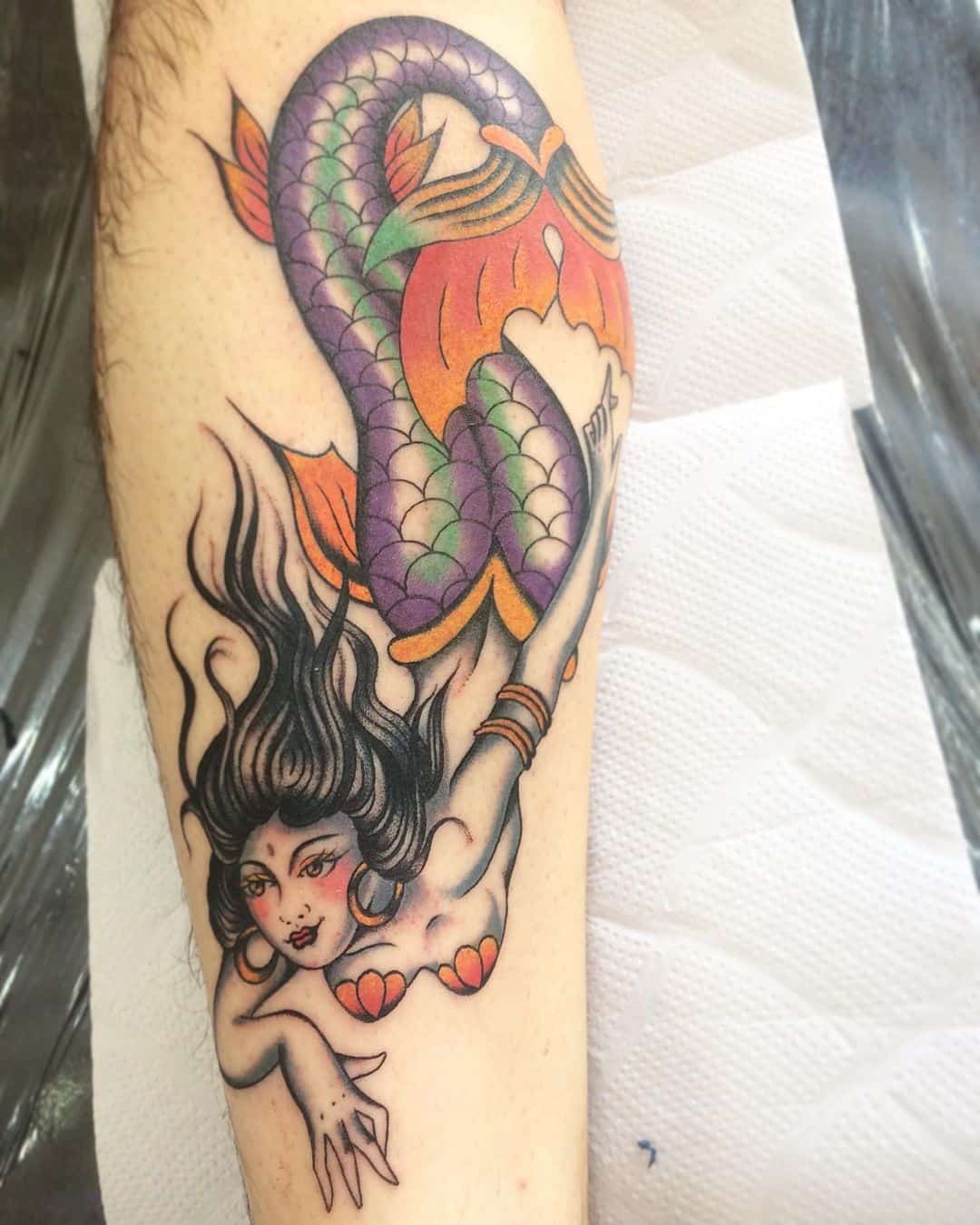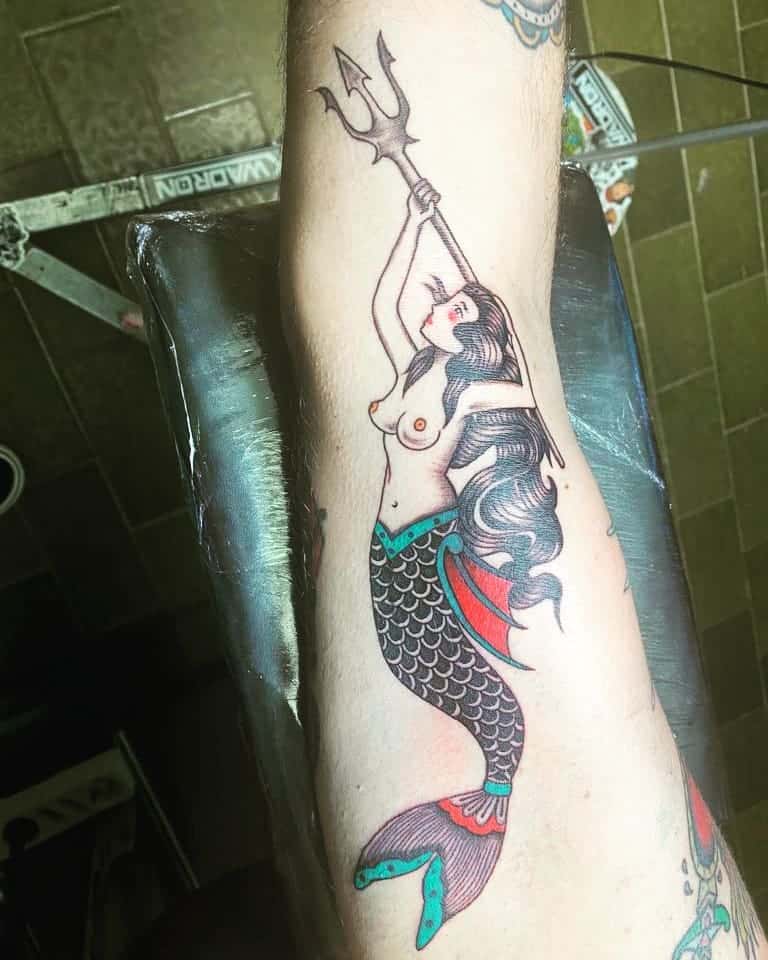 Mermaids have a strong connection to the ocean. For that reason, a tattoo of a mermaid symbolizes nature, creation, birth or rebirth, and intuition. Mermaid vintage tattoo also represents seduction, sexuality, and femininity.
7. Shark tattoo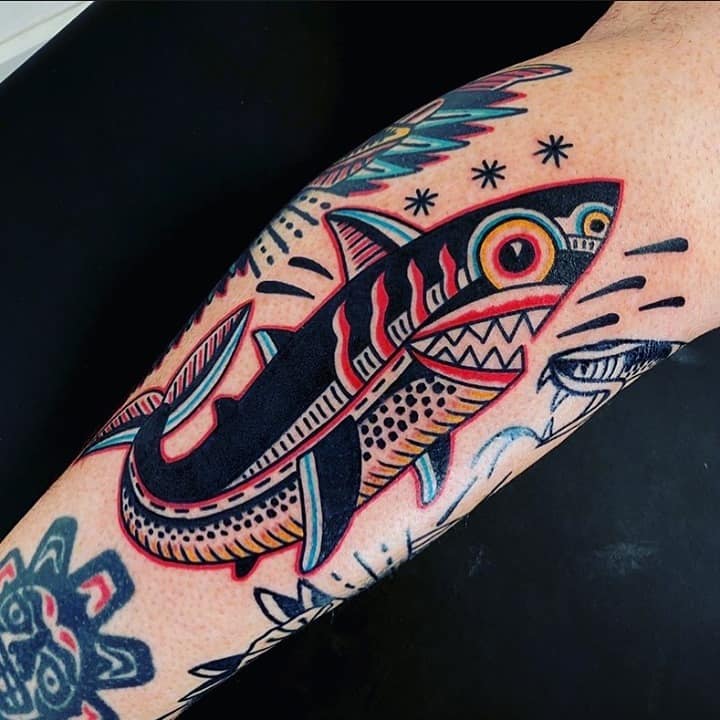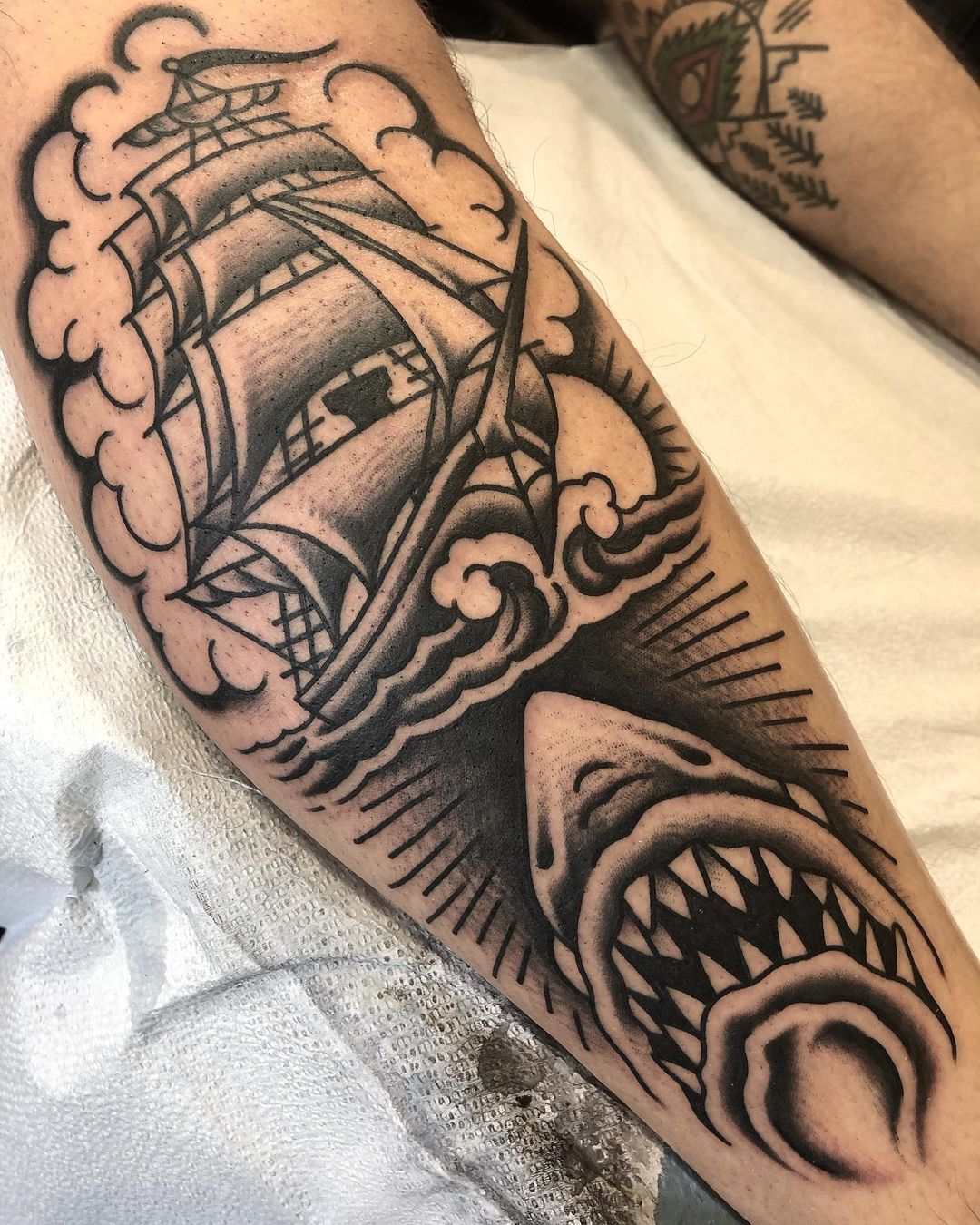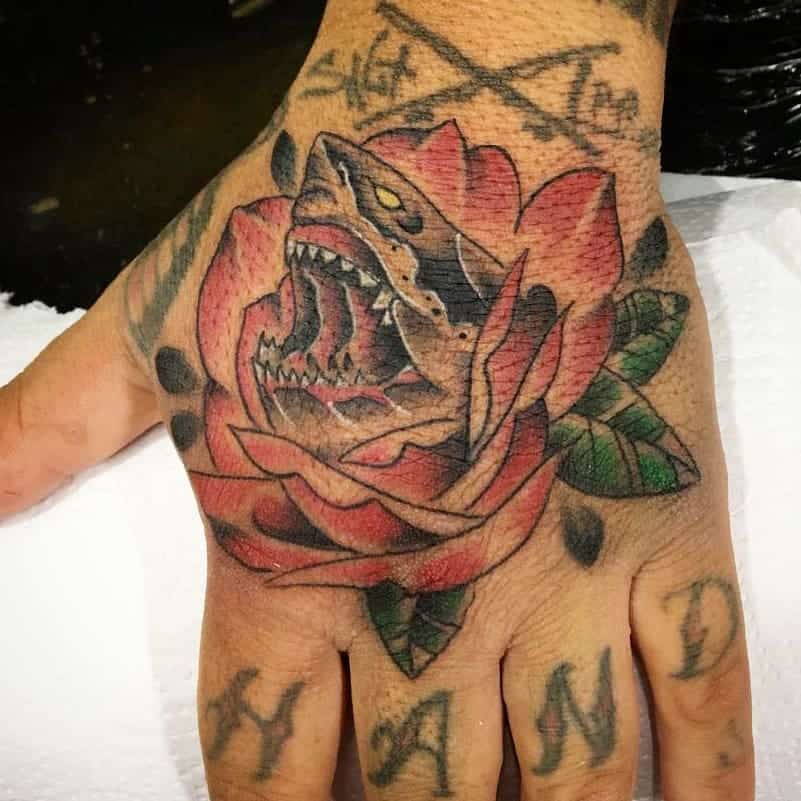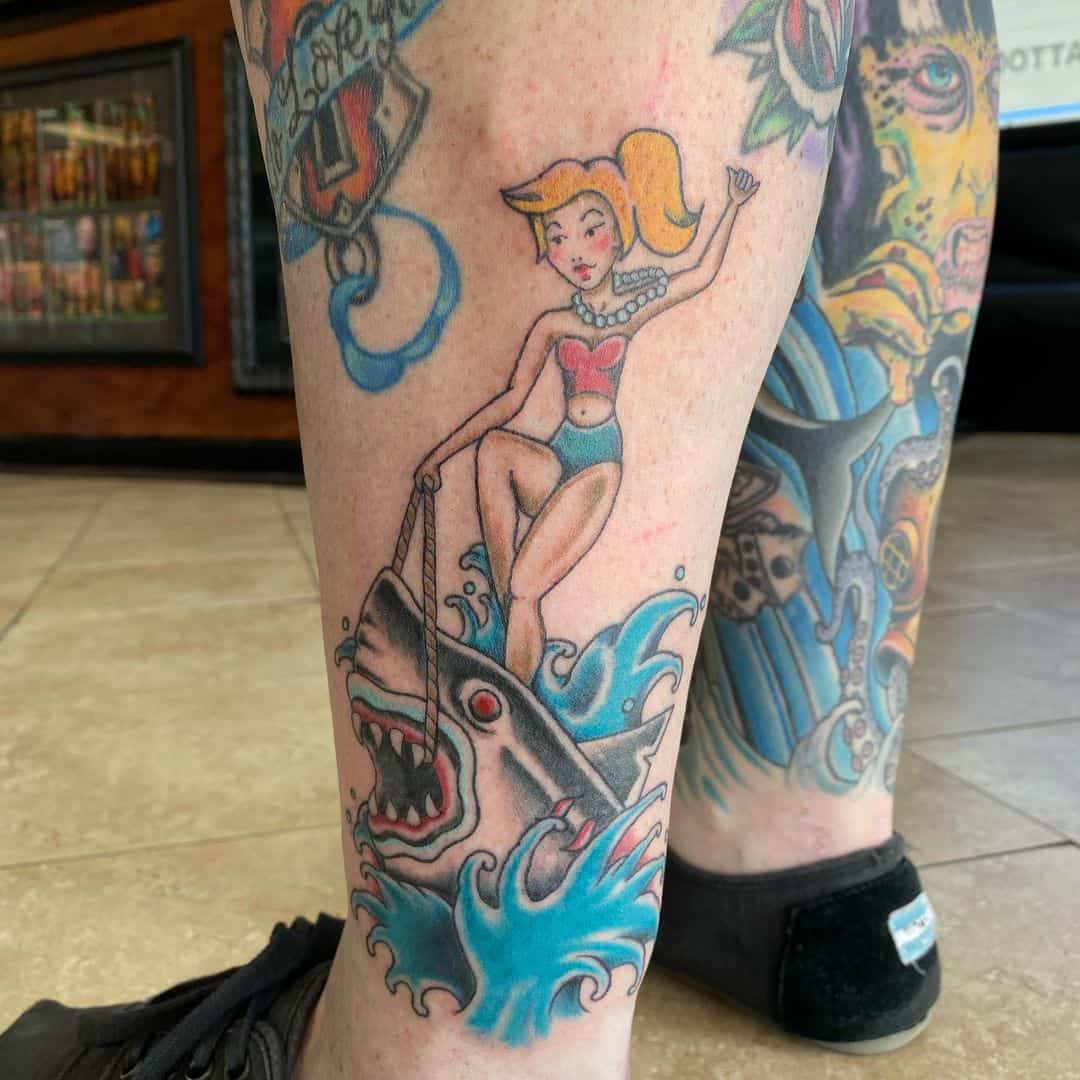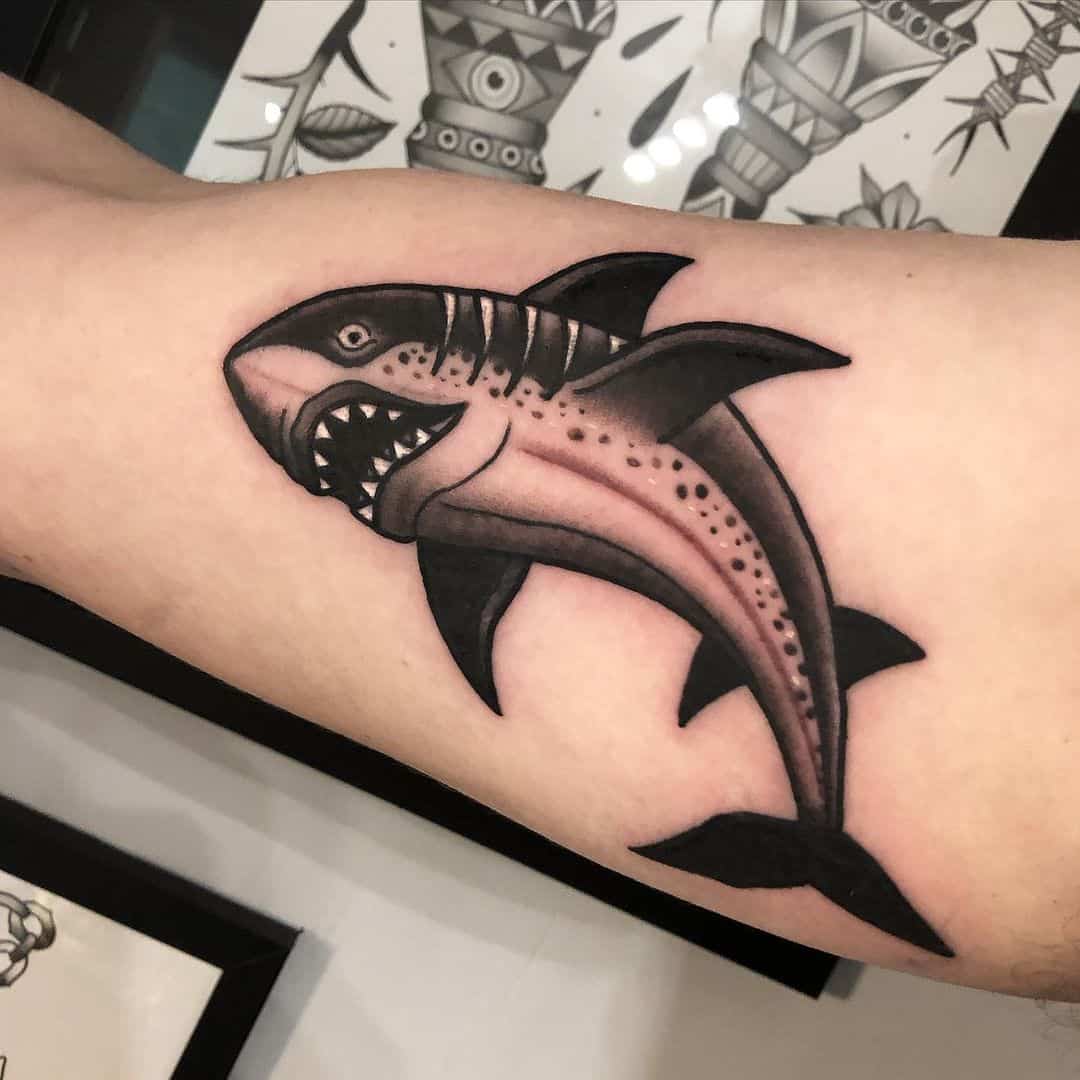 We fear sharks, but it's impossible not to love them. Shark tattoo stands for fearlessness and strong willpower to reach your goals and conquer any obstacle. If you're looking for a vintage tattoo that describes your "go hard or go home" approach to life, the shark is the ideal option.
8. Palm tree and sunset tattoos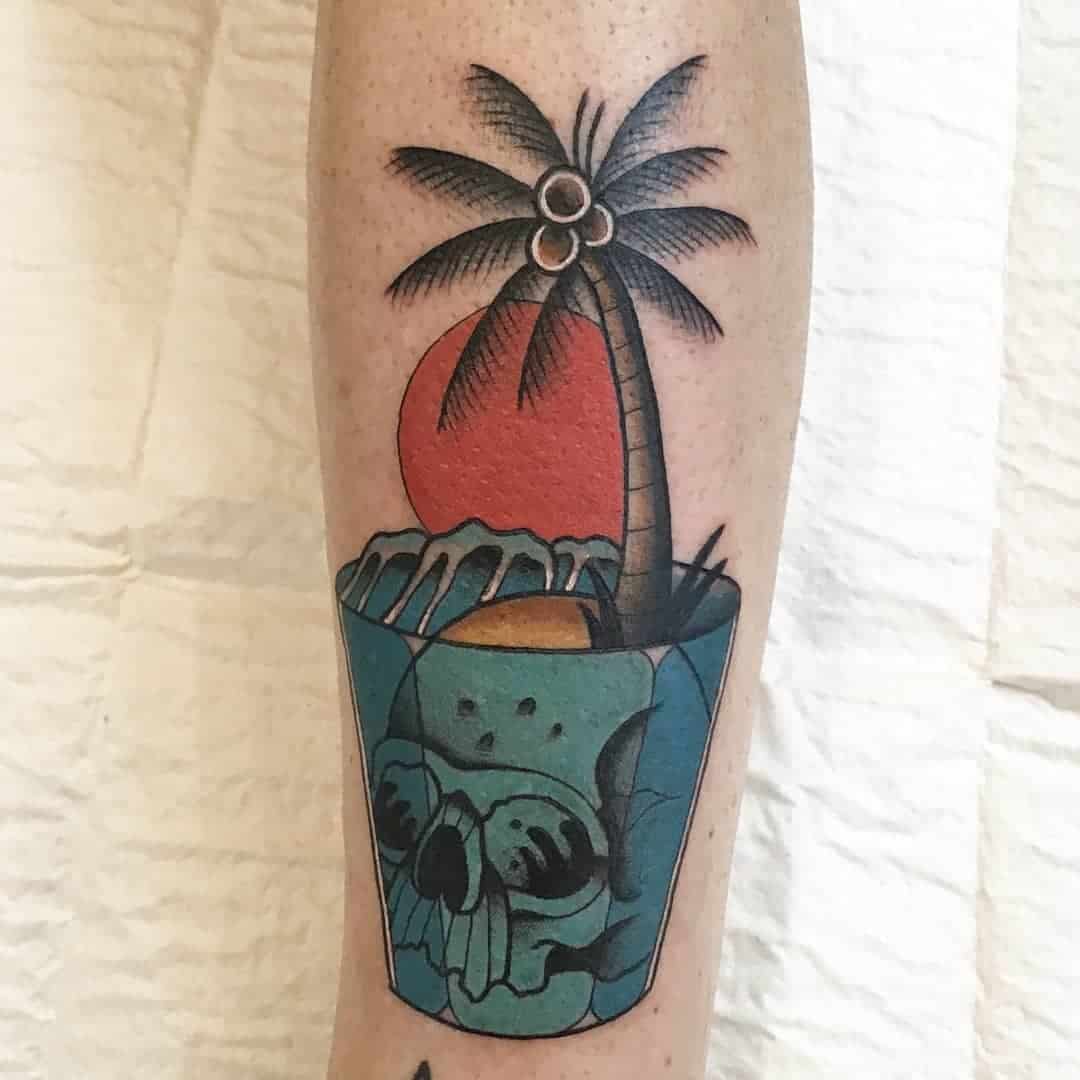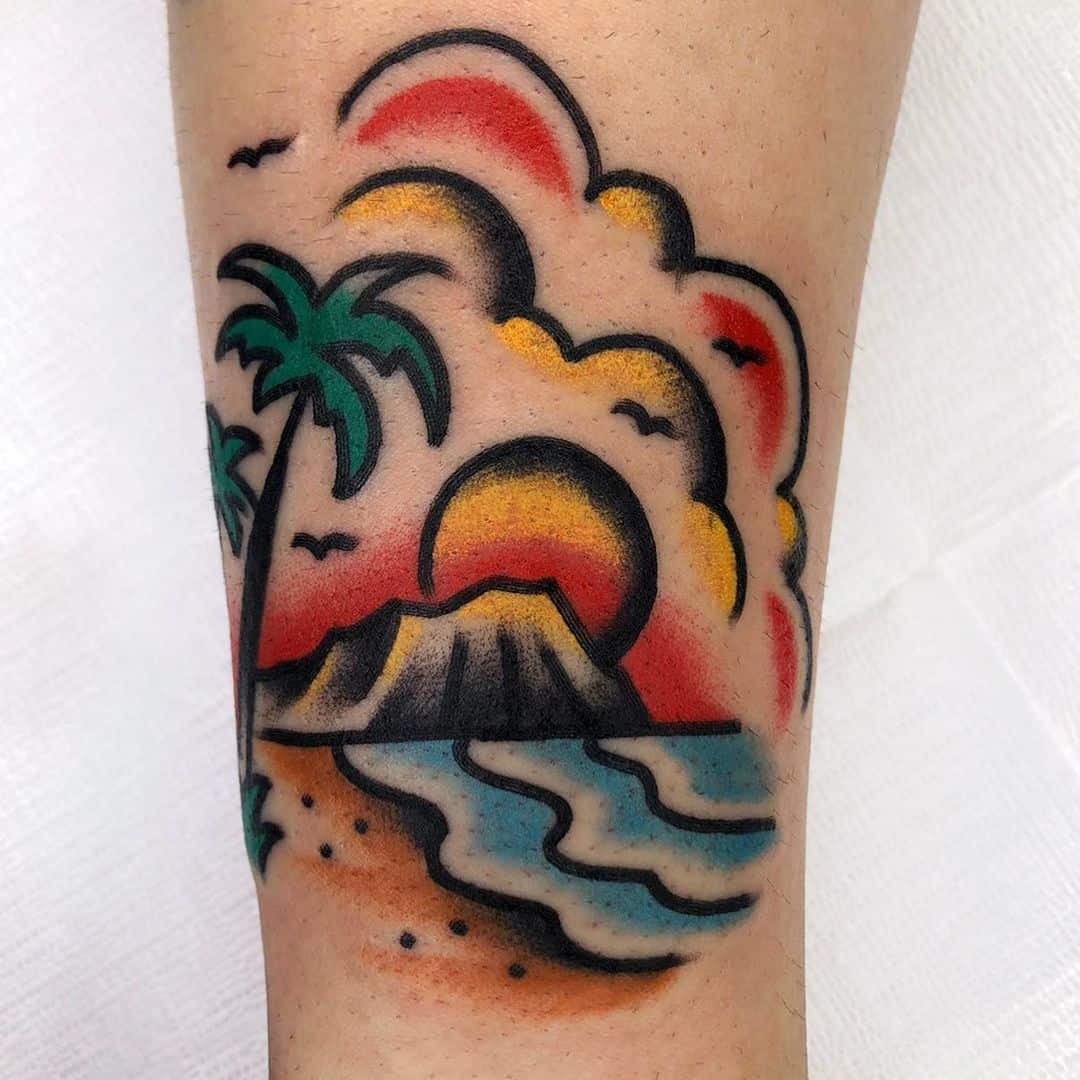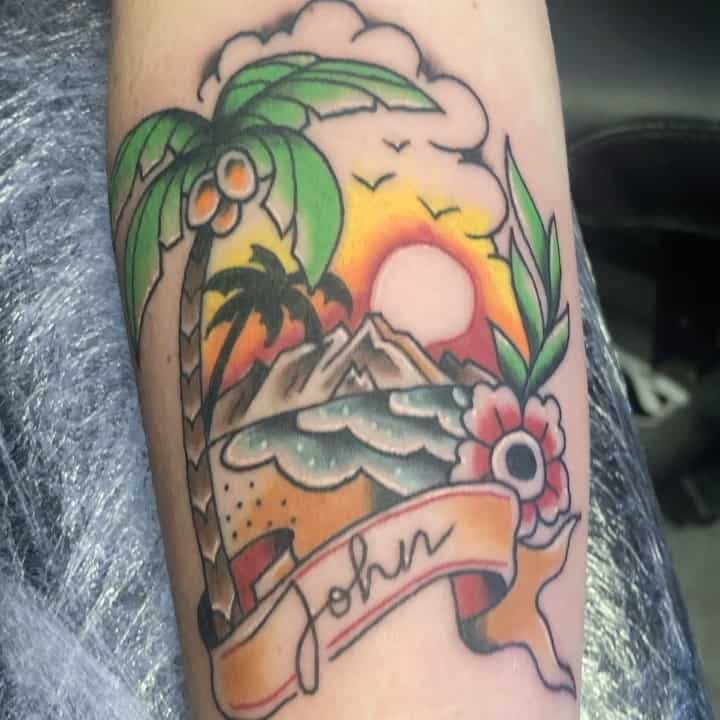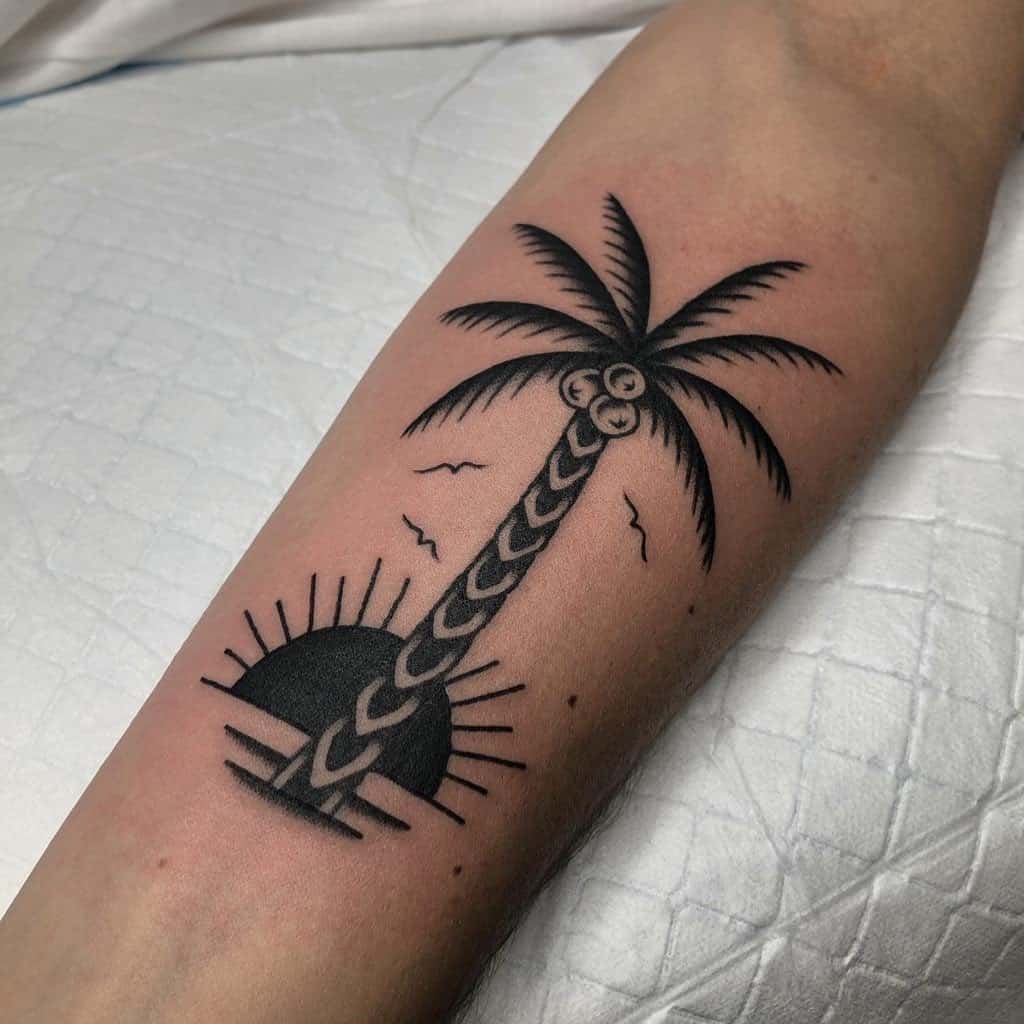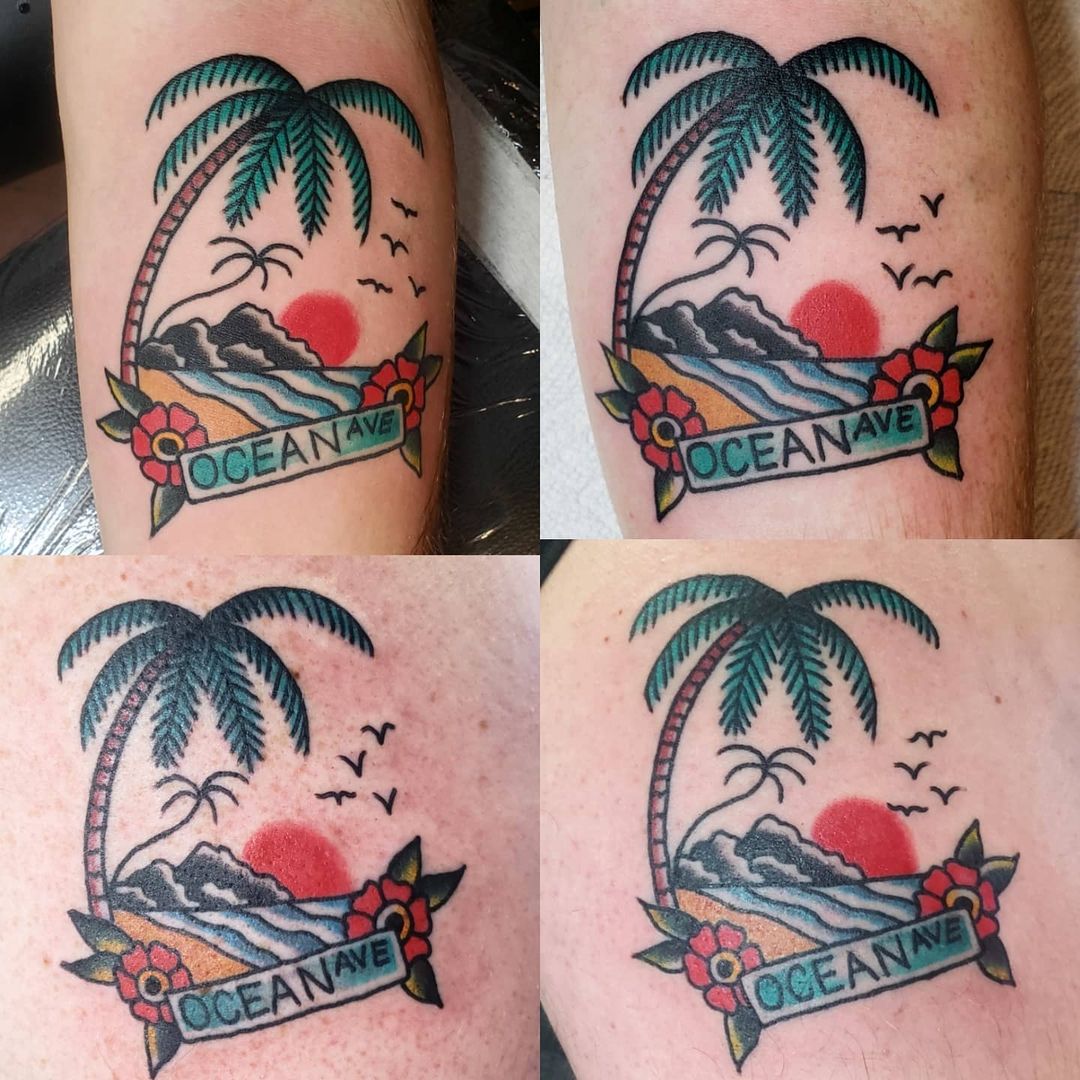 Palm tree and sunset may appear in combination on a tattoo, or a person can opt for just one imagery (sunset only or palm trees only). These images remind us of warm climates, rest, relaxation, and show us life is beautiful.
9. Dagger tattoo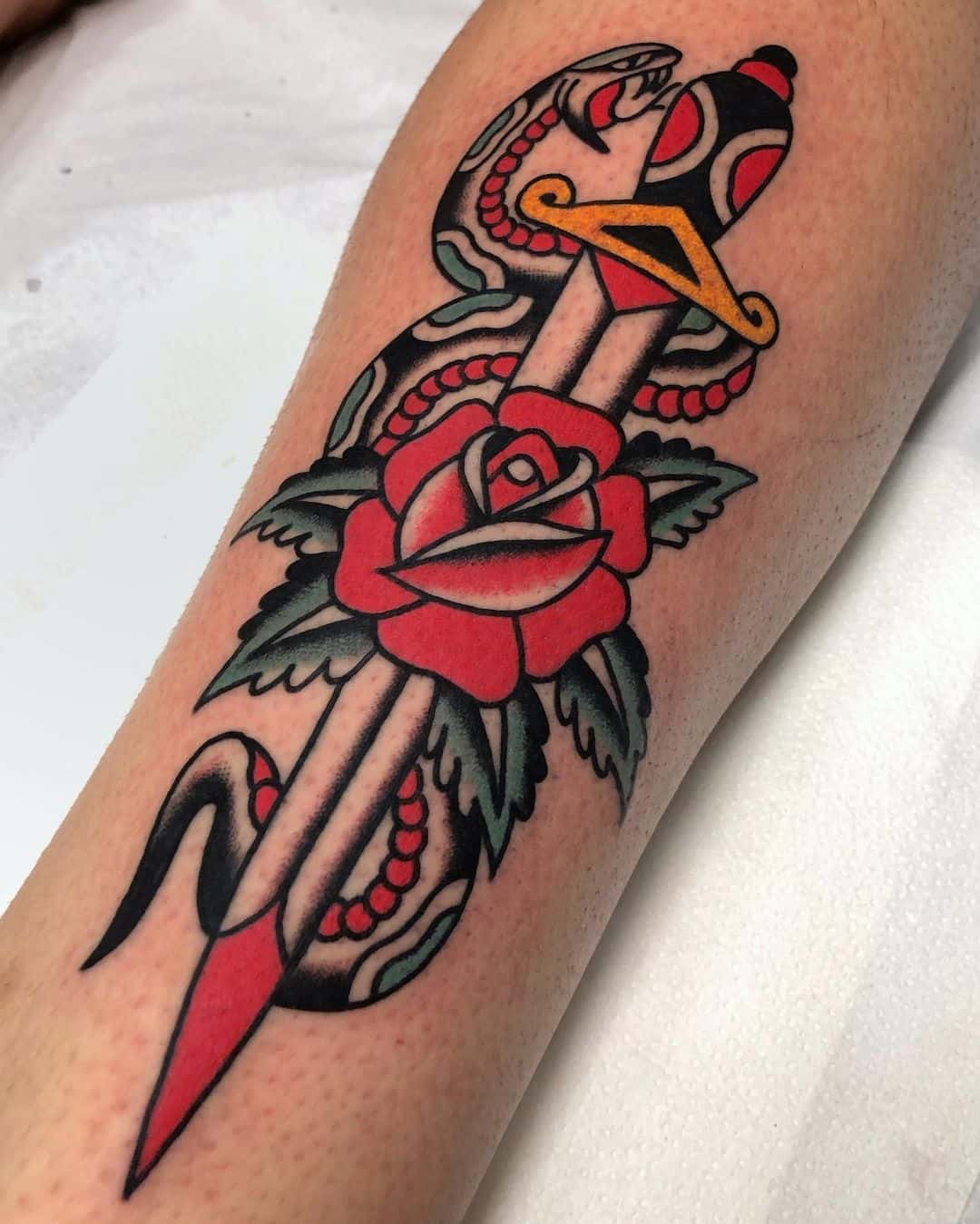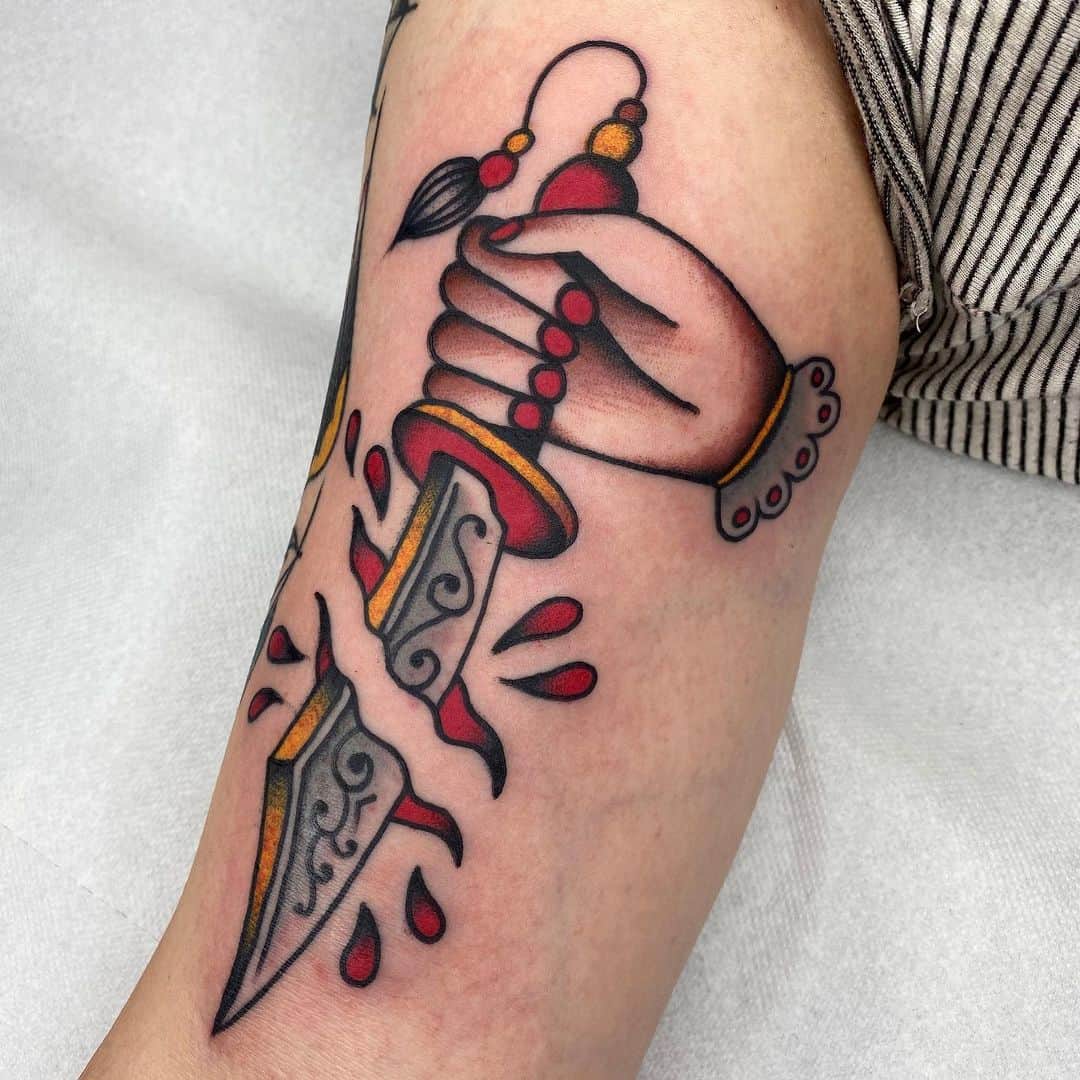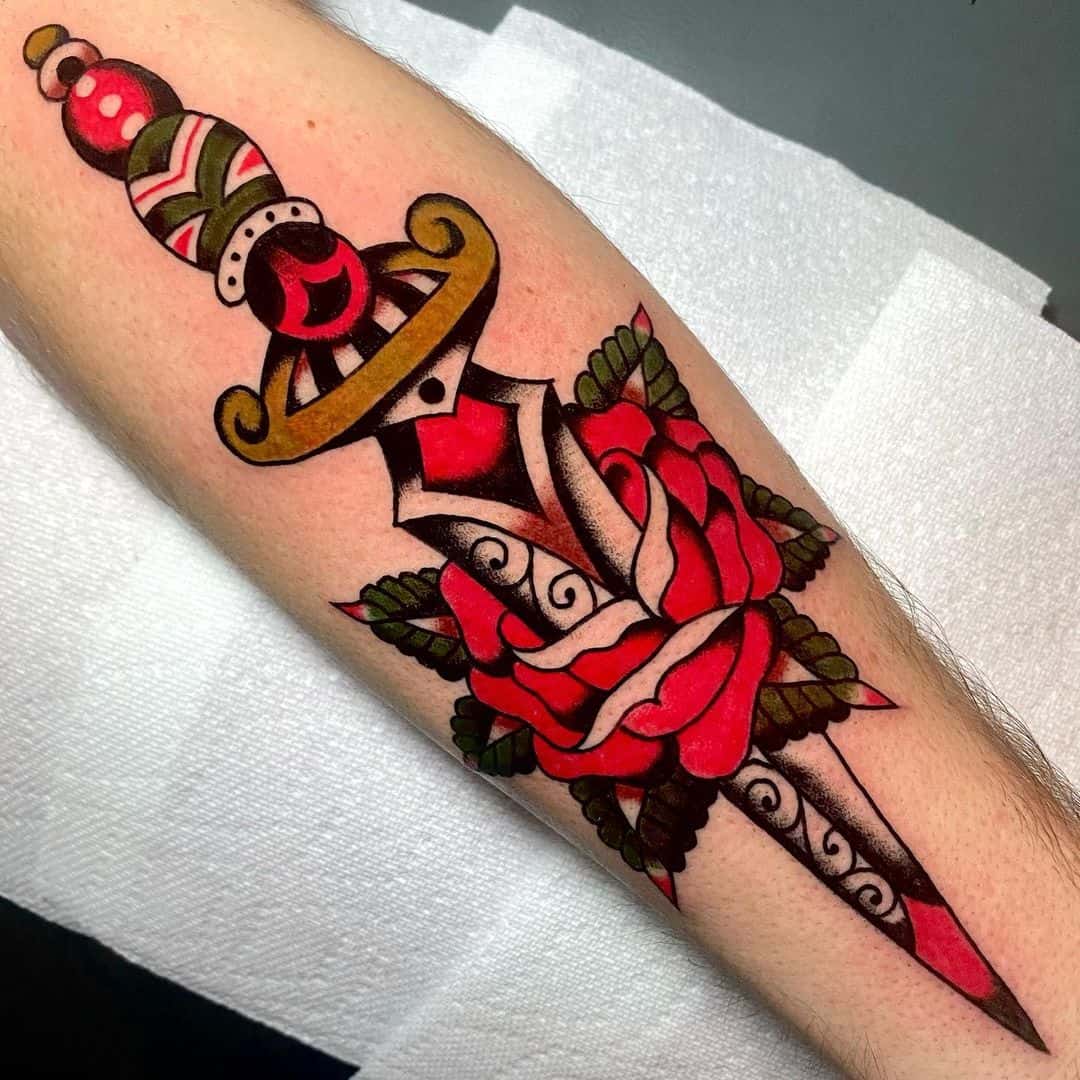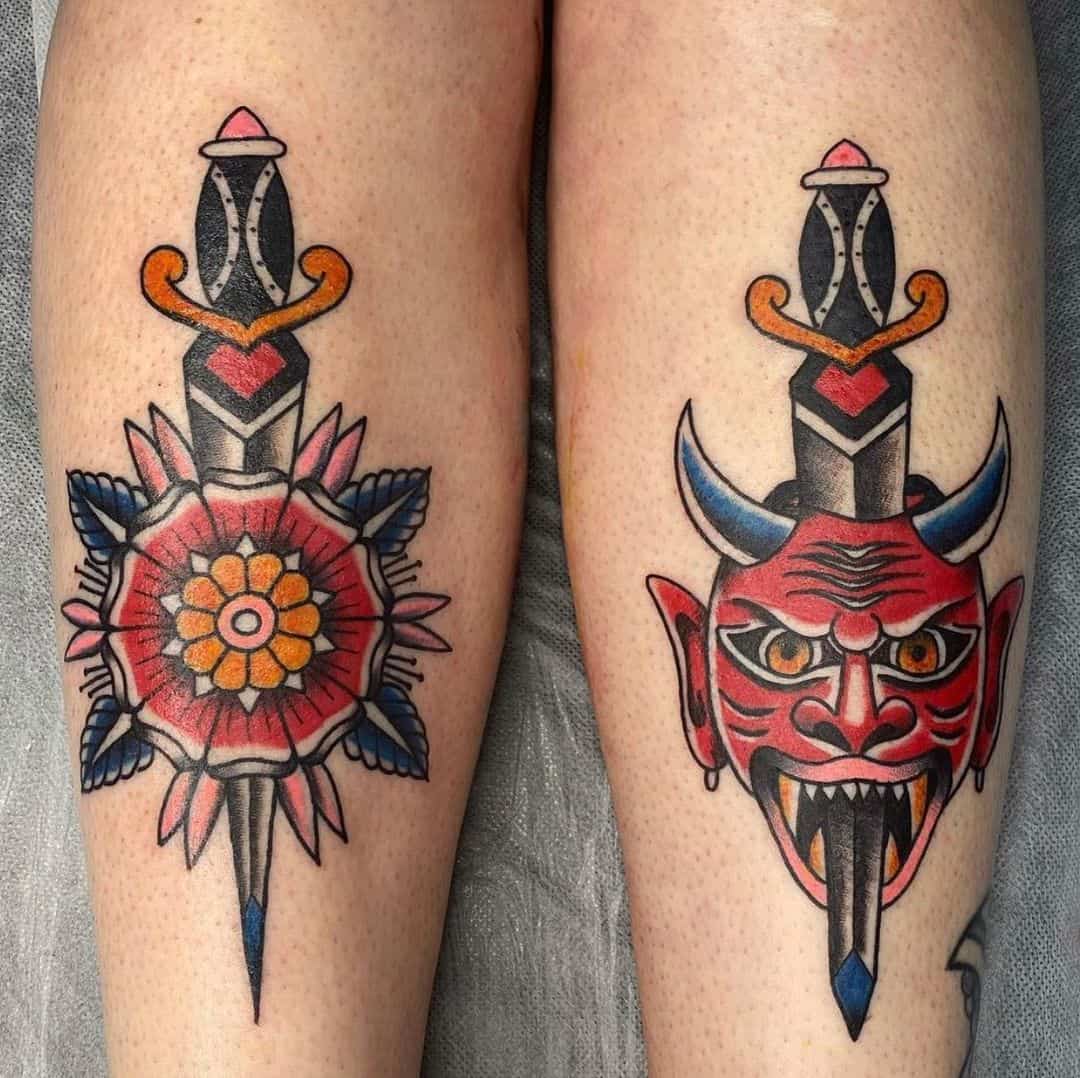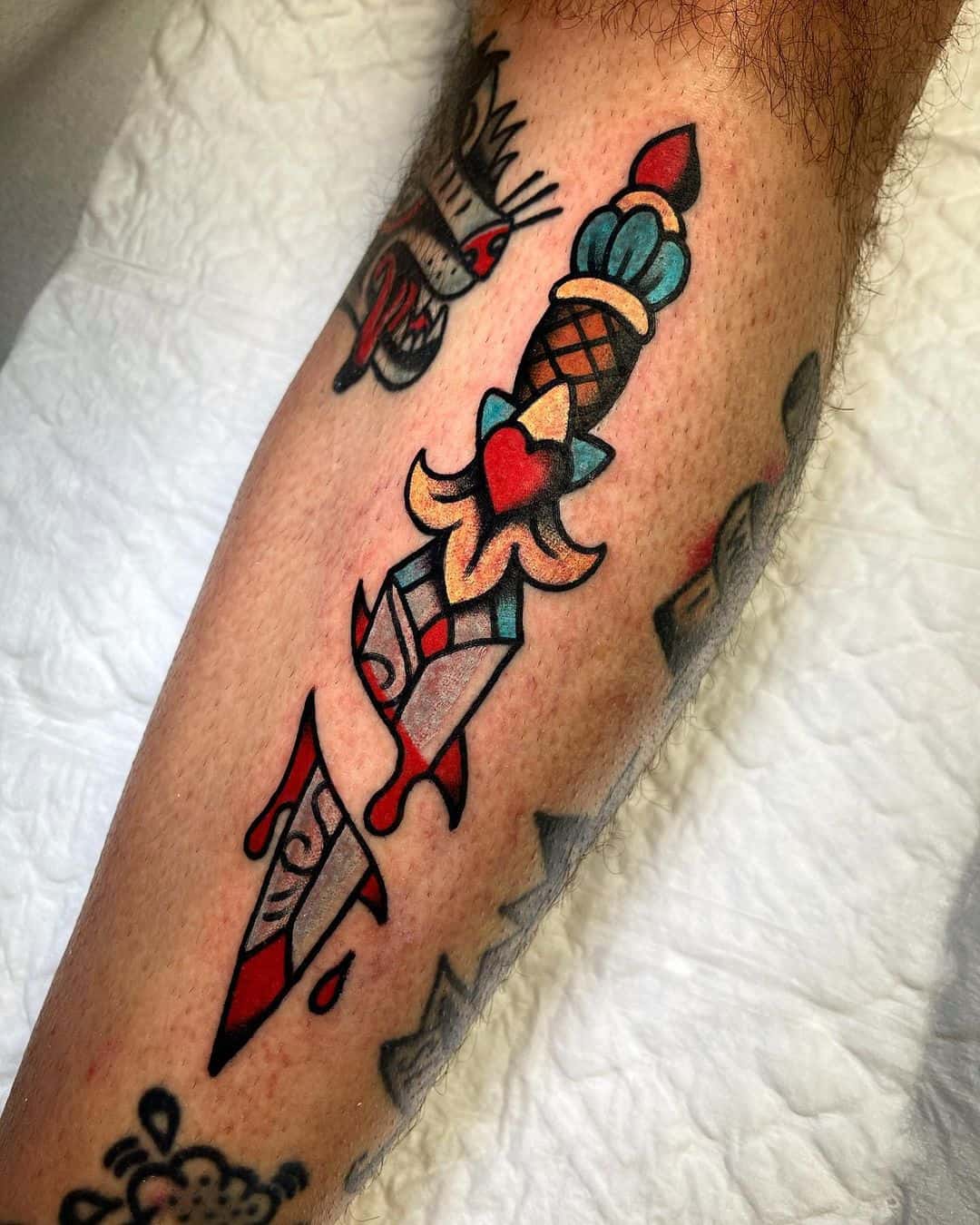 Dagger tattoo is the perfect representation of the versatility of vintage tattoos. It can appear on its own or in combination with other objects. You have the freedom to explore your creativity and incorporate a dagger into different kinds of designs. Whether you want a tattoo that speaks about the betrayal you experienced or to show you're a protective person, a dagger is a convenient choice. Dagger through a rose symbolizes the duality of human life i.e. a combination of beauty and innocence as well as danger and destruction that we face at one point or another. Plus, it looks elegant when a great tattoo artist focuses on every detail to ensure the dagger is realistic, but also unique and creative.
10.  Ship tattoo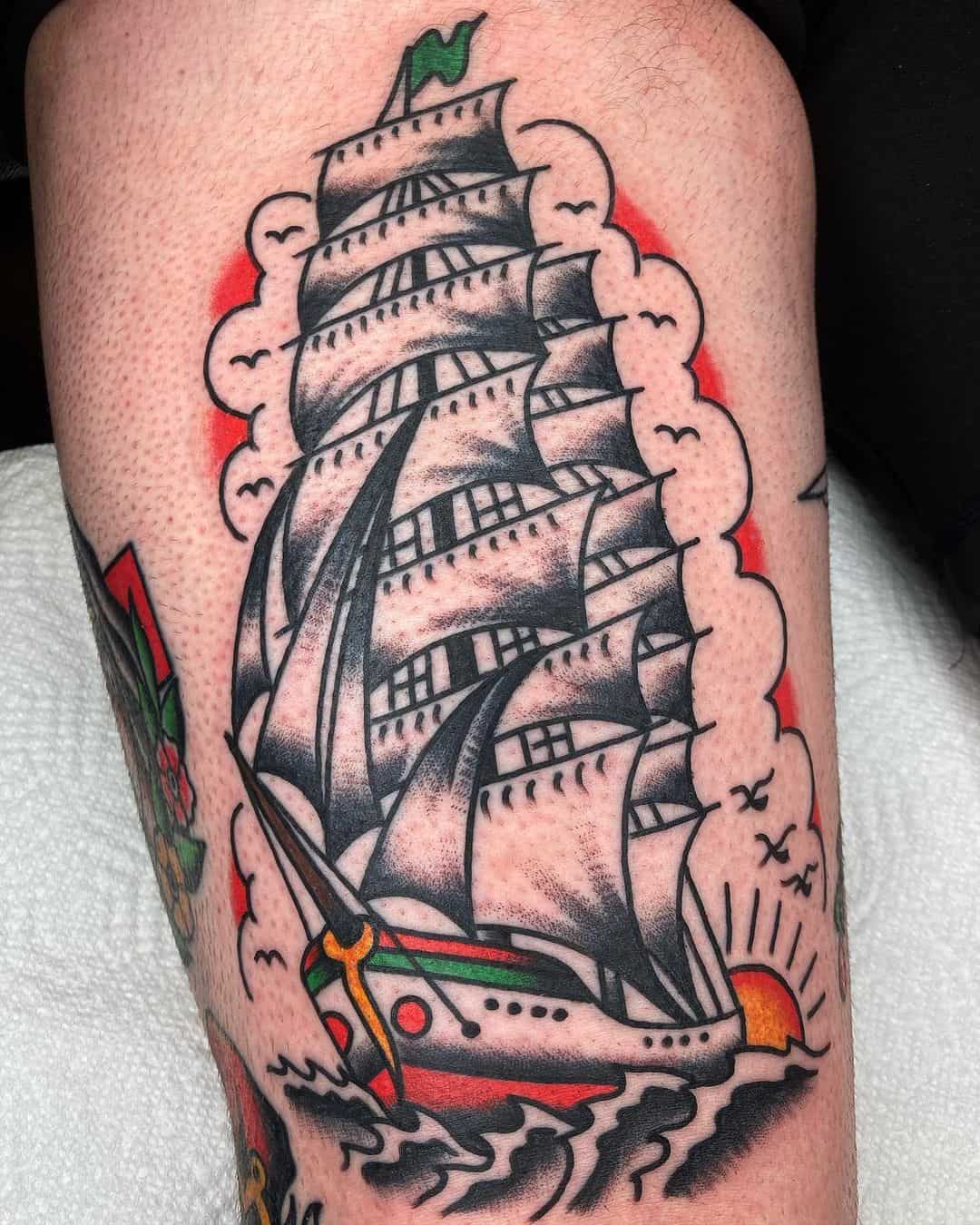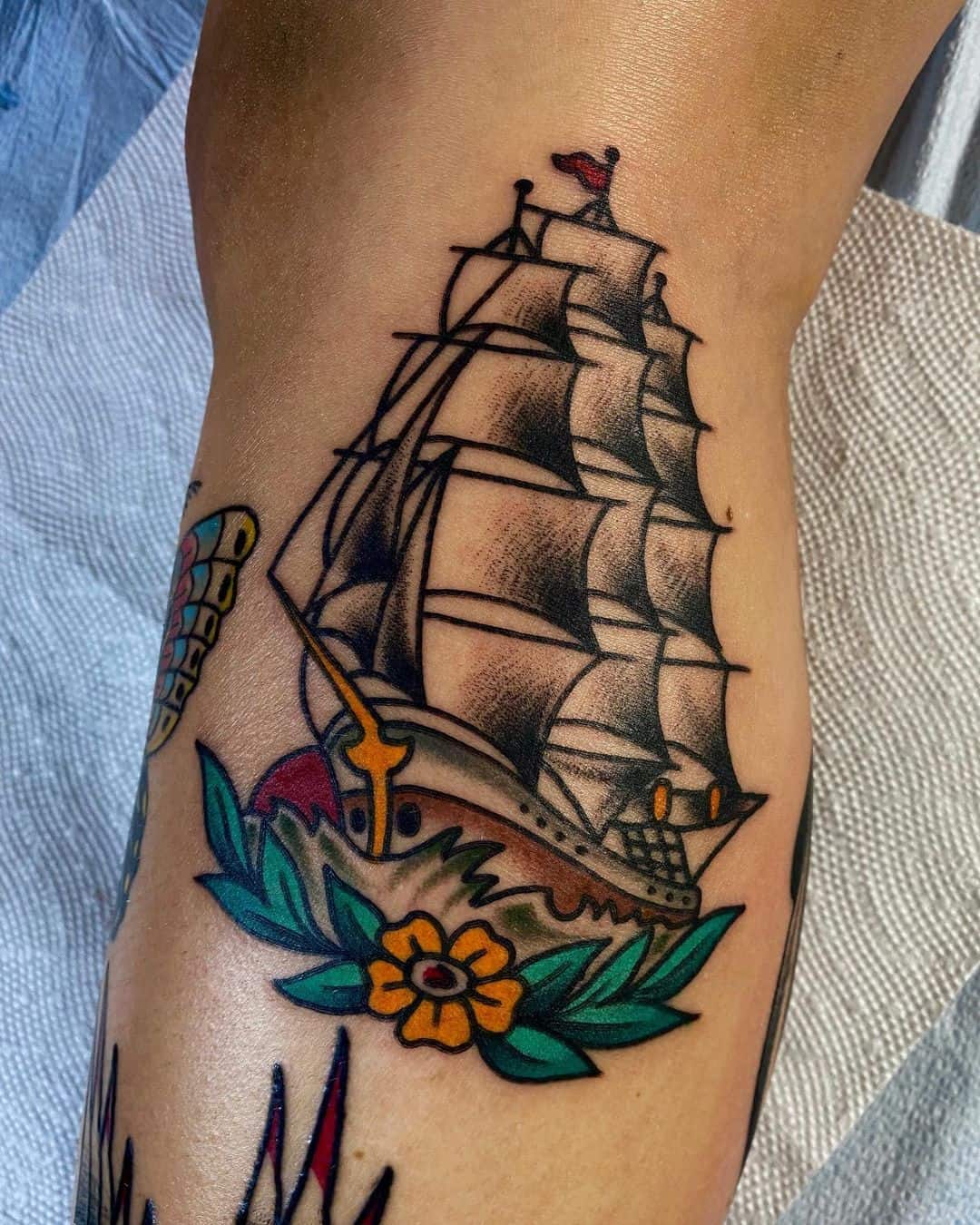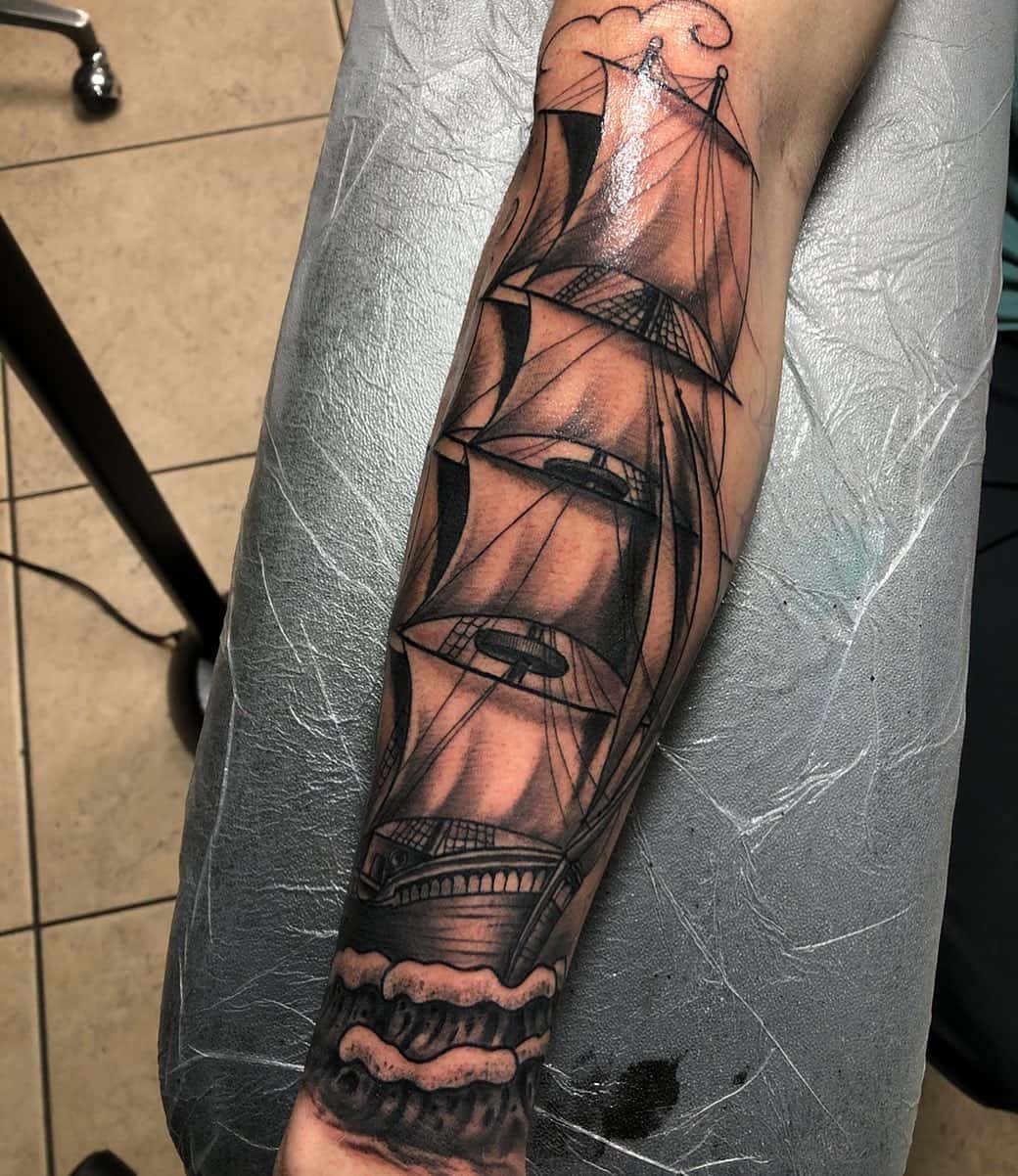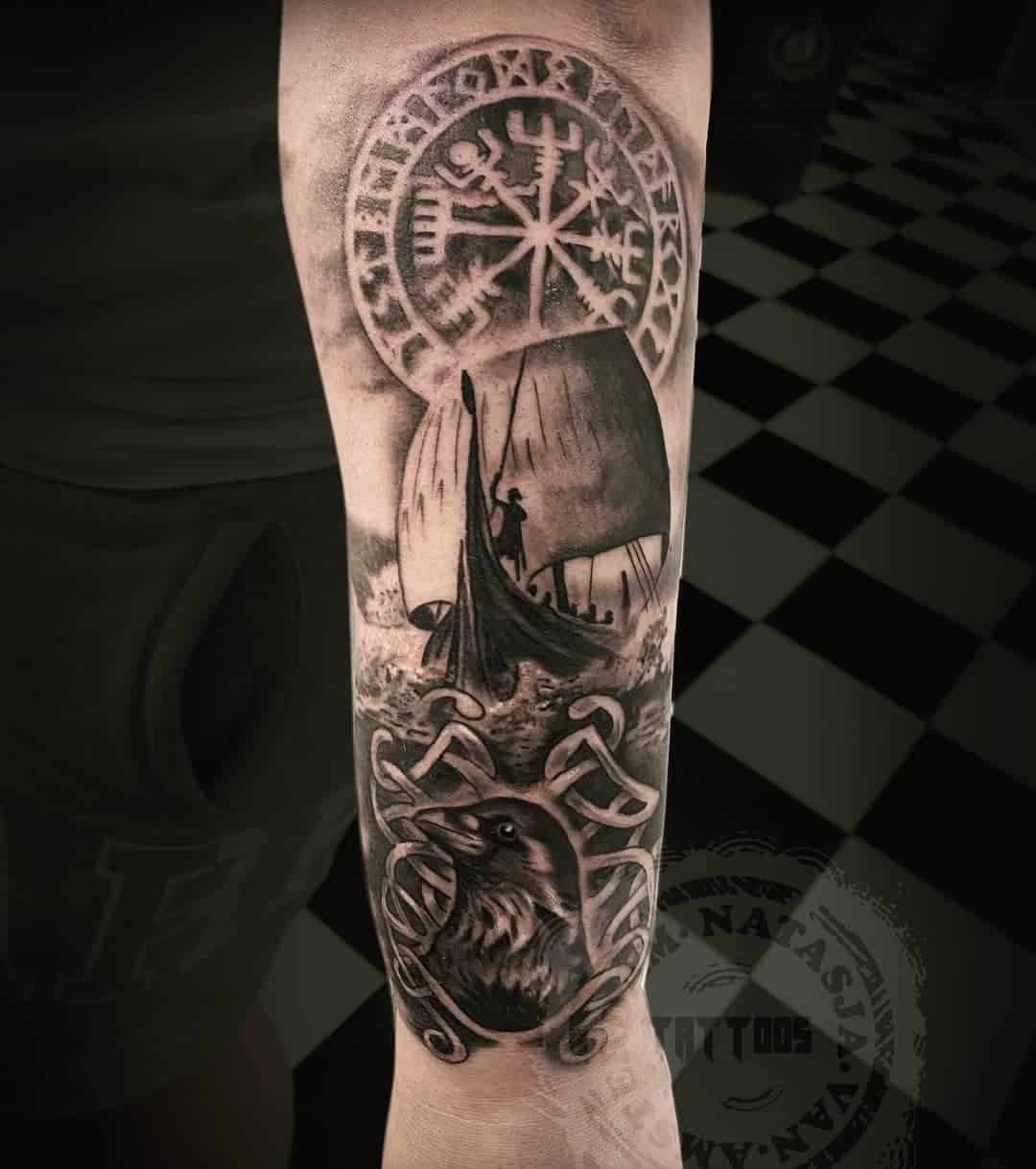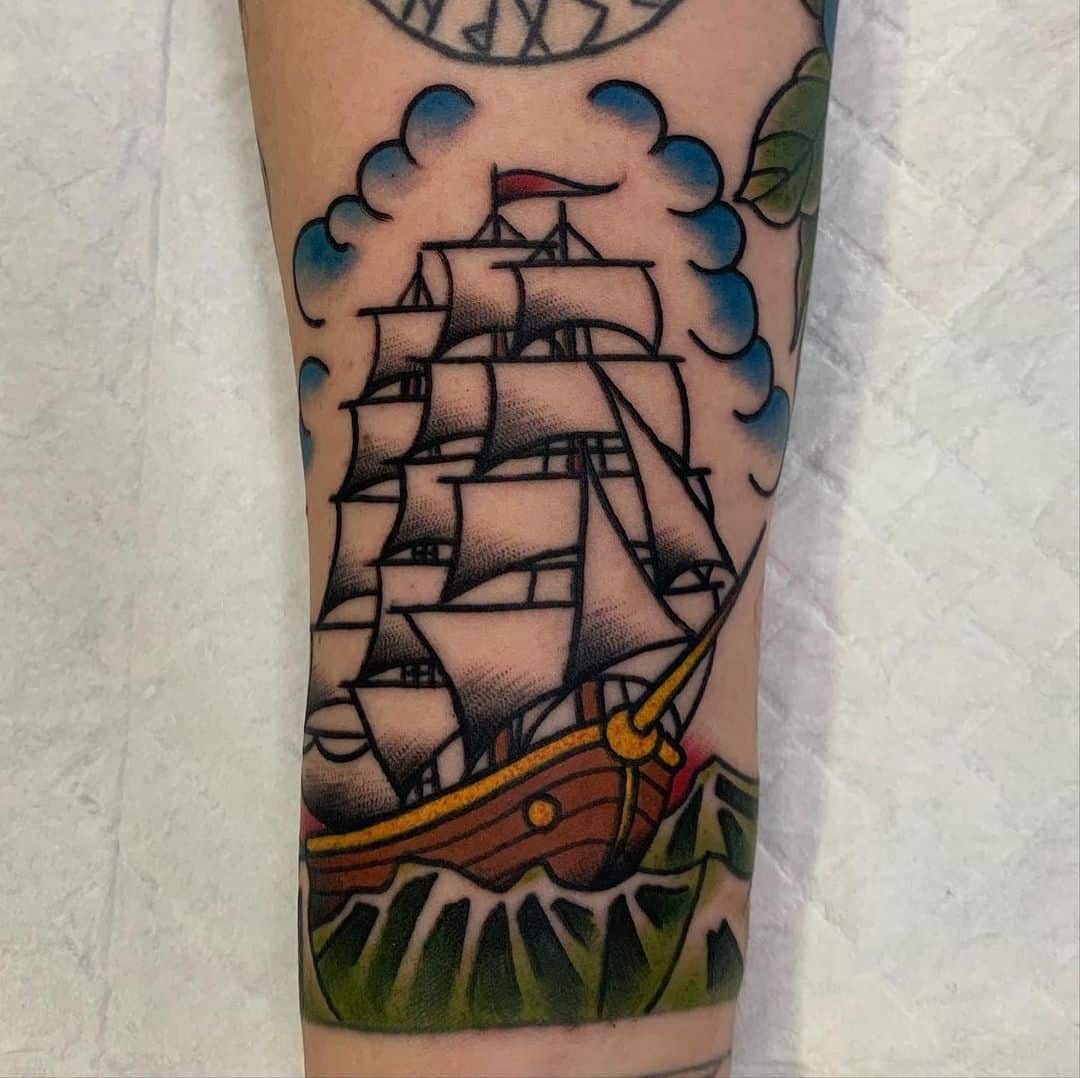 Ships immediately make us think of long journeys and a strong desire to survive even in the harshest conditions. That's exactly what a ship tattoo can represent. If you're a traveler at heart and love good adventure ship tattoo is a good way to show it off.
11.  Heart tattoo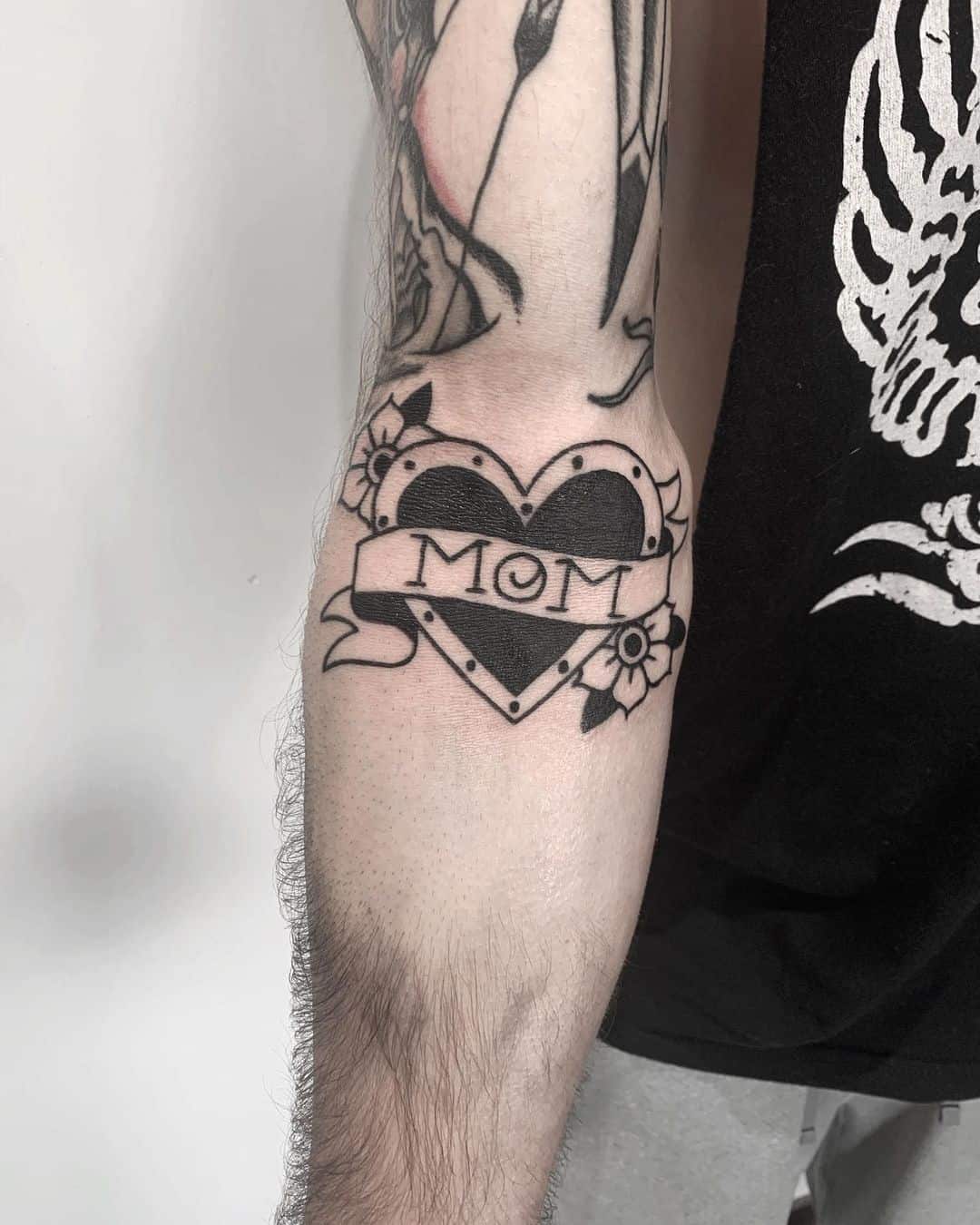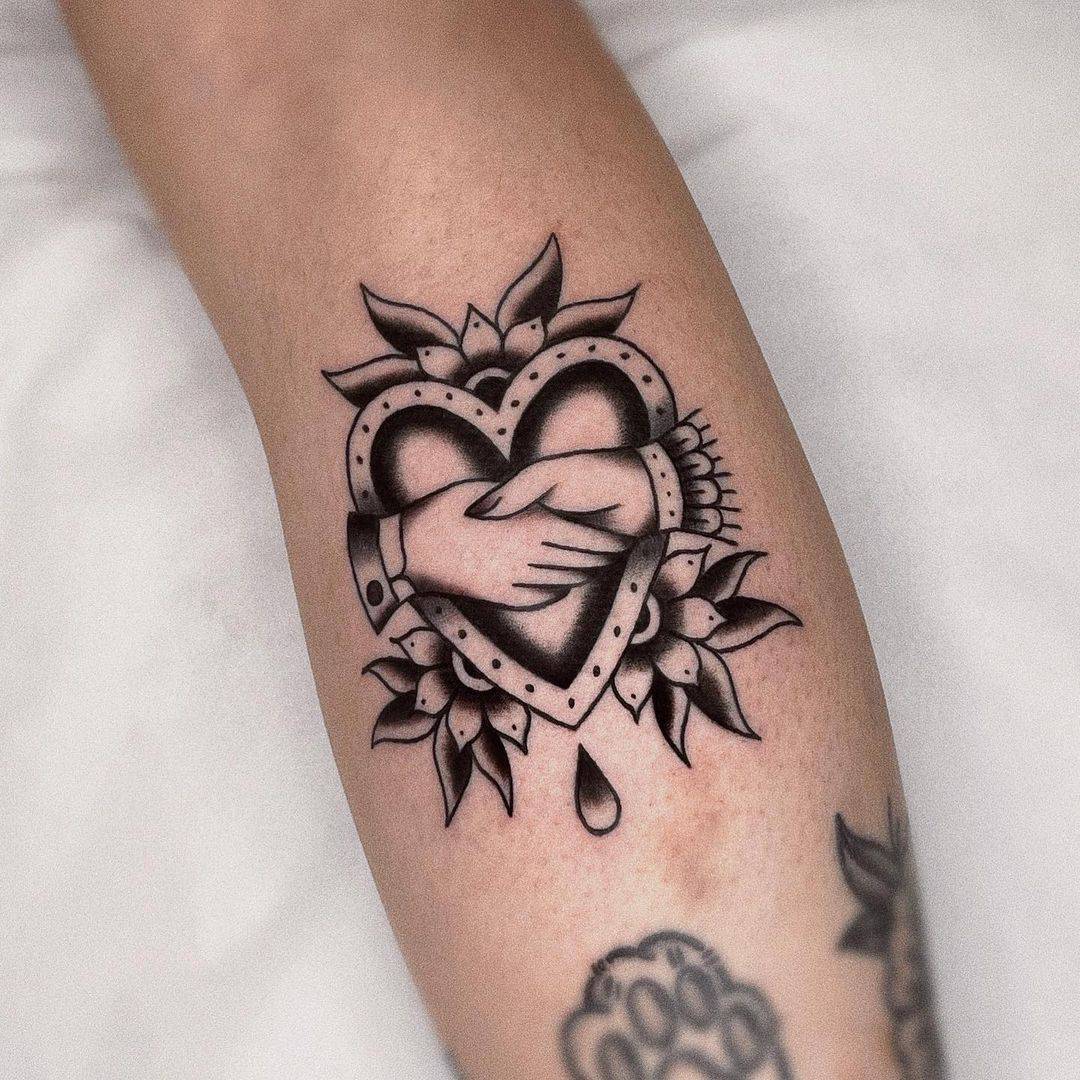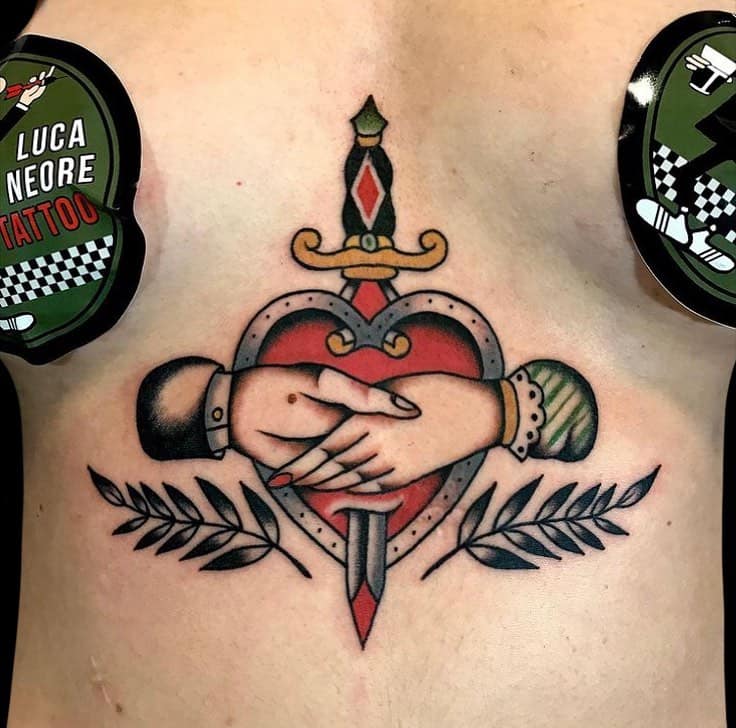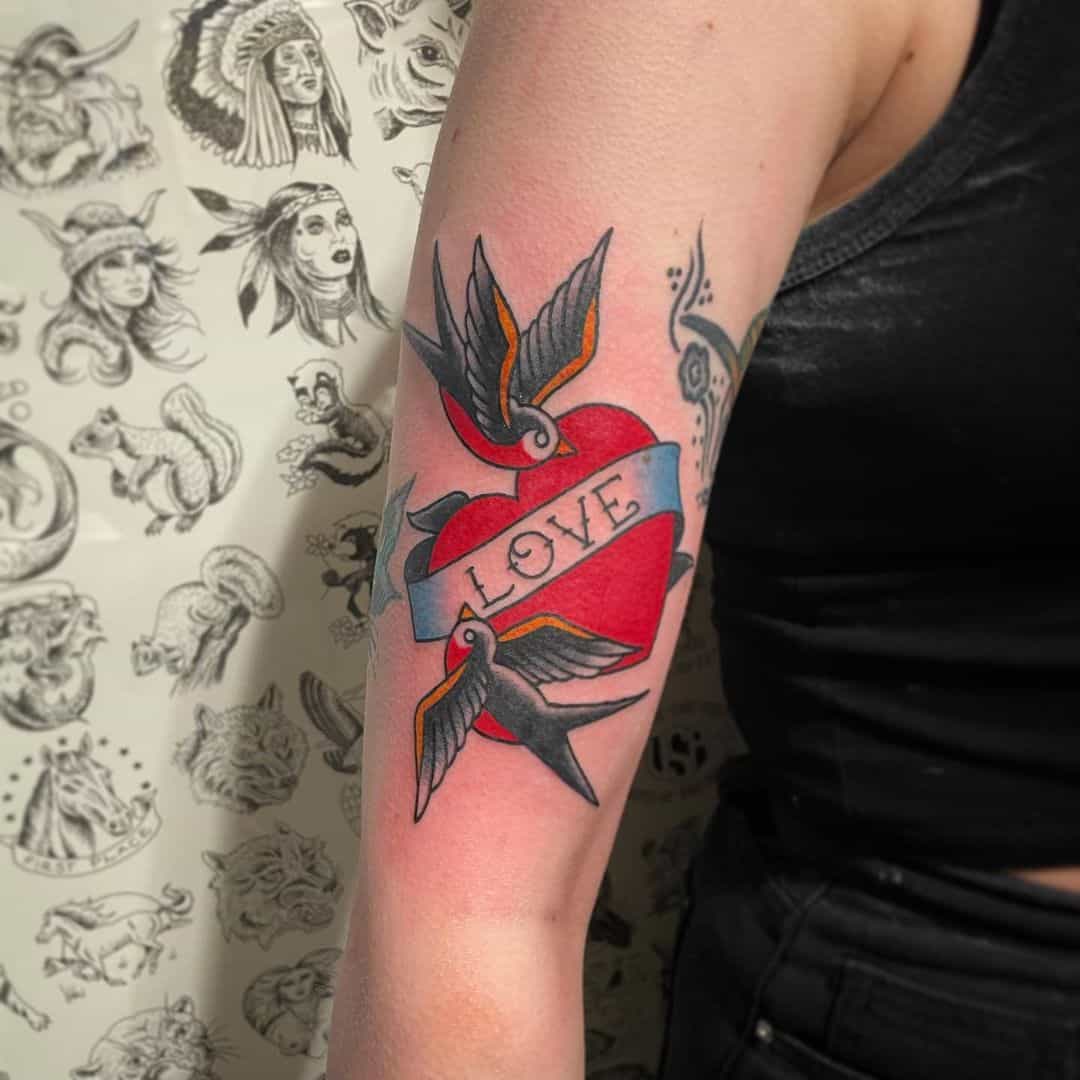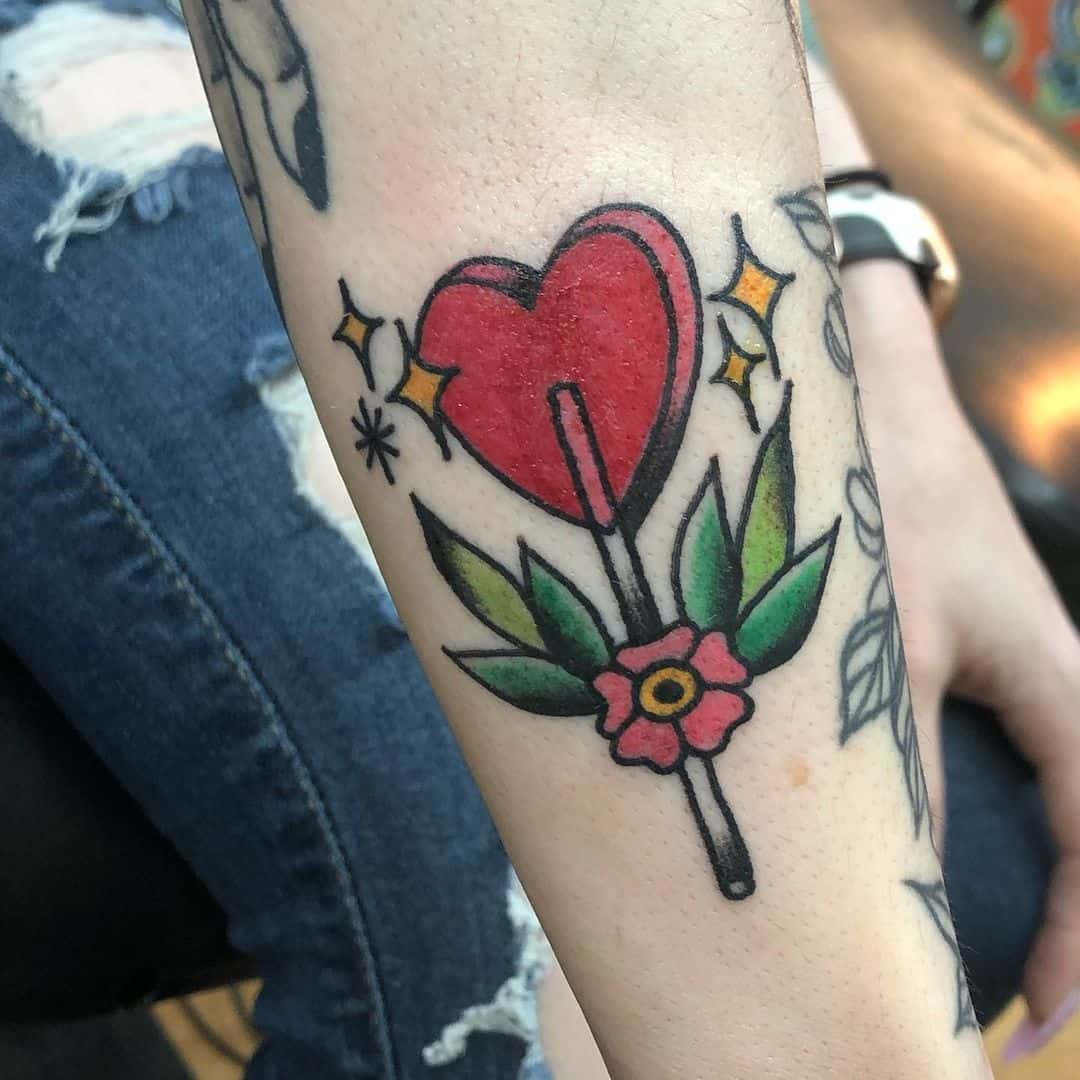 A heart tattoo is always a charming choice and looks great, not only on women. You have the option to get heart alone or combine it with other imagery such as a dagger. Heart with a dagger through it could represent grief, but also a meaning similar to rose and dagger – the duality of our lives. All of us go through good and bad times, and this tattoo depicts it perfectly.
12.  Anchor tattoo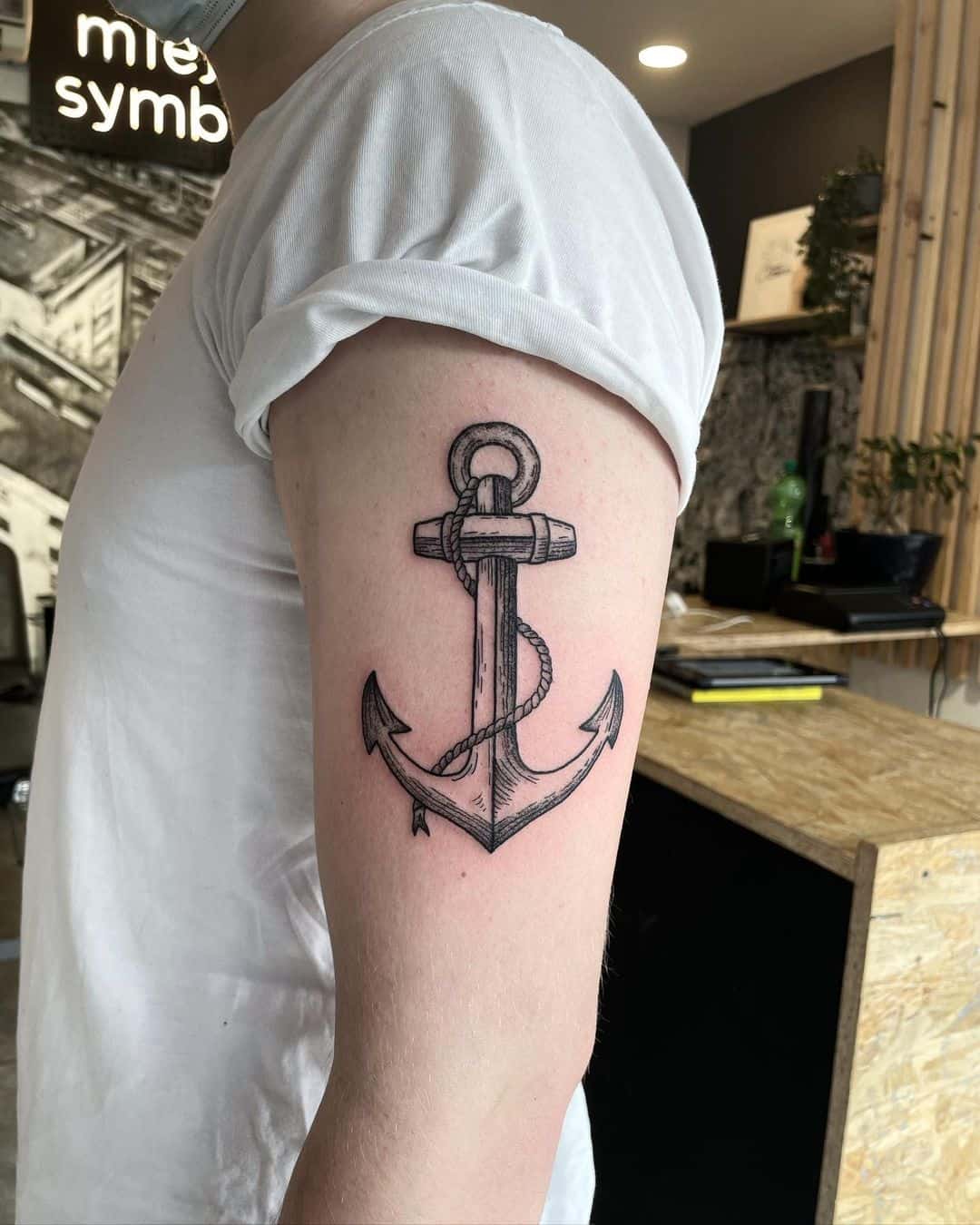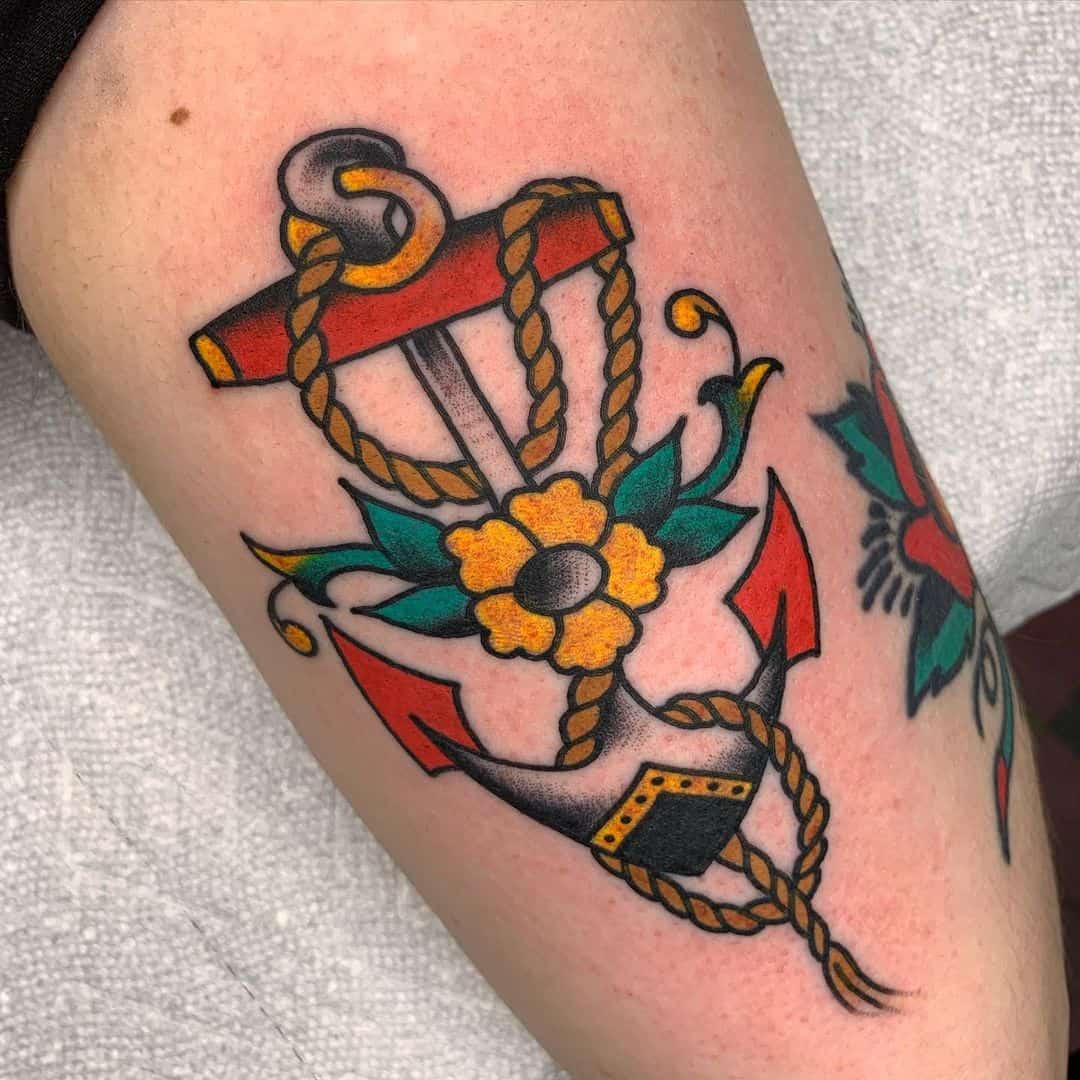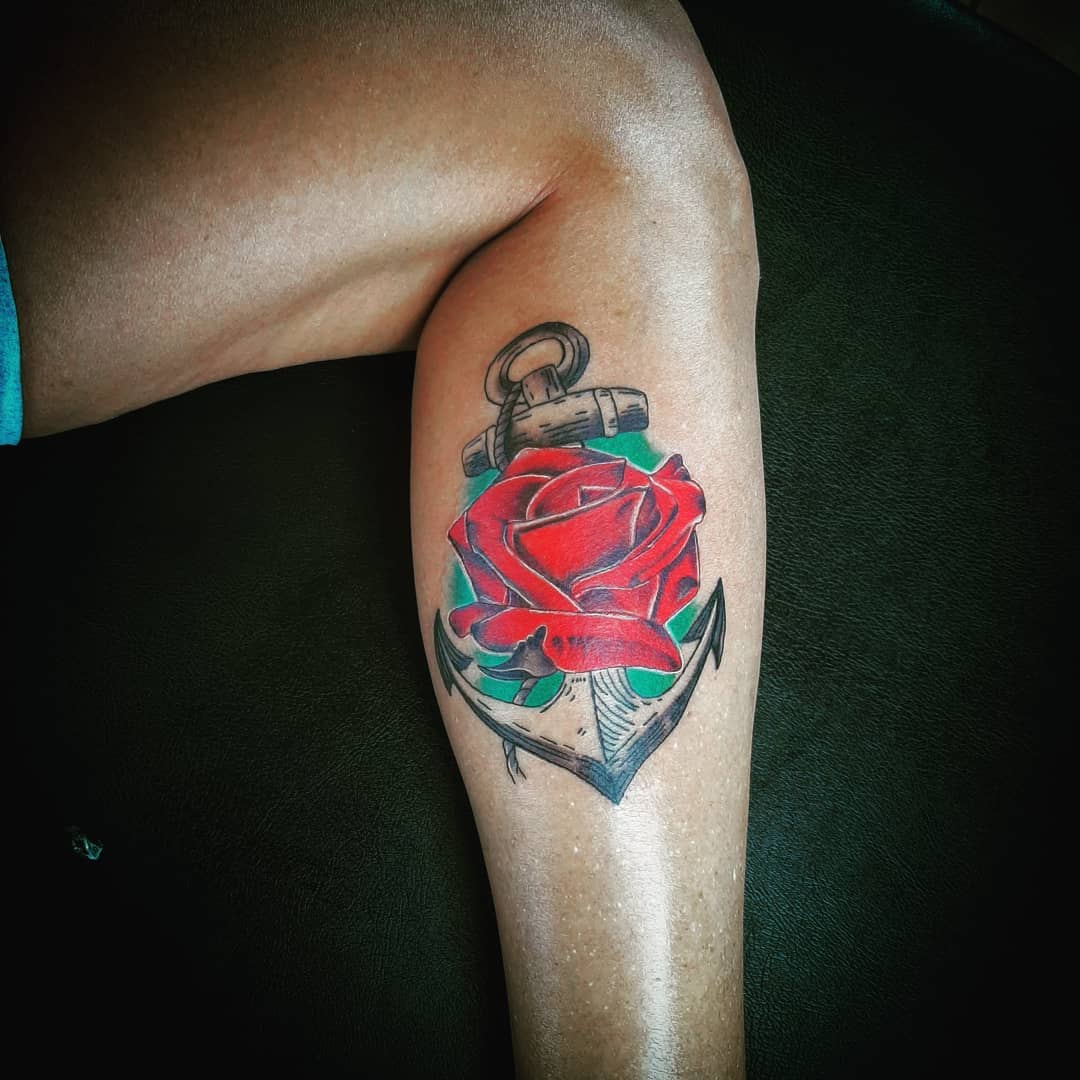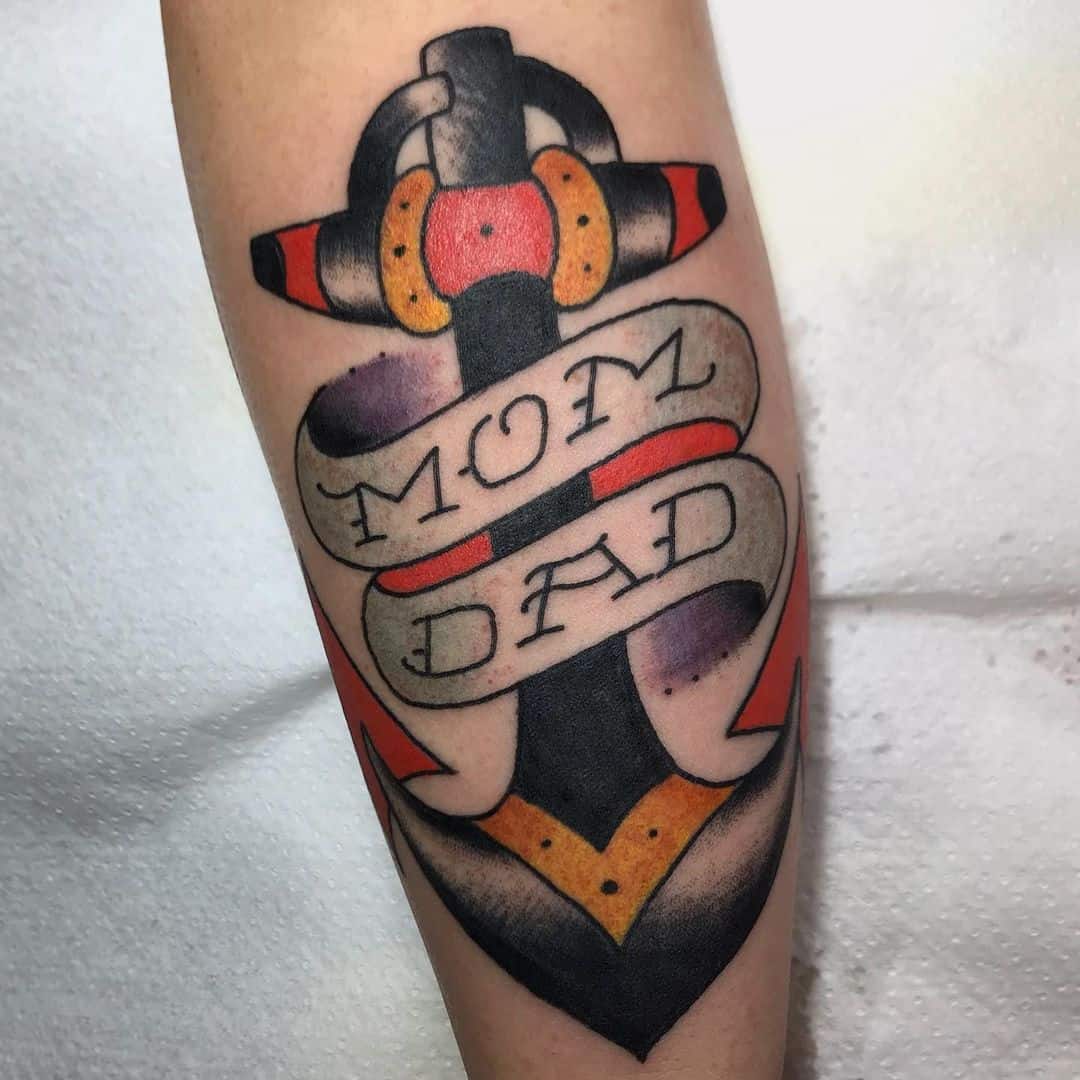 An anchor tattoo is all about stability and being grounded. Many people choose anchor tattoos to pay homage to someone, but others decide to rock them to show their love for the ocean. Anchor tattoos look equally amazing whether they're black or multicolor.
13.  Animal tattoos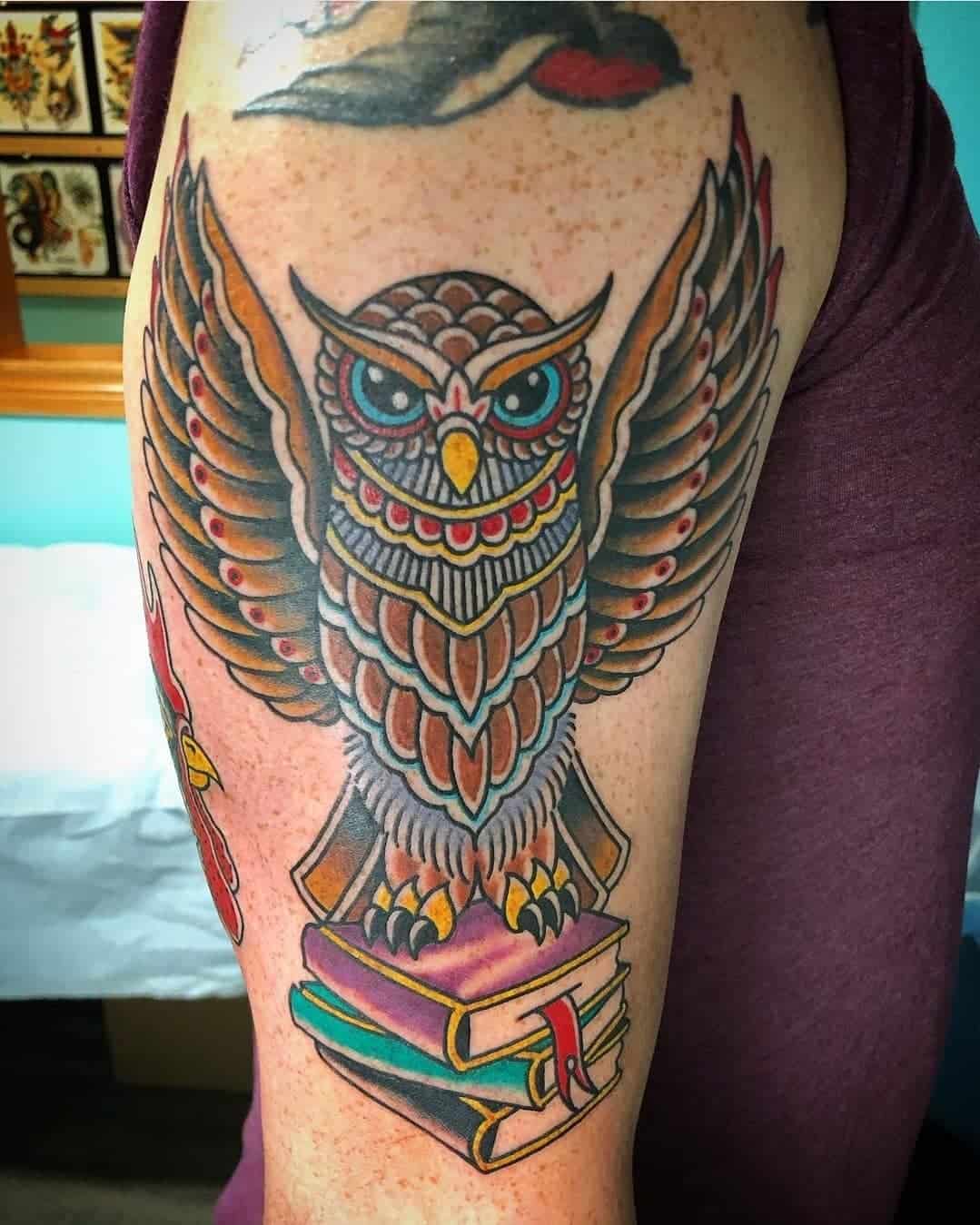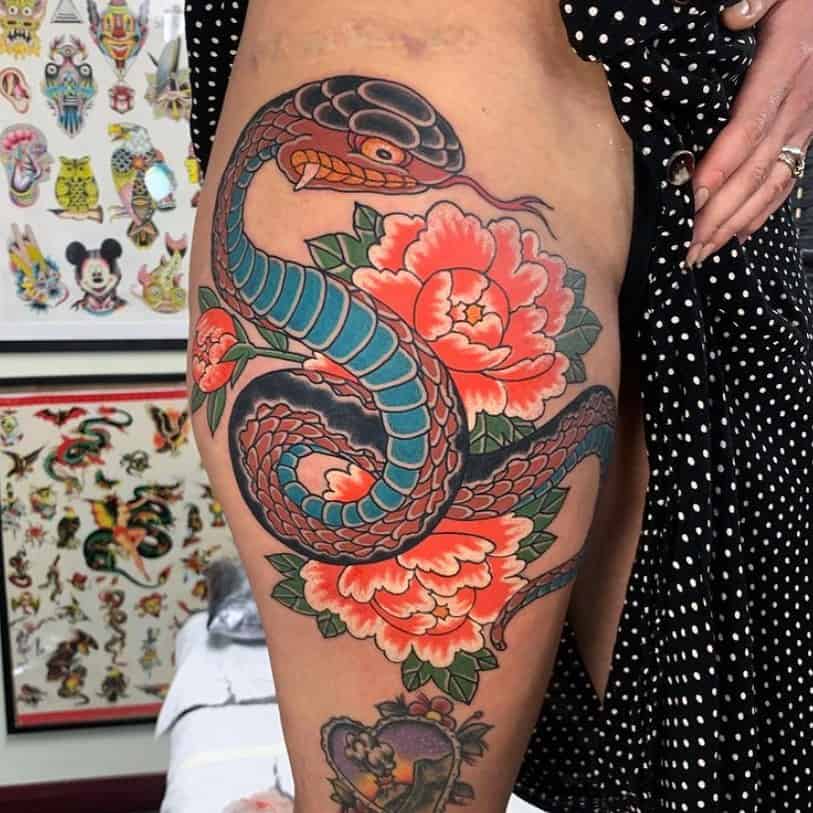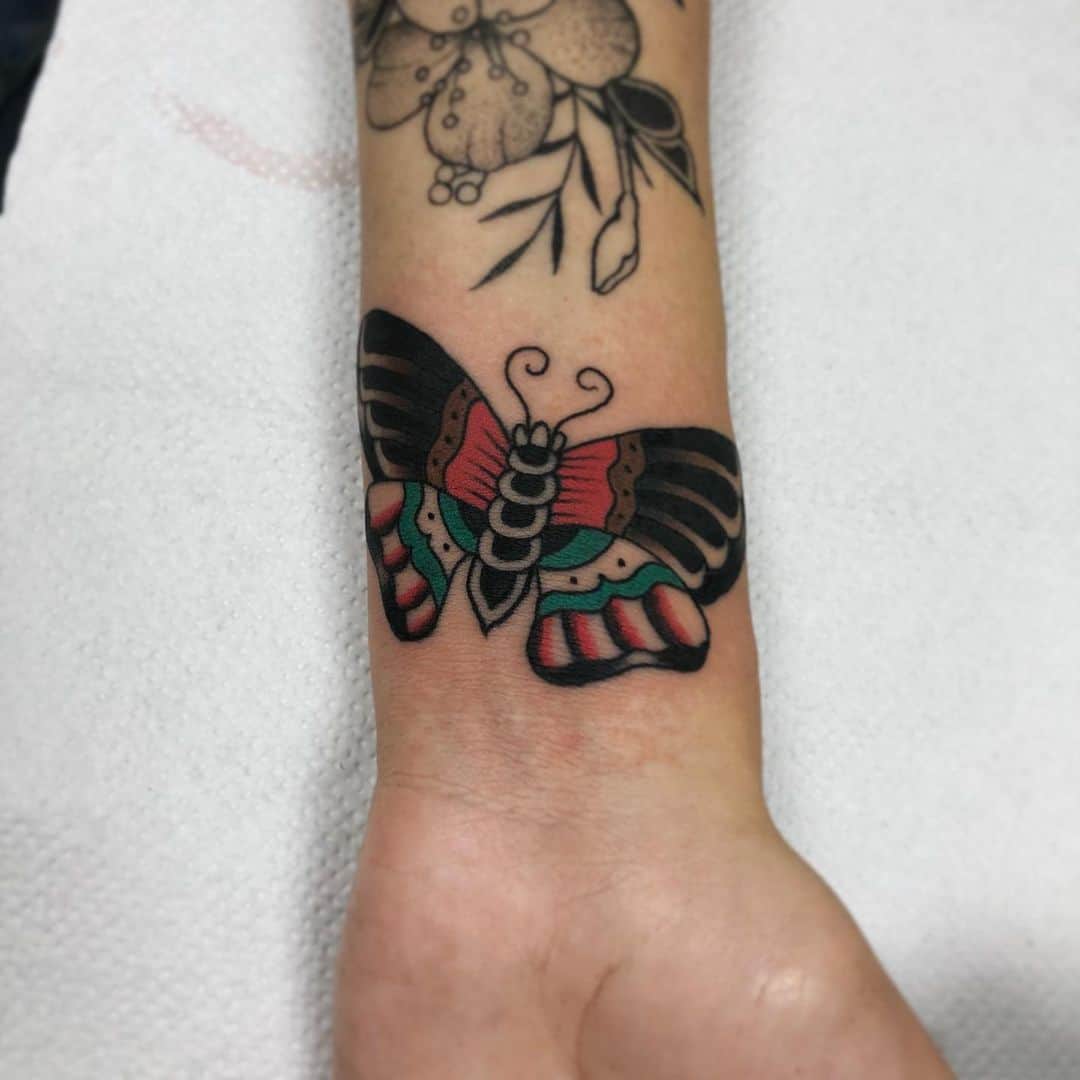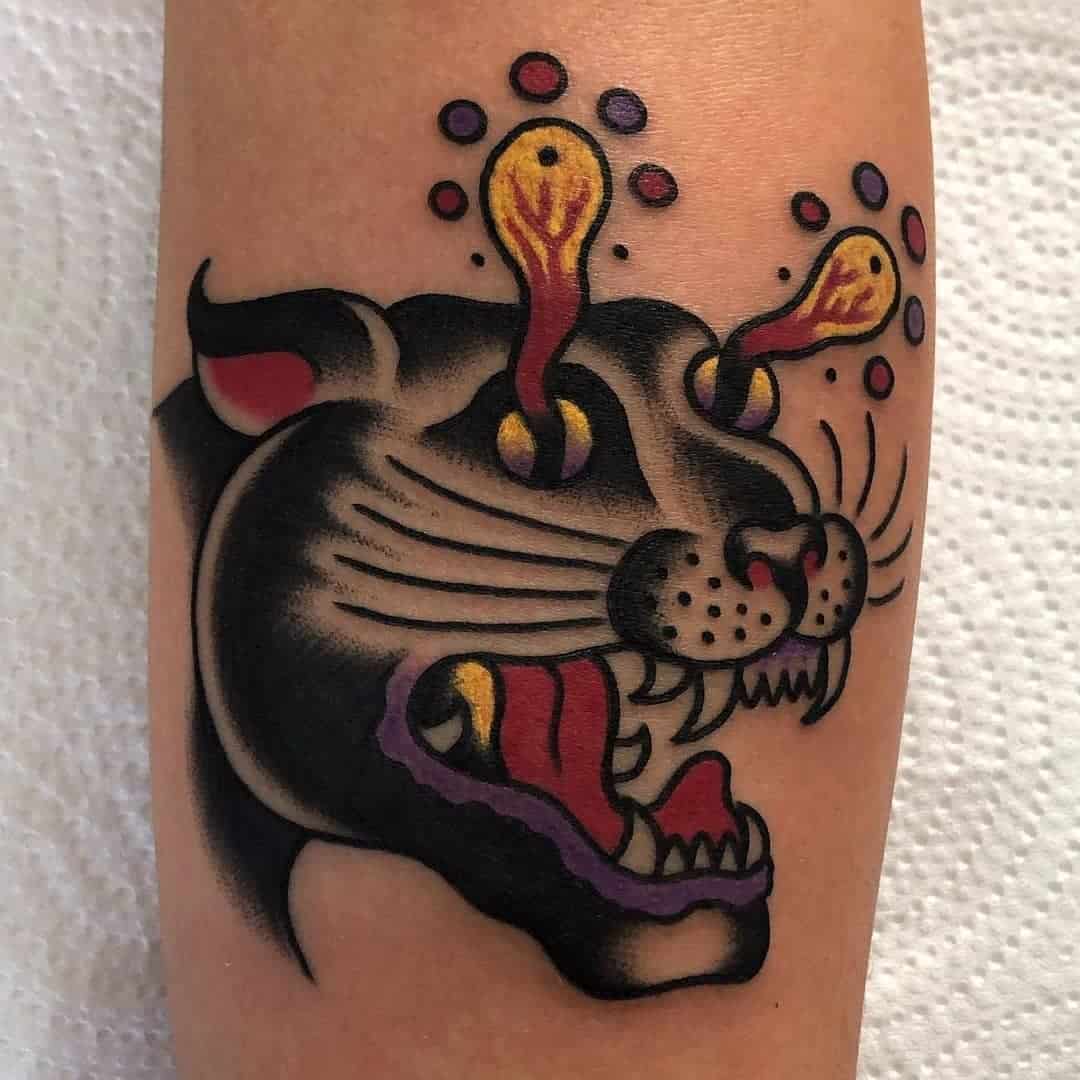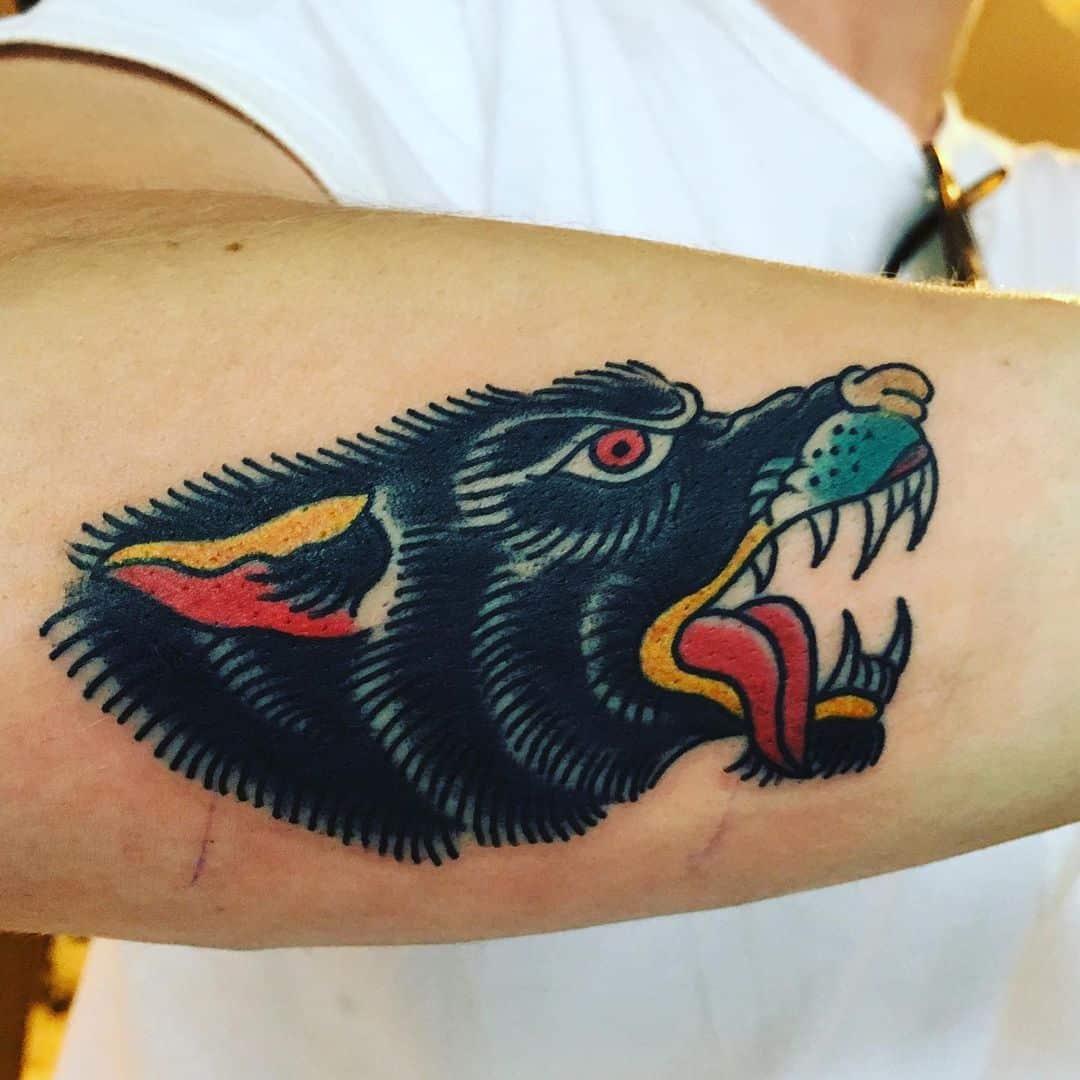 Vintage tattoos with animals allow you to represent your values and character through beautiful imagery featuring panthers, wolves, butterflies, eagles, and more. Since this type of tattoos focuses on detail, a talented tattoo artist can show each of these animals in all its glory.
14.  Vintage lighthouse tattoo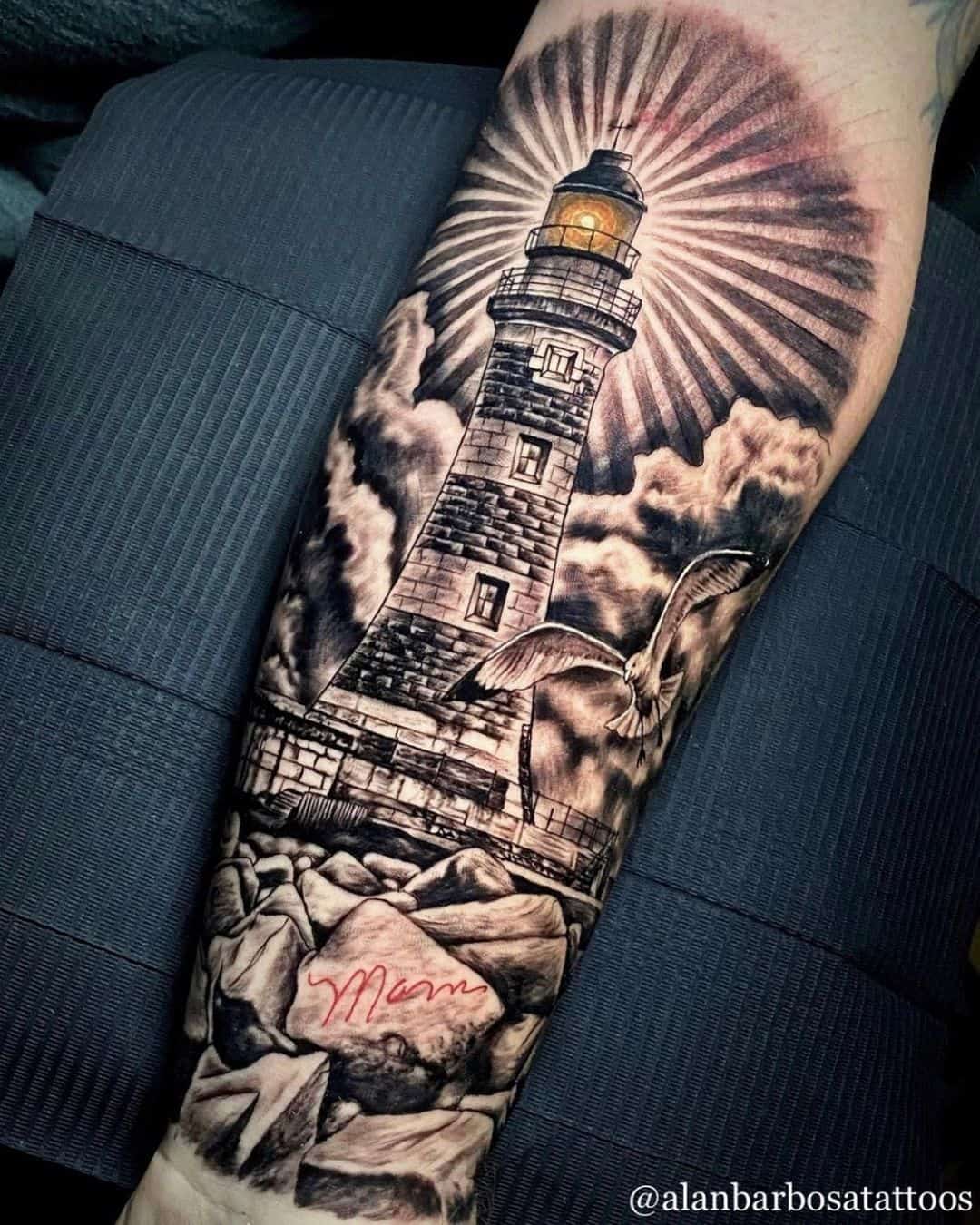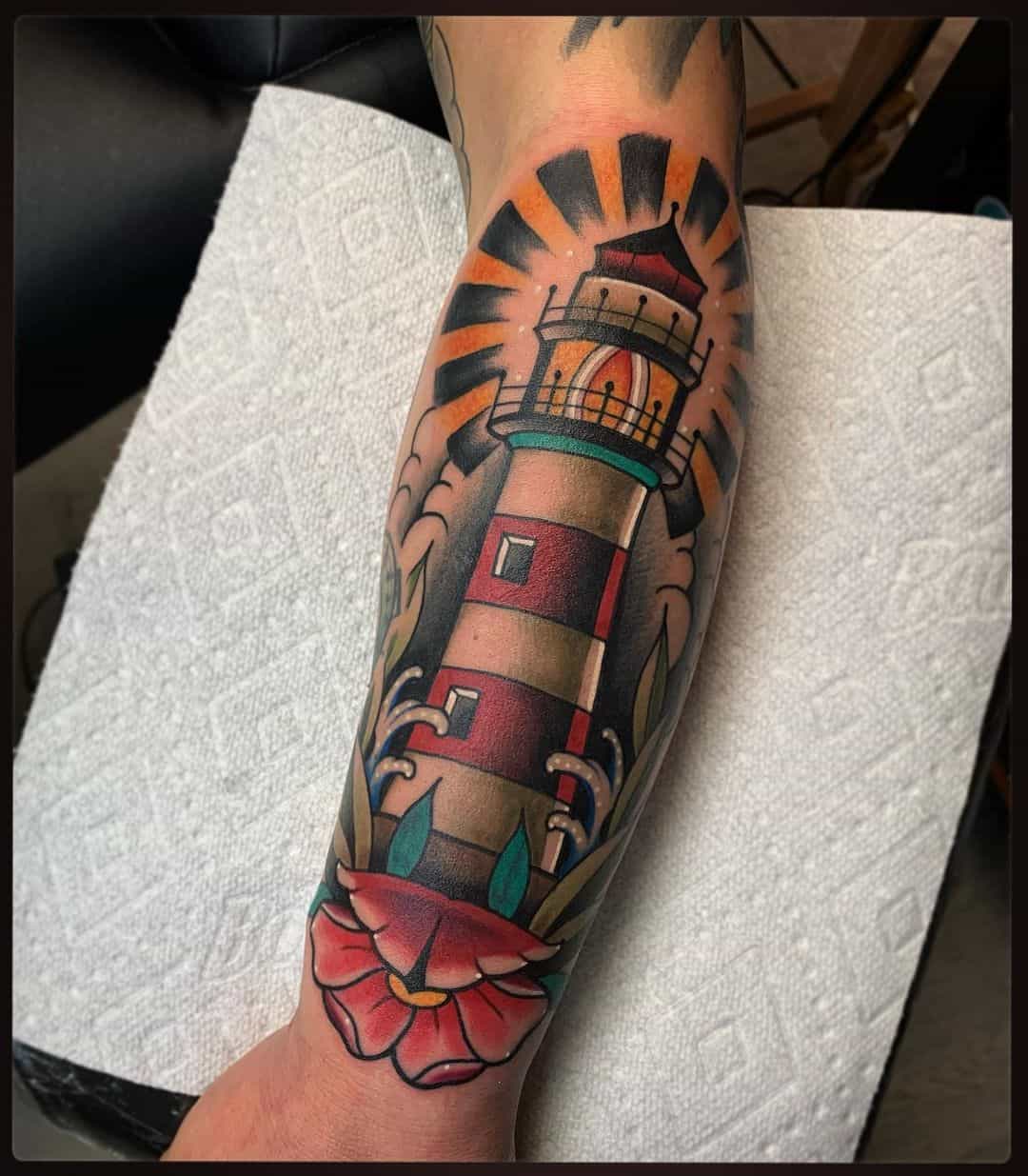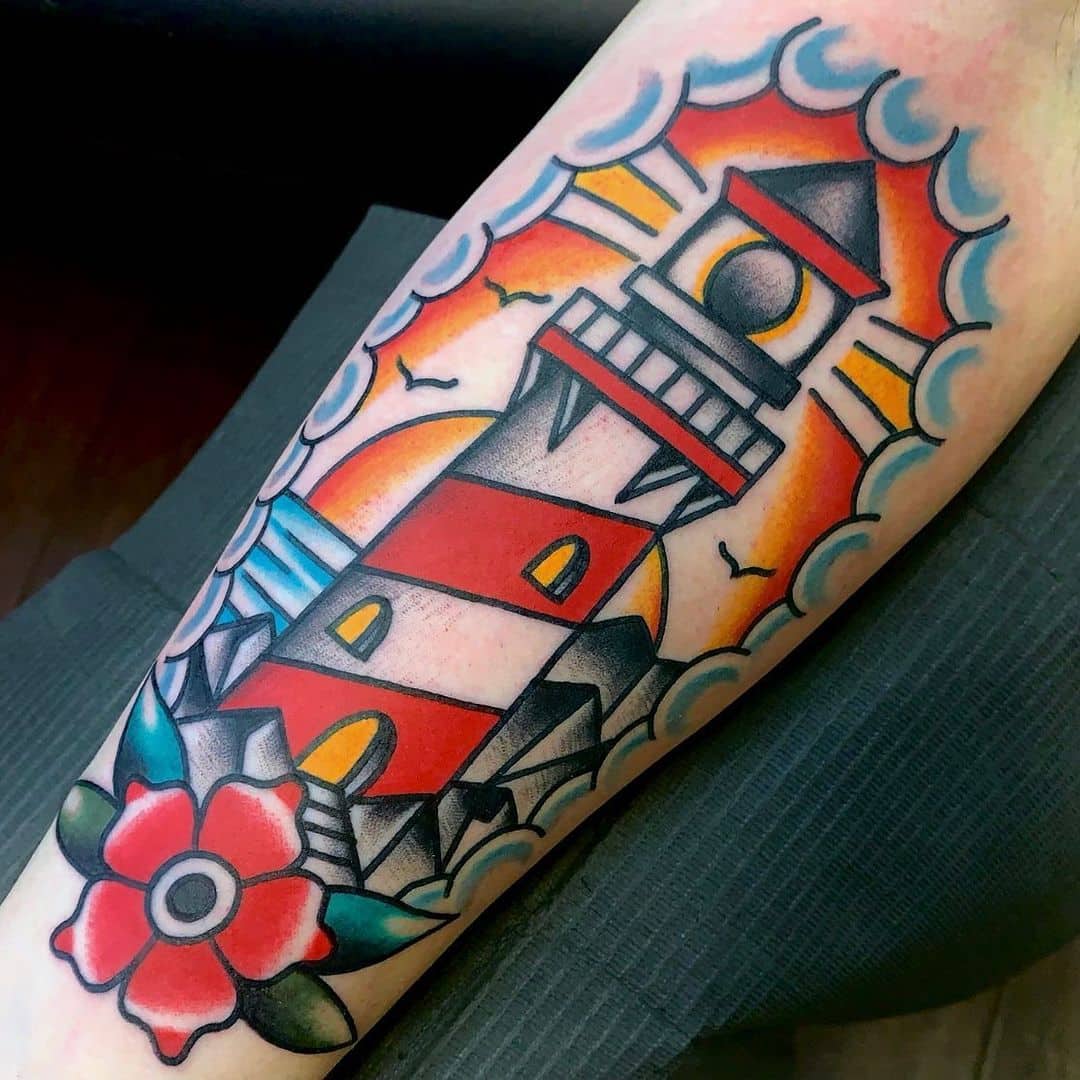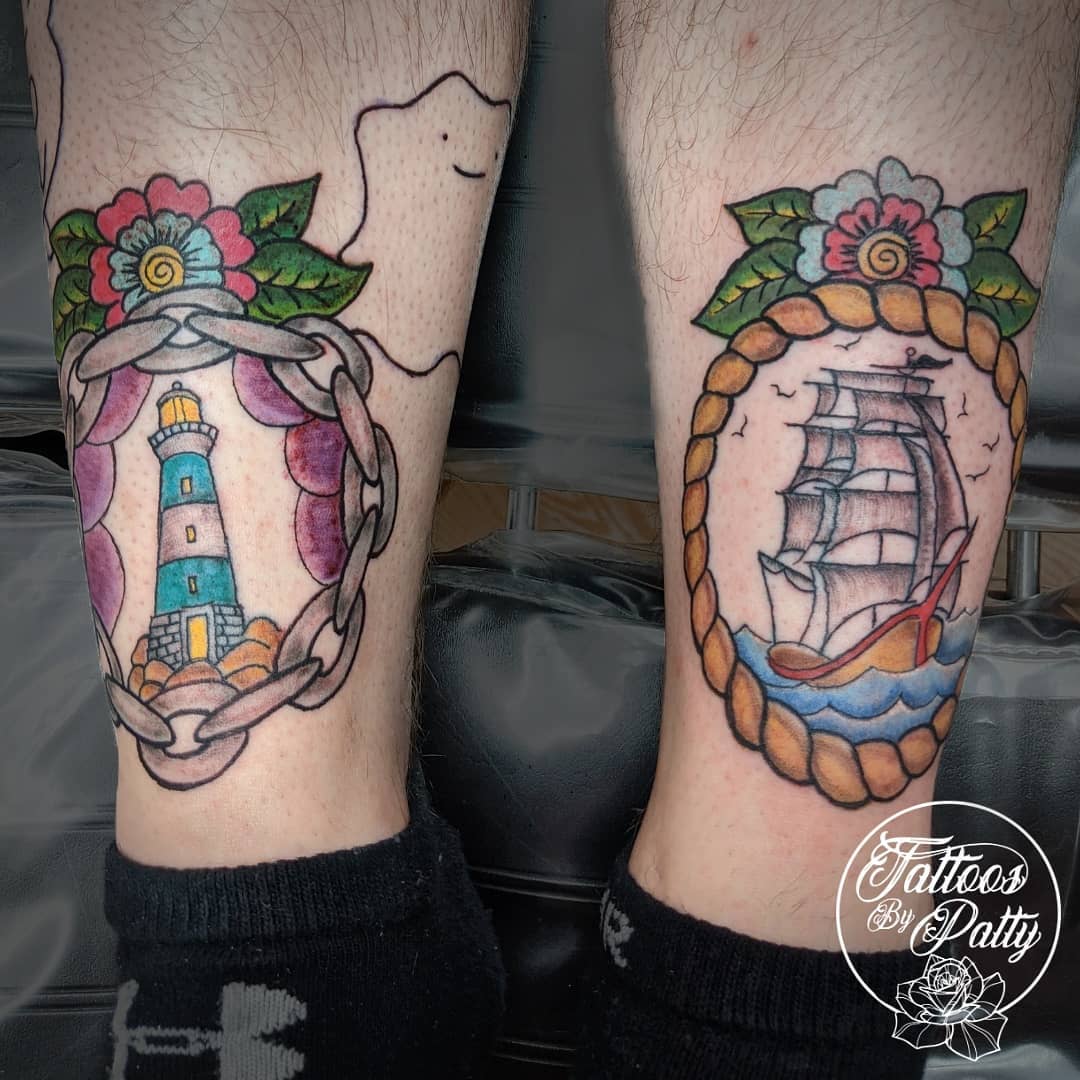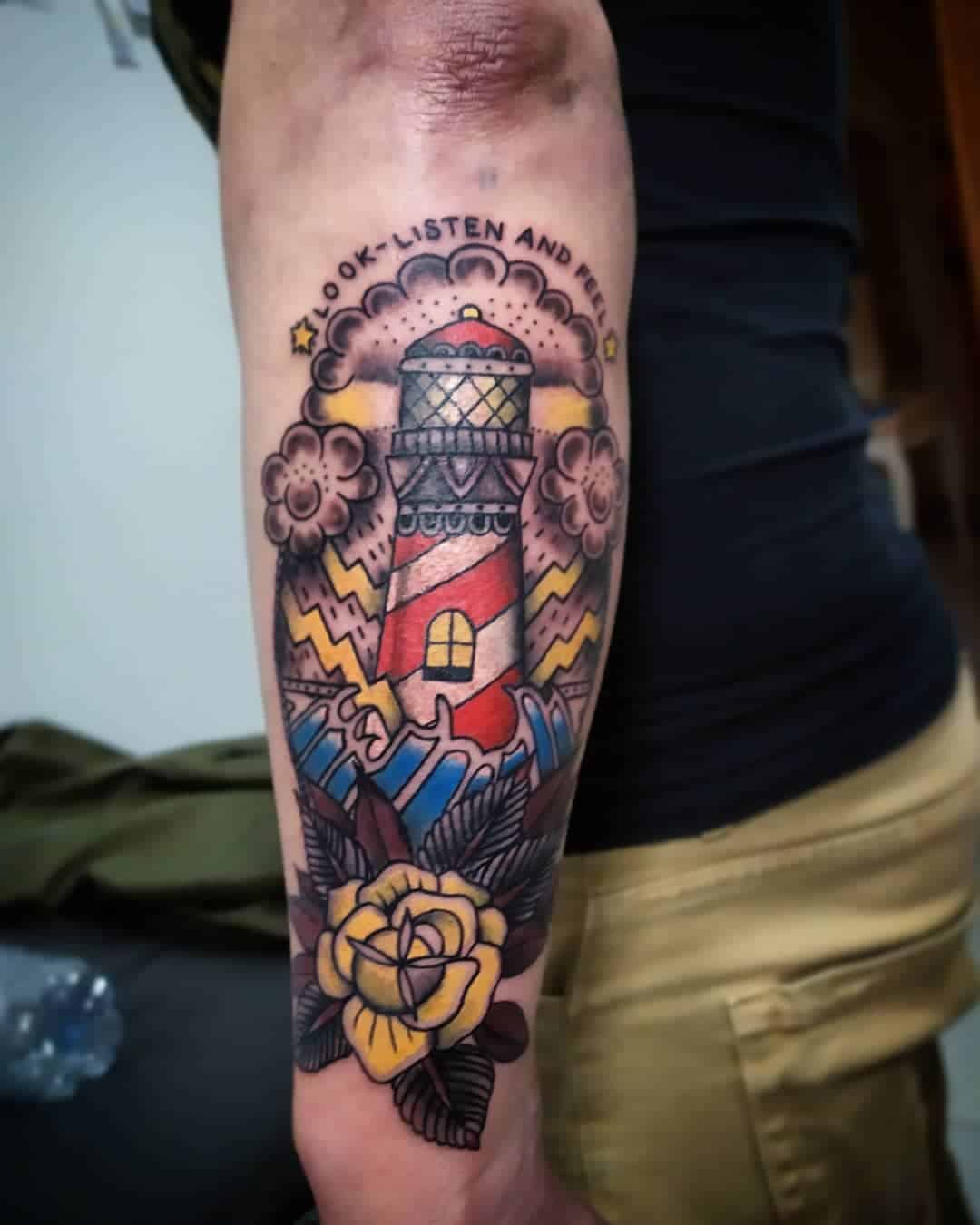 Lighthouses are absolutely amazing. Their main purpose is to cast light and guide people. For that reason, a lighthouse tattoo is all about positive vibes. If you have been positively influenced by someone or you strive to be a good influence and support system for other people, a lighthouse tattoo is a great way to show it. Plus, the elongated form of a lighthouse fits easily on your arm, leg, back, you name it.
15.  Vintage bottle tattoo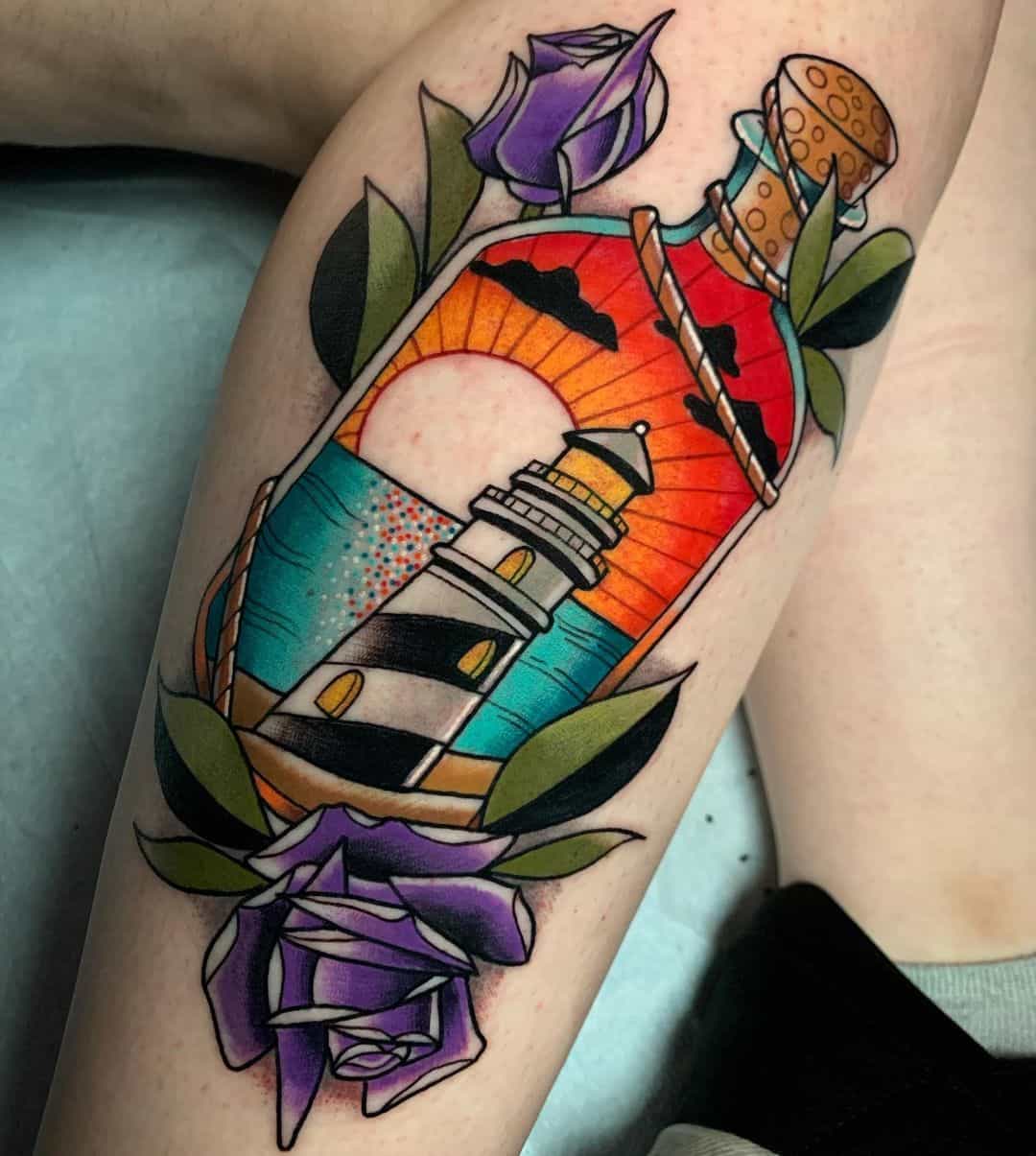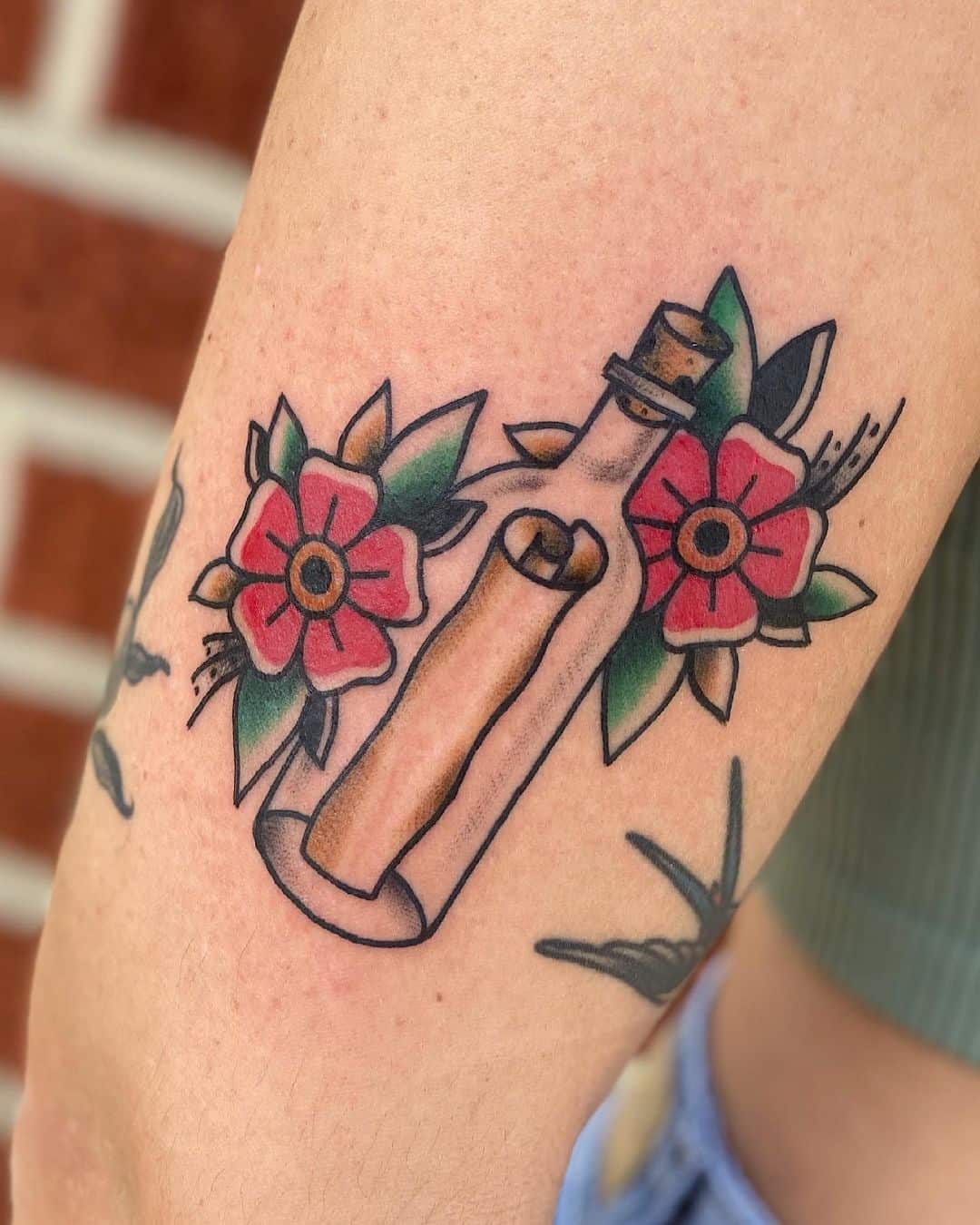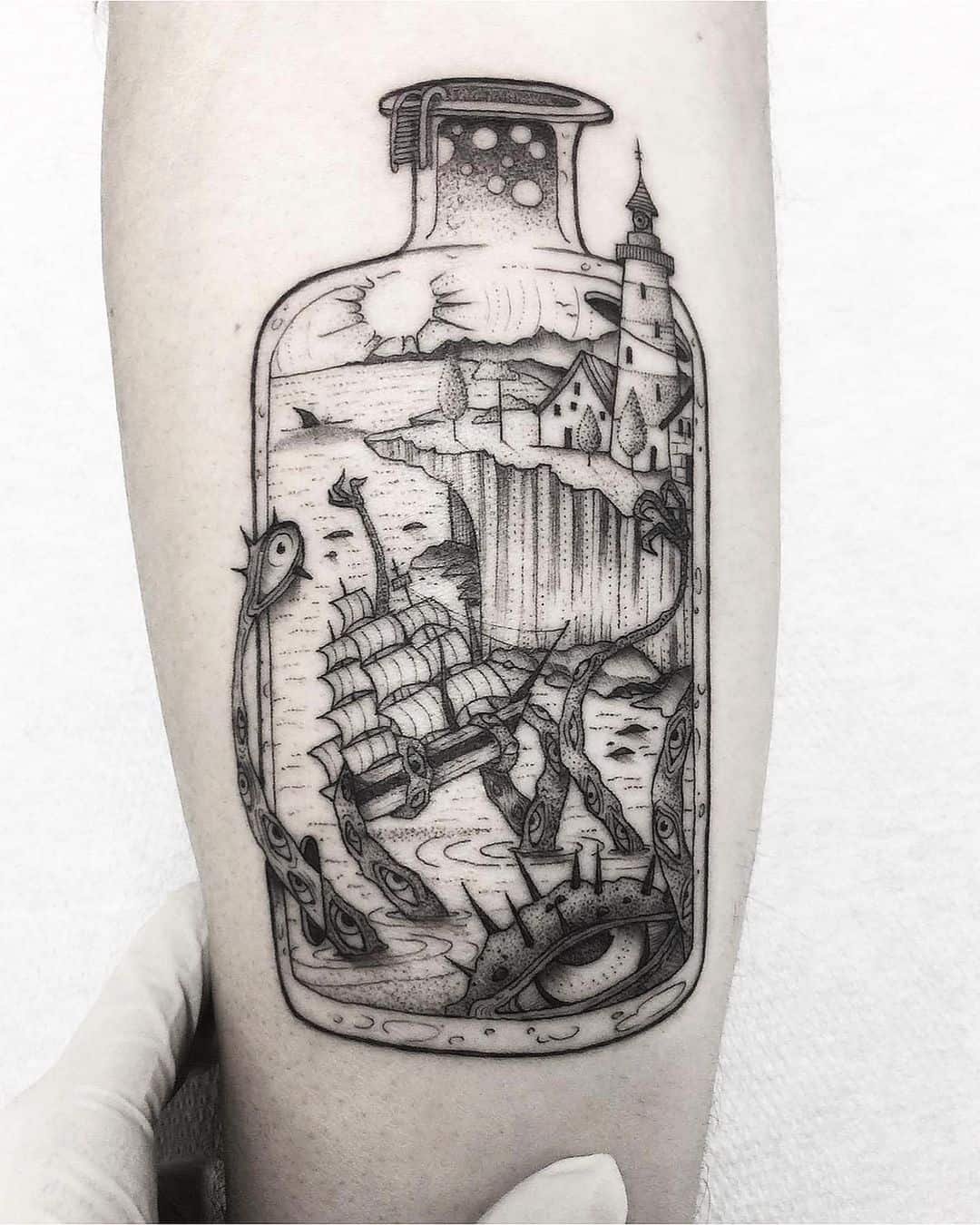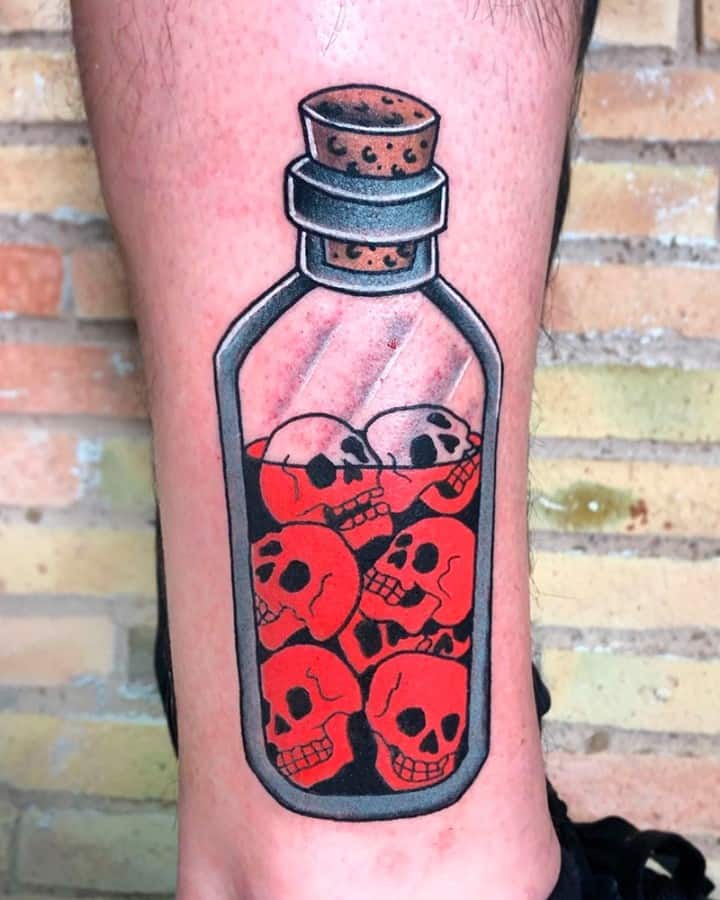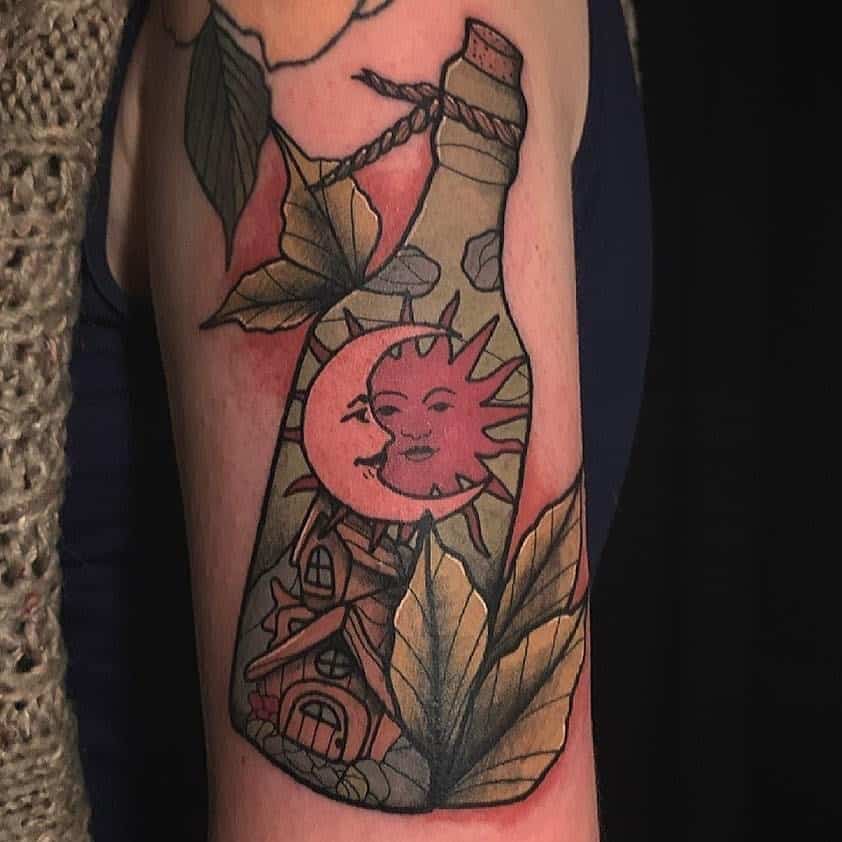 Message in the bottle isn't just a theme in movies and novels. If you have a certain "message" you want to send out about yourself, emotions you want to express, or experience that defined you, then put it in the bottle. What we love the most about bottles is that you can "put" just about any imagery or design in them.
16.  Vintage globe tattoo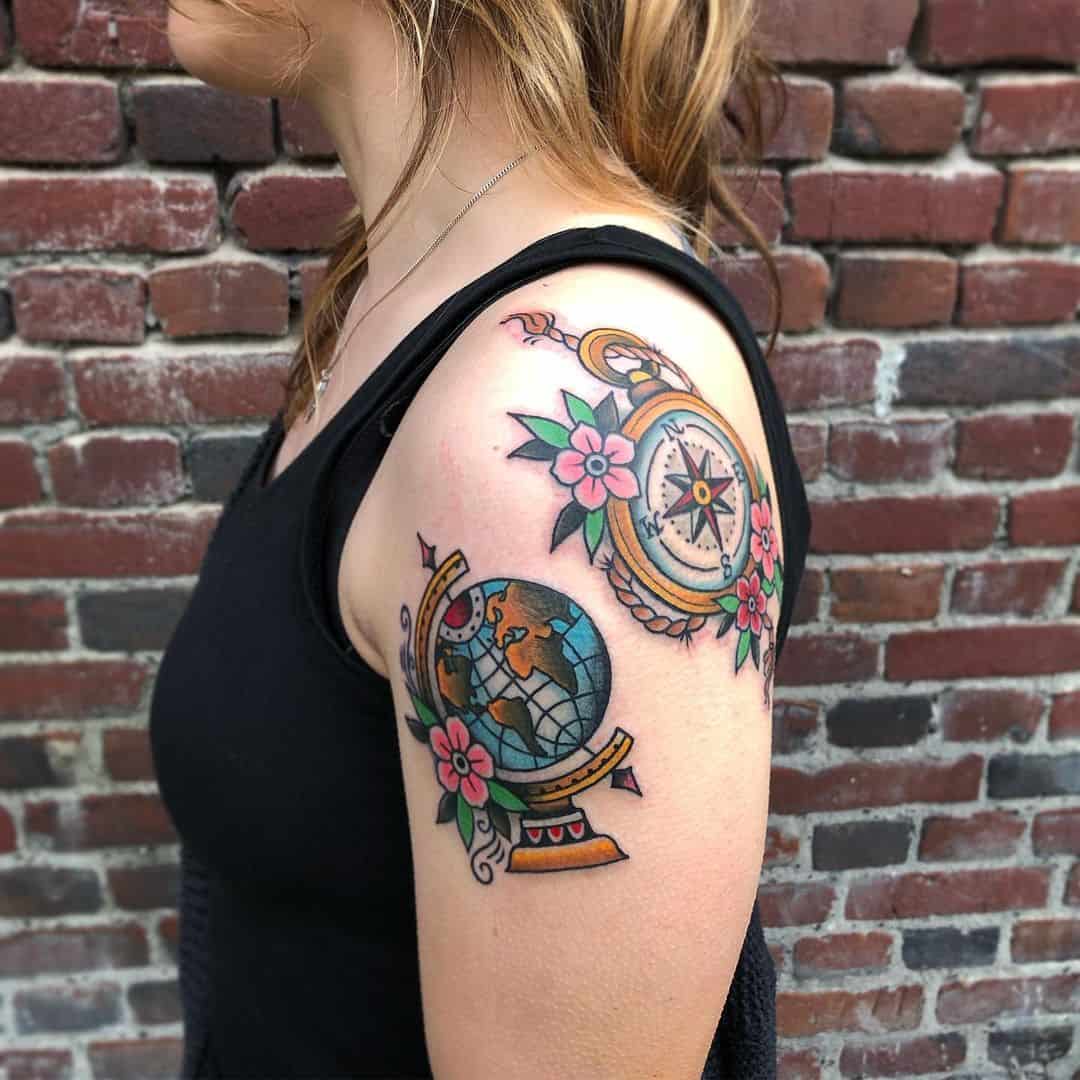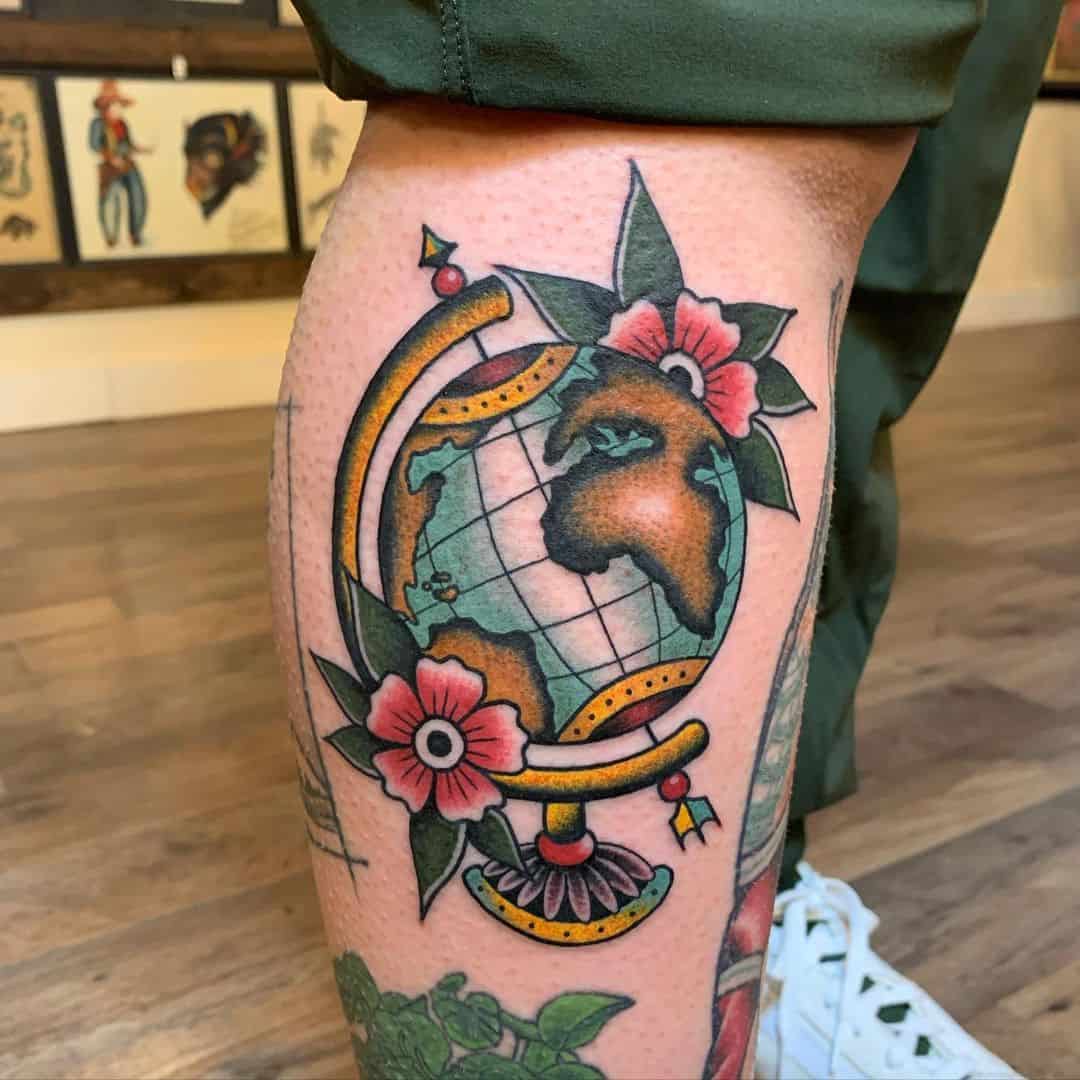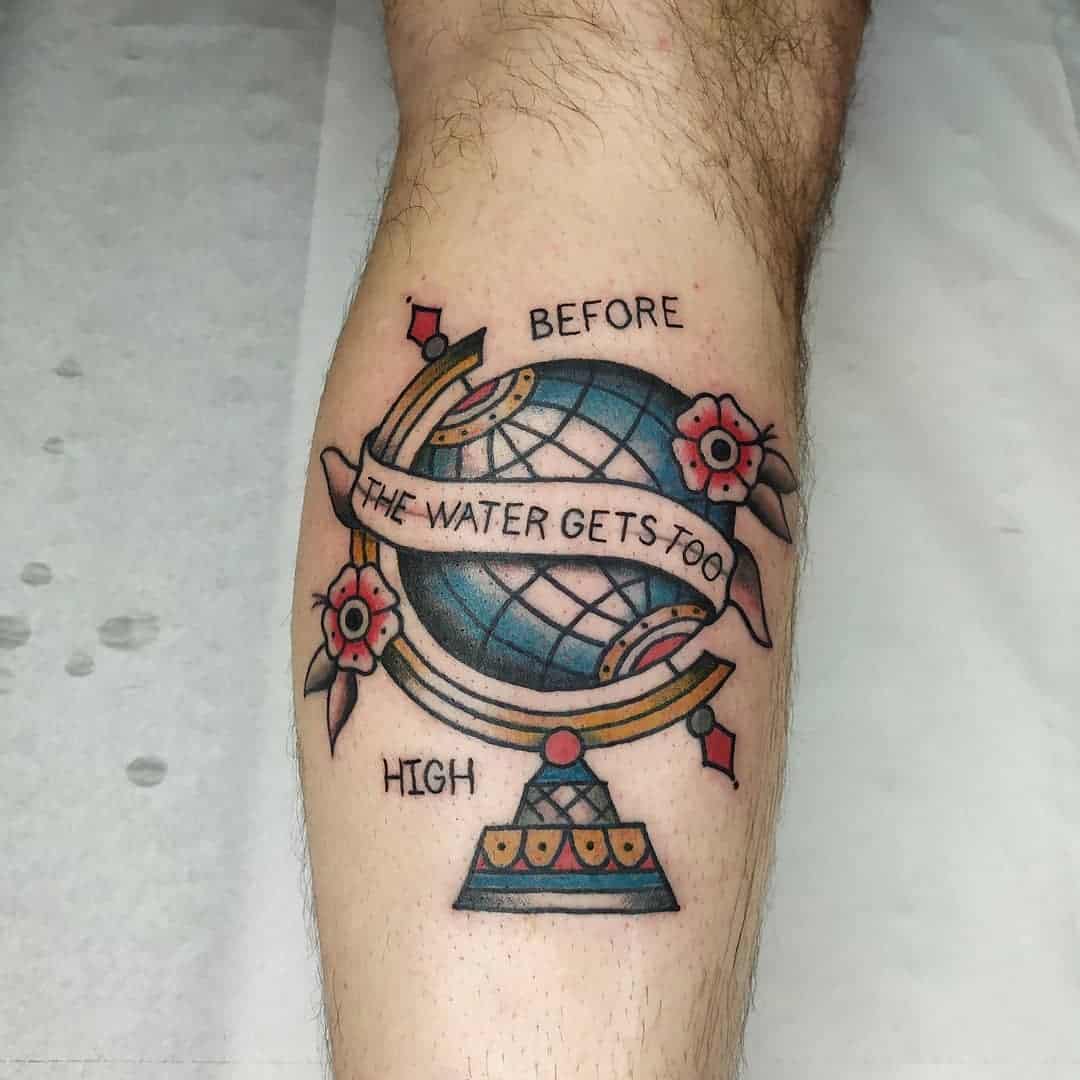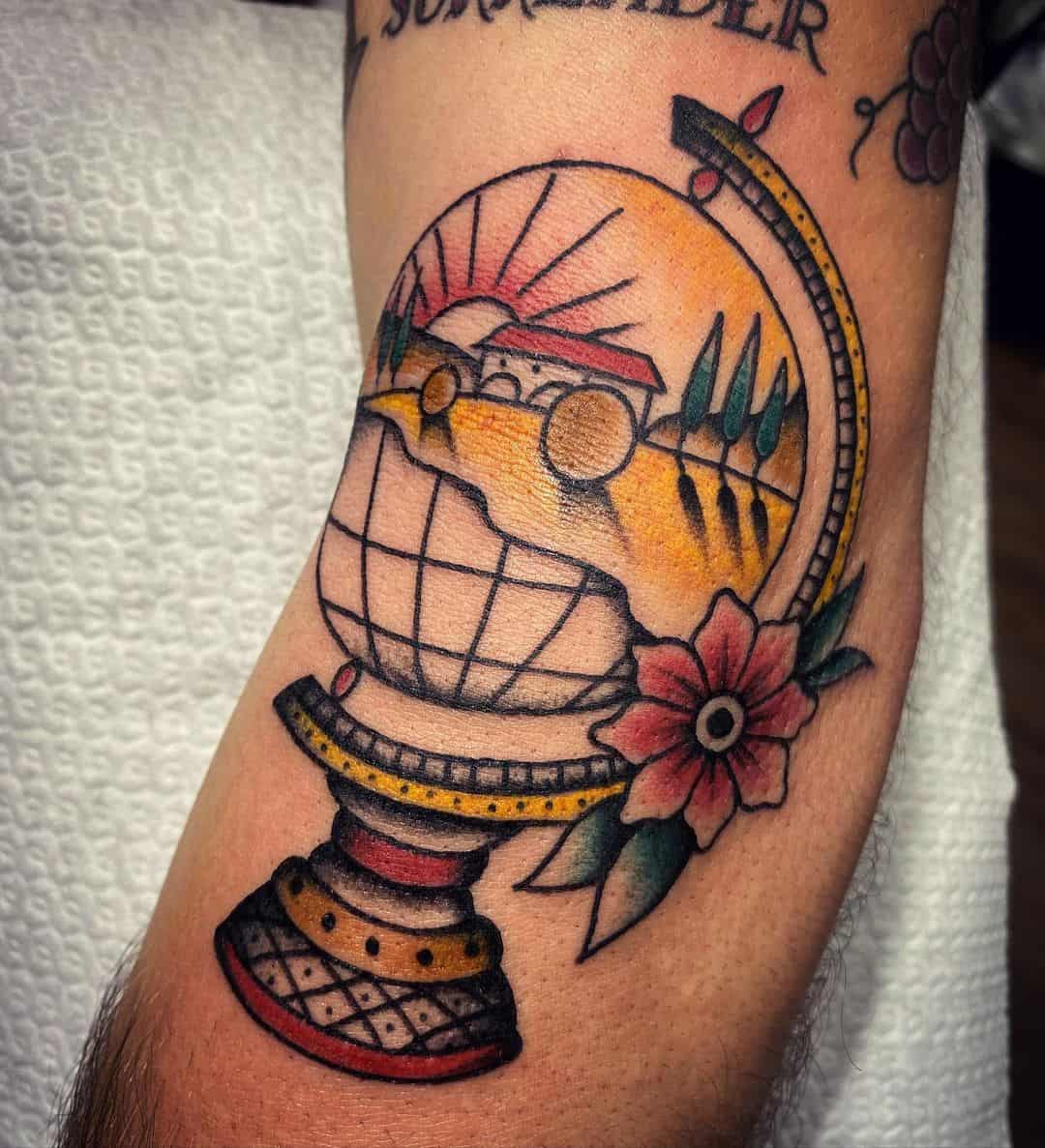 Globes are more versatile than you think. In the vintage tattoo world, the globe symbolizes adventure and it's a perfect fit for spontaneous people. You can opt for a globe alone or choose to add more items to the tattoo. Globe works well with flowers, swallows, and its shape is a great foundation for other motifs such as sunsets. As seen above, you can also transform the globe into a skull. Options are truly endless.
17.  Vintage compass tattoo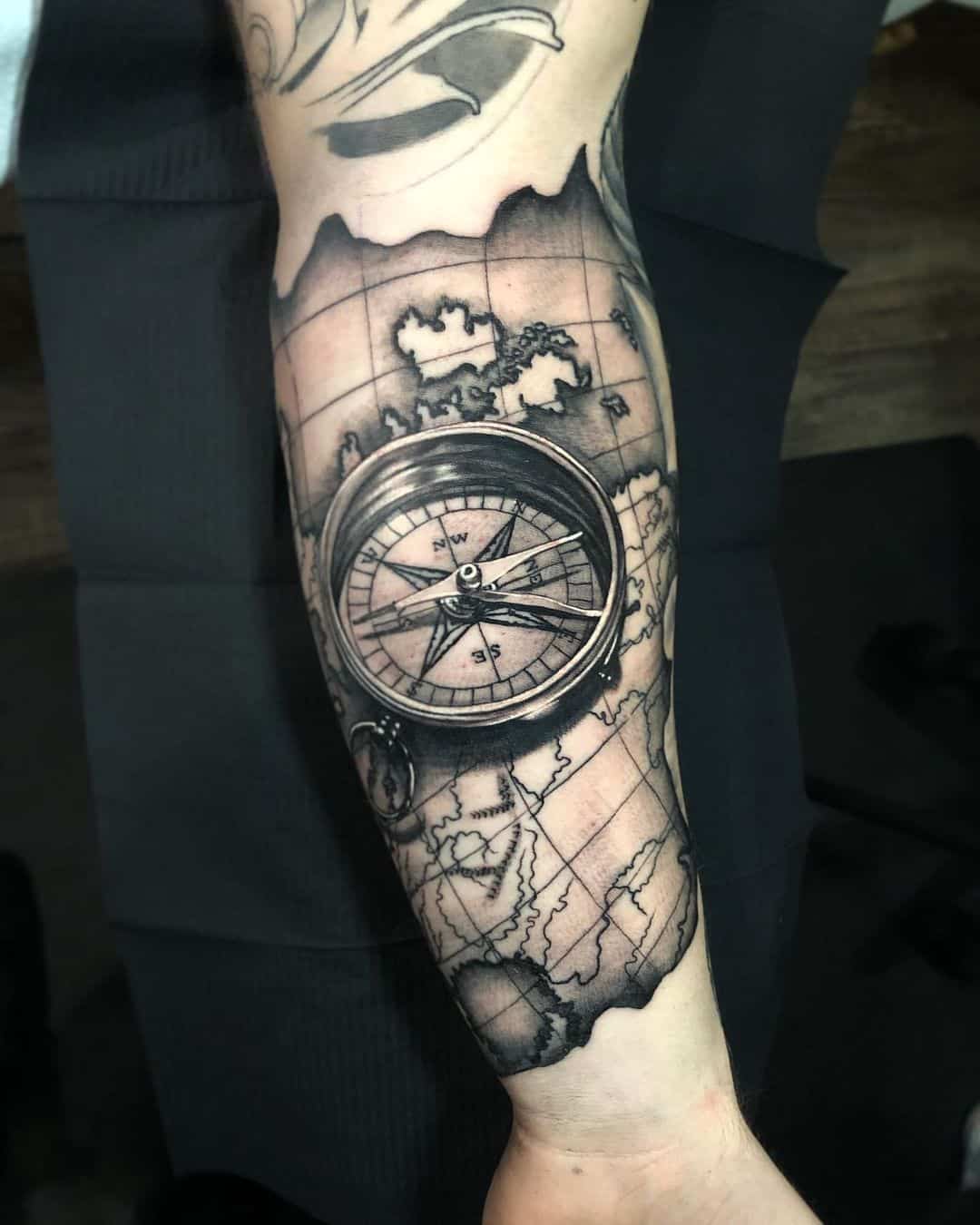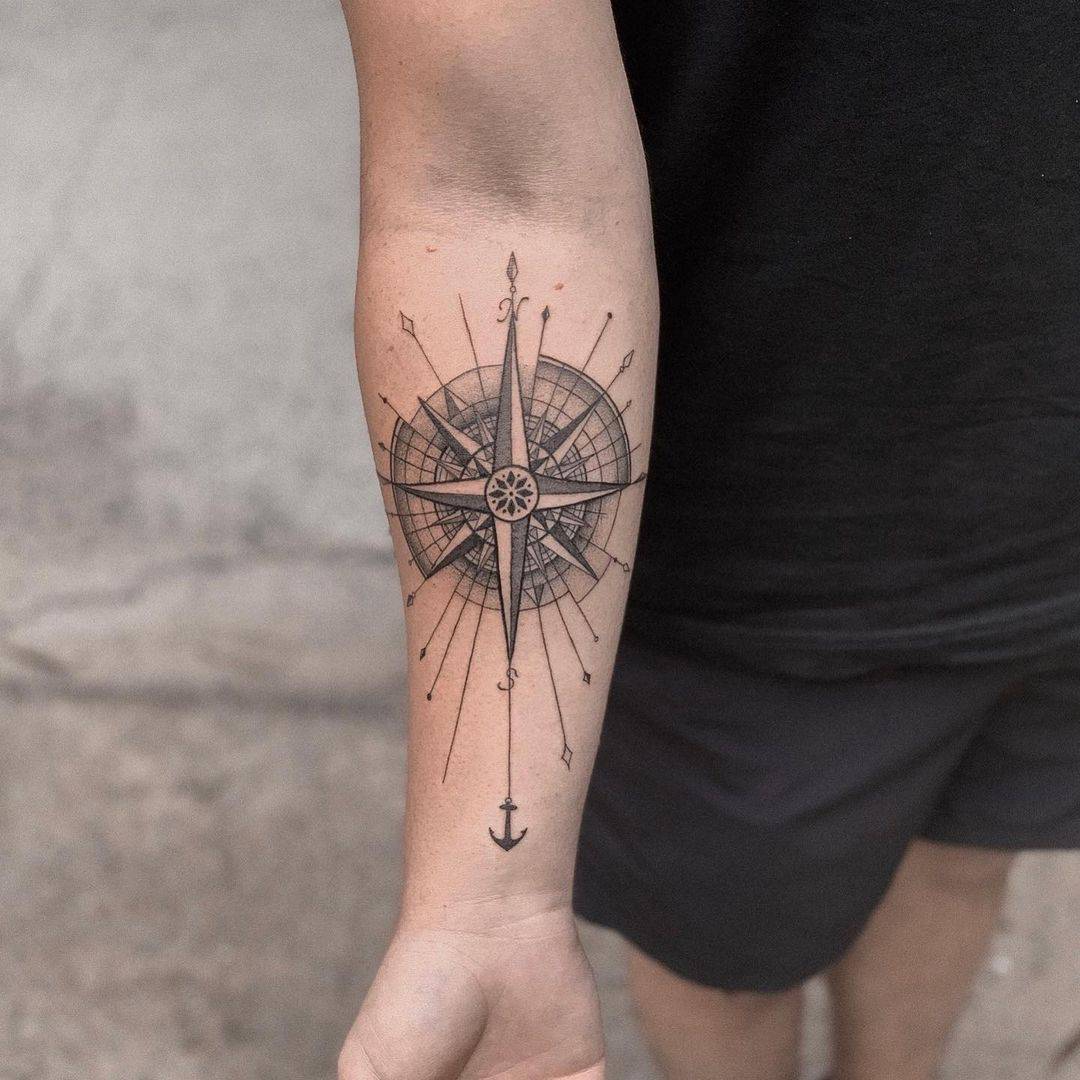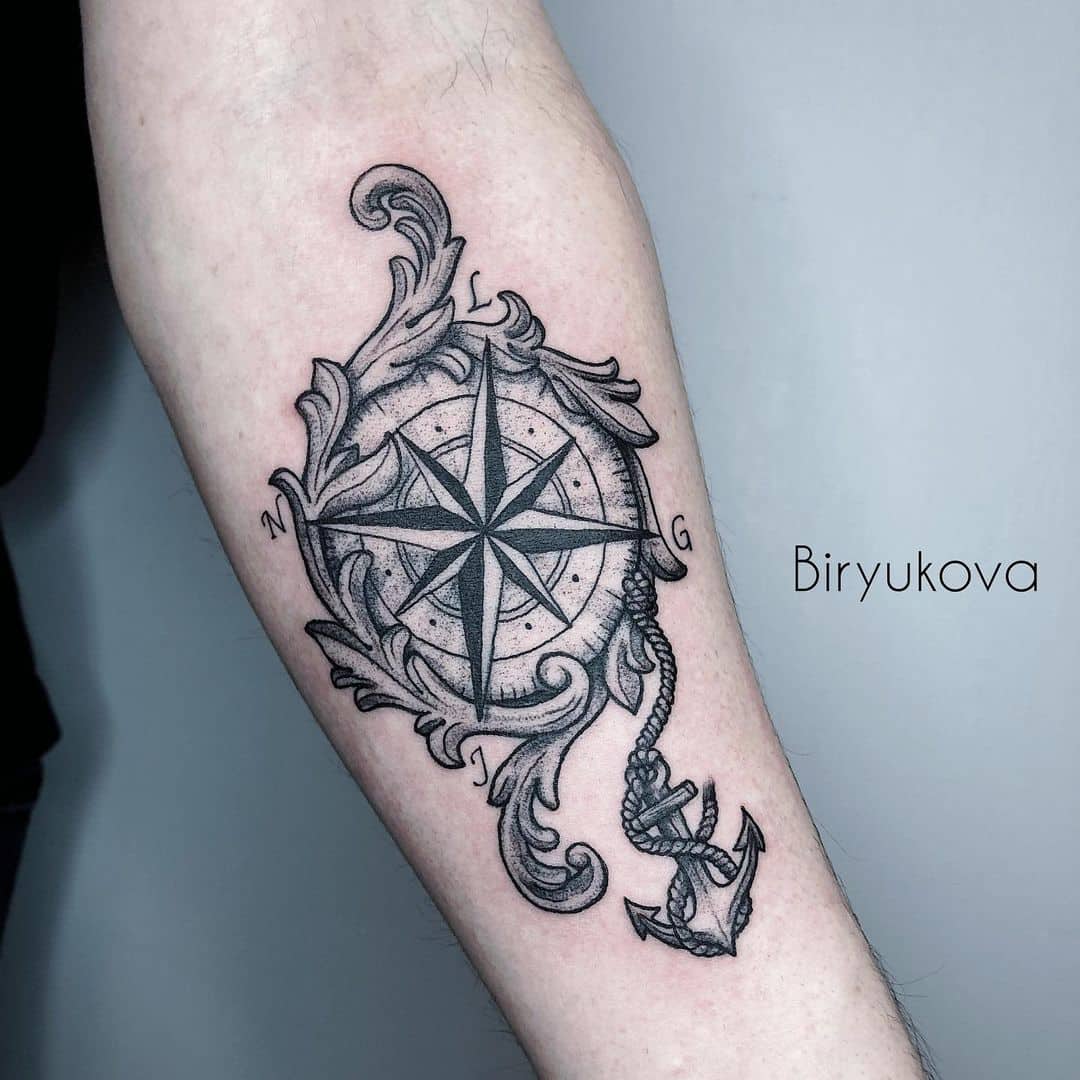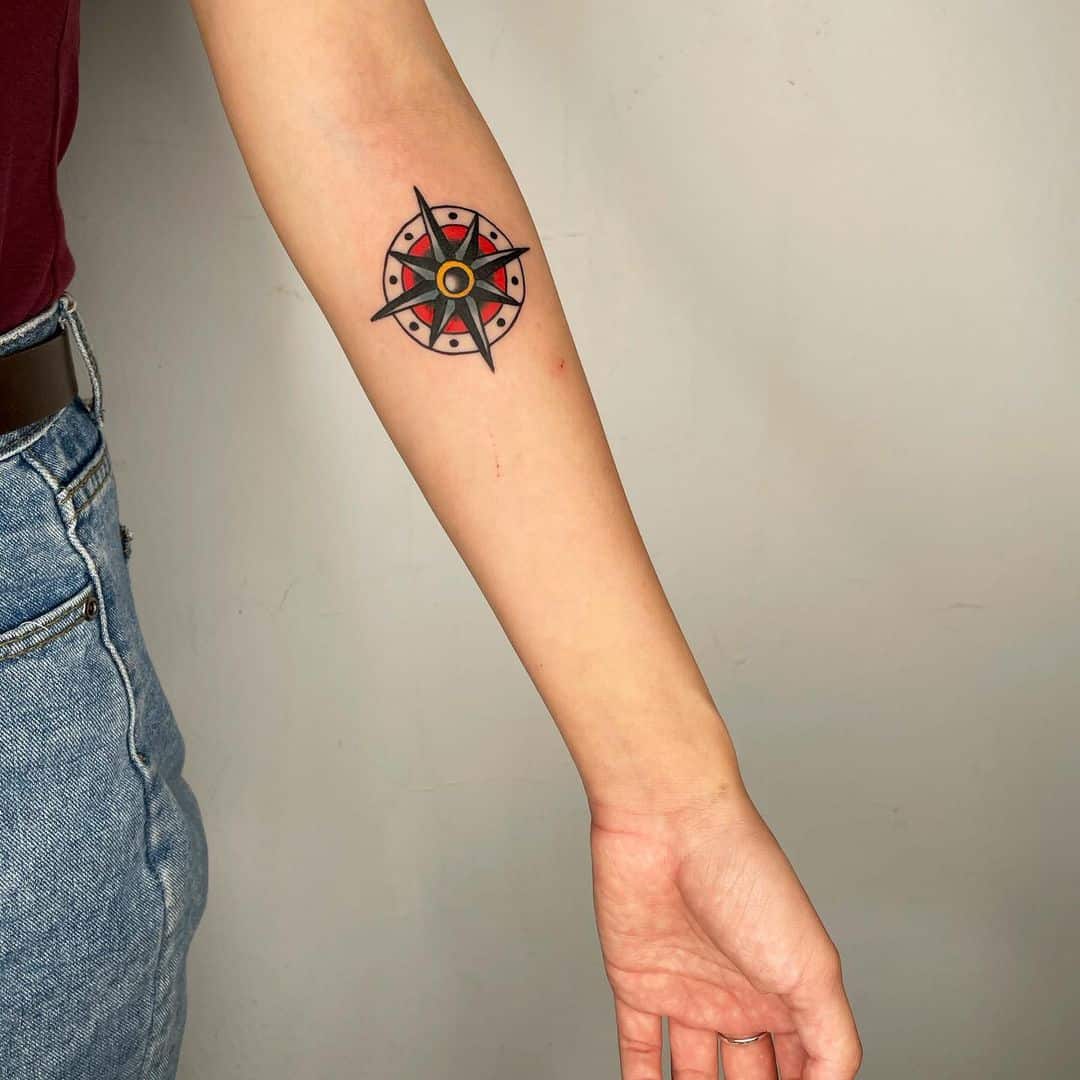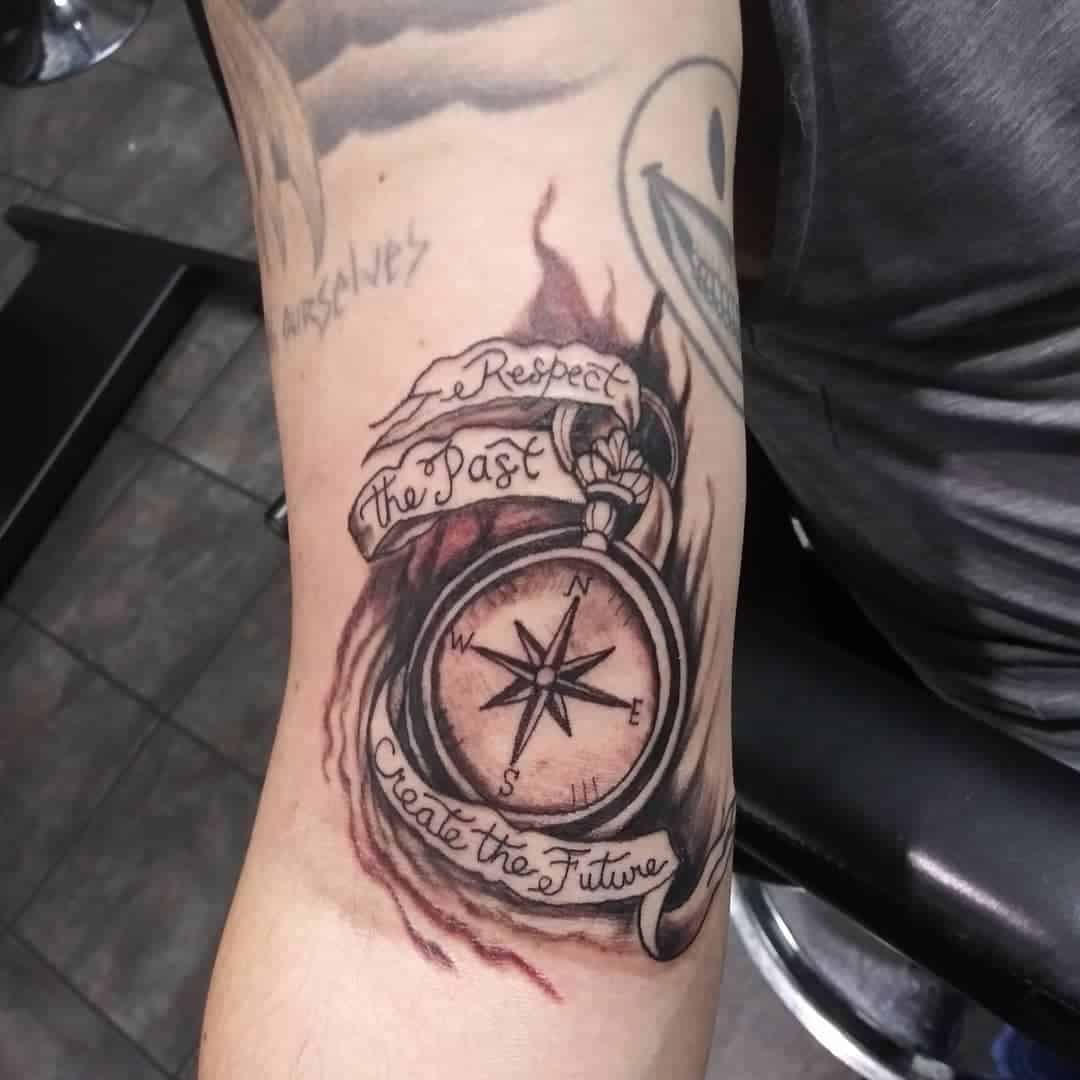 With a compass you can always find the North. But, it doesn't necessarily mean the actual north in this context. It's philosophical. Where are you headed in life? Have you found your goal or purpose, something that completes you? Or maybe you are still looking for it? Compass fits these philosophical questions perfectly.
18.  Vintage sleeve tattoo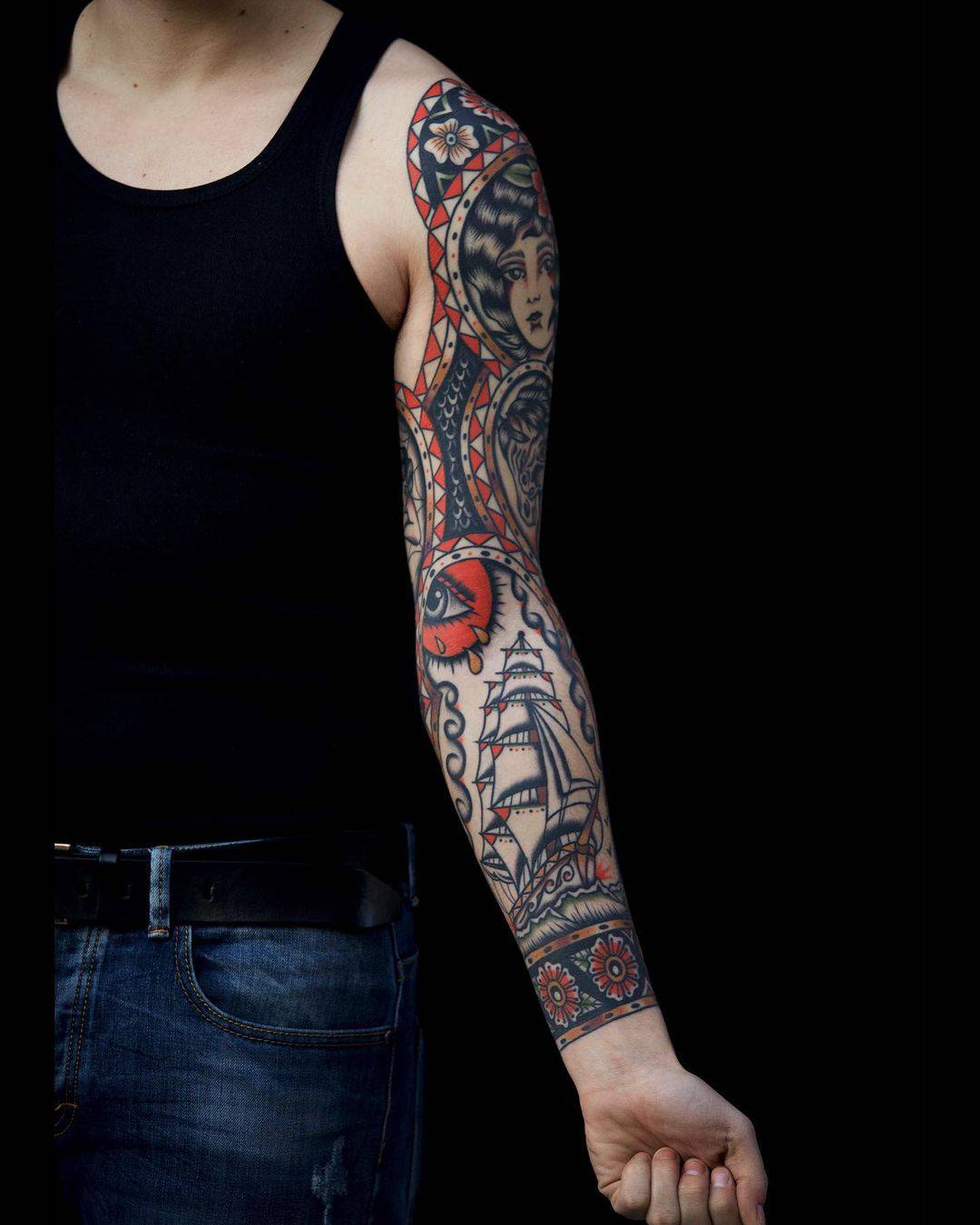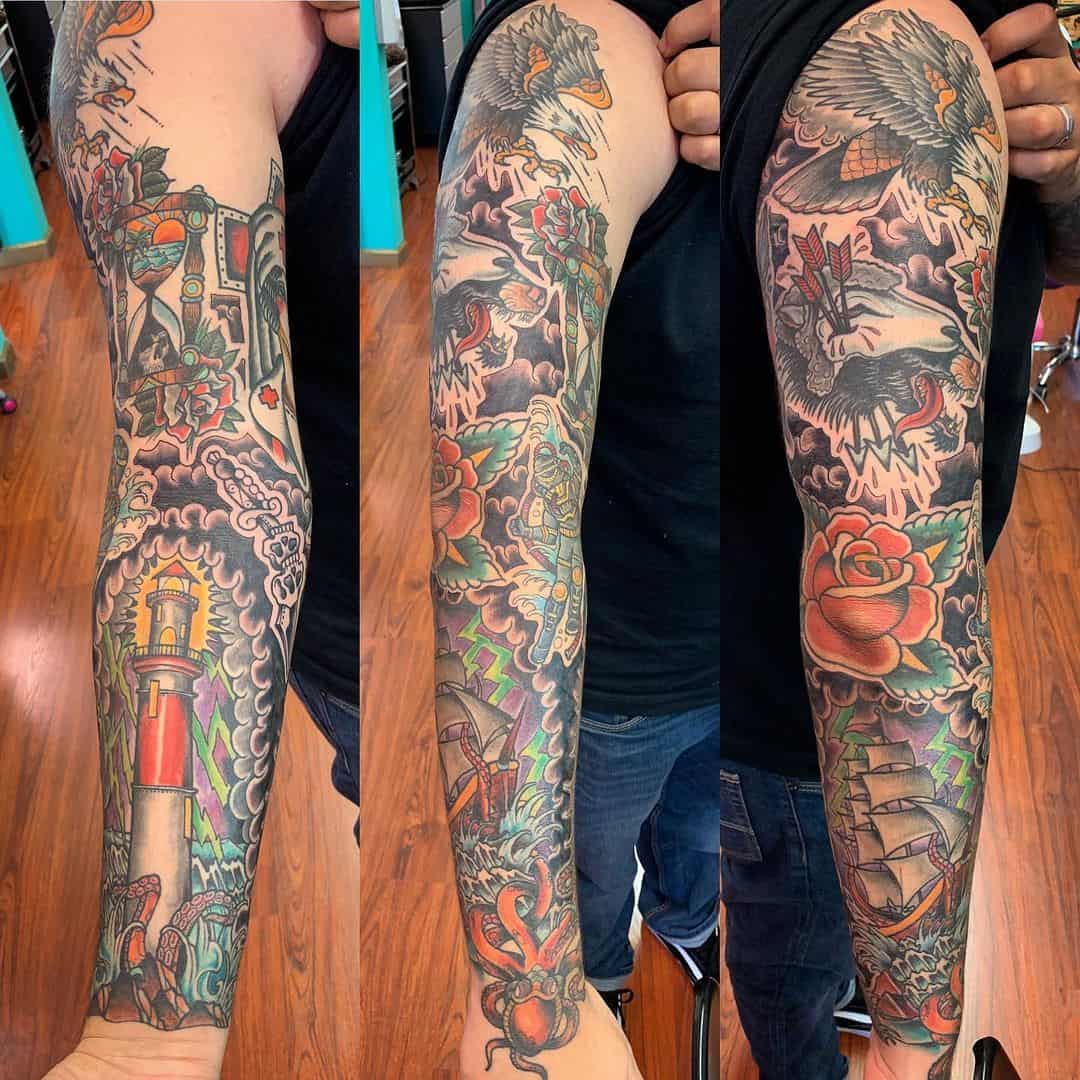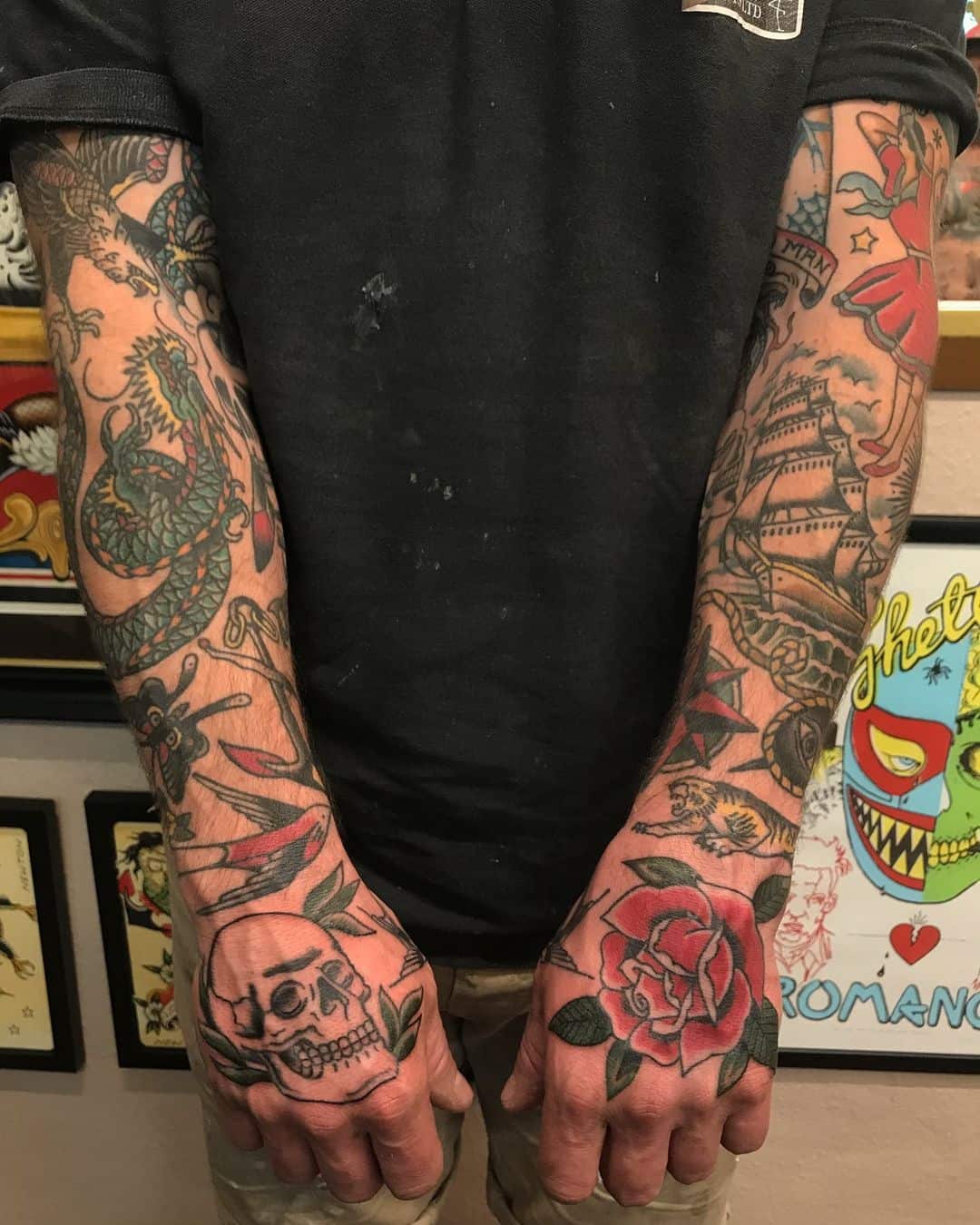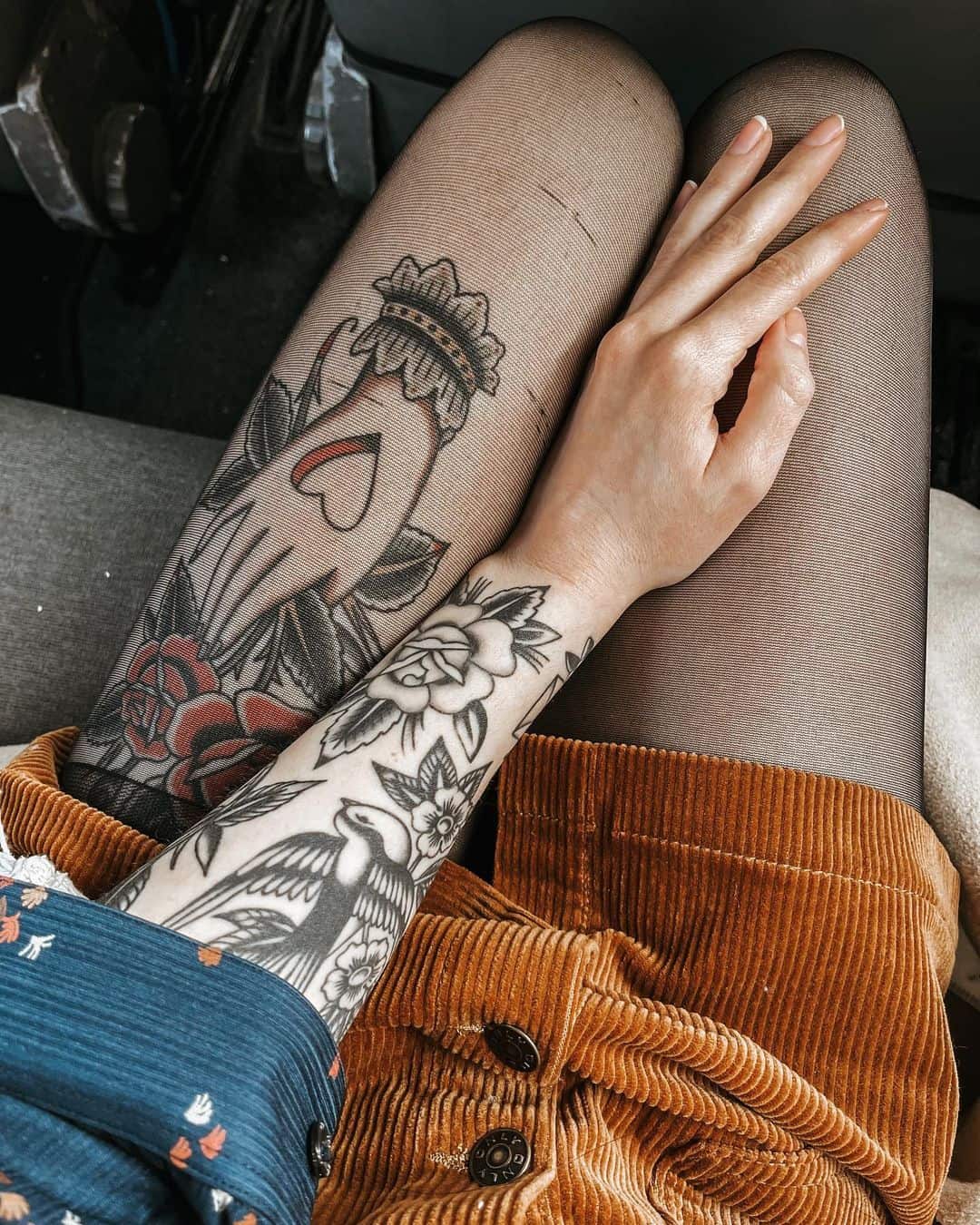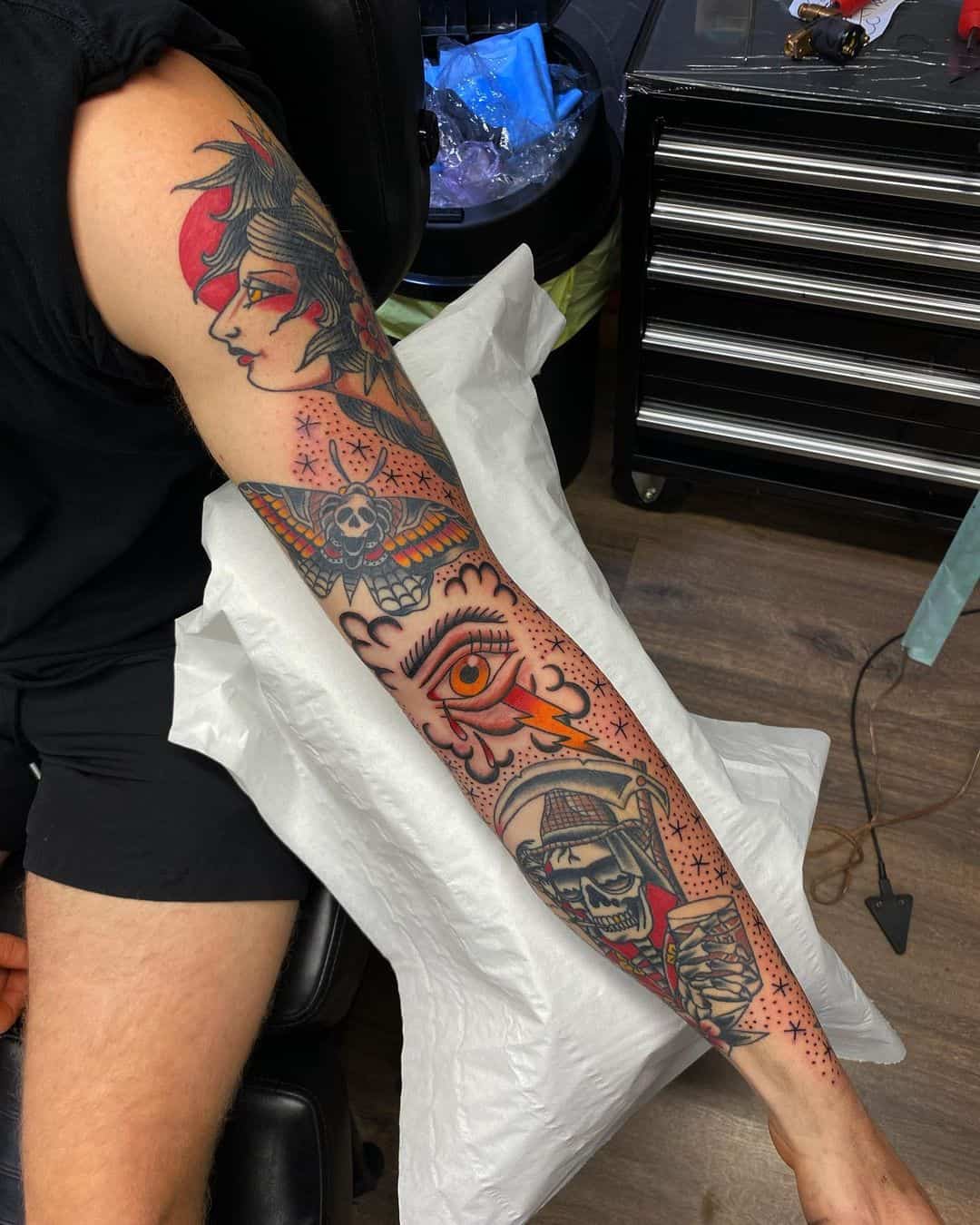 You're an edgy person who loves to stand out and do their own thing? A sleeve tattoo is a great option for persons like you, then. You see, a sleeve tattoo is a collection of individually styled pieces that cover your whole arm, or even a leg. These tattoos allow you to feature multiple vintage tattoos in one single artwork. You have tons of options here. For example, you can opt for vintage tattoos whose meanings match or you can choose the opposites to show different sides of your character.
19.  Vintage hot air balloon tattoo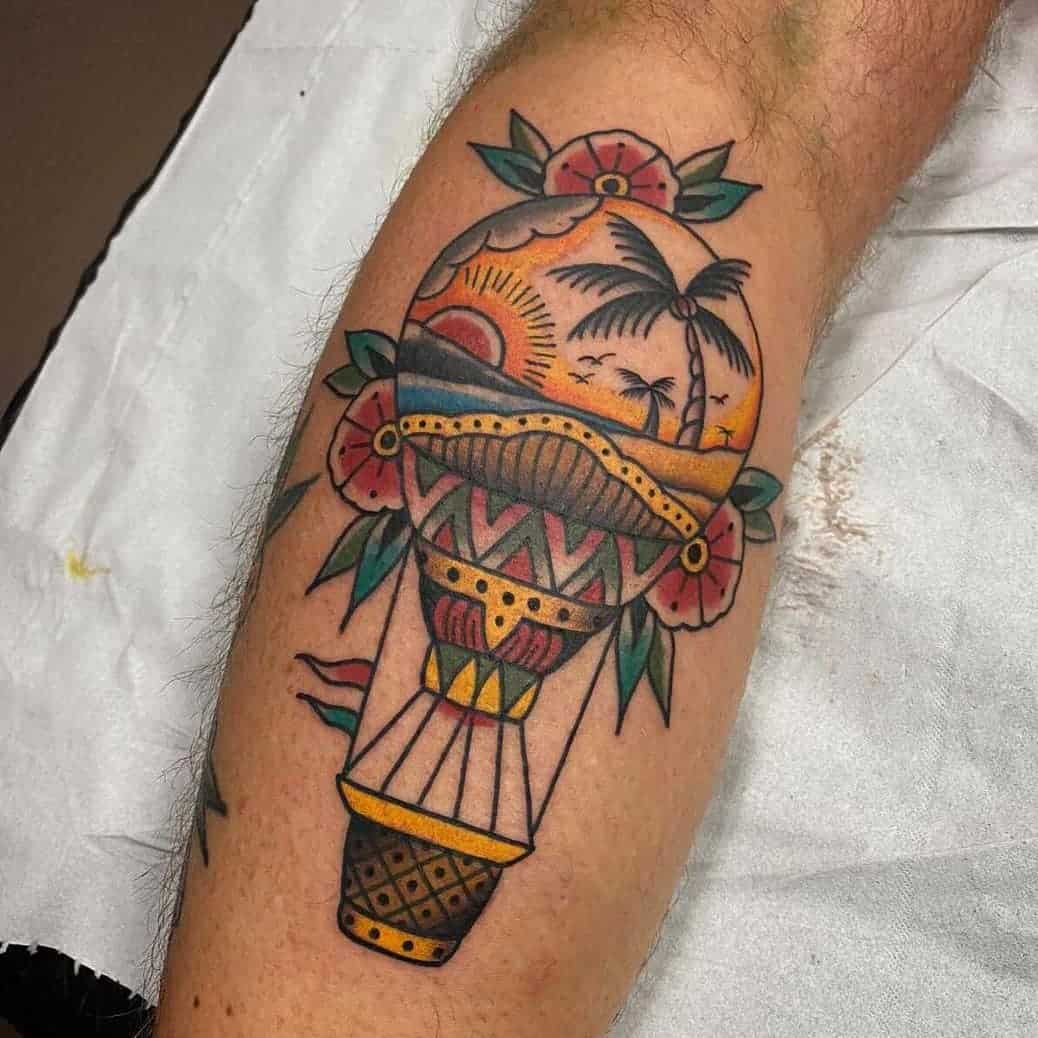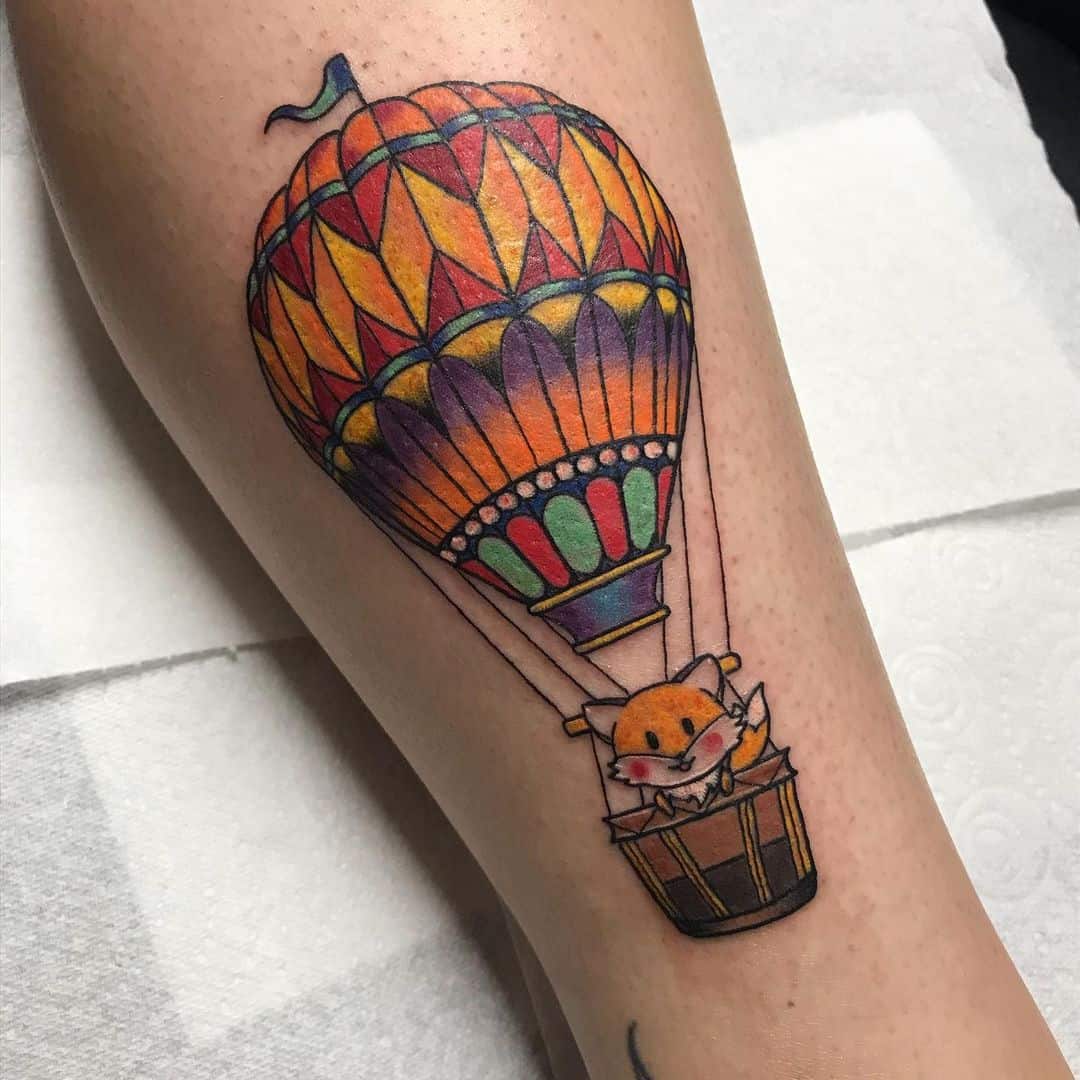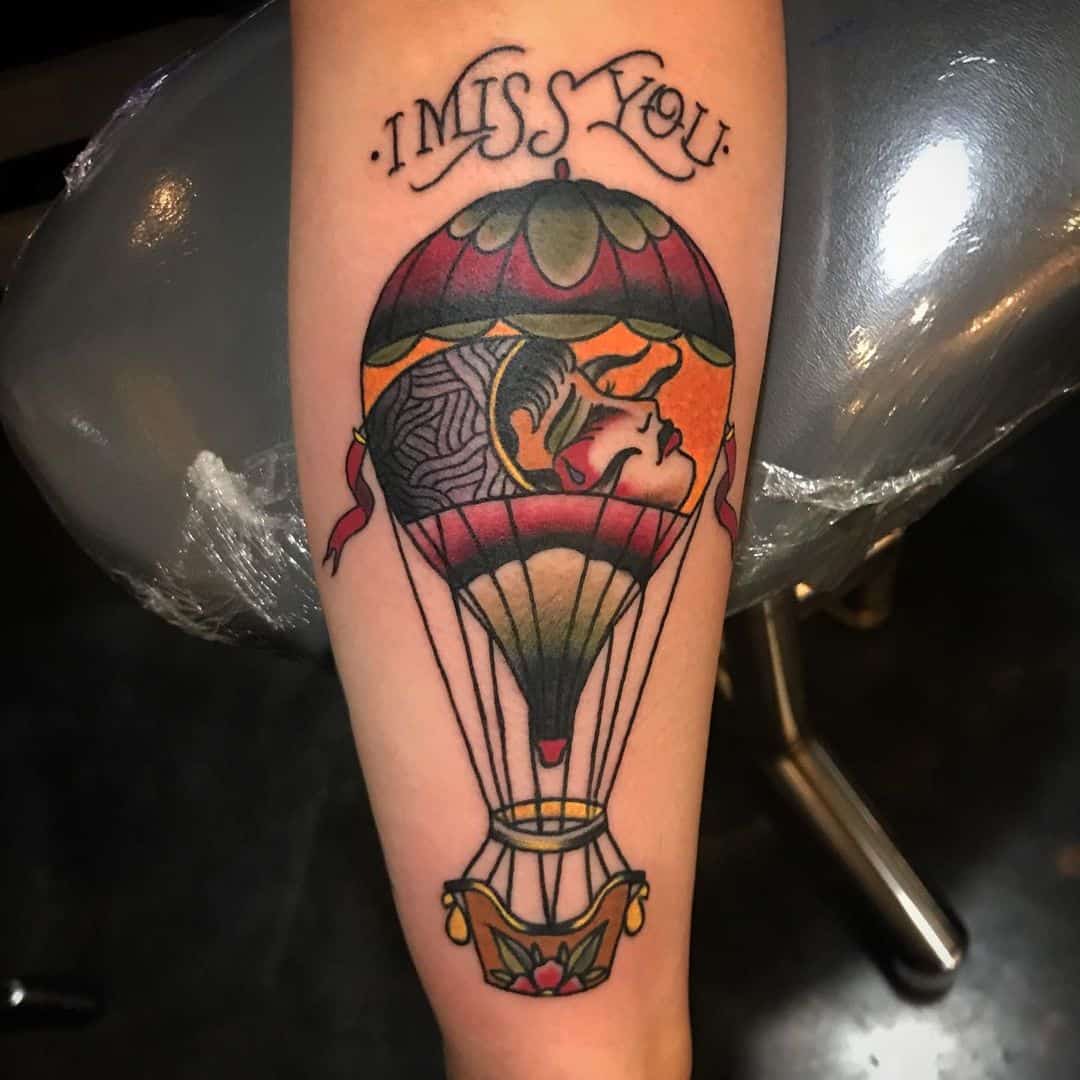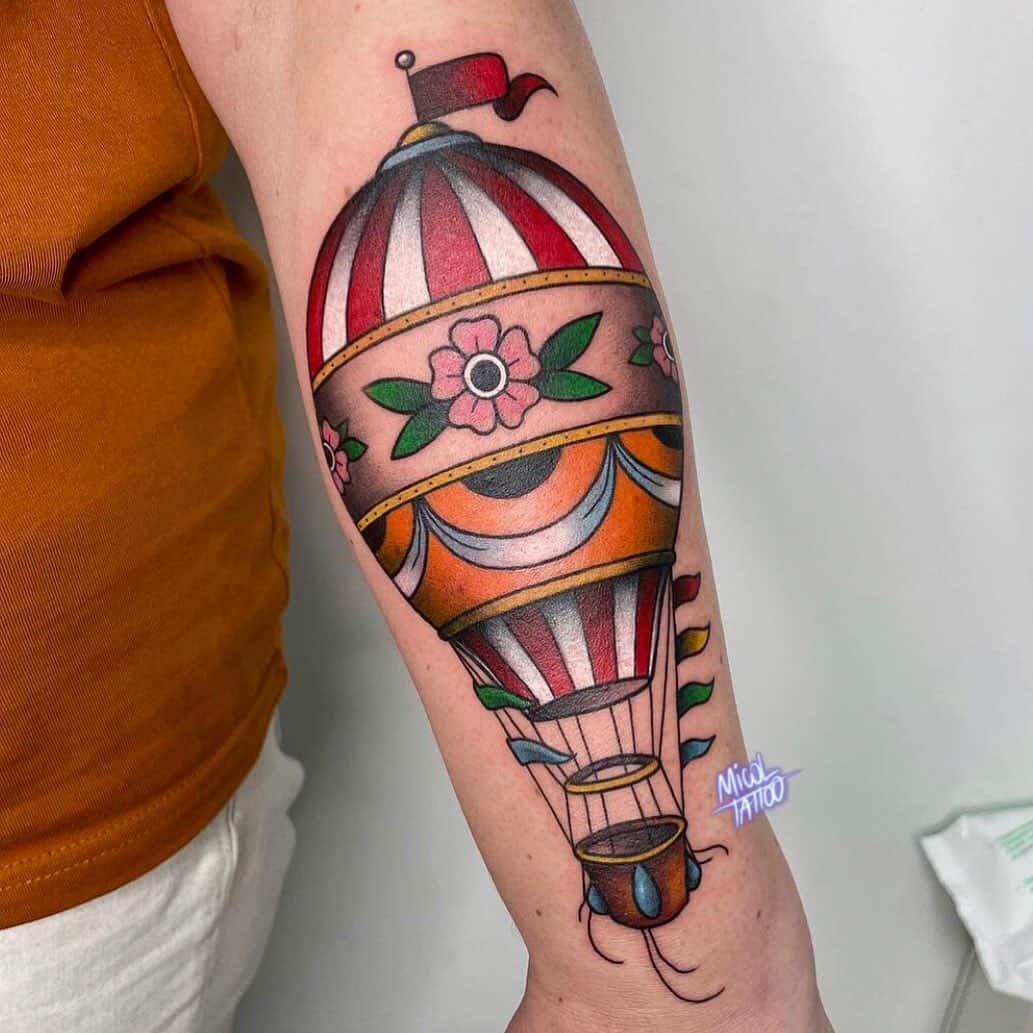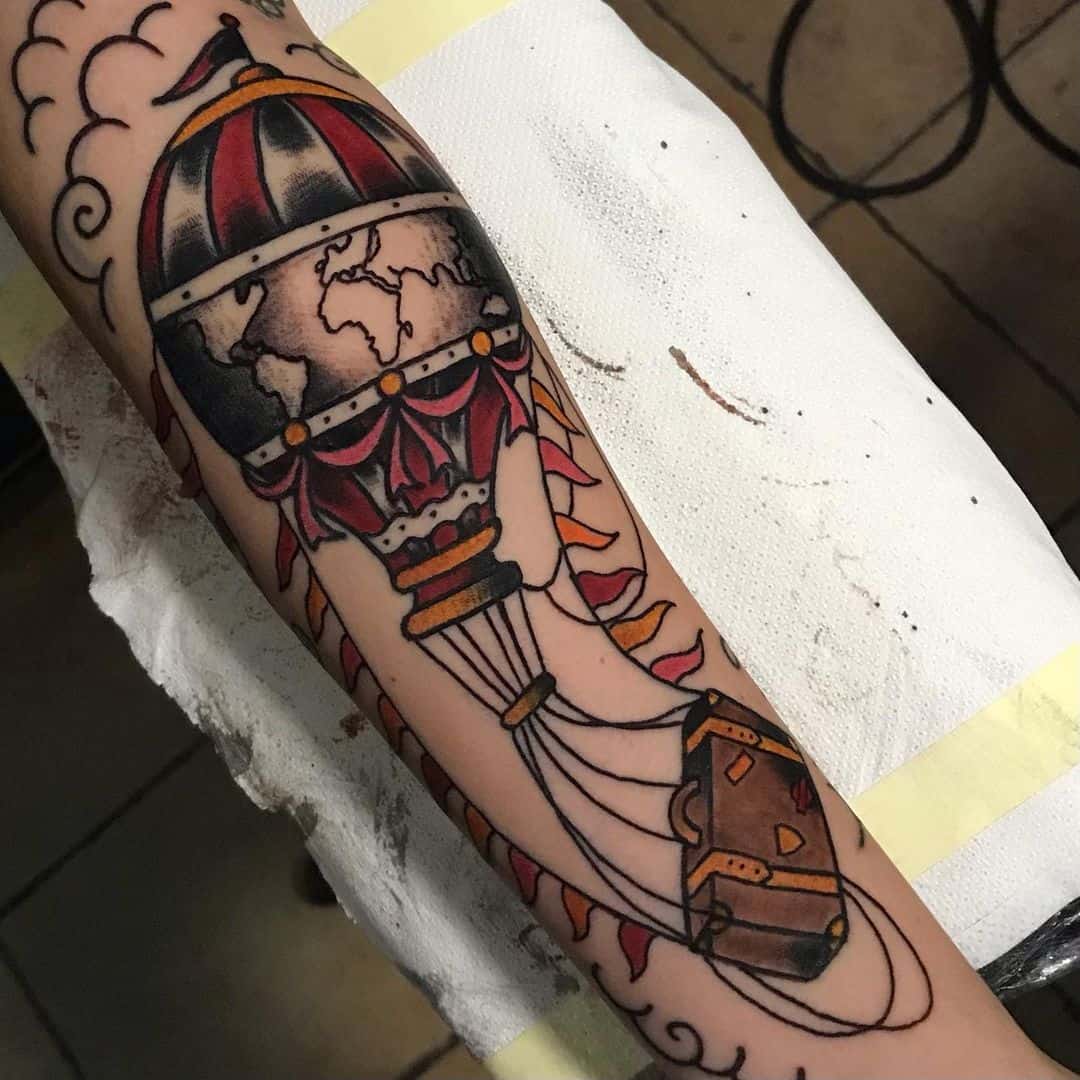 When you see a hot air balloon up in the air it's impossible not to smile. They are a pleasant and cheerful image. Life can be difficult, it's natural. But it's important to be optimistic and firmly believe good things will happen. A hot air balloon tattoo symbolizes an optimistic attitude and the ability to view the world (or things and certain situations) from a different perspective. Additionally, you can combine them with other vintage images. The balloon can act like a globe or feature a certain image you like.
20.  Vintage tattoo flash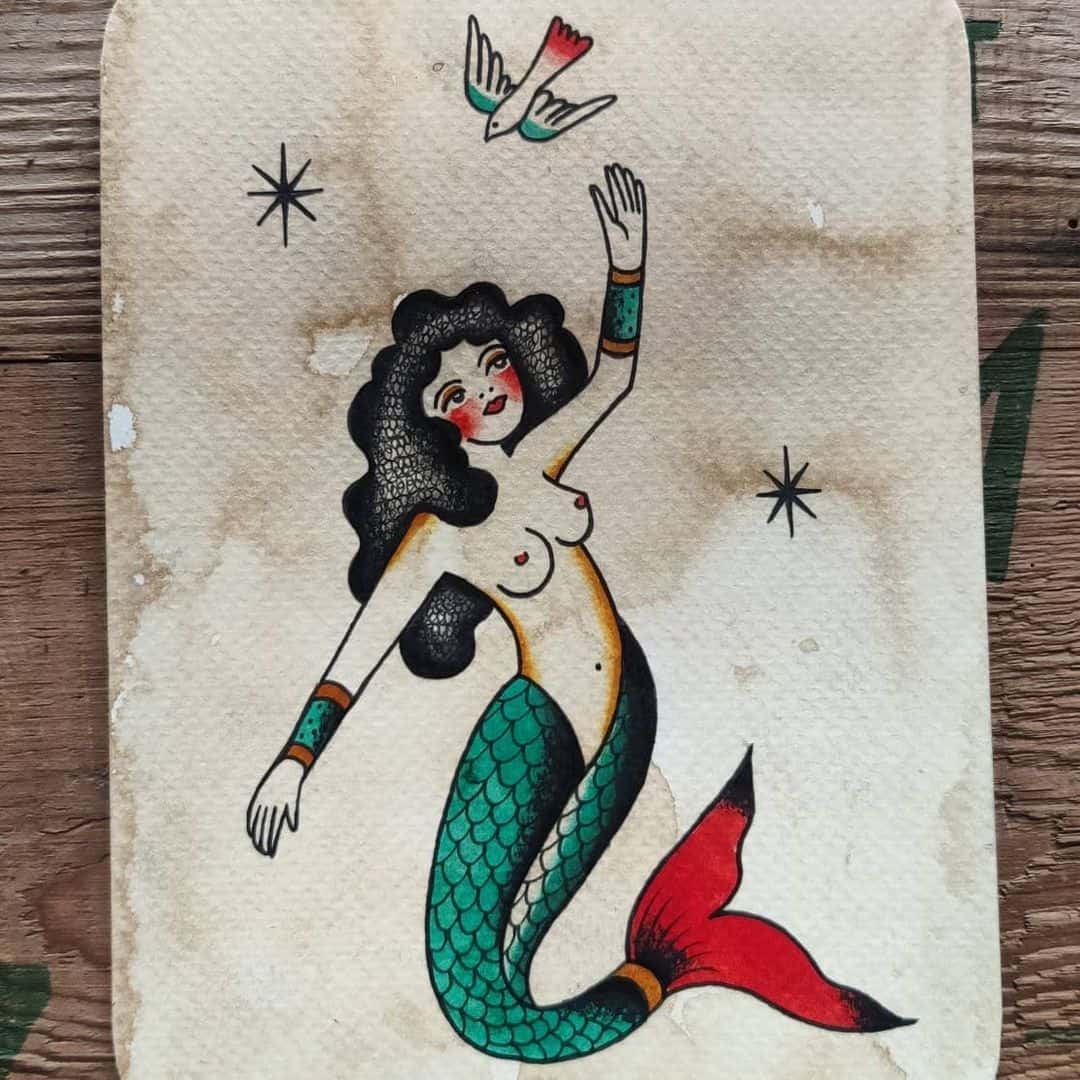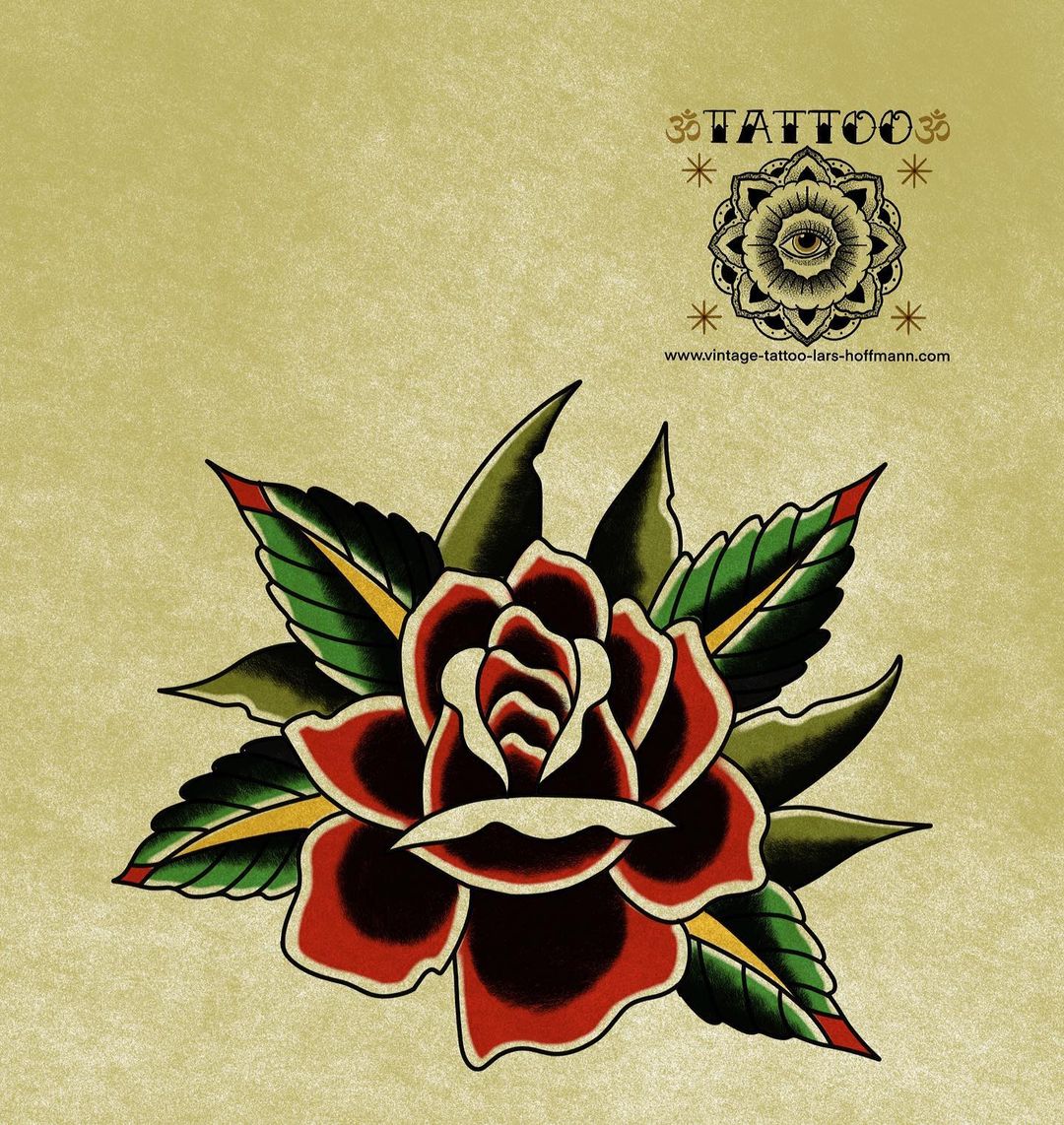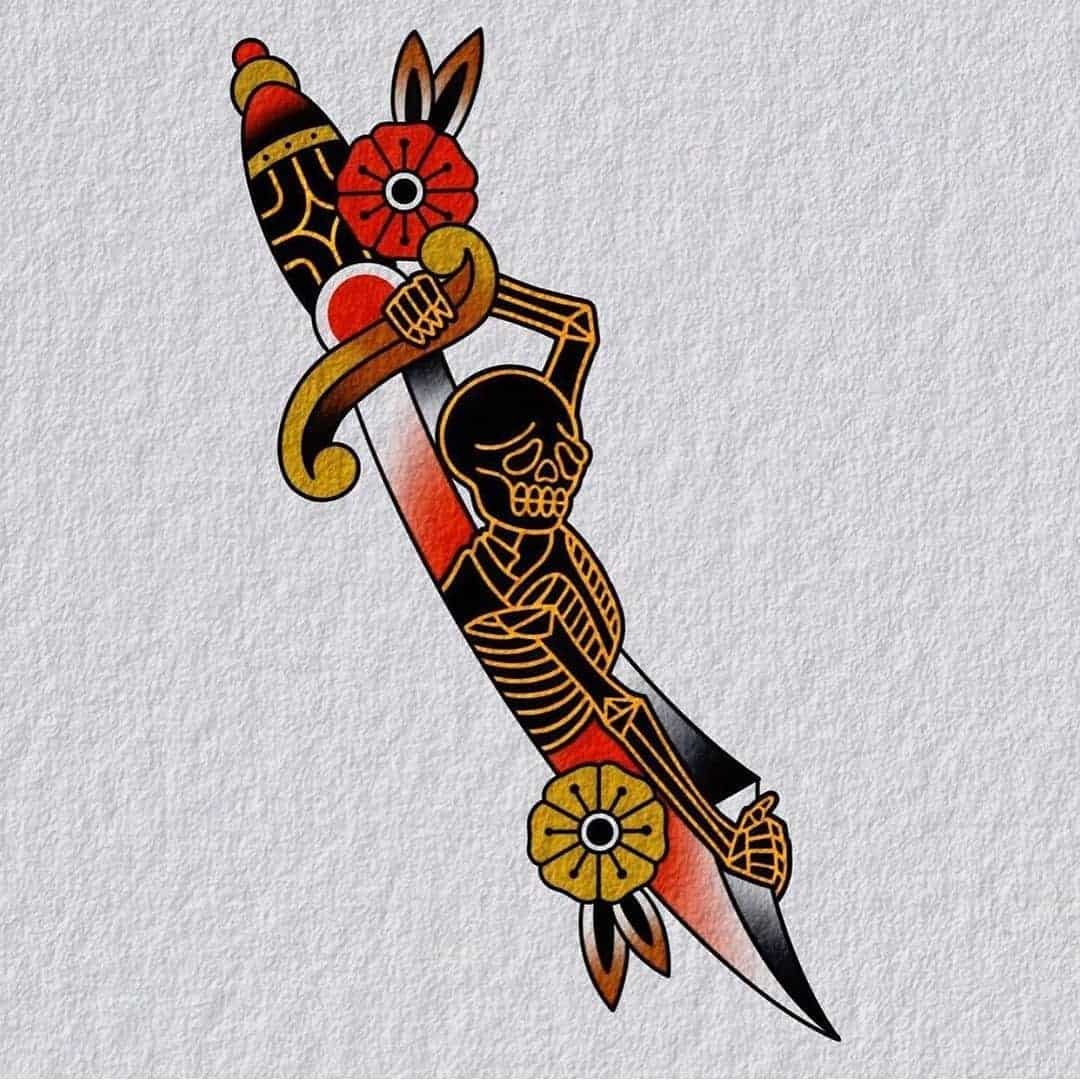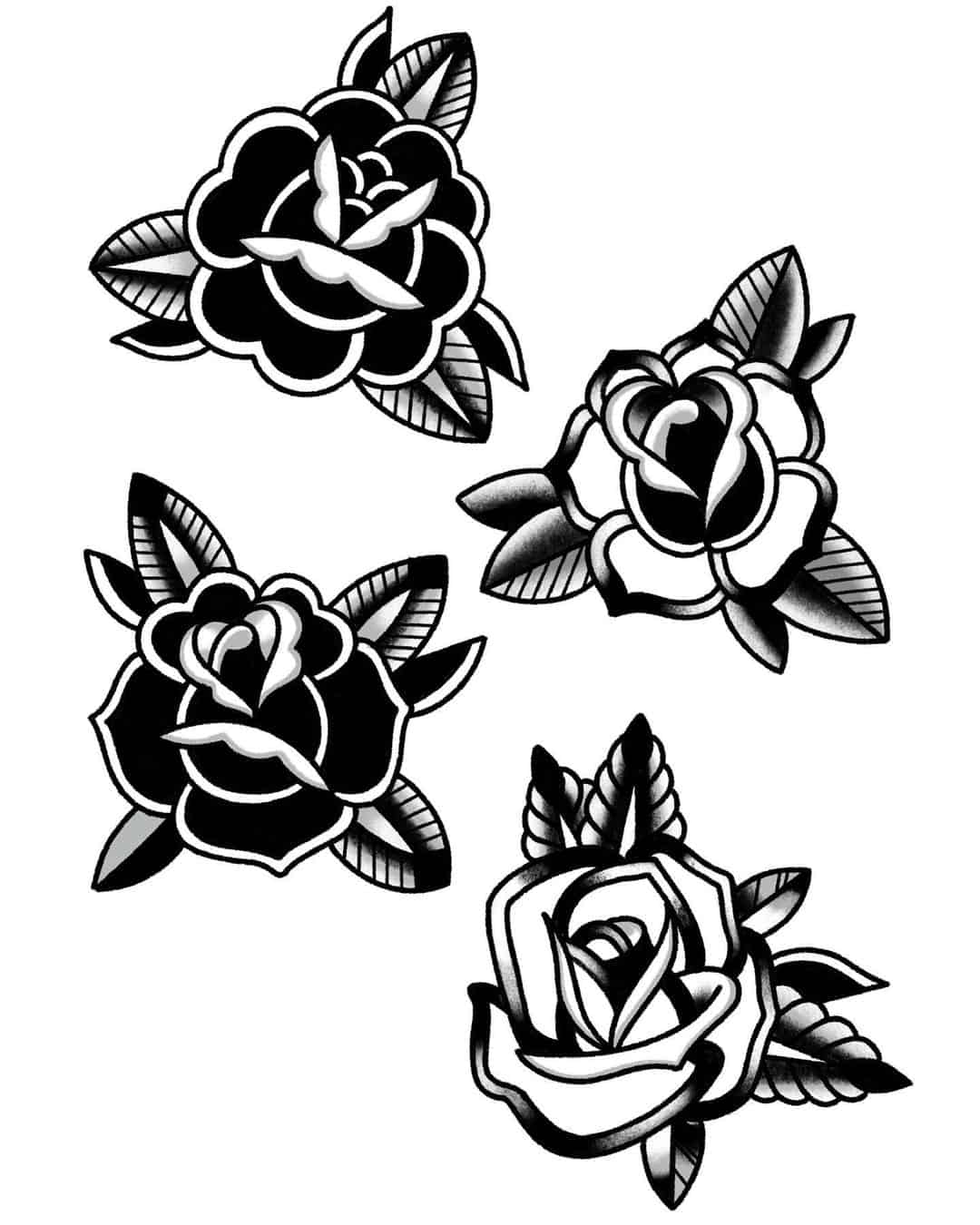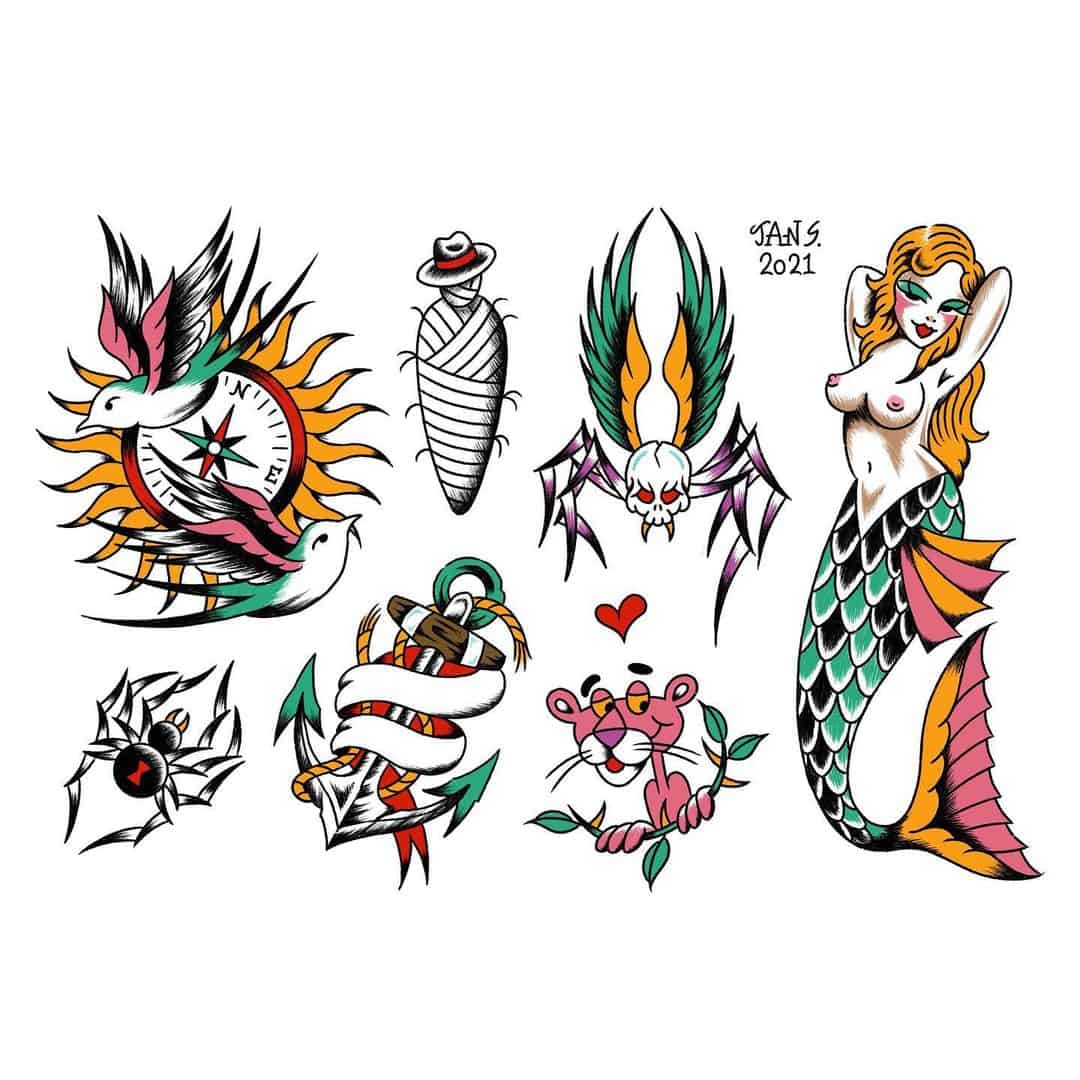 These vintage tattoo flash ideas can help you choose the perfect ink that everyone will admire. The best thing about these tattoos is that you can combine different imagery in a unique combination. For instance, a vintage compass tattoo can look great when combined with swallows or flowers.
Meaning of Vintage Tattoo
Every tattoo has its meaning and vintage ink is not the exception. However, the meaning here refers to special detail, style, or image tattooed on the body, not the term "vintage" itself. Of course, opting for a vintage tattoo could indicate your love for simpler times, but could also stand for bravery, and creativity. Throughout this post, you've seen some gorgeous designs and their meanings. But let's dig a little deeper and learn more.
Below, you can see some of the most common vintage tattoos and the meanings behind them.
Animal tattoos
Animals are popular motifs in vintage tattoos. Here is the rundown of some of the most common options and their meanings:
Swallow – sailors used to wear them. Swallows tend to return to the same nesting site even after traveling long distances and through extreme weather conditions. Sailors do too. Many sailors would get a tattoo featuring two swallows where one bird represented their way back home and the other symbolized sail. Multiple swallows symbolized the success of a sailor. Not only do swallows represent loyalty and return, but it was believed when a sailor dies at sea the swallow would lift their spirit to heaven
Shark – believed to protect sailors from dangers at the open sea. Sharks symbolize the "keep going forward no matter what" perspective of life
Owl – wisdom, mystical knowledge, and afterlife
Snake – warding off evil, rebirth (because snakes shed and change their skin)
Butterfly – beauty, reinvention, finding yourself, having a fresh start
Panther – power, strength, protective instincts
Eagle – power, leadership, freedom, good life perspective, and seeing things from different perspectives
Wolf – loyalty, resisting temptation
Nautical tattoos
The meanings behind some of the most common nautical tattoos are:
Ship – freedom, adventure, love for travel, and wanderlust spirit
Anchor – stability
Lighthouse – guidance, and comfort
Compass – stability, an ode to "what guides you through your life"
Bottle – treasured memories, people, and emotions
Flower tattoos
Each flower tattoo has its unique meaning. But generally speaking, flowers represent enlightenment, beauty, love, calmness, and other values such as growth. For example, peony tattoos symbolize abundance and good fortune. The Columbine flower depicts hope and faith while the sunflower is a symbol of abundance. A vintage rose tattoo stands for beauty and love, but sailors also wore them to symbolize the women they left behind. Sometimes a person opts for an individual flower, but in many cases, they opt for a combination of different types of flowers.
Dagger tattoo
The meaning of a dagger depends on the wearer. For instance, a dagger tattoo can represent brutality, but in some cases, it stands for strong willpower to stand up for yourself and fight for something you believe is right. Daggers usually come in combinations with other imagery details. For example in combination with a rose, a dagger tattoo means a person would stand up for the vulnerable. Dagger through a heart represents heartbreak (or being a heartbreaker) and betrayal. A tattoo with a dragon and skull indicates a wearer is bravely facing their mortality.
Other popular tattoos
Besides the above-mentioned, other popular vintage tattoo choices and their meanings include:
Palm tree – a desire for leisure time in a beautiful location
Sunset – newfound peace and embracing changes in your life (because sunset marks the transition from daytime to nighttime)
Skull – death and awareness everyone's time will come, accepting you will die someday, may serve as an inspiration to live your life to the fullest
Heart – love or soft spot for someone/something, being open about your emotions. Heart with a banner with someone's name represents deep love for that person. Hearts are also tattooed in combination with a dagger. This combination may indicate betrayal but also shows the notion people experience both romance and hardships in their lives
Arrow – hope, war or peace depending on design. Broken arrow depicts end of the fight while crossed arrows symbolize alliance. Arrows in the opposite directions represent revenge
Gypsy – wanderlust nature, spirituality, having a brave/adventurous woman in your life
Pin-up girl – strong feminine energy
Vintage Tattoo : More FAQs
Do vintage tattoos have to be big? I'd like a small one.
No, they do not. As seen throughout our guide, vintage tattoos vary in size. While big styles prevail, you can easily get a smaller and more demure look.
Do colors hurt more?
The colors of the tattoo have nothing to do with the pain or discomfort you may experience during the process. In other words, having a colorful tattoo doesn't mean you will experience more pain.
What is the traditional American tattoo style?
Vintage tattoos are usually referred to as old-school or traditional American tattoos. You can recognize these tattoos by the bold black outlines and a limited color palette. Besides black, these tattoos often include yellow, green, and red. Purple was added to the mix later.
How much vintage tattoos cost?
The costs depend on different factors, mainly the size of your tattoo. For example, the price for a small cross tattoo can range from $50 to $250. Medium-sized tattoos such as portraits can cost anywhere from $150 to $450. Big tattoos may cost at least $450. Of course, every tattoo artist has their own prices.
How long does it take to get a vintage tattoo?
Size and details tend to determine the duration of the tattooing process. In most cases, it takes four to six hours.