Most Valuable Antique Silver Spoons: Identifying, Valuing, And Buying (Ultimate Guide)
Have you recently come across some antique objects in your grandparents' old suitcase? Or maybe you love passing by antique stores, digging around aged pieces, and finding unknown treasures? If so, you might want to know what you have recently discovered and determine if these old collections can be coveted into significant cash.
Those who are passionate about antique spoons have a great chance of collecting genuine treasures. Truth be told, this type of hobby can be fun and easier to get started. In today's article, I have included a complete guideline to discuss the basics of collecting antique silver spoons, determining their value, and some great sources to sell and buy these antiques. So, without further ado, let's see what it's all about.
Antique Silver Spoons: More Than Simple Cutlery
Silver spoons have been around since antiquity, and these dining table elements have a much longer history than the table fork. Over time, spoons have evolved from portable eating utensils into something to serve different functions: measuring tea or condiments, basting meat, extracting marrow from bones, etc. Together with the rich history, these specific variations of styles have created a substantial collecting seam.
Unlike their cutlery purpose that emerged in the 18th century, single antique spoons are not purchased for use. Therefore, enthusiasts started collecting silver spoons by function, type, and decoration.
What Are Antique Silver Spoons?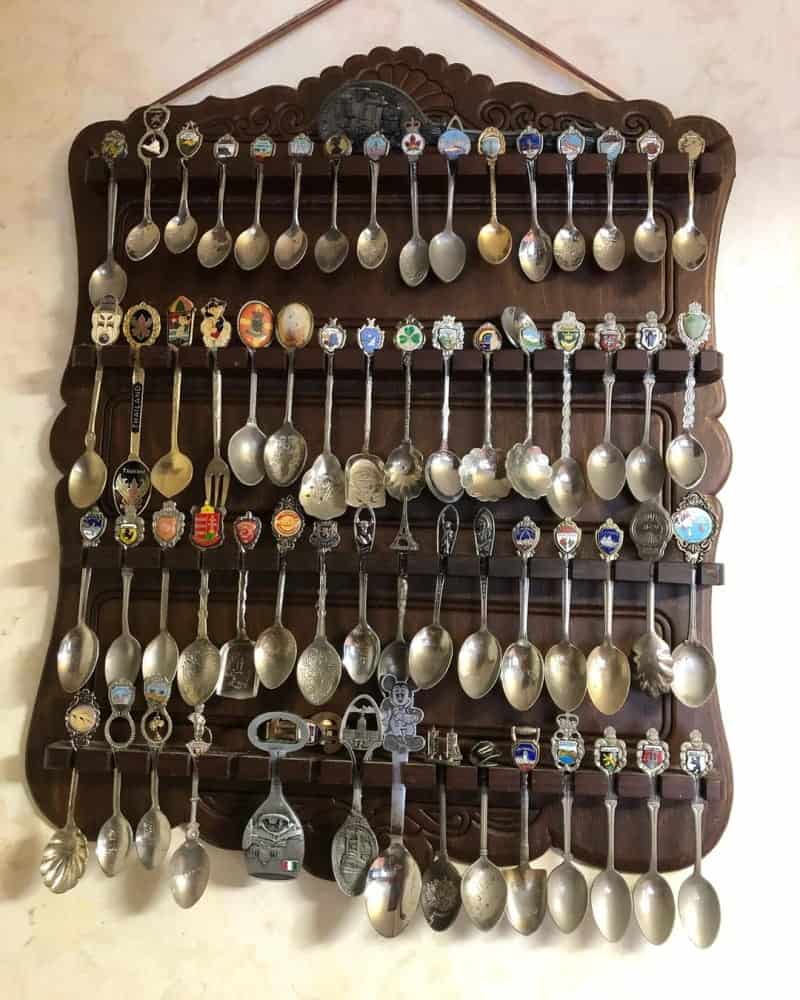 To be an antique, a silver spoon has to be made of sterling silver, and it has to be older than 100 years. In case you don't know that sterling silver is, well, let me tell you that it's a special alloy of silver, and metals, such as copper.
But how do you know a spoon is one hundred percent antique and valuable? The following chapters collect all the information you need about precious silverware and the main signs that tell a spoon are genuinely antique.
Identifying Valuable Antique Silver Spoons: Guideline
There are few things passionate people can look for when trying to identify if their sterling silver spoons are antique or not. Here are the most common ones:
Hallmarks
When it comes to verifying antique spoons, hallmarks can be very helpful in telling their value. A hallmark represents the official stamp on silver, gold, and other precious metals, impressed by an assay office that certifies their standard.
Here is a complete guideline with hallmark particularities I find truly helpful. Some hallmarks can display a lion passant, a harp, or Britannia. Most common silverware hallmarks you will discover on antique silver spoons:
EP (stands for electro-plated)
BP (means Britannia plate)
EPNS (a standard formulation of 60% copper, 20% zinc, and 20% nickel. EPNS stands for Electro Plated Nickel Silver)
EPBM (Electro Plated Britannia Metal is used in the UK and contains 5% antimony, 93% tin, and 2% copper)
Tip

Antique silver spoons marked E"PBN" or "EPNS" are silver-plated and not solid silver.  Hallmarks are also an excellent method to date silver spoons. Thousands of years ago, between 1272 and 1307, Edward decreed silver items should be 92,5% pure silver and introduced the requirement of a hallmarking system.
Markings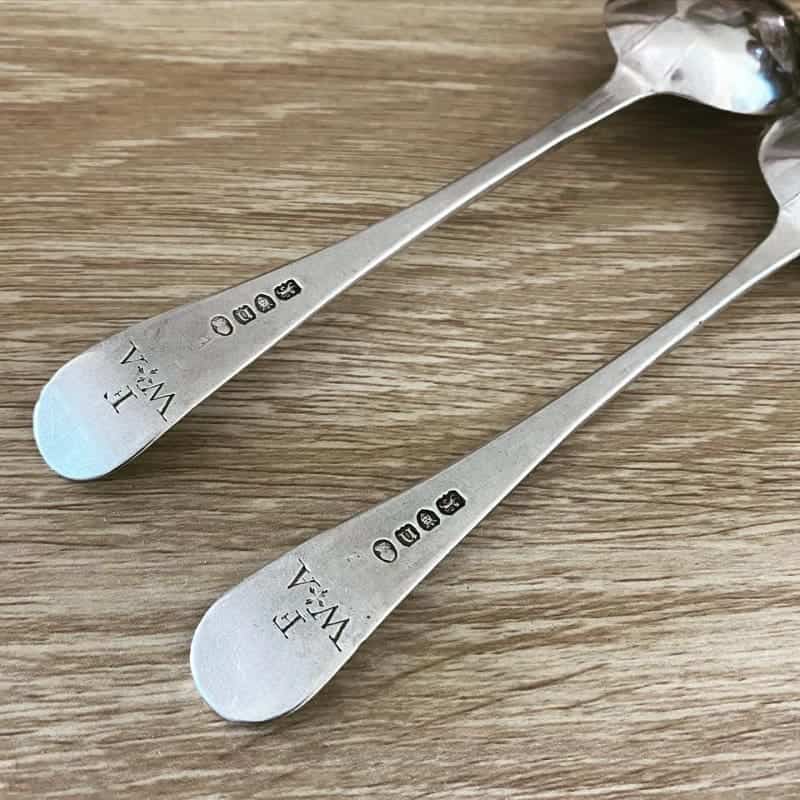 Particular markings attest to antique silver spoons' authenticity. The location of these marks will vary. However, antique silver spoons have specific markings, usually displayed on the back of the handle or below the bowl.
Markings on antique silver spoons are also an essential indicator of the material's purity (sterling, .925 or .900), sometimes a date letter and the maker's mark. The sterling mark is mostly an anchor, or a lion passant (the British one).
The more uncommon is the marking on silver spoons, the more valuable they are. Particular  spoons come with a tiny tree (the Birmingham assay office mark) or the London import mark (a leopard's head). You may find some initials on your spoons (quite difficult to decipher), which represent the maker's mark, and date letters (but very rarely).
Shape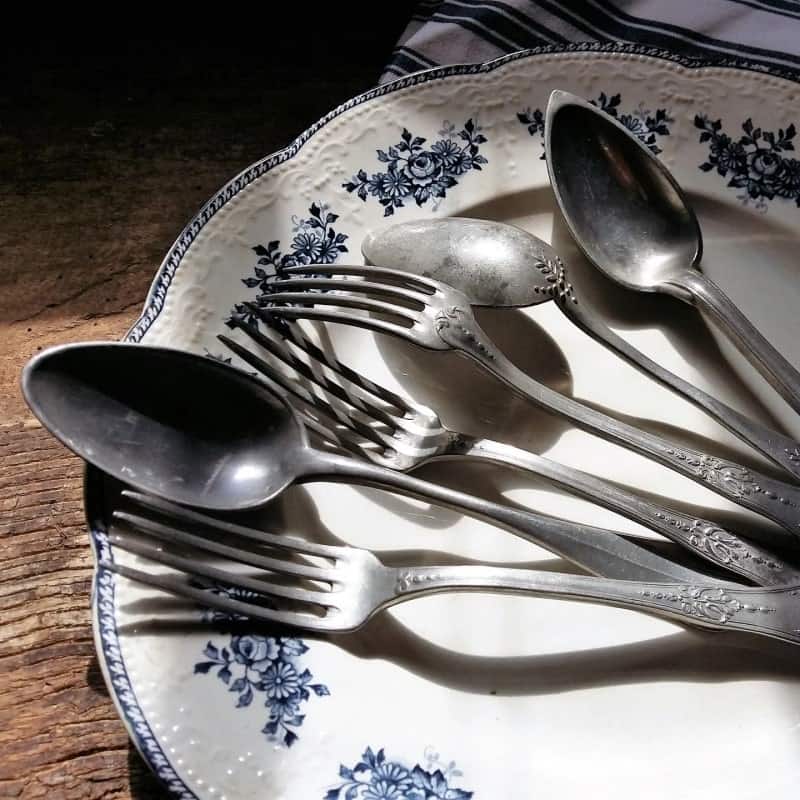 A great indicator to tell the value of an antique silver spoon is its shape. Collectors should always pay attention to the proportions of their antiques. Up to the 18th century, spoons were designed from two pieces – the bowl and the stem – and then put together. After this period, spoons were made of a single sample. Therefore, a two parts spoon is likely to be an antique specimen.
Here is a beautiful example of a genuine antique spoon.
Age, Maker, Condition
The value of an antique silver spoon is also based on additional aspects, such as the age, maker, and state of that object. Let's not forget about the type of metal (silverplate or sterling silver), which is an essential indicator of value. Some general guidelines to estimate the antique silver spoon values easies would also be:
Sterling silver spoons dating back from the early 1900s may be worth hundreds of dollars
Silverplate spoons, on the opposite, might be worth a few dollars and nothing more
Best-made sterling silver spoons are more expensive than mass-produced ones
Patterns can affect the final price of an antique silver spoon (look at this gorgeous one)
Another good way to check the value of your silver spoon is by uploading an image with it on Google Images. Google will return similar existing photos so that you can check the differences or similitudes. If it does not return any pictures, you should consider going to an antique dealer.
Most Popular Types Of Antique Silver Spoons
When the spoons' functionality evolved, they also became more diverse. Therefore, collectors have gradually specialized in a particular specimen of the antique silver spoon rather than having a versatile collection. These are the most popular types of silver spoons. If some of your samples have similarities, they might be genuine antiques.
Sterling Silver Spoons
So, sterling silver is a precious metal that is quite common in making tableware, jewelry, and lots of other decorative items. Ancient Greeks firstly used this type of silver, a mix of 92.50% pure silver and 7.5% copper. Antique sterling silver spoon collections are popular among passionate because they are rare and look simply beautiful. Check these designs:
Coin Silver Spoons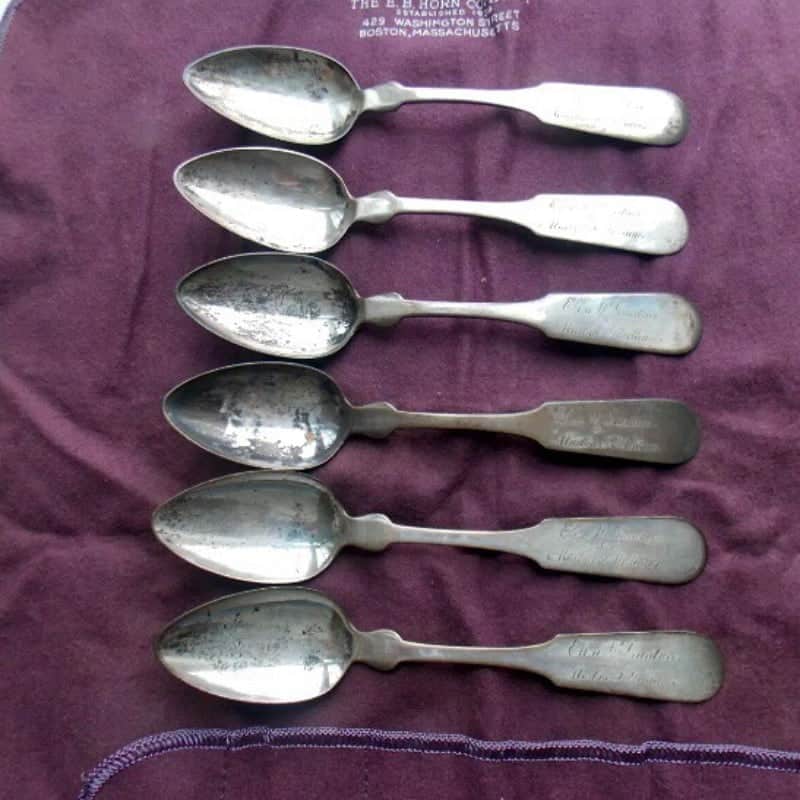 Coin silver spoons are historical elements with a fascinating character. This silver type was first used in the 18th century United States. Coin silver means 90% pure silver, while the rest is copper. The name describes the making process of melted-down coins. Such a unique method, isn't it?
Gold-Plated Spoons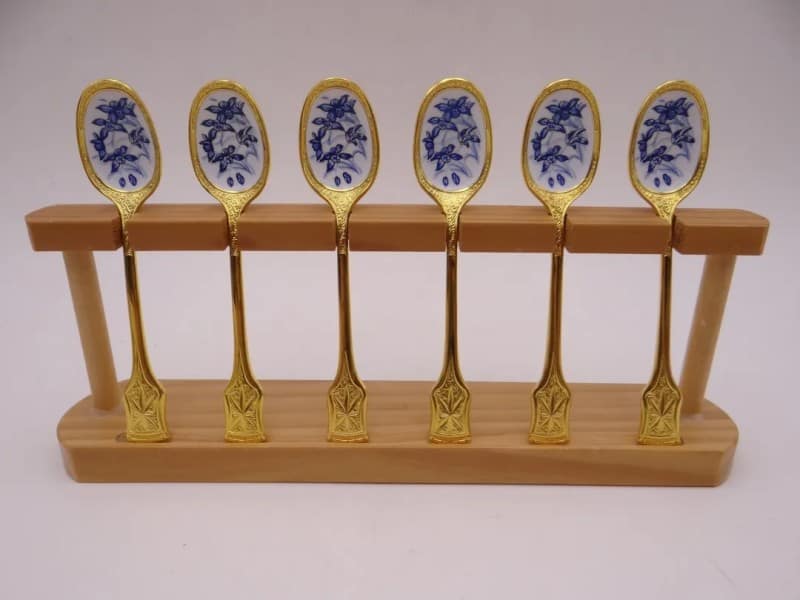 Gold-plated means a silver spoon that was covered with a thin layer of gold. Gold-plated spoons are more likely to be vintage than antique and, therefore, less valuable. Even so, they can still improve your collection. However, make sure to research and find genuine specimens.
Sheffield Plate Spoons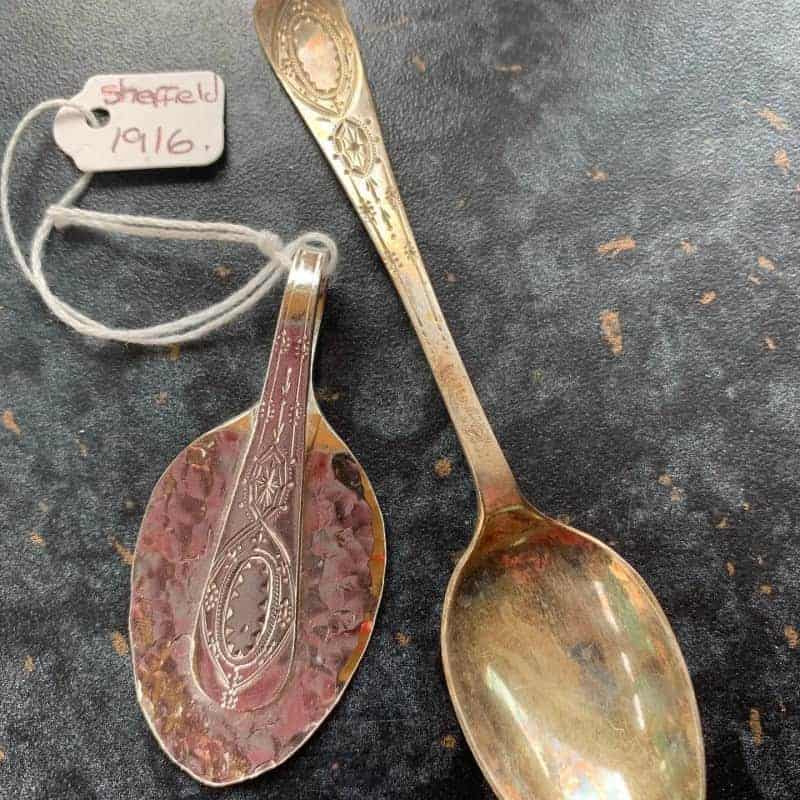 Sheffield is a plated silver firstly crafted in the city of Sheffield, England, back in 1742. This material is made up of brass and copper, and it is popular in making tableware and other decorative items. These spoons, the original ones, are rare and look stunning.
More Collectible Silver Spoons
There are lots of other types and shapes of spoons beside the list above, so make sure to include these silver spoons too:
Personal opinion: If you are passionate about starting a new silver spoon collection, do your research first. This way, you can find exactly the type of antique spoons that could meet your interests.
Remember, there are lots of styles, each with its particularities. Hence, the vast amount of silver spoon models is a daunting activity, especially for novice collectors.
Therefore, a little research is always wise to do.
How To Collect Silver Spoons Like A Pro?
There are actually a few tips you can consider if you really want to be as professional as possible. Let's check them all out.
Collecting By Dates
One of the easiest ways to collect antique silver spoons is by date, especially for a novice collector. Focus on a particular time frame, like Georgian spoons or specimens from the 18th century.
Collecting By Origins
Collecting by origins is actually straightforward and a starting point for many passionate. Like Leeds, York, Chester, or Norwich, some sources will command more expensive antiques as production stopped in 1700.
Collecting By Makers
Silver spoons from particular makers will rank higher in price and be more collectible than contemporary souvenir spoons. Reputable makers are Elkington, Garrard, Storr of Chawner & Co, and Jensen.
Collections by form (pattern/design)
The form of a spoon refers to the design or style a collector will be focusing on. The rarer the patterns, the higher the price you can ask for the spoon.
Popular designs include shaped handles like violins, shell patterns, and even simple beaded decoration outlines. One of the most famous antique silver spoons is the Apostle one, a true masterpiece. )
Antique Silver Spoons Value
Now that you have identified your antique silver spoons, it's time to get them valued accordingly.
When valuing an antique silverware piece, consider several factors, like maker, materials, condition, age, and shape. However, the most crucial element of them all is age. A silver spoon's value increases with its age. Nevertheless, a poor condition may cancel the value and make the spoon less worthy than a newer spoon in excellent condition.
Another essential factor is the maker, and you already know the most important competitors just above. And lastly, pay attention to the material. Sterling silver is the most valuable matter.
Valuing Antique Spoons By Yourself
Firstly, you should figure out what type of silverware item you just found. Hence, you need a proper cleaning process. This way, you can quickly notice all the markings and patterns.
Make sure you also polish and clean the spoons gently, so you won't damage the item and ruin its value. The best way to do this is using white spirit or mild abrasive cream to remove the unnecessary dirt. Avoid the silver polish dips, even the professional silver polishes, as these might contain chemicals that can seriously damage the spoon.
Take this video as a cleaning milestone.
The second method to evaluate an antique spoon is by taking a picture of it. Capture all details, then print some copies for your records. Do all the measurements and use a magnifying glass to inspect the hallmarks and other marks. Pay attention to all sides and note everything (pattern name, serial number, country).
Compare your notes to the hallmarks in the guide you find. You can even look through an online auction site, like eBay, for similar spoon makers and hallmarks. This step can indicate your collection's possible value.
These forums might also be a great starting point:
Professional Valuing
If you don't have much expertise in evaluating antique silver spoons, you can look for an appraiser around your area and show them what you have recently discovered. Usually, the most challenging evaluation goes with unmarked spoons.
Take all your notes with you and meet the expert for professional advice. This might be the top alternative to check if silver spoons are genuine antiques.
Remember! It is always better to call for a professional opinion regarding expensive pieces. Also, avoid too brightly polished specimens or spoons without hallmarks.
Where To Buy Valuable Antique Silver Spoons?
Antique dealers aren't present just in quirky corner shops, but they have also moved their presence online. There are plenty of auction websites where passionate are displaying their vintage items. You may also use the forums we talked about to show off your antique silver spoons.
However, if you would like to use more mainstream online platforms, these sites are the perfect starting point:
eBay
One great thing about eBay is the diversity of vintage and antique specimens. Search for "antique silver spoons" and enjoy the results. On the right side of the page, you have plenty of filters to check, like brand, pattern, age, and featured refinements and styles. Hence, you can go straight to the collections you are interested in.
Tip: Be aware! We are talking about valuable stuff, so do some research about the sellers you keep in touch with.

Personal opinion: eBay has the best variety of products
Etsy
Etsy is already famous as a rich online market for both sellers and buyers, but few of you know that this platform hides genuine antique treasures. Look at this gorgeous antique spoon from a trustworthy seller.
You may also sell your antique spoons by creating a storefront. However, this process is more challenging than setting up an eBay account.
Personal opinion: Etsy is the best when it comes to spoons treasures
Amazon
When it comes to Amazon, sellers here would instead display vintage spoons than antique specimens. Hence, keep your eye on the "used condition" filter; you may find some exciting items, like this Dorothy model.
Other Selling Sources
If you'd rather skip these mainstream platforms, then you can choose the antique online stores:
Directly from reputable antique silver flatware (Oneida, Reed&Barton, Wallace, Towle, WM Rogers, Mappin & Web).
FAQ
If you are still looking for answers, here are the most frequently asked questions people have in regards to this topic.
Q: How to properly store antique silver spoons?
A: When you own precious antique silver spoons, protecting them from possible damage is mandatory. Hence, storage is an important aspect. The ideal way to keep the silver spoons is a lined box or a drawer where they do not come in contact with other metals items. You may also cover each specimen in paper or bubble wrap for increased protection.
Q: Silver or silverplate? Differences?
A: Many people make no difference between silver plate and sterling silver. Sterling silver is more solid, while silver plate has a metal base (mostly brass) covered with a fine layer of electroplated silver.
Good to know: silverplate is not as strong and durable as sterling silver and may tarnish gradually.
Q: How much do antique silver spoons value money-wise?
A: The value of an antique silver spoon varies greatly, based on the factors we talked about in the "valuing silver spoons" section. For instance, a particular sterling silver spoon from the early 20th century may value hundreds of dollars. On the opposite, a mass-produced silverplate spoon only 50 years newer might be worth only a few dollars.
Last Thoughts
Antique silver spoons are an actual sought-after specimen nowadays. However, lots of untrusty sources may fool you. Therefore, keep yourself informed about the top manufacturers and properties and the criteria on which you should choose your following collection's items.
This article's research gives you all the information for making the top decisions as a professional collector.