The Most Valuable and Rare Vintage Pyrex: Identifying, Pricing, and Where to Buy (Ultimate Guide 2022)
People love vintage Pyrex for many reasons, and some even have fond memories of playing with them as children. Others, on the hand, like to save the pieces they've collected over the years.
Thrift stores and tag sales are familiar places where you can find these old treasures. People who love to pick vintage Pyrex may be interested in learning how to tell the value of their pieces.
You'd be surprised at what you'll find in people's kitchens. Most people still use antique Pyrex casserole dishes. If you're interested in collecting vintage Pyrex, you may want to start looking over the possessions of elderly relatives at yard sales and even some consignment stores. This article examines how to identify vintage Pyrex and know its actual value.
What Is Pyrex Made of, and Why Do People Collect It?
Pyrex ovenware was initially made from borosilicate glass. Although it's glassware, the sort of glass used in making them has evolved throughout time. Even if you're not an expert, you can still identify Pyrex borosilicate by its color, date stamp, etc. However, your best bet will be getting an expert opinion.
Although Pyrex manufacturers discontinued making the borosilicate glass in the 80s, it was common cookware for people around 1936 when it surfaced. During World War II, a soda-lime combination and other glass materials and combinations replaced borosilicate glass. The aluminosilicate was used in Flameware, which was also common.
Not everyone was ready to switch from borosilicate to soda-lime silicate glass in the 90s because it wasn't as heat-resistant as borosilicate glass. There were many reasons why Pyrex lovers stuck to the vintage ware. Here are some of them:
Durability
That Vintage Pyrex has been around for a long time is an indication that it's stood the test of time. However, there's a significant difference between the vintage and new Pyrex glass material.
Borosilicate will always take the lead over soda-lime glass because of its durability. It's shatterproof, explaining why people are more inclined to buy vintage Pyrex. Most people believe that the borosilicate glass material is a better option than the plastic Tupperware popular today.
Sentimental Value
The sentimental significance of vintage Pyrex makes it difficult for the original owners to part with it. Many people are willing to spend a lot of money to get these vintage pieces because of the happy memories it incites in them.
What Are the Vintage Pyrex Patterns?
Most people who like vintage Pyrex will usually opt for colorful designs or patterns. This way, it can match their kitchen décor and still give them that traditional kitchen style. If you've had your mind on getting vintage Pyrex, here are some patterns to look out for.
Butterprint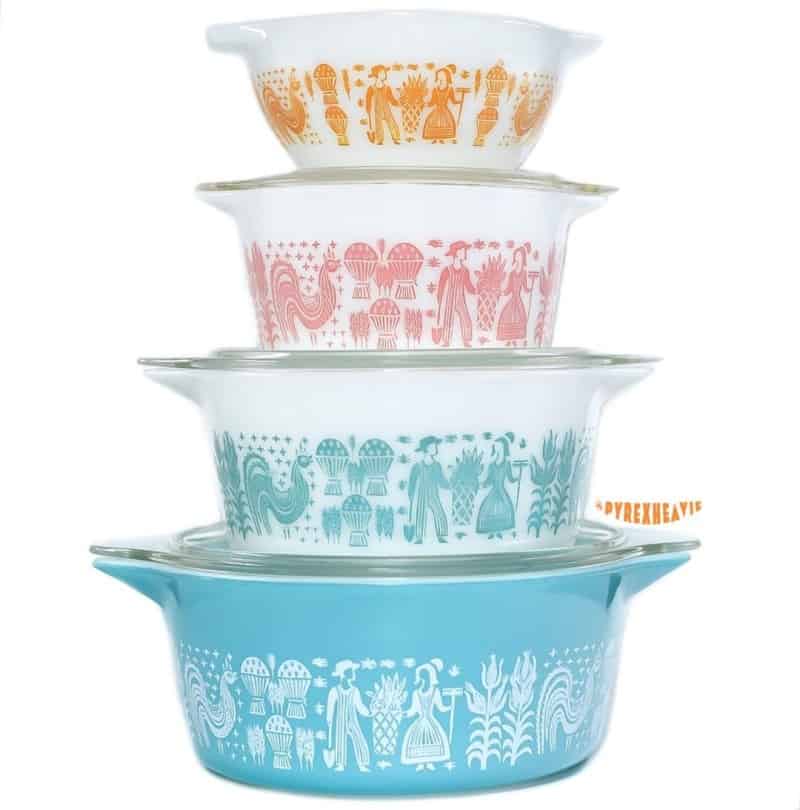 The Butterprint pattern was first introduced in 1957 and came in a unique design. On this glassware, you'll find a pattern similar to an Amish farm couple standing around roosters, wheat, and corn stalk.
Although it's commonly known as Buttercup, there are some other names for this design. The most prevalent color combination for this pattern comes in a variety of turquoise blue and white.
Gooseberry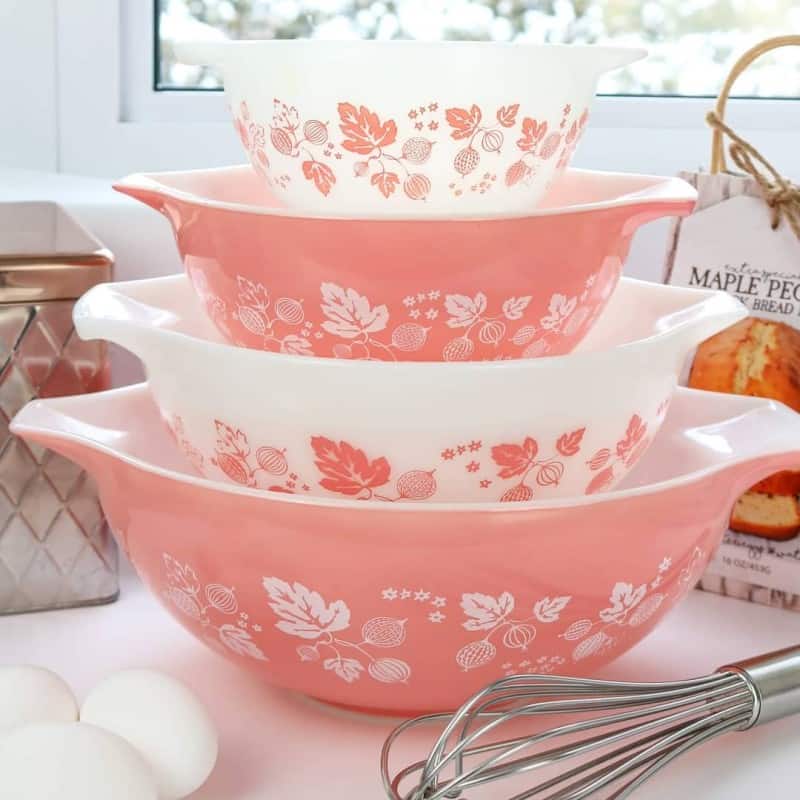 The Gooseberry design made its first entry into the public in 1957. It had black/white and black/yellow as the only color schemes. The black/yellow pattern was later dropped in 1962, while a new pink on the white pattern was introduced a decade later.
Another name for the vintage Gooseberry is Onion Berries. It also has other variants like the Grape Leaves, Berries, Leaves, and Acorn.
Rainbow Striped(s)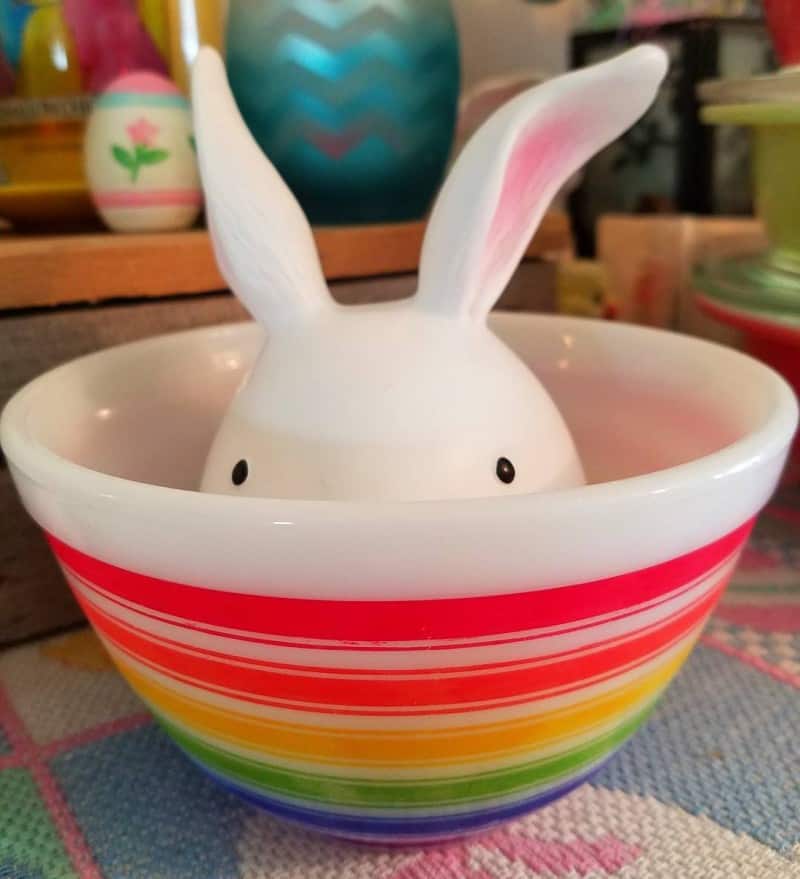 As of 1965, the only patterns available for these antique Pyrex mixing bowls were in the colors yellow, sandalwood, blue and pink. The four hues available in this design were known as the Rainbow Stripe. Also known as alternating lines or striped lines, it became commercially available around 1968.
New Dot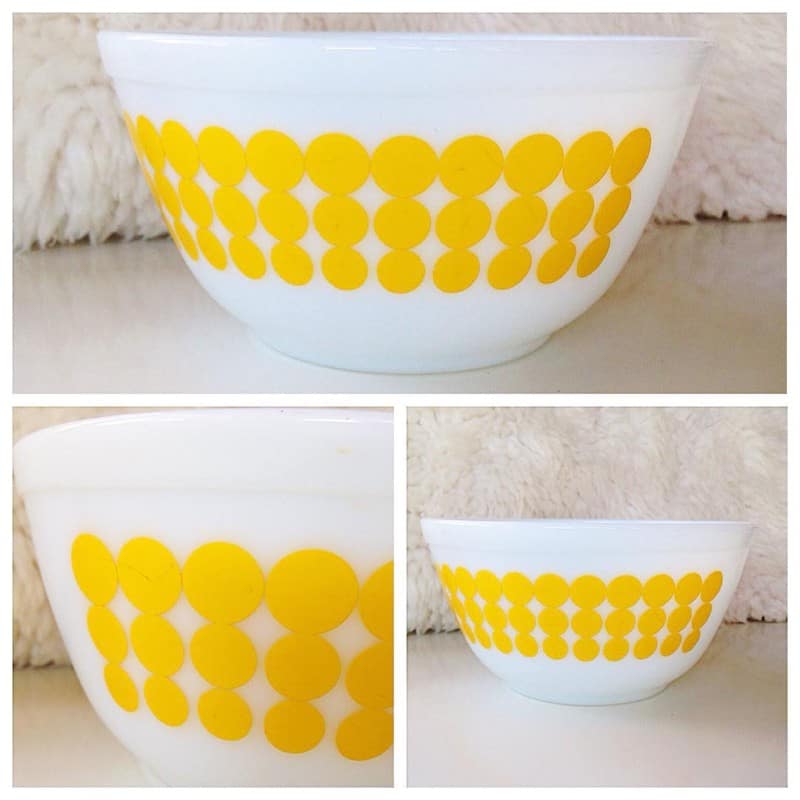 The Dot line of bowls was first seen in 1968. It has the familiar lively, and bold theme common with today's Pyrex designs. It's called the New Dot because of the introduction of the "New" green dot color, which is incorrectly referred to as "New Dot."
This vintage Pyrex has different variants like the Orange Dot, Yellow Dot, Green Dot, and Blue Dot. The New Dot Pyrex was popular in the market from 1972 and even to date.
Terra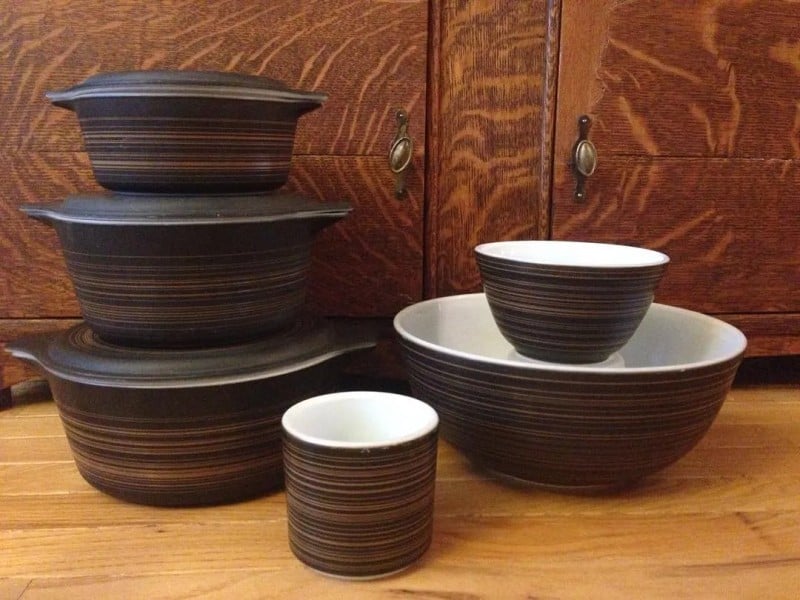 Terra is a unique design for Pyrex. It was initially made in the company's catalog in 1964 — the rustic-looking pottery tool in the form of a matte texture of the façade.
Terra wares usually have a peculiar matte finish, so it's common to find them in brown color. They were pretty popular during their time, but this pattern was later discontinued in 1965. However, there was an attempt to make a brighter colored sample.
Snowflakes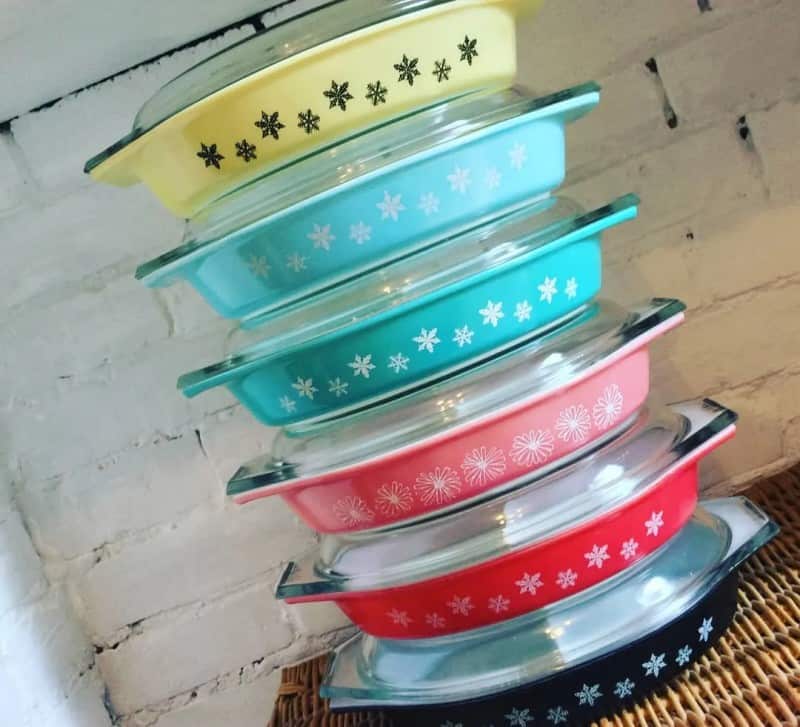 Snowflakes were introduced in 1956 and had three color combinations — white/turquoise, turquoise/opal, and white/charcoal. Some patterns were discontinued between 1960 and 1963; only the white/turquoise color combo remained until 1967.
Snowflake Blue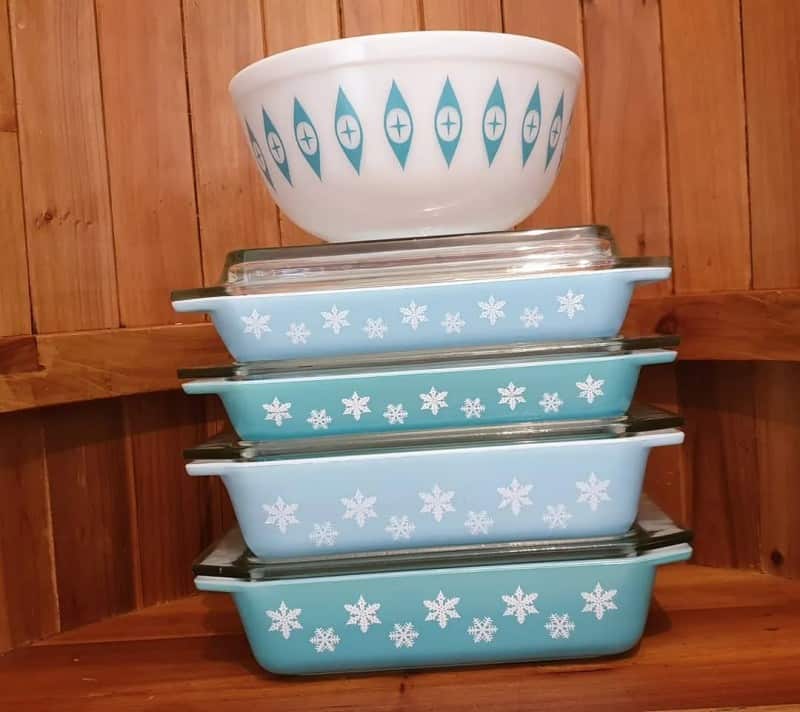 Snowflake Blue was first made in 1972; however, it was a limited edition as it was discontinued in 1979. There are just two options — a mix of blue and white patterns.
The color schemes alternated with solid color components and were available in dish sets. The Snowflake Blue was also termed as Winter or Snowflake Garland.
Daisy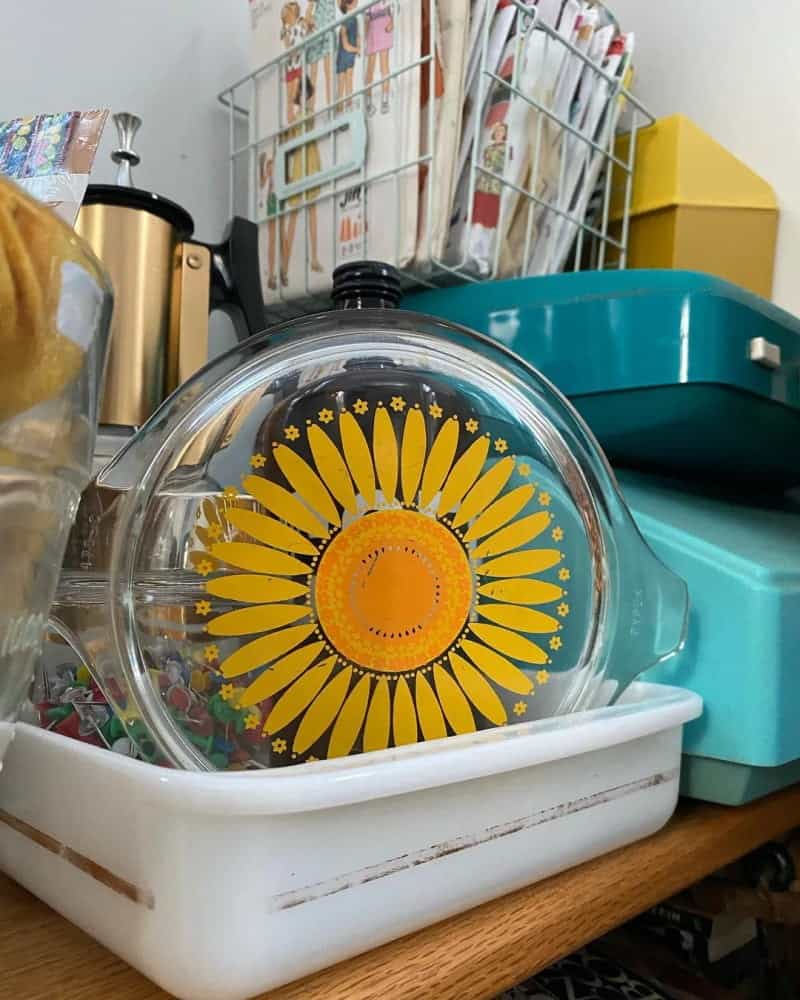 Daisy first became available to the public in the early months of 1968. This piece was in a design of orange and yellow solid color patterns. Originally sold in sets, you'll find it mainly in either clear or white casserole lids.
The design had an orange and yellow daisy print. In 1972, the Daisy pattern was discontinued.
Balloons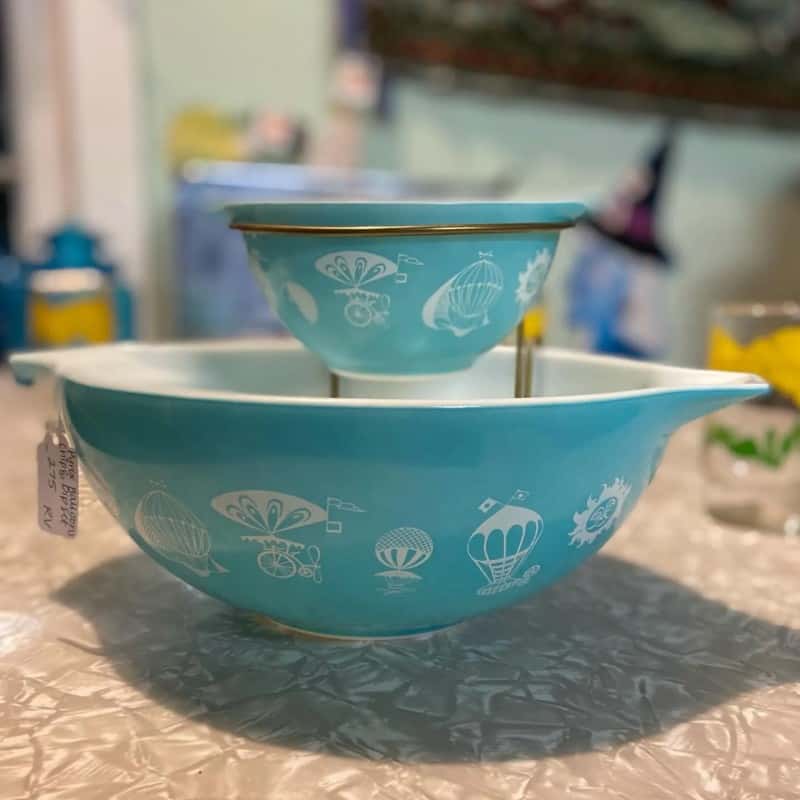 This design was commercially available in the spring of 1958. When advertised, it was referred to as "White on Turquoise" on the box. It has a stylized hot-air balloons design and a combination of some heavenly objects.
When you compare the Balloons with other chip and dip sets, the former stand out because of their appealing aquamarine color.
Eyes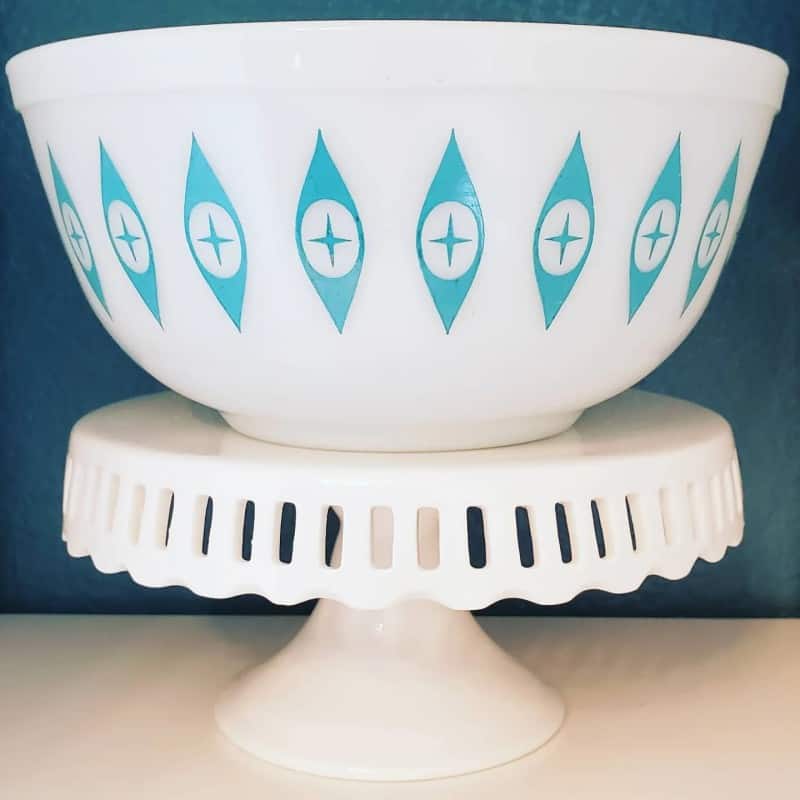 Although it used to be termed "Hot n' Cold Chip and Dip," most Pyrex collectors refer to it as "Eyes." This antique glassware can be traced to the 1958–1960 era.  Some bowls in this style have no Pyrex stamp on the bottom, while others may have the usual brand marks.
How Do I Identify Vintage Pyrex?
Telling if Pyrex is vintage may be difficult for many, especially if you don't have an excellent idea of what they should look like at a glance. The most reliable ways to identify real vintage Pyrex is via:
Colors, and
Markings and Stamps.
Professional Consultation
That said, the subsequent sections examine these in more detail.
Identifying Vintage Pyrex Using Colors
The initial set of Pyrex glassware made by Corning Glass was transparent. However, it wasn't until the mid-1940s that colorful and patterned bowls and casserole plates made it to the market.
Most people prefer colored glassware and will rather go for colors like pastel blues, pinks, greens, pinks, and other hues. However, most of the antique wares had primary colors and earth tones.
If you want to know the colors common with vintage Pyrex, check out the Pyrex Pattern Library at the Corning Museum of Glass and the Pyrex Pattern Reference at Pyrex Passion. Here, you'll find an accurate timeline showing the colors and patterns made, including the year it was introduced. For instance, primary colors were popular between the years 1945 to 1950.
Identifying Vintage Pyrex Using Markings and Stamps
If you want to identify vintage Pyrex, you'll need to check other things apart from the color and patterns. One thing you should look out for is its brand logo.
For instance, on Corning Glass dishes, they have their logo printed as "PYREX," all in capital letters inside a circle. You'll generally find it on the bottom of Pyrex glassware.
Older pieces will have stamps showing a man blowing glass. You'll also see the mark "Made in the U.S.A" written in capital letters and a trademark symbol or trademark phrase. Also, it has the year of manufacture printed on it; you can find the date 1950 stamped on it.
Moving on to the 60s, this glassware took on a different stamp. Brands no longer used the circle format but instead introduced straight lines stamps. Vintage Pyrex of the 60s has an inventory number included on the bottom stamp of casserole plates and bowls. Also, if you see an item with instructions like "no broiling," this implies that its year of manufacture was after 1970.
Over the years, Pyrex markings have undergone several changes. You shouldn't rely on the stamp alone because some old pieces may not even have the back-stamp, especially the colored ones. This is because the logo has probably faded off throughout its years of use.
Ask a Professional?
An antique appraiser or expert can help you determine whether or not your piece of Pyrex is vintage. Take it to an expert to value it if you aren't sure if a piece is old or not.
There are antique shops or consignment stores that sell vintage Pyrex. Most of them have professionals that can help you determine the value of your antique Pyrex. You could also ask older family members or friends whether they have any recollection of the piece.
How Much Is Vintage Pyrex Worth?
Corning Glass was one of the first brands to introduce Pyrex into the market over a century ago. Now, it's become popular in most kitchens and with many brands making similar designs.
However, because there are both new and old Pyrex dishes, it's difficult to tell which one is Vintage or modern. Taking a close look at your item will quickly reveal whether or not it's vintage.
If you can identify your Pyrex dish as antique, you can decide whether or not to use it, keep or sell it. The price of this antique piece comes at a very impressive high. You can even buy or sell common patterns for individual pieces or if you have the complete sets in good condition.
The rare patterns are usually hard to come by and are sold at a much higher price than the individual dishes. For instance, you can get antique Pyrex casserole dishes for around $55 on Etsy. On eBay, a set of three "Amish Butterprint" dishes is usually for about $75.
Most people who collect these antique dishes are usually willing to pay up to $500 or more for the rainbow-striped Pyrex on eBay. One of the most expensive pieces ever sold, which was extremely rare, was the "Lucky in Love" casserole dish, bought at the Goodwill auction in 2017 for a whopping $5,994.
Tips to Decipher Vintage Pyrex Worth
The cost of each Pyrex dish will depend on the following:
Its year of manufacture: The more antique it is, the more valuable it is
Condition: Good, bad, or fair
The Pattern: The rarer the pattern, the more expensive it becomes
The Bundle: Is it sold as a set?
The first step in determining the value of your vintage Pyrex dish is to visit some of the best antique shops in the area. These antique bowls are usually in high demand on auction sites like eBay, Amazon, Etsy, and other stores. A typical vintage Pyrex dish can cost over a hundred bucks, while the cost of some may spiral into thousands.
Where Can You Buy Vintage Pyrex?
If you're looking for older items or vintage kitchenware, you won't find them at your neighborhood kitchen supply store. There's a good chance you'll find some vintage Pyrex where they sell old or used items; otherwise, your best bet will be an antique store.
That said, here are some of your best options when looking for vintage Pyrex:
Online Auction Sites
If you're really lucky, you may be able to find these rare items at an online auction sale, where the seller may not be aware of their value. It's your luck because you can pay less and stealthily make your way out of there without saying a word.
Also, you can find these beautiful dishes or bowls at estate sales, flea markets, and on internet auction sites. For those that love mobile shopping, reliable websites to obtain the most valuable and rare vintage Pyrex include Amazon, eBay, and Etsy.
If you're familiar with these sites, locating vintage Pyrex on them shouldn't be an issue. Here, you'll likely find items that are old and extremely rare. Sellers at eBay usually have a wide range of Pyrex pieces that you can be lucky to purchase quickly.
Moreover, eBay is one site where the price is entirely up for grabs based on the bidding of the public at large. However, when it comes to collectors' artifacts, some argue they've lost their value because of eBay's "Buy It Now" culture. You can simply enter the item's name into the website's search bar to get the results for Vintage Pyrex.
Craigslist
Craigslist is a free classified ad site with several regions to choose from. You can either visit the US states' or other countries' section to find sellers offering vintage Pyrex near you. In other words, Craigslist allows you to connect with other enthusiasts in your area, and you can even save money on shipping if you can locate Pyrex sellers in your neighborhood.
Yard, Garage, or Estate Sales
Garage sales offer fantastic deals (at giveaway prices), but there's no guarantee you'll find Pyrex in all garage sales. Also, other places where you can luckily get vintage Pyrex at a good deal are estate or relocation sales.
PennySaver is one of the top sites to find a garage and estate sales. You can find one close to your region and head over there to see if they have the vintage Pyrex of your choice. You may also want to list the nearby neighborhoods where you've noticed these glasswares. You should arrive early at these sales before antique collectors to get a fair price for antique Pyrex.
Charity and Pawn Shops
If you know a charity shop or even pawn shops around you, don't hesitate to visit them. You're likely to find vintage Pyrex at these places, and the chances are even higher than at an antique store.
At charity events, the value of these items hasn't necessarily been calculated — the buyers determine how much they're willing to pay for them. While this isn't always the case, there's still a high chance they may be clueless about a piece's value. This is because a large percentage of the items sold at these events are donated to charity.
However, prices are often fixed in pawn shops, so you don't have much negotiation power. Still, there are times when everything in the store is sold at a discount. Some may offer as high as a 30% discount on all items sold, affording you a great opportunity to purchase a valuable vintage Pyrex (if included in the items being sold).
Church Rummage Sales and Flea Markets
Like with garage sales, when visiting a church rummage sales event, it's vital to arrive early. You're likely to find many potential buyers there, and beating them in arrival time is a great way to ensure you don't miss out on the good items.
If you're visiting a flea market, don't forget to research the going rate for a particular item in similar flea markets. A different merchant may offer the same item for sale at a dramatically different price.
Flea markets allow you to haggle over the price of goods. However, in church rummage sales, you'll often find older glassware because most of the items sold here are donated by people who aren't necessarily concerned about their value. In the latter, you're likelier to find valuable and rare vintage Pyrex at way cheaper prices, offering you excellent value for your money.
Antique Shops
You'll likely find rare vintage Pyrex in an antique store in your city or close to your neighborhood. Usually, antique dealers hold fairs and other events to showcase their wares. Most times, you can get access to these events for free, and if you're lucky, you can go home with a valuable vintage Pyrex.
However, antique shops tend to have higher prices, unlike the aforementioned options. Most of their wares have been valued, so you'll be getting them at a pretty expensive price. Add to that the cost of keeping/running the store housing these items. Still, the good thing about antique stores is that there are incredibly high chances of finding the most valuable and rare vintage Pyrex in them.
FAQ
Are there antique yellow pyrex bowls?
Yes, the Daisy Pyrex bowls come in a shade of yellow and orange colors. Suppose you're looking for an antique bowl with yellow color. In that case, you can get the Daisy casserole bowls which present in this attractive shade.
Where can I buy antique pyrex bowls?
You can buy and even sell antique glassware at antique stores. You can also buy them over the internet at auction sites.
Many people sell their antique pyrex bowls on online stores like eBay, Etsy, Amazon, etc. Finally, you can also get them at a reasonable price at garage sales or ask your older relatives for their antique Pyrex bowls.
Can I get antique pyrex baking dishes?
Of course, there are baking dishes sold today made from old Pyrex glassware. While they're durable, they're quite rare, but you should get them at a great price.
How can I identify antique Pyrex cookware?
You can identify antique Pyrex cookware from its design or pattern, colors, and brand logo. Some Pyrex cookware have their year of manufacture stamped on them. If the stamp or brand logo isn't visible, you can have a professional help you identify your cookware.
How can I decipher antique pyrex bowls' value?
Antique Pyrex is surprisingly expensive today because there's a lot of demand. The value, however, depends on the condition of the bowl, its year of manufacture, and the rareness of the rare. If the Pyrex bowl's design is extremely rare, it's likely to cost a fortune.
Final Thoughts
Vintage Pyrex is an incredibly beautiful decorative piece, and you should join the trend in collecting the best pieces. They can fetch you a reasonable amount of money if you already have them, as many people constantly seek these beautiful pieces.
Hopefully, this guide offers all the information you need about vintage Pyrex and how to value them. They're excellently priced pieces, and it's no wonder people find it difficult parting with them.